A young financial worker lost on Sept. 11, was most of all a brother.
℘℘℘
Hey Bunkster,
…how was the weekend? don't worry, you've only been at school a week…it'll get better. you gotta meet some people…you're a Duffy. there's bound to be someone you'll run into who knows one of us somehow, between your parents and your brothers, there's a very good chance…
Opening paragraph of an e-mail entitled "Cheer Up," from Chris Duffy, 23, trading assistant at Keefe, Bruyette and Woods (KBW), to his homesick younger sister, Kara, a freshman at the University of Rhode Island. Duffy sent the note from his desk on the 88th floor of Two World Trade Center on Monday, September 10, 2001, at 9:03 a.m., exactly 24 hours before a plane struck floors 78 to 84 of the tower.
Kara Duffy needed this message. "It was the nicest e-mail I've ever gotten," she said. "I was just bawling sitting at my desk. My roommate thought I was a freak." Whether it was guiding Kara through freshman jitters, buying a Tiffany bracelet for Kara's twin, Caitlin, for her high school graduation, encouraging Kevin, a star lacrosse player at St. Michael's College in Vermont, to keep up with his studies, or spending two hours on the phone with Brian, 13 months his elder and basically his twin, reviewing material for a final exam, Chris Duffy, one of dozens of young Irish American Wall Street professionals lost on Sept. 11, was not just a young trader at one of the Street's most respected firms, an accomplished athlete with ragged looks, and a ladies' man. To Brian, Kevin, Kara and Caitlin, he was a brother. He was just Chrissy.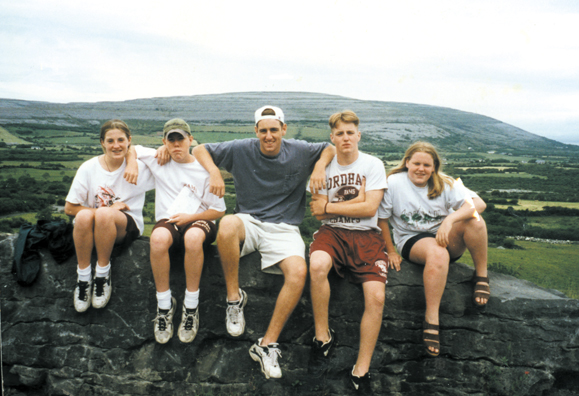 Chris nurtured his siblings, but he also competed with them, especially Brian. This competition fueled his drive in the classroom and on the playing field, a drive that pushed him through Villanova University to KBW. "Whatever Brian did, Christopher wanted to do it that day," said John Duffy, Chris' father, sitting at his kitchen table in the cozy Crestwood section of Yonkers, New York. One summer, John took five–year–old Brian for a bike-riding lesson near their Amagansett, New York, beach home, and by the end he could pedal up the block a few times. Father and son returned home, where a restless Chris awaited. "Now it's my turn," he said.
"Chris, I'm not so sure you can do this," John said. Chris insisted, and John held his back until he gained balance and could ride on his own. There was one problem – the diminutive 4-year-old was so short his feet couldn't touch the ground. Having no way of stopping the bike he would just drive into a sand dune and plop over, like Arte Johnson on his tricycle on Laugh-In. "He was so close to the ground he couldn't hurt himself," John said. Whenever John or his wife, Kathleen, needed some relief, they watched Chris smash into the dune.
Chris embraced contact sports as he grew up. In grammar school basketball, he would bruise the opponents' leading scorer. At Fordham Preparatory High School in the Bronx, even though he was only 5'9″, 165 lbs., Chris started every game at fullback his senior year. "Chris was one of the best blockers we've ever had," said assistant football coach Steve Traendly, who has coached at the school for 15 years. He once took out four opponents with a single leaping block. Football was not enough for Chris in high school. One of his friends played lacrosse freshman year, and after watching some games, he regretted not trying out. He picked up lacrosse the next year, and decided that if he was going to play, he had to be really good. He dragged Kevin into the backyard to play catch and fire shots at him. "Kevin, as a seventh grader, was forced to learn lacrosse," John said. Chris' backyard workouts led to his own all-league lacrosse career at Fordham Prep, and as Kevin went into high school, Chris toughened up his younger brother. "He would throw equipment on me and abuse me," Kevin said. "He was like a weapon with a stick in his hand. He molded me into the athlete he wanted me to be." Kevin, now entering his senior year at St. Michael's, has a chance to finish as one of top five scorers in school history.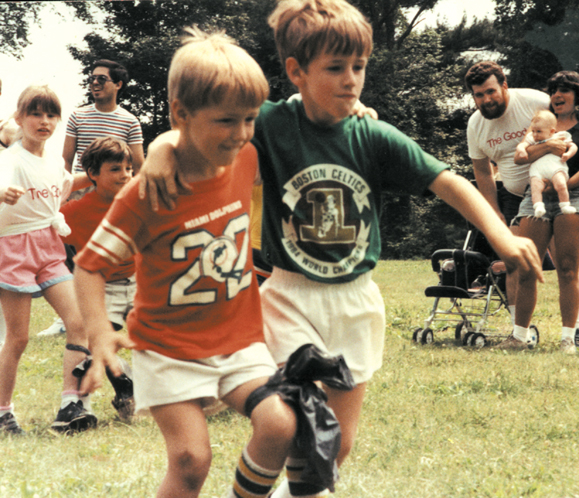 When Chris was not playing sports or making honors at Fordham, he and Brian organized "Duff Jams" at their house. The first party was New Year's Eve 1994, and the Duffys invited 20 kids. One hundred and fifty showed up. The boys covered up for a year-and-a-half until John read the Ursuline High School yearbook. Several students at the all-girls school reminisced about the Duff Jams under their photographs.
"I remember quizzing you guys – `What's a Duff Jam? `Ahhh, I don't know, that's got nothing to do with us, Dad,'" John intones in his best "busted sons" voice. "That's the girls," Brian responds, as if he were 17 again.
believe me, I know how it is. I hated school….but I met people, found where to hang out, and stayed out of trouble…it will all work out.
– Chris Duff, "Cheer Up"
During his first six weeks at Villanova, Chris shaved his head and got an earring. "He called it Villa-no-fun," John said. "He said the girls were snobby. I told him the girls weren't snobby. I said, `The way you look, they think you're some kind of Aryan Nation Guy. You're scaring the crap out of them.' He was clearly seeking his identity, or something."
Chris finally mellowed a bit after developing an interest in financial markets during college. He took a criminology class and even considered the FBI, but he wanted to give Wall Street a shot. "Chris was very organized, always making lists," John said. "The stock tables provided order. He read them like he read baseball scores ten years earlier."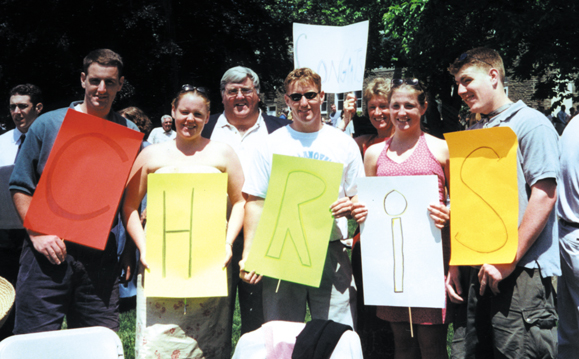 Chris landed at KBW after school, and he prospered immediately. He was diligent, always looking over the shoulder of trader Danny McGinley, trying to learn the ropes. "His curve was very steep," said Katie Ré, 27, a fellow KBW trader. One day, a KBW veteran told Ré that the firm's equity trading desk was the best in its 40-year history. "Chris was one of the young people in our group who was going to succeed," she said.
Perhaps more important to Chris, he continued to bring people together and command the party. Chris' Villanova buddies mingled with his high school and neighborhood friends while he bartended. He organized a group to purchase a share house in the Hamptons, and spent almost every weekend there last summer. One Saturday Chris lounged all day by the pool in a Speedo with a clipped newspaper headline reading "Disgrace" strategically placed. Later that night, he and the Speedo did bar slides at the Drift Inn.
Last May, Chris called Kara into the kitchen and asked if she wanted to see what he bought at the mall. "He was just standing there in the kitchen, with it [the Speedo] on and his pants around his ankles. I was like `Ohhhh myyy Gooood, what is that?' He was just standing in the kitchen like, `Whaddya think, sis?'"
well, good ol' work/the stock market is about to open, so I gotta go. but I might come up saturday 9/22.! I'll let you know.
Love, Chrissy.
a plane just crashed into the building next door…we can see it. the building next door is on fire. it's sick.
— Chris Duffy, email to friends.
Sept. 11, 2001, 8:56 a.m.
John Duffy, co-CEO of Keefe, Bruyette and Woods, sat in traffic on the West Side Highway near the George Washington Bridge the morning of Sept. 11, heading back north to Crestwood. After he saw the second tower collapse, he knew there was nothing more he could do in Manhattan. While stuck on the highway, he desperately tried to reach Chris on his cell phone and thought of who was likely in the building. He lost 67 employees, including Chris, 20 of the 22 other equity traders (Ré overslept, and another trader called in sick), and his fellow co-CEO, Joseph Berry.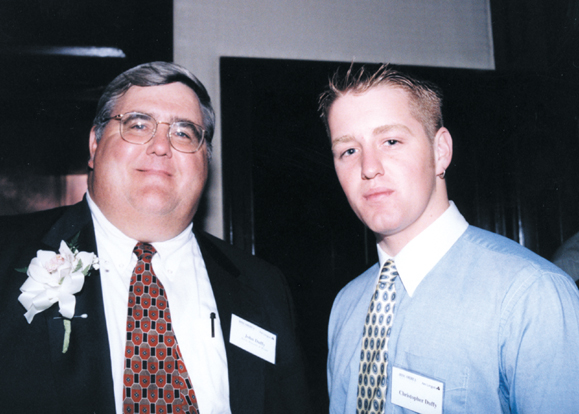 Kevin spoke to Chris from Vermont. "His voice was broken up," he said. "He sounded terrified. He said, `I'm all right, but I can't talk right now. I gotta go.'" Kevin heard commotion in the background and suspected that his brother might have been in a stairwell, devising a plan with coworkers.
"Saturday 9/22," the day Chris planned to visit Kara, was his memorial mass. Even though workers had not found his body, the family quickly coped with their loss. Over 1,200 people flocked to Annunciation Church in Crestwood — the overflow listened on the speakers outside.
Brian delivered the eulogy and discussed how, as he coaches Annunciation's third and fourth grade basketball teams, he will remember passing Chris the ball when they played on that same team years ago, when the Duffys won the county championship. He also recalled little Chris asking his father what KBW stood for. "Kevin, Brian and whatshisname," John would tell him, tweaking his son's ear.
After the funeral, the family invited everyone to a parent-approved Duff Jam, just as Chris would have liked it. Many raised their glasses to celebrate all that Chrissy had — a tight family, a nice job, a new place in Manhattan, and hundreds of friends. If only someone had a Speedo.
"You know how you immortalize people after they die?" asked Kathryn Melnyk, 23, a lifelong friend. "You don't have to immortalize Chris. He was a generous friend who cared about his family, and everybody loved him for that." ♦