Kate Dillon wears many hats. In addition to her work in the world of fashion, she is spokesperson for the Eating Disorders Coalition for Research, Policy and Action and co-founder of Echo, a children's organization committed to teaching social consciousness through art.
Dillon is both beautiful and very much in proportion at five feet eleven inches and 175 pounds, yet she has spent most of her life being defined by her size. This has proved to be the impetus for her activism as well as providing her with the means to pursue two successful modeling careers — her first as a high fashion model and her second in the world of plus-size fashion.
℘℘℘
As a child, Dillon was overweight and endured taunts, which contributed to her developing anorexia at the age of 12. As a skinny 16-year-old, she was discovered in her hometown of San Diego and signed by Elite Models. Dillon, whose paternal grandfather came from County Clare, embarked on a lifestyle of high-profile fashion shoots and travel to Paris and Milan. But in order to maintain a 125–pound figure, Dillon was barely eating enough and smoking two packs of cigarettes a day to suppress her appetite. At 19, she finally turned to a nutritionist for help and was encouraged to put on 15 pounds.
Soon she was healthier than she had been for years, but Dillon's weight gain displeased her agent and clients and she was told she looked awful. This was the catalyst for Dillon's exit from the world of fashion. She turned her back on a career that seemed incompatible with health and well-being and returned to San Diego. Three years later, at the age of 22, Dillon returned to the fashion industry – but this time as a plus-size model.
Dillon's appearance last April in Vogue's Shape Issue has reinforced her status as one of the most successful models of her generation. Having put her own demons aside, she is now on a crusade to try and challenge society's unrealistic obsession with thinness. "I certainly have my moments when I feel unattractive, but having bad days is part of being alive. Not every day is going to be a power day. However, I'm very comfortable in a bathing suit at the beach – I'm very comfortable walking around in my underwear. I know I'm not perfect but I'm really okay with that."
Dillon rails against the uniform image of beauty emanating from the regular fashion industry and Hollywood. She feels that the diversity of beauty in the world – different races, sizes and varying concepts of beauty in disparate societies – needs to be recognized and embraced.
Her message is simple: "I'm talking about the freedom to be oneself and feel comfortable. The freedom to be strong and healthy and fit. I don't think it's an esoteric concept. I think it's something that everyone wants. I try to encourage diversity on every level. You don't have to be a tall, skinny, white girl to be beautiful or have fun."
Dillon is having fun. At a healthy size 12, she enjoys modeling now in a way that wasn't possible as a "skinny" model. While the same elements of travel, great clothes and a certain amount of glamour are still present, there is less pressure in plus–size modeling to conform to an unattainable ideal. "The differences between regular and plus-size modeling are huge and beautiful," she says.
"Plus–size modeling seems to be about a celebration of the body," Dillon continues. "Women who are plus-size models have always tended to struggle with their bodies and their sense of self in relation to their beauty, and how others perceive their beauty, and so they are pretty strong, amazing women who have overcome a lot. There's a real sense of sisterhood between us – it's like we're activists every time we go to work – we're stepping up on our soapbox and telling the world that it's okay to be who you are."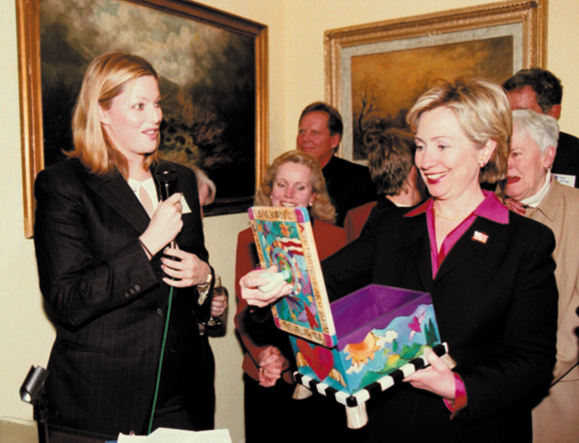 She is quick to add, however, that she isn't advocating that it is okay to be overweight and unhealthy. "It's important to exercise and eat properly and be healthy and to watch what you eat, but generally, plus-size models work really hard at being healthy. I've never met one who sits around and eats burgers and fries. Whereas skinny models either starve themselves or they're naturally skinny and eat McDonald's all the time.
"There are so few images on how to be healthy in the media," Dillon continues. "There is either extreme thinness or extreme obesity and there's a whole world of medium that's being ignored." You can be healthy without being crazy, she says. "I've learned over the years to listen to my body and what it needs and not to give it more than what it needs. I cut back by eating more vegetables if I feel that I've indulged too much."
Dillon is currently making plans to leave the fashion industry for the second time and move to Houston, where her boyfriend – with whom she has conducted a long–distance relationship over the last year – lives. She has enrolled in a university there and looks forward to beginning the next phase of her life. Though she laughingly admits that she "will always have a foot in the door of the fashion industry" and there are a few great clients that she is prepared to travel great distances for, she is turning her back on an 11–year career.
"I'm 28 and it's time to start building a foundation for the next thing in my life. I hope to continue with public speaking but my focus will definitely be on school and I'll see how it works out. I thought that I wanted to be a teacher since I was about 14 years old. When I moved back to New York at 22 after taking three years off, I intended to go to school to study elementary art education. But we'll see. I'm very open to what life hands me."
Dillon's role as spokesperson for the Eating Disorders Coalition for Research, Policy and Action seems to have intensified an inherent appetite for activism and a desire to bring about social change. The Washington D.C.–based group focuses on promoting education and social policy and action relating to eating disorders on a federal level. One of the objectives of the group is to get better insurance coverage for the treatment of eating disorders. This is part of the Mental Health Parity Bill currently before the House, one of the main supporters of which is Senator Hillary Clinton, who has spoken publicly on the issue. Dillon cannot speak highly enough of her. "Senator Clinton is a very wonderful and great supporter of this initiative."
Dillon, who presented Senator Clinton with an award on behalf of the Eating Disorders Coalition this past April, will meet up with her again on June 26 when she speaks to Congress on the group's behalf.
Rather than being intimidated by the prospect of speaking before Congress again, Dillon is exhilarated at the prospect though she admits to having had pangs of nerves the first time.
"I was scared but ultimately I think that talking about something you're passionate about isn't hard," she says, but admits that the experience provided the incentive for her to go back to school. `I felt frustrated by my position. How seriously can you take a fashion model in all reality? I felt really compelled to further my education and to put myself in a position where I could be more connected with the powers that be."
Dillon cites another strong female who helped affirm her decision to study international relations and foreign policy. Having attended an Irish America event in March at which the President of Ireland, Mary McAleese, spoke, Dillon expresses warm admiration for the ideas espoused. "Listening to her talk about respect, and compassion and understanding of other cultures was amazing. Everything she stands for, I'd like to see more of in government in America. I feel that this is a period of time when it's most important to dig deep and try to find compassion and understanding and find out about other people and where they're coming from."
To Dillon, politics means the ability to make a difference and bring about social change, and one of the downturns of moving back to Houston will be having to take a step back from Echo, the organization that she co-founded with her friend, Michan Pour-Azar. Echo's aim is to teach social consciousness through art, and it has been a big part of Dillon's life for the last three years. "It has been the most fulfilling time of my life," she says, explaining that the concept is that if you believe strongly in what you create with your heart and mind, then you are less vulnerable to other people's opinions and will have better self-esteem. To date the organization has had three programs involving young people from all over New York City. Each program is about four months long and focuses on different social issues such as nonviolence and diversity. This year the focus will be on Sept 11 and Afghanistan.
Dillon is applying the same principles to the fashion industry where she is one of a growing number of women who are helping to redefine society's perception of beauty. "In the last six years I've seen enormous changes in the way that the media is expressing beauty," she says. Referring to the April issue of Vogue which features Dillon on several of its pages, she says, "I would love every issue of Vogue to be like that. I don't think it detracted from the fantasy or the couture element of the magazine. It was incredibly refreshing to see fashion made more accessible to people and what a great thing it is to be able to make people feel better about themselves."
And while "change on a significant cultural level takes time," progress is being made. Dillon says: "If you get one person who is bigger and attractive, you may think it's a fluke, but if you get one hundred women who are bigger and beautiful, then that's a reality that can't be denied." ♦