We're circling Abercorn Street in Derry and Richard Moore, my sunglassed passenger, is pointing out focal points of his native city. He acts as navigator, advising me to turn left at the shop, then right at the gap in the green railings to reach our destination. The remarkable thing is Richard is totally blind.
Not that he was born this way. Ever since May 4, 1972 he has learned to view the world without using his eyes. Back then he was a 10-year-old pupil of Rosemount Primary School in the Creggan estate. "What I remember that day was getting out of school at the usual time," he recalls. "I came out the Helen Street entrance and on the way I had to pass an army lookout post which protected Rosemount police barracks. I just remember approaching the lookout post on the right hand side and really, that's all I remember."
Violence through the 1970's convulsed Derry but there is no record of disturbance or rioting that afternoon. When a British soldier fired from point-blank range the rubber bullet struck the schoolboy on the bridge of the nose.
"I still don't know who he is," shrugs Richard. "The military knows who he is. He wasn't prosecuted for anything but that doesn't bother me. I totally forgive him and I have no bitterness towards him."
His detachment is remarkable. He offers a mature, reasoned assessment of political context as though he was not one of its victims. "People here weren't born violent, hai?" he insists, employing that rhetorical Derry suffix. "I feel the same way about people who ended up in the IRA or UVF or committed violent acts. People doing something they believed was right and following their convictions even if what they did was totally wrong.
"The other thought I have is more about human rights. It's not the issue between the soldier and me, but for a military machine, for a highly trained and supposedly disciplined, professional soldier to fire at a 10-year-old boy on his way home from school. It's wrong."
Four months earlier Bloody Sunday fingered the Moore household when his uncle Gerard McKinney was one of 13 civil rights marchers murdered by paratroopers. Then Richard was shot coming home from school. The boy's face was so badly disfigured that music teacher Giles Doherty did not recognize him when he was laid out on the school canteen table. "I remember waking up but I couldn't see anything. They were cutting the straps of me schoolbag to get it off me back. Giles was standing beside me and he said, What's your name, son?"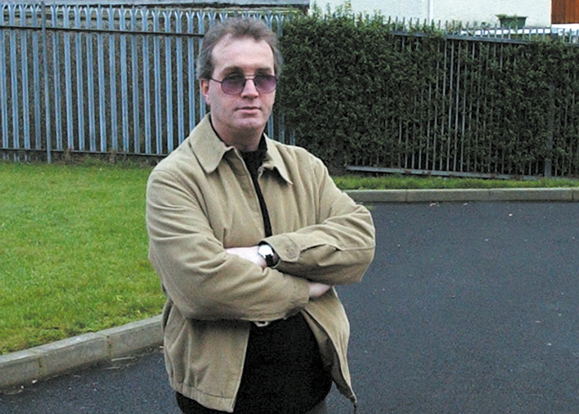 Like many victims scarred by trauma long ago, Richard Moore speaks of the incident as though it happened to someone else. His mother, Florence, cannot remember the six months that followed the shooting. Surgery reclaimed the child, but his world had changed.
"What I really missed was not being able to play football when all my friends were playing on the streets outside," he says. "It was part of my life and all of a sudden I couldn't go out to play. Privately, in my own thoughts, it was very difficult but I accepted it and got on with it.
"The easy thing to do was for my brother to go out and get a gun and shoot the soldier. Maybe some of my family would have felt justified – my uncle Gerard shot dead in January and me shot in May, y'know, where's the justice?
"I can genuinely say I have never felt one ounce of bitterness about what happened to me. Nor did I hear my father or mother express bitterness over it. The way I dealt with it is down to them. The support, the security, the way they nurtured me through the whole thing. I don't know what they privately thought but I spent me time dealing with blindness in a practical way – how do you protect yourself against the door being half-open? How do you walk?"
Remarkably, he returned to Rosemount six months later. "It was strange coming back to school, hai? I was in Primary Six when I was shot and came back to Primary Seven blind. I wanted to be treated normally," he recalls. "I remember talk being mooted about going to a school for the blind. The nearest one was Jordanstown in Belfast, which was at the other end of the world. I said to me Daddy 'I don't want to go away' and he said, `If you don't want to go, you won't be going.'"
Despite obvious obstacles he completed high school and then took social administration at the University of Ulster at Coleraine. Playing guitar for a folk group in the Creggan he met Rita Page who also studied at Coleraine. The pair set up the Long Tower folk group in the Bogside in 1980. Four years later they married and now have two daughters.
It's been a life of adjustment. Getting on with things. A football fan, he used to listen to match commentaries from Derry City rather than go to their home ground at the Brandywell. The club heard about their closet supporter and asked him down, positioning him beside radio commentators during matches so he could enjoy the live action before him. He ended up joining the club's board of directors for two years.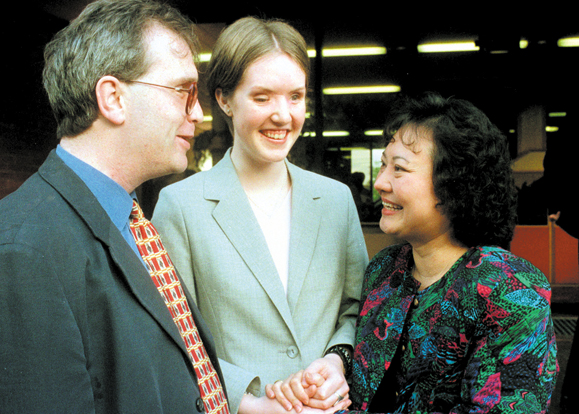 "I've often used the phrase it was like somebody switching on the floodlights," he smiles. "For me it was a dream come true. To be able to sit in the Brandywell, enjoy the atmosphere and also to know what was happening. Once they started to talk I forgot it was commentary I was hearing. I would visualize what was happening. I'd almost look away when the other team was taking a corner or hide me eyes when it came to a penalty or a crucial point in the match. And I remember once or twice shouting at the ref hai, y'know – `Come on, ref, are you blind?'"
Compensation for his injuries paid for a house and he invested in two pubs – The Castle Bar and The Gweedore – near the city's famed walls. With a growing interest in social issues he was asked in 1996 to launch Children in Crossfire (CiC), a charity organization parented abroad by Concern Universal.
"I sold the pubs because I wanted to do this work," says the man nominally titled director of development. "It's an organization that focuses on issues that affect children throughout the world. Children that suffer from war, hunger, poverty, illiteracy and disease. My role is to run the Irish end. We have cross-community projects here in the North – such as development education weekends to bring kids together from both sides – as well as assistance projects up and running in Africa, South America and Asia."
Which is how three months after meeting him in Derry we are driving again, this time through Malawi. CiC have been active there for years undertaking a variety of programs with an emphasis on local involvement and self-help. Some of the agricultural projects on improving soil and irrigation show steady returns, but the urgency of CiC operations has shifted. Two consecutive years of crop failure make Malawi a famine waiting-to-happen.
Indeed the country's dependence on maize has drawn comparisons with the potato famine in Ireland in the 1840's. Everybody here eats maize as a staple, with seed planted in November and usually harvested by May. Supplies run low towards the end of the season for a spell Malawians call "the hungry months." It's a manageable part of the cycle, but this year the hungry months have come early. Depleted stocks will run out by September, leaving nothing to eat for eight months.
Unless food arrives in massive quantities starvation will affect millions across southern Africa, including Malawi, Zimbabwe, Mozambique, Swaziland and Lesotho. The United Nations World Food Program (WFP) has set a "worst case scenario" of 11 million people facing starvation.
The Dedza district in central Malawi is badly hit. Aside from its many development projects CiC distributes emergency food for malnourished children at the Mayani health center. We arrive there before midday and the center appears deserted. When we turn the corner, however, we discover a crowd of 400 women sitting quietly with their babies. It's a moving reminder of the crisis unfolding.
The food has yet to arrive but the women remain patient. Some of them had set off at 6 a.m. from the other side of the mountains to get to Mayani on time. Babies tug at their mothers' breasts for milk but many mothers have run dry. Thankfully it's not summer so there are no flies or mosquitoes. Seated on the ground, the large group hushes to a silence broken only by the sound of hungry children crying. "How many are there?" wonders Richard, sensing the crowd.
We ask the women if they have ever sought assistance before. "Sitinglandirepo!" they reply in chorus. Never! Did they ever think they would see famine come to their country? "Ayi!" (No!) Has anybody here lost anyone to hunger? "Because of this there are more people dead than living," says one woman. All around her nod in agreement.
Over in Tambala village we listen to personal tragedies, one after another. The village head chief surveys the homelands where 55,000 people live. Between January and March almost 1,800 people died from hunger, but it took until February for the Lilongwe government to admit there was starvation in the country.
A local man explains how his younger brother died and left a family behind. The man then took care of his four nephews – aged four, five, 10 and 15 years – but they too were severely malnourished. Taking them to the nearest hospital, he was advised to find food quickly. He bartered three of his four goats to feed his nephews but his efforts came too late. Within a day all four children were dead.
Shocking stories of loss are repeated over and over. Those left behind are weak and hungry but do not yet resemble emaciated figures familiar from famines in Ethiopia and Sudan. If we want to see walking skeletons, Malawians suggest we come back in September.
On our silent, image-filled return journey from Tambala we pass women and children from Mayani health center. The emergency food has come in. Each woman carries a five-kilo bag of maize flour, but the exertion of a long walk home is not an immediate concern. They now have food, and the relief, however temporary, prompts them to smile and wave at us as we pass in the opposite direction.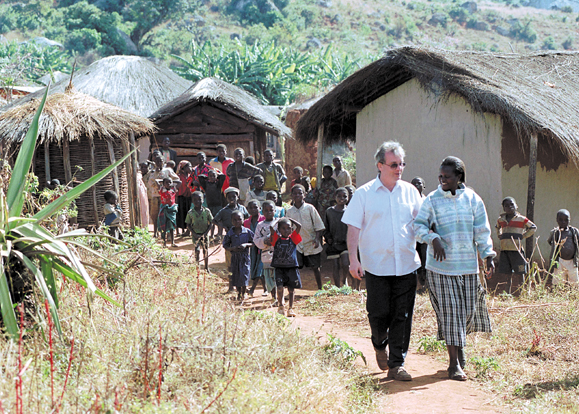 They are the women from Mayani, we tell Richard Moore. "What are they doing?" he asks, seeking mental pictures. They are carrying the flour bags on their heads and waving and smiling, we tell him. He nods silently and sits back.
Later when we consider the horrific accounts we have heard at Tambala, Richard is grappling with the demons of discovery. "The image in my mind is when we went to the village, sat down on the ground and listened to horrible stories. Those things resonate inside me very deeply. I felt very upset on leaving them – the idea of four people dying in a man's family in one day. I just couldn't imagine it.
"To some degree I think I'm protected from shocking images," he feels. "I think it's a benefit for me. Normally the sound builds the pictures – the flies, the dirt and dust underneath your feet, between your fingers. I'd feel them. The things that struck me earlier today were the constant coughing and sneezing of the people around us. All those things give me an image of what the children are like and what condition they are in."
His natural ebullience soon returns. He is doing what he can but neither claims nor aspires to be a saint. He wants to be ordinary, to live a normal life and do some good. "I see myself as a normal bloke – I'm not a special bloke but I realize if I was a normal bloke you wouldn't be interviewing me, hai?" he suggests, pointing out how personal tragedy as a youngster positively frames his own life.
"I was a child caught in crossfire in a way, and what motivates me comes from the fact that I was blinded as a ten-year-old boy," he reasons. "I realize I have a tool or a power or a story to use. I see the potential of that and I can use my experience as a voice to help others who have no voice."
Thirty years ago in the middle of the day Richard Moore met the night. Operating from darkness ever since, he has witnessed enough troubles in the world and dedicated himself to putting a few wrongs right. As far as he's concerned, blindness is incidental when you've places to go, things to do, people to see. ♦