Eamonn Coughlan, Ray Flynn and Marcus O'Sullivan dominated middle-distance running in the eighties and early nineties. Paul Gains catches up with the three runners today.
℘℘℘
The images remain even if the passing of two decades has dulled them somewhat — a trio of Irish middle-distance runners racing to victory against the best competition in the world. Before sold-out crowds in arenas across the continent, Eamonn Coughlan, Marcus O'Sullivan and Ray Flynn electrified North American sports fans with their performances making headlines every weekend through the winter months.
All three attended U.S. colleges before turning professional and they were the toast of Ireland and the U.S. These days Ireland's middle-distance fortunes have dropped behind the advance of Africa's great distance runners, making one wonder if the three are the last of a breed.
Eamonn Coughlan earned the nickname Chairman of the Boards for his ability to rapidly change gears on the tight-banked board tracks and sprint to victory upon victory. In February 1983 the Dubliner achieved something no man had ever done before when he dipped under 3 minutes 50 seconds for the mile (3:49.78) at the Meadowlands in New Jersey. It stood as the world record for fourteen years until Morocco's Hicham El guerrouj beat it, albeit running on a much larger and therefore more accommodating track. In the 1983 race Coughlan was pushed all the way by Ray Flynn. Nobody else was close!
Coughlan was the sport's marquee performer, winning the famous Wanamaker Mile seven times, and although he won the 5,000m at the 1983 World Championships he never really enjoyed the same success on outdoor tracks as he did indoors. After injuries forced his retirement, he continued to live in Rye, New York for a time. It was the lure of a U.S. athletic scholarship that had initially drawn him to Villanova University in Pennsylvania in 1971.
"Villanova was a household name in Ireland and that was because of what Ron Delaney had achieved in 1956 when he won the Olympic 1,500 gold medal," Coughlan declares. "So when I came through track and field in the late sixties and early seventies, Villanova was the place to go. And there weren't too many other colleges where athletes were being offered scholarships, so it was only the cream of the crop who seemed to get an opportunity to go to the States because of Ronnie and obviously because of [Villanova coach] Jumbo Elliott."
In financial terms these three Irish runners were ahead of their time. While they were among the highest paid athletes on the indoor circuit, their earnings would be considered a paltry sum by today's standards.
Nevertheless, each invested their money wisely, knowing that retirement was imminent.
Twelve years ago Coughlan moved his family back to Dublin and accepted a full-time fundraising position for Our Lady's Hospital for Sick Children in Crumlin. He is still there today and is responsible for all event marketing, which includes golf tournaments and celebrity dinners as well as running and cycling events. Just prior to the Irish football team's departure for the 2002 World Cup, Mick McCarthy, Irish team manager, worked with Coughlan on a 100km cycling fundraiser. And each year Coughlan brings a team of runners over to the New York Marathon.
"That would be one of my pet projects within my job, coming from the medium of running where I enjoyed such an illustrious career, if you like," he admits. "And with the friendship I built up with the New York Road Runners Club ten years ago, when there weren't too many people doing charities in marathon running, I decided to bring a team over to the New York Marathon, and ten years on we are still going pretty good. And we raise about $500,000 a year on that project alone."
Although he has kept the house in New York and visits the U.S. almost on a monthly basis, he knows the decision to go home was the best thing for his family. He and his wife Yvonne have four children. The laid-back lifestyle of home was more to his liking, where visitors can just drop in.
"Originally I just wanted to pursue my athletics career in the U.S. and when that was over, obviously, our dream was still to go back to live in Ireland full time," Coughlan explains. "And at that stage our two eldest were approaching teenage years, and it was going to be a time where if we stayed any longer they would be dictating where we lived. So we decided we would make the move back.
"Our families were here, and we didn't want our kids to be the long-lost cousins out in the States and not having their Irish roots to grow up with."
Despite his and Yvonne's concerns over their children's Irish roots, their eldest son, Eamonn Jr., now 20, is attending the University of South Alabama on a golf scholarship, having completed a two-year golf scholarship at Faulkner State Community College. Like his dad he wants the best of both worlds, and Eamonn Sr. naturally is extremely proud of his son's success. The other three Coughlan children are happy in Dublin schools for the moment.
Coughlan still maintains good relations with Villanova University, and if a talented Irish athlete was to seek his advice, no doubt he would direct him or her to the U.S. He recognizes the limitations placed on athletes in Ireland, the lack of top caliber competition, and the lack of funding.
As an athlete, the personable and extremely articulate Coughlan was in high demand across North America and would often appear at press conferences to help promote the events he'd compete in. For a time he raced with the slogan of the Irish Tourist Board "Discover Ireland" across his chest. His persona clearly overshadowed the magnificent accomplishments of Longford's Ray Flynn who also came over to the U.S. on an athletic scholarship.
Whereas Coughlan studied marketing, Flynn earned his degree in Business Management at East Tennesse State University and competed well and often.
Unbeknownst to all but the true athletics aficionados, it is Flynn, not Coughlan, who is the Irish national outdoor record holder at 1,500m (3:33.5) and the mile (3:49.77). After he retired from competition Flynn elected to remain in the United States, where he had invested money in a couple of apartment buildings. Even today he remains a landlord.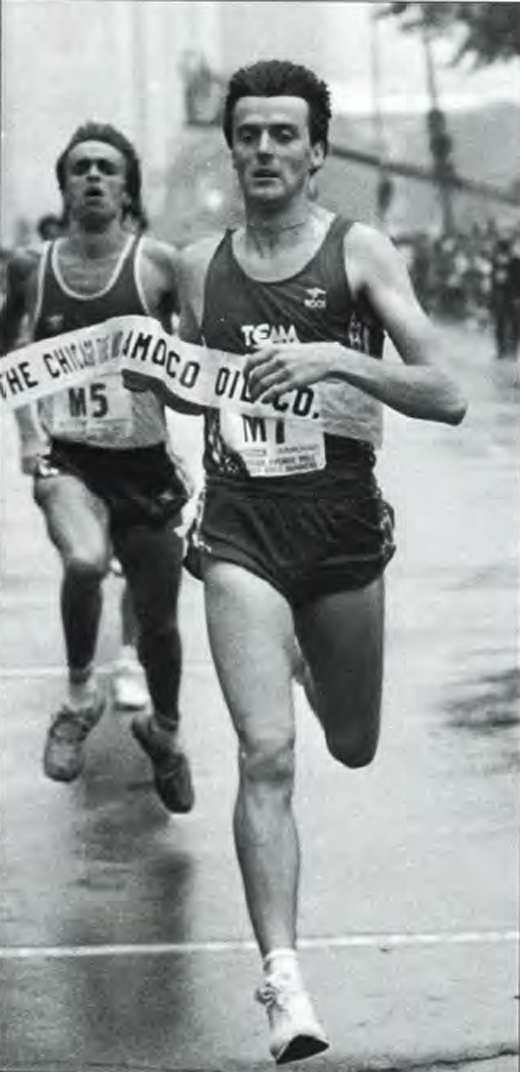 After retirement he used the knowledge gained from years on the European track circuit combined with his business education to start his own sports management company. Flynn Sports Management is one of the most highly respected international sports agencies, representing about 70 track and field athletes from all over the world. Recently the company opened up a soccer division and began working with two Nigerian soccer stars who play for San Diego in the Women's United Soccer Association. The company's headquarters is in Gray, Tennessee just down the road from where he attended university.
As part of his personal commitment to Irish athletics, Flynn includes several Irish athletes on his client list, among them Catherina McKiernan and Mark Carroll, two of Ireland's current best runners. While Carroll, who hails from Cork, attended Providence College in Rhode Island and remains in the U.S. today, McKiernan, who won her first three marathons in Berlin, London and Amsterdam, has always been happiest living at home in Cornafaen, County Cavan. Carroll has also enjoyed success winning the 2000 European Indoor 3,000m title.
Flynn's company negotiates sponsorship deals and appearance fees for the athletes. In addition they offer general financial planning advice helping to ensure their clients are able to live comfortably after retirement from competition.
For several years Flynn represented 1996 Olympic 100m champion Donovan Bailey, helping to turn the Canadian into a millionaire. Their association surely helped him attract additional clients including Bailey's Canadian teammate Bruny Surin, the 1999 world championship silver medalist at 100m.
During last year's world championships two of Flynn's other athlete-clients won gold medals — Bahamian Avard Moncur (men's 400m) and Zhanna Pintusevich-Block of the Ukraine who upset American superstar Marion Jones to win the women's 100m title.
Two or three times a year Flynn visits Ireland. He still has family there.
Unlike Coughlan, he married an American woman, and their three children are being raised as Americans. He remembers jumping at the chance to come to the U.S. for an education like some of his countrymen before him. Taking up permanent residency was not, however, in his original plans.
"At the time the number one objective was to become a top athlete and also to be funded and have a college education," he recalls. "I think I probably would have ended up at college had I stayed in Ireland, but working my way through wouldn't have been that easy.
"I don't know that there was a dramatic point where I woke up one day and decided to stay. I just think it happened. I met my wife over here. Then we just became more comfortable and I settled. I like the area and I like growing roots and I like stability, and even though I travel a lot with my work, I believe that you can make a place home. There's no need to be transferring all over the place."
Marcus O'Sullivan also elected to remain in the U.S. after university. He left Cork in 1980 with his eyes wide open hoping to emulate Coughlan, John Hartnett, Ron Delaney and other Irishmen who were student-athletes at Villanova. At the 1986 Millrose Games O'Sullivan came of age, upsetting Coughlan in the Wanamaker Mile. The sell-out crowd was on its feet for the final three laps as the Irish pair waged a magical battle that is so rare in sport these days. Suddenly O'Sullivan was the king of indoor track. His appearance fees increased almost 300 percent.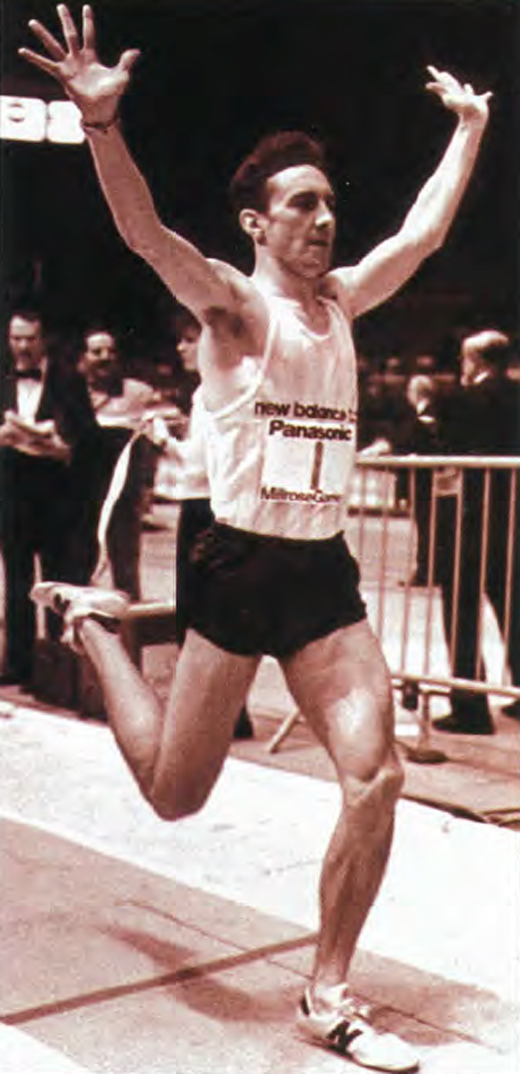 Like Coughlan before him, O'Sullivan possessed a wicked kick and could change gears on the indoor tracks. His tactical knowledge allowed him to win three world indoor 1,500m championships in the Irish vest and to challenge Coughlan's world indoor record. But he fell just short. A meticulous person, O'Sullivan kept track of each of his results in a diary and became only the third man in history to run under four minutes for the mile one hundred times. With the benefit of hindsight, if you ask O'Sullivan which accomplishment he is most proud of the response is immediate.
"Finally reaching a hundred sub-four-minute miles!" he says. "I think that was a true reflection of who I was as an athlete. I see myself not as an enormous talent, but as a person with the capacity to work sensibly and keep my eye on the ball for a long period of time."
O'Sullivan got his M.B.A. degree from Villanova and then studied hard for his C.P.A. With his earnings from track and field, he and his wife Mary bought a house in Bryn Mawr, Pennsylvania and a farm next to her parents in New Jersey. They spend weekends up there with their two children. It is a little-known fact that the great Irish athlete Sonia O'Sullivan, no relation to Marcus, used to babysit his kids when she was also a student at Villanova. She went on to become the first Irish woman athlete to win an Olympic medal when she finished second in the Sydney 5,000m. To this day she credits Marcus O'Sullivan for offering sound advice all through her career.
Four years ago with his mind firmly set on a business career, O'Sullivan found himself being offered the chance to coach Villanova University's track and field program. The offer came out of the blue, and after consulting those close to him, he agreed to give it a try.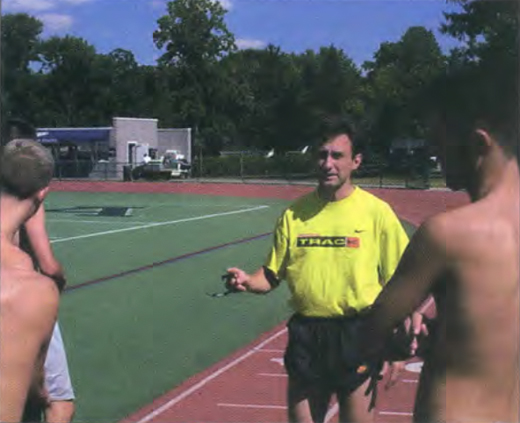 "I was absolutely miserable for the first year," he now reveals. "I think it was an enormous transition to go from being an athlete, which is a very self-oriented type of position, to going to be a coach, which is a very selfless position where you are constantly giving help or counseling or whatever, to athletes. That was a full 180-degree turn. I never realized it but I found it very, very difficult."
Because he had made a commitment to the athletes and to the program, he knew he couldn't quit. Villanova was, after all, his alma mater. Amidst the emotional turmoil he frequently visited his former coach Tom Donnelly, an American he turned to after Jumbo Elliott's death, and who coaches at a small college in Pennsylvania. On these occasions he would pour out his feelings. Donnelly advised O'Sullivan to stick with it, assuring him there would come a time when he would love the job.
"He was right — coaching is addictive. I love it. I am in my fourth year now," O'Sullvan says. And there are indications that he has made an enormous impact both on and off the track.
"I am going back to Ireland now more than ever, because of recruiting, because we have tried to rekindle alumni relationships. We have a lot of prestigious alumni from an athletic standpoint: Ron Delaney, Frank Murphy, Eamonn Coughlan. Last year we went back and had an alumni dinner. We thought we would have a quiet dinner somewhere and then before we knew it, it was a full-blown three-hundred-seat dinner. It got so out of hand that the Prime Minister was there and the Lord Mayor of Dublin was there and all our alumni."
Listening to O'Sullivan talk, it is clear he relishes the position he now holds. Indeed, all of these great Irish runners have left as big an impression in retirement as they did when they were on top of the world. And each would have to say he is richer for the experience of coming to America. ♦