Recommended
Pete Hamill offers up an epic tale of the Irish — and almost every other immigrant group — in America with Forever.
An almost fantastical novel, Hamill's book begins outside Belfast, in the late 1730s. The Carson household seems a placid one, with a hardworking Dad (a blacksmith) and loving Mom. But soon, Hamill reveals tragic — then dangerous — details. First, we learn that there were two Carson children who died young. Then, the area's religious tensions surface, with Catholics swiftly deemed Satan's helpers. Luckily, the Carsons are fine upstanding Protestants.
Or are they? Are they even named Carson? Young Cormac doesn't even know the answer to some of these questions himself. In the process of learning, he will experience pain and loss, but also become a man.
One twist: he will become a man in New York City, where he goes on a mission of revenge.
Hamill then guides the reader through the broad Irish experience in New York: prior to the Revolution, when Catholicism was outlawed, through the dark days of the Civil War, including a snapshot of the infamous New York City Draft Riots (which offers a rather different view from that recently seen in the Gangs of New York movie).
Moving more swiftly as the decades progress, Hamill's book concludes with a seating recollection of September 11. But it is way back in the 1730s, when Cormac asks his Da if they are Christians, Catholics or Jews, that we truly get a sense of what Hamill's Forever is all about.
Mr. Carson simply tells his son: "We're Irish son, we're Irish."
Ultimately, through Cormac, Hamill portrays New York's massive transformation in a breezy, readable way, right up to September 11.
This is a big historical novel from Hamill, but it's also as unique a portrait of the Irish, New York and America that has come out in a long time. ($25.95 / 608 pages / Little Brown)
_______________
Fiction
Acclaimed novelist Alice McDermott returns to the writing scene with her first book since the celebrated Charming Billy won the National Book Award in 1998.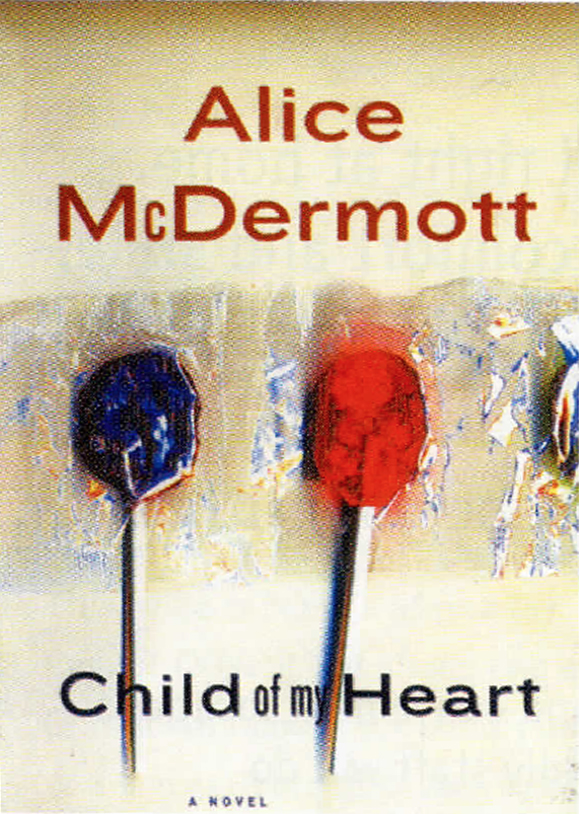 This time around, in Child of My Heart, McDermott's young protagonist (and narrator) is a 15-year-old brainy beauty named Theresa. Set over the course of a Long Island summer in the early 1960s, Child of My Heart reveals that Theresa's parents relocated from Queens to the `burbs' not to get away from the big bad city but because they hope Theresa will marry above her station.
Joining Theresa on her rounds as local dog-walker and baby-sitter is her timid younger cousin Daisy. Daisy — who turns out to be the title character — is being given a much-needed summer of respite from her many brothers and sisters in Queens.
The surface action of Child of My Heart is mundane stuff such as beach visits and diaper changes. The real action in McDermott's novel is under the surface — disease, adult corruption, the power of art and Theresa's burgeoning sexuality.
Ultimately, this is a novel about a girl on the brink of womanhood. Thus, big questions — about sex, art, death — swim wildly within Theresa. McDermott renders these conflicts insightfully, though at times with an ambiguity which seems almost muddled. Though there are many sections which explore the undeniably titillating world of adult sexuality, at some basic level, Child of My Heart could simply be a Huckleberry Finn for Irish Catholic girls, with the adult world of decay and death casting an increasingly dark shadow over the idyll of youth.
If, at times, McDermott does tax readers with long blocks of text, she is still one of our most interesting Irish-American writers thanks to a subtlety and poetry which are hard to come by elsewhere.
($23 / 242 pages / Farrar Straus &Giroux)
_______________
Speaking of Irish American history, best-selling historical writer Thomas Fleming also returns to the historical epic this month, following his more punchy previous novel Hours of Gladness, a gritty thriller about Irish gangsters in New Jersey.
This time around, Fleming has produced what his publishers are calling the crowning achievement of Fleming's prolific 40-year career. This weighty novel, Conquerors of the Sky, spans much of the 20th Century, and looks into the lives, loves and dreams of the men and women who built the U.S. airline industry.
Suffice it to say, air flight, for Fleming and his characters, is not merely a way to get from point A to point B: it is cosmic, poetic, religious and, yes, sexual. There is some overheated prose here (as in many of Fleming's best-selling historical epics), but Fleming's tour of the American Century is an illuminating one, from the days of the Wright Brothers to the Korean war and stagnant 1970s. Fleming's fans know what to expect — passionate characters who hop from bed to bed, swift pacing, prose that is not ashamed to be unabashedly purple — and Conquerors of the Sky delivers Fleming's goods.
($27.95 / 541 pages / Forge)
_______________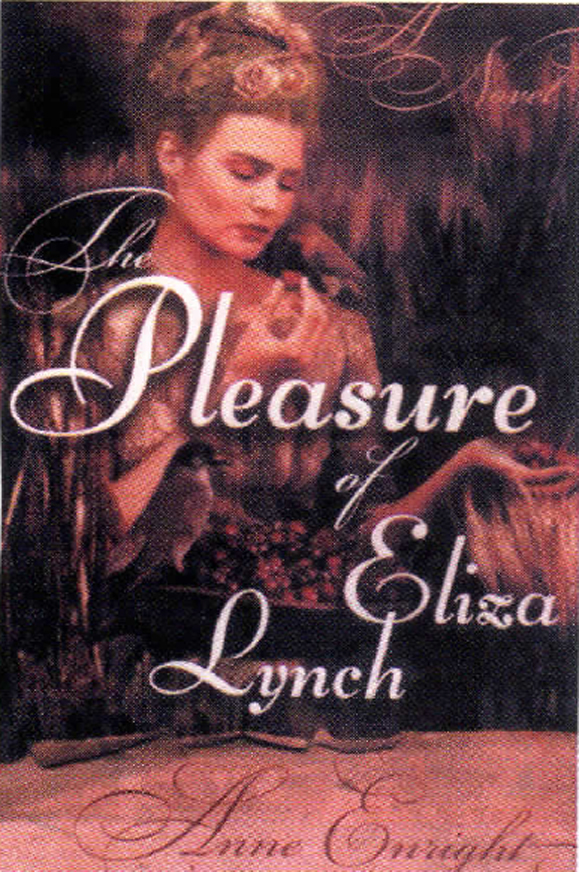 Meanwhile, Irish writer Anne Enright goes globetrotting in the 19th Century-set The Pleasure of Eliza Lynch. Though a slim novel, Enright packs lots of passion and politics into this novel based on an Irish woman who has been described as Paraguay's Eva Perón. Eliza is beautiful and adventurous, and meets an ambitious South American lover in Paris. Over the course of the next decade, this power couple rises to the heights of Paraguayan society. But with this power come inevitable abuses — and war with neighboring Brazil. Tragedy awaits these once vibrant lovers, in this spare, impressive novel of love and fate.
($23 / 256 pages / Atlantic Monthly Press)
_______________
Non-Fiction
Less than two months after losing so many residents to the World Trade Center attacks, the Rockaway section of Queens, New York, suffered another devastating blow: a plane bound for the Dominican Republic fell from the sky, killing over 200 passengers on board, as well as six members of the community of Belle Harbor. The loss of life, for Rockaway residents, could have been far worse. But it was yet another blow to this resilient community which, as Kevin Boyle's excellent new book indicates, has been taking hard knocks for over a century.
Boyle — a Brooklyn native, as is the case of so many of Rockaway's Irish American residents — watched the twin towers crumble from across the bay in Queens. But it was the plane tragedy on November 12, 2001 which spurred him to write Braving the Wave. While the media flocked to Rockaway during those tragic months of 2001, Boyle's books makes it clear those journalists merely scratched the surface. He digs deeper and comes up with a fascinating slice of local history, much of it deeply Irish, and tilted toward the uniformed services.
Boyle's sections on men like George Johnson — one of the flag-raising firefighters at Ground Zero in the now-famous photo reminiscent of the marines at Iwo Jima — and Mike Moran — the firefighter who told a packed Madison Square Garden that Osama Bin Laden could "kiss my royal Irish ass" — might make some see this as just another superficial "9/11 book." They could not be more wrong. Boyle's book is a poignant, thoroughly Irish, but also universal look at one fascinating corner of the world.
($21.95 / 200 pages / Rising Star Press)
_______________
If you roll your eyes at another memoir of Irish poverty, you'll be missing an exceptionally poignant and inspiring new book from Bill Cullen: It's a Long Way from Penny Apples. Born and raised in the notorious Dublin slum of Summerhill, Cullen was one of fourteen children. He started selling anything he could get his hands on from the age of six, and spent years on the street helping to put food on the Cullen family table. Cullen left school at thirteen and in the mid-1950s, got a job as a messenger boy for "a pound a week" at Walden's Ford Dealer in Dublin.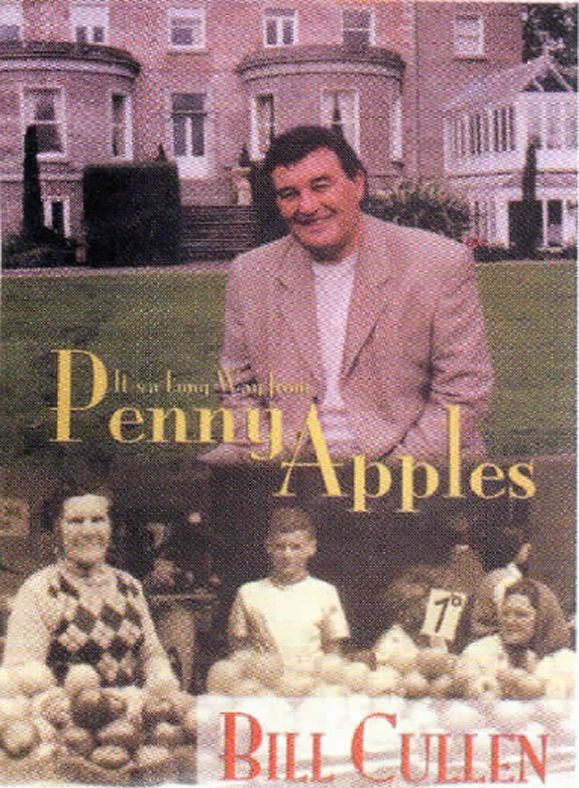 By 1986, Cullen, already a celebrated executive, was taking over a troubled Renault car company from Waterford Crystal, kicking off a turnaround which would result in the formation of the Glencullen Group, one of Ireland's — and the world's — great business success stories.
It's a Long Way from Penny Apples is a twist on the Irish experience of poverty, one which does not result in emigration, but instead produces an unlikely success story in Ireland itself.
Managing to find humor and kinship amidst terrible poverty, maybe it is now finally acceptable for some people to become slightly perturbed by Bill Cullen. After all, not only has he overcome adversity to find fame and fortune, he can also write a heck of a story.
($24.95 / Forge / 367 pages)
_______________
Meanwhile, another untraditional Irish memoir is out from Evelyn Doyle. It is the story of a troubled Dad in 1950s Ireland whose children are taken away from him, once his wife leaves the family. If this sounds a bit familiar, that's because it is the story of Pierce Brosnan's recent movie Evelyn. The film's name comes from Evelyn Doyle herself, who tells the story from her own perspective in Tea and Green Ribbons. There are interesting gaps between the film and book (Evelyn does not dwell on the abuse she faced in Irish orphanages), but while Doyle's has been an extraordinary life, Evelyn the movie seems to tell the story with an economy that Tea and Green Ribbons lacks. Nevertheless, the entire Doyle family certainly deserves this moment in the sun for all their trials and tribulations.
($24 / 239 pages / Free Press)
_______________
Anthology
Weighing in at around 12 pounds and over 3000 total pages, The Field Day Anthology of Irish Writing, Volumes IV and V (NYU Press) are dedicated to "Irish Women's Writing and Traditions" (to use the collection's subtitle).
Those proper titles, however, do not convey the years-long literary battle which led to these books' publication.
Back in the early 1990s, esteemed Irish scholar Seamus Deane was tapped to oversee the first three volumes of the Field Day Irish Anthology. But when that project was completed, many protested that women were inadequately represented in what was supposed to be an authoritative look at Irish literature. Critic Edna Longley called it "The Boy's Club ethos of Field Day," while poet Eavan Boland said she was "sorry to be included."
So, as the Preface to the new women's books puts it, Deane invited "some women scholars who had found fault with the anthology to meet him to discuss the possibility of producing a supplementary volume."
The result is two volumes which span nearly 15 centuries of Irish women and their cultural experiences. Covering literature, journalism, history, and criticism, as well as legal, medical, theological, and scientific writings, the works often appear in both English and Irish. Other sections explore oral traditions, sexuality, religion and theology, and contemporary writing.
Given their price and size, these books may not be meant for the average reader. But keep an eye out for them when you visit a library.
($250 / 3250 pages / NYU Press)  ♦