Irish America with CIE Tours International arranged a very special trip to Ireland for our readers. Highlights included a medieval feast and some fantastic sightseeing.
Having the good fortune to contribute photographs to Irish America, I would on occasion drop a not-so-subtle hint to editor Patricia Harty, that I was always available to travel to Ireland. As Irish luck would have it — aided and abetted by Ms. Harty's generosity — a spot was arranged for me on a very special trip: the Irish America/CIE Tour which took place this past October.
Like any semi-conscientious photo-journalist, as soon as I found out about my good fortune, my mind started to race as to what to see and where to go. Not to worry, I was told. It's a bus tour and the itinerary is all planned. My only instructions were to get out and take pictures whenever the bus stopped. And so, camera in hand, I was off.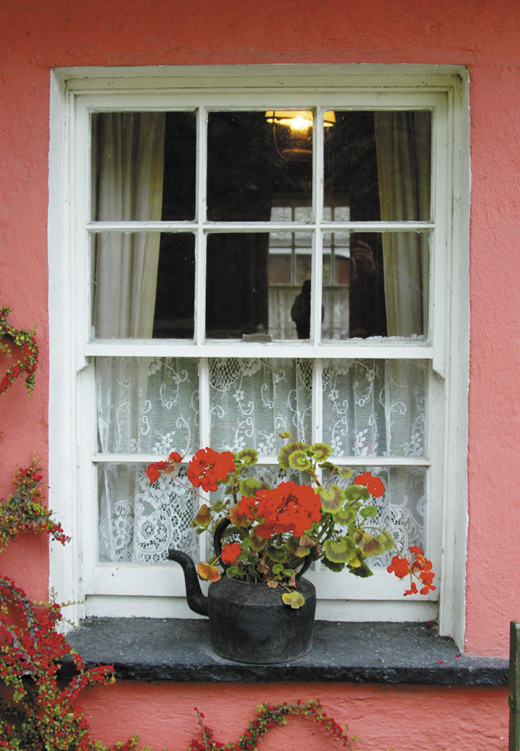 There are as many reasons to visit Ireland as there are shades of green, but having never before visited the land of my ancestors, what I hoped for most was to meet and mingle with the natives. And the first smiling Irish face I met was that of our CIE tour guide, Marlene Sullivan, who made the traveling easy by filling our days with tales of Irish folklore and displaying an encyclopedic knowledge of a land steeped in history.
After landing in Shannon Airport (courtesy Aer Lingus) in County Clare, we were on the bus and off to Bunratty Castle and Folk Park. While walking through the village I met another smiling Irish person, the caretaker of the park and castle, Michael Swords, an agreeable chap, who shared a laugh with me and was kind enough to pose for a picture. There is much to see there, an authentic 19th-century village, a 500 year old castle and of course the famous Durty Nelly's Pub where history and a tall glass of Guinness awaited.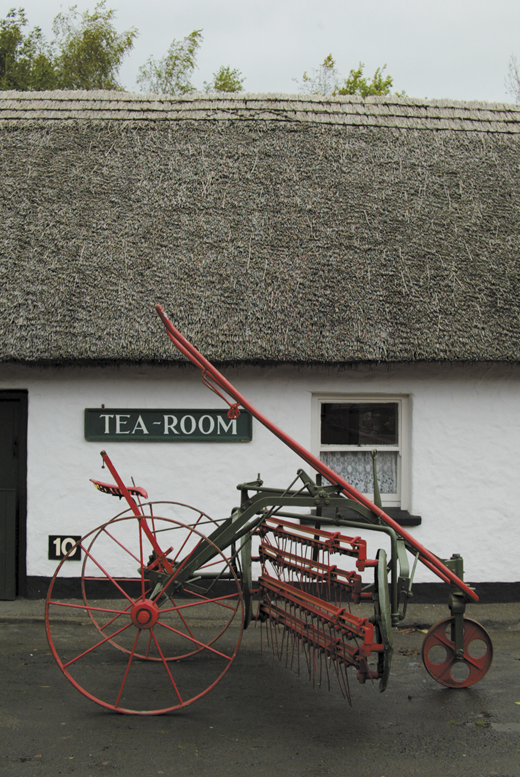 After a slight delay (I was off taking pictures and Marlene had to come and find me) we were off to dinner and a medieval festival at Knoppogue Castle, near the village of Quin. Here we were greeted by the Lords and Ladies of the Clan of Cullen, given a glass of mead, and treated to a feast with song and dance from 17th-century Ireland.
The next day we awoke to sunny skies, ate a big breakfast, and were off to the Cliffs of Moher, one of the scenic high points of the trip. It is a beautiful drive through County Clare and out to the west coast of Ireland where the cliffs rise almost 700 feet above the Atlantic. Driving in Ireland is recommended only for the most skilled and brave at heart. Most roads are just wide enough for two passing horse carts and twist and turn so that quite often the driver must pull over to let the oncoming traffic pass. It is best left to the pros such as our most skilled bus driver, Tom Ryan, otherwise known as the "steerologist."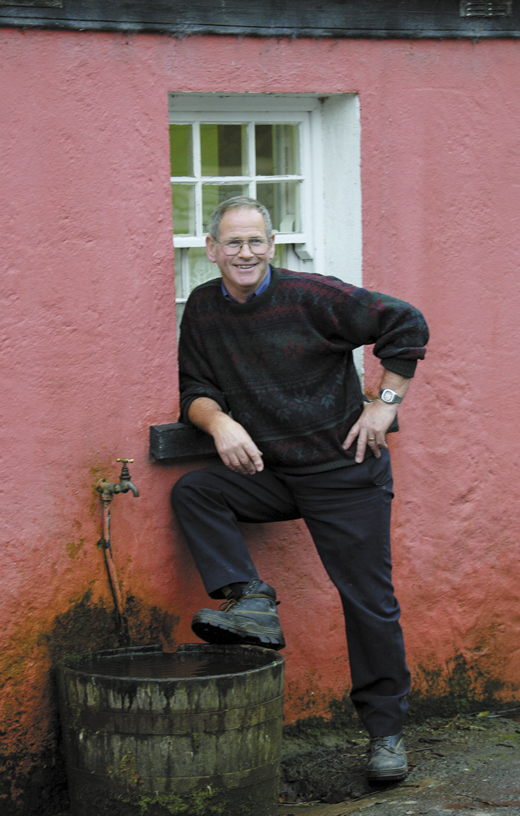 After the exquisite views from the cliffs we headed south and crossed the Shannon River by ferry. Midday we arrived at the majestic Southern Hotel in Killarney and despite a little rain, half the tour group boarded horse-drawn carriages (the other half took the bus) to visit Muckross House. It's a sprawling estate with lakes, gardens and a grand manor house that is over 150 years old.
That evening Marlene gathered us together for a cocktail, and a little chat followed by a fine dinner in the hotel's stately dinning room. Being a New Yorker and Irish. I always like to take a little walk after dinner, and Killarney, being the charming place it is, has a reputation for having a friendly pub or two or three. I must admit I stopped at a few to take in the Irish flavor and ended up taking in a few pints with two lovely Irish girls who I believe spent the evening explaining to me how St. Patrick drove the snakes out of Ireland. I do remember a late-night meal of fish and chips and the girls being kind enough to help me find my hotel. It was very dark!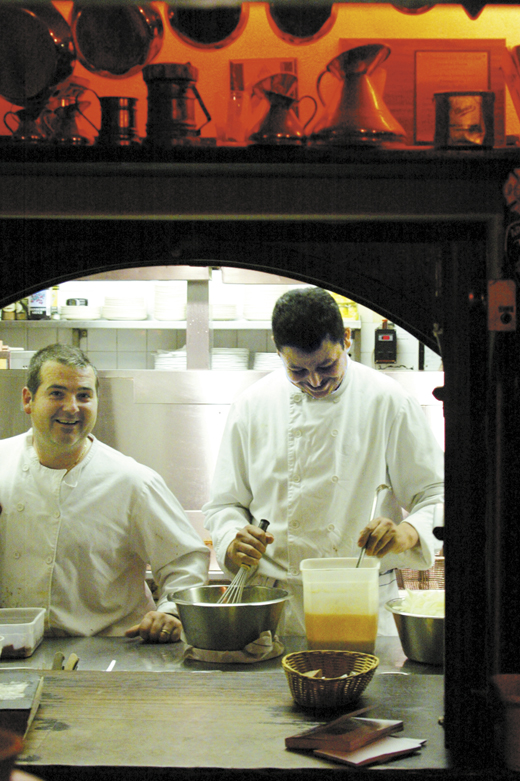 The following day after missing breakfast (Marlene had to wake me) I made the bus with seconds to spare and we were off to the Ring of Kerry. The first stop was Lough Leane where we stopped for a group picture and to take in the beautiful scenery. One more stop for shopping at a store that had every conceivable Irish product (wool, crystal, silver) at great prices, I was told. Unfortunately, I slept through it!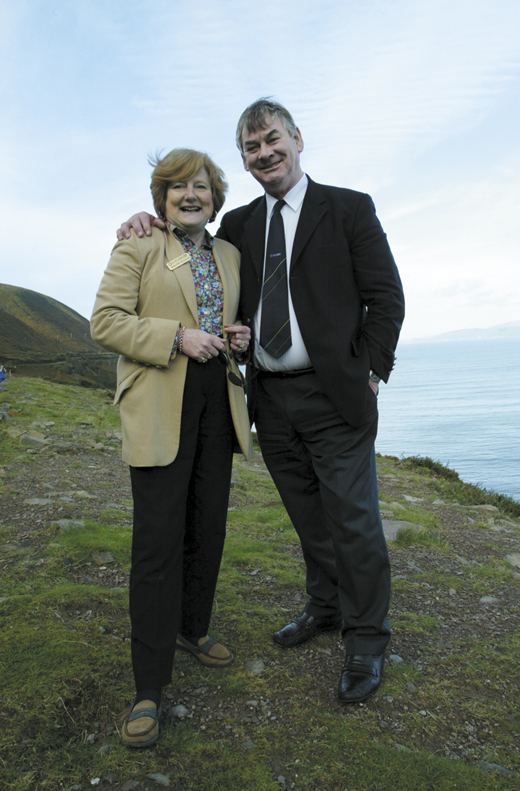 Finally, we were off to what must be considered the classic Irish landscape. What is termed the Ring of Kerry has many different vistas. First we traveled through the rolling green meadows where David Lean filmed the legendary Ryan's Daughter. Then to the misty mountains that rise above the lake district and down to the jagged coastline of Dingle Bay where the sky stretches out to the remote Blasket Islands. After lunch at a seaside inn we worked our way back, up through the lush pastures of Killarney National Park where sheep and horses graze and the hills are dotted with farmhouses and bog fields. This is one of the few places you can still here Gaelic spoken and where life hasn't changed much in the last hundred years. The next day the bus headed east towards the City of Cork for a look at the famous Blarney Castle and an afternoon stop at the Port of Cobh.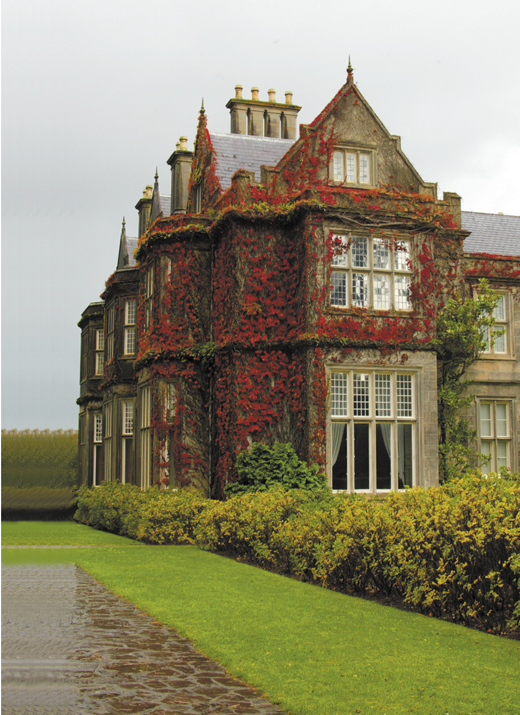 As you can tell by reading this report, I should have waited on line to kiss the Blarney Stone, for as legend has it, having done so my tongue would have been graced with eloquence; unfortunately, the line was too long. That aside, I truly enjoyed the visit to Cobh (the Irish word for haven), once the main departure point for emigrants to America and a stopping place for transatlantic liners. The Sirius sailed from here in 1838 to make the first-ever Atlantic steamer crossing. And the doomed Titanic stopped here in 1912. At the heritage center the "Queenstown Story" — a haunting experience — explores the long history of Irish emigration and life aboard ship.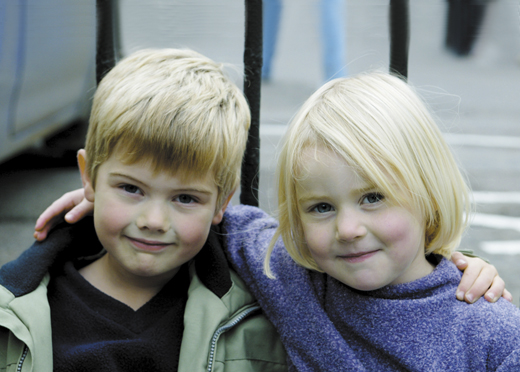 That evening we checked into the most elegant hotel on the trip, The Granville in Waterford. Beautifully anointed with Old World charm and gourmet dining, it was here I performed another one of my official duties as instructed by Irish America and toasted with a little champagne our tour's newlywed couple, Fred and Karen Barry from Shrewsbury, Massachusetts. After dinner we were treated to a history lesson on the many conquests of Waterford, by famed historian Jack Burtchall who led the group on a walking tour around the city while explaining, in classic Irish storytelling fashion, the complicated and often lusty past of Waterford.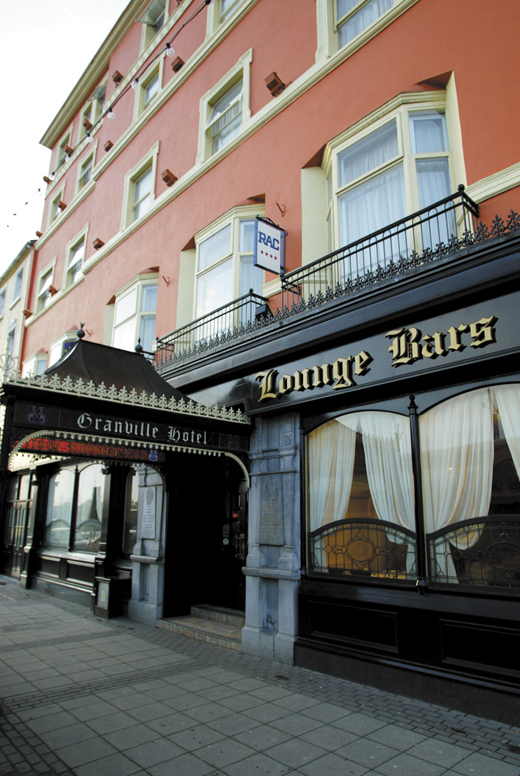 At this point sadly the trip ended for me. I had to go off and prepare to travel to a new assignment in the Middle East. The tour continued for a few more days, to the famed Waterford Crystal factory and then up to Dublin.
Many thanks to CIE Tours, especially Marlene Sullivan, the entire tour group for putting up with my tardiness, and my two loyal travel companions, longtime readers of Irish America, Joe Mischyshyn from Milwaukee (who's been to Ireland six times) and Michael Meehan from Spring Lake, New Jersey.
May we all meet again on a clear day in Ireland. ♦