Hugh Mulligan Visits Ireland's premier retreat For artists and finds a workplace without a time clock.
℘℘℘
The Tyrone Guthrie Centre at Annaghmakerrig is located in lush and lovely countryside populated by more cows than people and rather inconveniently located 75 miles from Dublin and Belfast on what the lady in the airport car rental office called "the far side Monaghan near the County Cavan line." The nearest village, five miles to the east, is Newbliss, settled way back by Scotch Presbyterians whose descendants seem to keep the even tenor of their heritage. Pubs are scarce and open for fewer hours than the bank. "Sure 'tis a quiet place," the villagers tell you. The creative folk at Annaghmakerrig call it "positively moribund."Of Protestant stock himself, Tyrone Guthrie, the distinguished director, bequeathed this forested 451-acre estate, inherited from his mother's side of the family, as a work-place for "artists, writers and other like persons."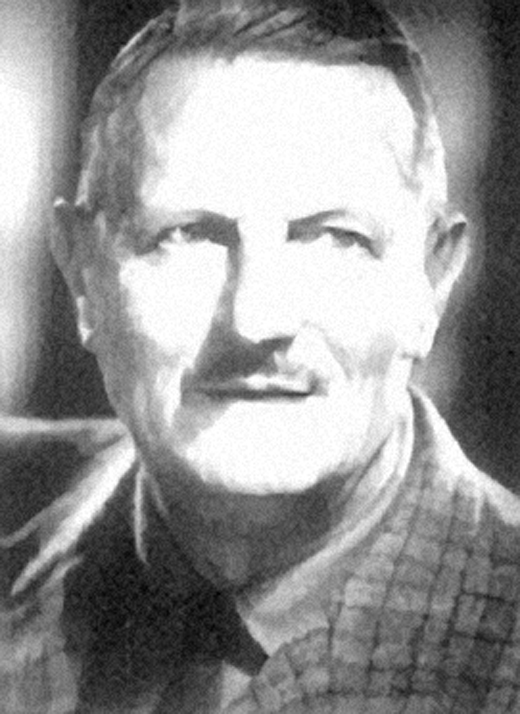 Guthrie's maternal great-grandfather, the 19th-century Irish actor and play-wright Tyrone Power, was also the great-grandfather of Tyrone Power, the American matinee idol.
As a boy Guthrie spent his Christmas and summer holidays in the rambling manor house. When his mother died in 1956, he made the house his home. In the morning room overlooking the lake he blocked out plays for the Old Vic, Sadler's Wells, Covent Garden and the Metropolitan Opera, and organized season programs for the Shakespeare Festival he founded in Stratford, Ontario and the theater named in his honor in Minneapolis.
Always the genial host, "Tony," as he preferred to be called even after his knighthood in 1961, played host to the likes of Laurence Olivier, Charles Laughton, Flora Robson and others who journeyed here, sometimes by Dublin bus, to rehearse for West End openings. Guthrie liked to entertain his theatrical boarders by playing Tom Moore ballads on the Bluthner piano in the music room after dinner.
A trifle yellowing at the keyboard, the instrument is still kept in tune. World class Irish-born pianist John O'Conor loves the resonance of its mellow wood and has practiced here for concerts.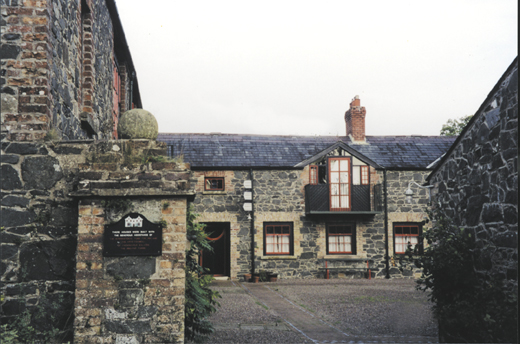 Residents are free to roam the house, build a fire in any of the many ornate fireplaces and work in any room they choose without bothering anyone except the center's directress Sheila Pratschke. In her three years here she has grown wise to the wants and whims of itinerant artists. "I'm neither writer, poet nor artist, I'm a manager," admits Sheila, who ran the Irish Film Centre in Dublin before taking over the care of a dozen or more fragile egos in residence here for anywhere from a week to a year.
"At the moment 11 artists are at large about the place, which is really optimum," she sighs as she leads a grand tour of the early Victorian mansion. The tall-ceilinged rooms are eclectically decorated with theater posters, playbills, portraits of celebrity friends and other mementos of Guthrie's tenure interspersed with cubist and post-modern paintings, bizarre statuary and collages left by visiting artists. The not unpleasing result is what poet Conleth Ellis termed "frumpy elegance: a bizarre marriage of Victorian staidness and infra-modernity."
The decor of my own farmyard digs featured colorful African masks, a collage of brass and scrap iron signed "L. O'Neill," and a large moody landscape of the lake and main house signed "Patricia Jorgensen '87." On my rickety pine bed table I found and read "The Pressed Melodean" essays on modern Irish authors by Ben Howard, who teaches literature at Alfred University in New York State. He occupied these quarters in 1990.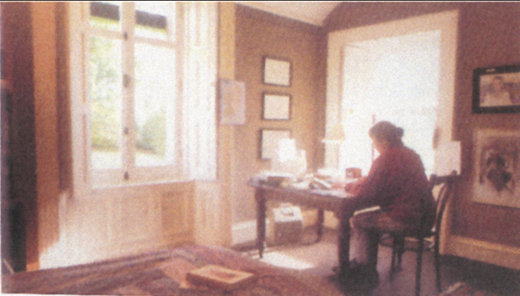 "Artists are not obliged to leave a piece of their work here, but a lot feel they are leaving something of themselves behind," offers Sheila as we climb the main wide stairway flanked with seemingly more framed paintings than the ramp at New York's Guggenheim Museum. "John O'Conor left piano tapes that are lovely to listen to at dinner."
The Guthrie Centre can accommodate 16 guests between the main house and the farm buildings. Chicago portrait artist Marian Quinn is the current occupant of a studio with an attic bedroom reachable by a perilous parody of a staircase of five-inch-wide half steps, alternating left and right, like rungs on a telegraph pole.
Paco Taylor, a travel writer based in Dublin and sometimes Switzerland, is busy writing three books at once on a tiny laptop in a top-floor room. He is certain the long corridor is haunted by a ghost named "Bunty," a fearsome harridan of enduring legend, who was Guthrie's nanny.
In a farmyard studio, painter Lynne Fitzgerald, from Rathdrum, County Wicklow, diligently covers enormous canvases with flamboyant brush strokes of neon-bright colors, while in a nearby studio, fashioned from what had been a carriage house, young Fergal McCarthy toils for hours turning out exquisite pastel miniatures, wondering all the while whether he should go back to teaching the Irish language for a living. Meanwhile Amanda Davis, a novelist from Brooklyn, frantically fights the Irish telephone system trying to transmit revisions to a book weeks overdue at her publisher.
After half a century of covering hard news as a globe-trotting reporter for Associated Press, I had come to Annaghmakerrig for a career turnabout from fact to fiction. I was six chapters into my first mystery novel, A Christmas to Forget at 221B, since completed and now in the bookstores.
All residents are honor bound to respect the creative privacy of others, but one chilly morning Jeremiah Cullinane, a film writer from Howth on the Irish Sea, appeared at the door of my barnyard writing den to beg a cuppa tea. He proceeded to build a fire of "Monaghan sticks" — stunted logs — in the wood stove and asked if we could chat a moment or two about, of all things, the Berlin Wall, which I had visited on a final AP assignment before retiring.

During my two-week tenure, my fellow artisans occasionally shared their creative efforts by reading aloud a chapter or a poem after dinner, and a few even shared their procrastinations.
Song writer John McGlynn, who was in the original company of Riverdance, complained the Guthrie Centre, as it is formally called, "was just too damn quiet" for him to hear the melody of the spheres or whatever fueled his imagination
The place is quiet all right, deliberately so. No television, stereos or VCRs, and just two pay phones, one hung in a dimly lit cubbyhole beneath the ornate staircase, the other in the glassed-in conservatory was out of order the entire time I'm there. An essayist named Celia from College Station, Texas was greatly embarrassed at breakfast one morning when the cell phone concealed in her Aran knit jumper suddenly jangled.
"It's only for incoming calls," she guiltily apologized.
A single copy of the Irish Times arrived each day at whatever hour the mail van ventures up the winding road, and we took turns catching up on the outside world. The crossword puzzle is a communal activity.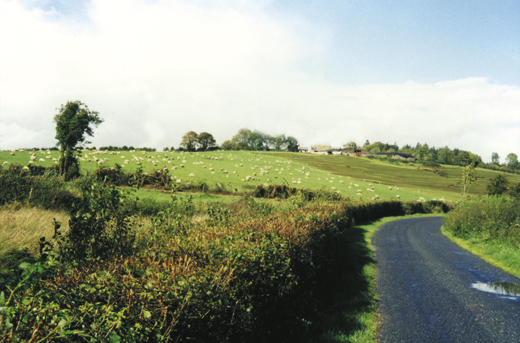 According to various local legends, Tyrone Guthrie died at his desk before the tall bay windows in the morning room while either working on a play by Jack White for the Abbey Theatre, organizing a theater festival for Australia or wincing at the electric bill. The latter, according to Sheila, can be quite shocking.
It costs about a half million dollars a year to operate the center, which is administered by a board appointed by the arts councils of both the Republic and Northern Ireland.
Guthrie bequeathed his estate to the people of "all Ireland," north and south. As his will specifies, "my said dwelling house, furniture, pictures and chattels and the income of my Residuary Estate is to be used for the purpose of providing a retreat for artists and other like persons…so as to enable them to do or facilitate them in doing creative work."
His will also made another stipulation that adds immeasurably to the joy of staying here and in a subtle way spurs creative productivity.
Guthrie specified that the evening meal should be shared by all "as an informal social occasion."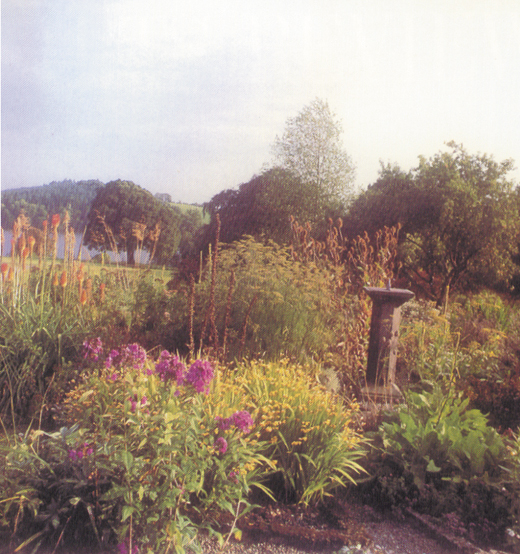 Promptly at 7 p.m. we are summoned to the long pine table in the dining room by the striking of a brass gong that might have heralded a J. Arthur Rank comedy — a zany, unscripted comedy at that. Every night there are more laughs, more genuine witticism from that odd mix of different disciplines than from any other group — college, military or media — that I have ever encountered at table.
The writers disdain talk about their genre or oeuvre. The painters don't mention their milieu or discuss works in progress. Poets like pretty Leontia Flyn (sic) from the Mountains of Mourne refrain from sharing lines whispered by the muses on her daily three-mile hike around the lake. On sunny afternoons, like John Updike, P.G. Wodehouse and Somerset Maugham, I sometimes sought inspiration at nearby golf links but kept mum about my writing progress as well as my scorecard, which was even more discouraging.
Those at table were more apt to confess their failures than their triumphs. John McGlynn one night declared himself "a failed architect but a pure Irish tenor," as opposed, he explained, to the touring three Irish tenors. Although we missed the distinction, he did have a fine clear voice and kindly refrained from singing "Danny Boy."
Ecologist Valerie Waters, an on-camera reporter for Irish Television, detailed her frustrations at trying to restore the estate's classic herb and vegetable garden near the old water tower with apprentice laborers. The memory of this prompted her to keen a melancholy lament in Irish, which provoked a general sing-along.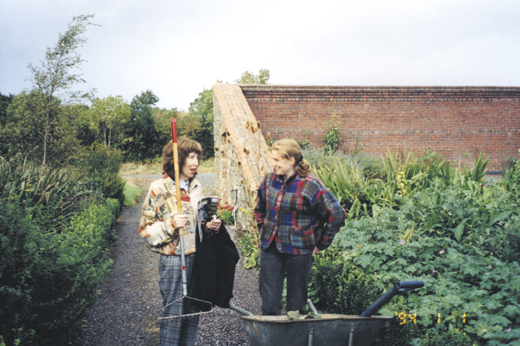 I don't recall why — there being no cocktail hour and only Australian wine at dinner — but one night I recited "The Cremation of Sam McGee" without provocation. And Brigid, my Irish-born wife (South Armagh), read fortunes in tea leaves.
In the dear bygone days, Tyrone Guthrie loved to lead his guests in charades after dinner, raiding the steamer trunks in the attic for Victorian plumed hats and period costumes. In this same spirit, after everyone helped clear the table, we sometimes played board games like Scrabble, with double-value tiles for inserting a word in Irish. One evening the game of choice was Pictionary, where the odds favored the artists over the authors. When the fire in the hearth burned low, ghost stories gathered from all ends of the table. All of them true.
Guthrie's fond hope was that Annaghmakerrig would one day produce "a new breed of playwrights to astonish us in the morning." In the two decades since the Centre opened on Oct. 10, 1981, more than 2,000 artists from 53 countries have brought their dreams to his dream factory. The roster includes poets, playwrights, choreographers, composers, photographers, story tellers, interpretive dancers, weavers, sculptors, set designers, mask makers, rock, jazz and classical musicians, even translators and kung fu practitioners.
Playwright Brian Friel said it best when he rededicated the estate to the pressure-freee spirit of Tyrone Guthrie's generous behest, speaking at the formal unveiling of the farmyard buildings funded by a grant from the Guinness brewing family:
"You don't have to increase production just because you're given a bed here. You won't have to sing for your supper. What is on offer here is something else: a retreat; an ambiance, an atmosphere, privacy and peace. Perhaps at its lowest level nothing more than an opportunity for complete indolence, and that's commendable too." ♦