The McMullen Museum of Art at Boston College is hosting a highly-acclaimed exhibit entitled Éire/Land, which explores Ireland's landscape, with artifacts ranging from medieval manuscripts to contemporary mixed-media items. Open until May 19, the exhibit comprises roughly 100 manuscripts, archaeological artifacts, early maps, and prominent Irish landscape paintings from the National Gallery of Ireland, the Hugh Lane Municipal Gallery in Dublin, and the Crawford Art Gallery in Cork, as well as private collections.
Exhibition organizers noted that from its earliest history, Ireland has time and again been claimed by waves of invaders who attempted to leave their mark on the island's identity. Any cultural artifacts that illuminate this turbulent past, they say, are central to Irish history.
Éire/Land is the first major exhibition of art works to examine this theme over the past seven centuries.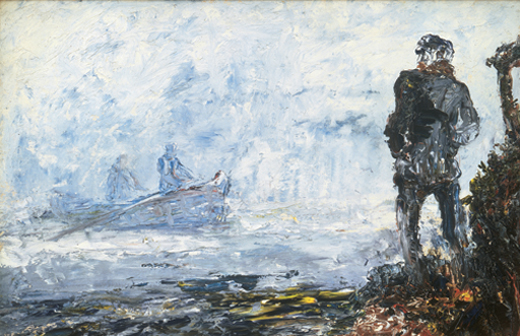 "Through this exhibition, the McMullen Museum builds on its success as a leading proponent of Irish art, which until recently was largely excluded from the canon of art historical scholarship in North America," said Nancy Netzer, the McMullen Museum director and professor of art history.
The exhibition is divided into four sections: "Mapping: In the footsteps of Giraldus Cambrensis," "Digging: Archeology and the Situating of Ireland's Past," "Possessing: Irish Landscapes 1750-1950," and "Responding Today: Contemporary Interpretations of the West."
Displayed works include the North-American debut of an illustrated, early 13th-century manuscript by Gerald of Wales, as well as contemporary paintings by Jack Yeats, Thomas Roberts, George Barter, James Arthur O'Connor, Nathaniel Hone, Paul Henry, and Seán Keating.
Éire/Land also draws on original research by distinguished faculty members at Boston College's renowned Irish Studies program, considered by many to be the most comprehensive of its kind in North America.
To commemorate the opening of the exhibition, a black-tie event was held on February 1. Hosted by Boston College President William P. Leahy, S.J., the evening also included a lecture by Dr. Síghle Bhreathnach-Lynch, curator of Irish art at the National Gallery of Ireland.  ♦