During his father's time, the Dodgers broke the color barrier with Jackie Robinson. Now, Peter O'Malley is helping to internationalize the most American of sports by building baseball fields in Ireland, China, and Nicaragua and supporting baseball programs in Japan and other countries.
Peter O'Malley is an internationalist. You can tell by the gigantic pictures of baseball diamonds he has constructed that hang on the walls of his office in downtown Los Angeles. There are blow-ups of fields in Nicaragua, Tianjin China, the Dominican Republic and Dublin, Ireland. In O'Malley's perfect world, top-notch baseball would be played in every country and the "World Series," would have a more literal meaning.
Since succeeding his father, the legendary Walter O'Malley, as president of the Los Angeles Dodgers in 1970, Peter has traveled the world in search of professional quality players and to jump-start baseball in places where athletic resources are scarce. Although O'Malley sold the Dodgers to the Fox Corporation in 1997, he has remained an active supporter of amateur and professional baseball. Cultural and athletic exchanges, O'Malley believes, can play a small role in diplomatic progress and can open up opportunities for young talent. If the world is now a global community, than baseball should be part of it.
The O'Malleys and the Dodgers are virtually synonymous with professional baseball and the cultural and social currents of American life. The Dodgers were responsible for breaking the so-called "color line" in baseball when they brought Jackie Robinson to the Brooklyn Dodgers in 1947. When the Dodgers moved to Los Angeles in 1958 it symbolized a demographic and economic shift west, helping make baseball a genuinely national pastime. And by signing top pitchers from Mexico, Korea, and Japan, the Dodgers built a multicultural team in one of the nation's most diverse cities.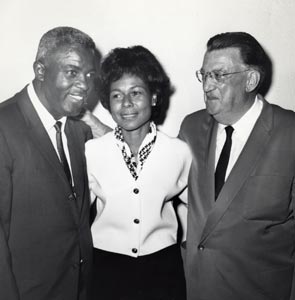 It would be easy to spend days reminiscing with O'Malley about the highlights of the past — the 15 National League Pennants and six world series titles, Pee Wee Reese and Jackie Robinson, Sandy Koufax and Don Drysdale, Maury Wills and Roy Campanella. But Peter O'Malley's mind seems firmly fixed on the present and future. He prefers to talk about the growth of Olympic baseball or the potential for a world-wide league. He recently returned from Tokyo where he was supporting another baseball program there. He's staying busy in Los Angeles advising business and civic leaders, supporting the arts and pushing for a NFL football franchise. But in his spare moments of reflection, he imagines a house in West Cork, a good book and a warm fire. And perhaps on a late summer afternoon he could even take in a baseball game.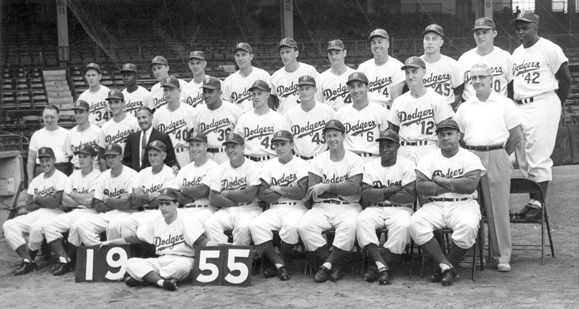 Kelly Candaele: It's as if you could trace the history of the United States — racial issues, changing demographics with the growth of populations south and west, economics, the growth of the corporation — through the evolution of baseball.
Peter O'Malley: I completely agree. The Hall of Fame had an exhibit recently with the theme being "Baseball In America," and it pointed out how in all those issues — Jackie Robinson, the movement to the suburbs, western expansion, economics — baseball has reflected the changes in America.
Are there any particular experiences as owner of the Dodgers that you cherish above others?
The overall stability of the organization during the almost fifty years that my dad and I were in charge. That was a tremendous good feeling of accomplishment for our family. Over that time we had just a few managers, a few general managers, and very little turnover. We kept the ticket prices down. We had credibility and support of the fans and made decisions with a long term view rather than a short-term view. We enjoyed every minute of it, but it was not a hobby. We felt responsible as a family.
Was there a point during your ownership where you saw the changes happening in terms of the economics of baseball — the takeover by media conglomerates and owner-player relations — and thought this is not in the best interest of baseball or the fans?
I honestly thought corporate ownership would be good for the game. Years ago we had some individuals who may have bought teams for ego satisfaction or to become better-known — not good reasons to own a sports team. I thought corporations would be stable owners as corporations live forever although management changes. Looking back it didn't work out that way for Disney or Time-Warner or Fox. In the mid nineties I saw the accumulative debt of all thirty clubs approaching two billion then three billion dollars and I thought how in the world is that debt every going to be paid? It just didn't make any economic sense to me or my family to stay in the game and that's why we made the decision in the late nineties to leave. It was an emotional decision that I don't regret but we certainly miss it. The economics are just out of balance.
It seems that baseball has gone from being a blue-collar game to the regular Joe being priced out of attendance. Now a fan might spend $150 or $200 on a single game if they take the family.
I agree. We used to encourage families for to come for X number of dollars. That's changed dramatically in the last five years. It's eight dollars for a beer. The price of parking, hot-dogs, soft drinks as well as ticket prices have all gone up a lot and that's not good for the future of baseball. The game on the field is extraordinary but it's the off the field problems that need to be addressed in a creative way. A new commissioner would help and a new relationship with the Players Association would help. There have been eight work stoppages in thirty-two years so that's not the way to run a business.
Do you stay in touch with the game?
I do. I keep in touch with the Dodgers and the management there. I keep in touch with some of the owners, former owners, and league commissioners. But I really spend a lot of time on international baseball. I've enjoyed watching baseball grow around the world and in the Olympics. I've also been chairman of the Little League Baseball Foundation for many years. So it's not a business but a hobby. My work internationally is partly responsible for how we got Fernando Valenzuela from Mexico, Hideo Nomo from Japan and Chan Ho Park from Korea.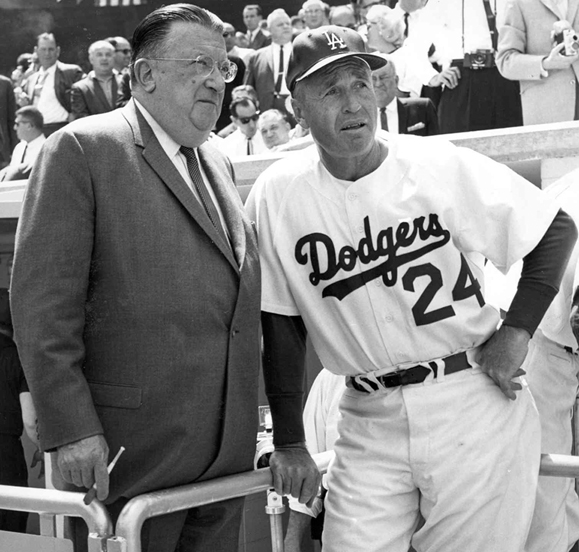 Did you do that kind of recruiting to help make the Dodgers reflect the diversity of Los Angeles as a world city?
Exactly. Consciously or sub-consciously it was there. I always wanted the Dodgers to reflect the make-up of the city. We gave it a pretty good shot.
Have you flirted with getting back into the game?
There are teams for sale in Taiwan, Korea and Japan. I've been invited to buy any number of them. They are all losing money. I've just sold a team that was losing money and I don't really want to buy another team that is also losing money.
Any big projects on your agenda that you can talk about?
Football. I keep in touch with the NFL. It's easy for a lot of the elected officials to say the NFL needs LA more than LA needs the NFL. I don't agree. I think having an NFL team here would be an extraordinary opportunity. It's good for both. I looked at it in the mid '90s when I was thinking about building a football stadium south of Dodgers stadium. It didn't work out but that problem has to be solved. What would drive the economics of the project would be Super Bowls. Today New Orleans is the NFL's favorite Super Bowl city. Having that whole two-week event here, with a state-of-the-art stadium, would be beneficial to all the citizens and taxpayers. There would be no better city.
What are your memories of Brooklyn?
Great memories. I went to grammar school in Brooklyn and visited Ebbets Field frequently. In those days the Dodgers played afternoon games so my friends and I would catch the last five or six innings after school. My family didn't want to leave Brooklyn. We had friends there and still do.
Do you remember when Jackie Robinson came up to the Dodgers?
I was nine years old in 1947. I do remember visiting with Jackie and Roy Campanella and Don Newcombe in the dugout during spring training at Ebbets Field, but I can't really remember his fast game or the impact of that.
Do you remember the Dodgers triumph in the 1955 World Series?
I do. I also remember [N.Y. Giants] Bobby Thompson's three run home run in the 9th inning which won the National League Pennant in 1951. I had a portable radio as I was working out with the high school football team and we listened in disbelief. The Dodgers had had a lead of about thirteen games with a month and a half to go. So that was not a happy time. But winning the National League Pennant as frequently as the team did in the 1950s was thrilling even though the Yankees knocked us off in the World Series until 1955. I was a freshman at the University of Pennsylvania for that one. It was a big event.
What was the background of the Dodgers leaving Brooklyn?
My dad wanted to build a stadium in Brooklyn at the corner of Atlantic and Flatbush Avenues. It would have been the first domed stadium. He was working with Buckminster Fuller who designed the geodesic dome and that would have been both a great location, where the Long Island Railroad ended in Brooklyn, and a great stadium. He tried hard and only when he determined that it was just not going to happen did he look elsewhere. The Giants were looking at Minneapolis and it made a lot more sense for them both to go to California.
Didn't your father help the Giants with the move to San Francisco?
I think he did. The Giants had a similar situation. Ebbets Field was built in 1913 and it truly was an old stadium with very limited parking. The Polo Grounds had a similar dilemma. I don't remember any discussion about the Giants and a new stadium in the vicinity of the Polo Grounds. So both teams had to do something and San Francisco and Los Angeles worked.
Did the emotional intensity of that decision in terms of Brooklyn fans, surprise you?
I think there was a lot of bitterness and animosity but you have to take an objective look at everything that was going on and my father's sincere attempt to build a stadium in Brooklyn. Robert Moses was a key players in those days and my Dad and Robert Moses did not get along. I'm not saying my dad was right or Moses was wrong, but they were two very strong individuals. Moses had his ideas and my dad had his and it didn't work out. My dad wanted to stay. Why would you leave the New York market? My dad had an interest in pay television so he didn't want to leave the New York market. He tried hard in Brooklyn but it was impossible so he looked elsewhere.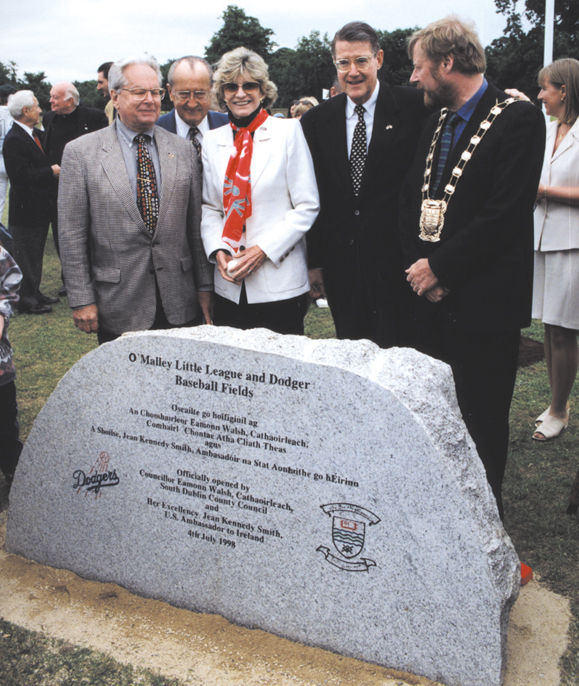 Did Moses kill the deal in Brooklyn?
Moses wanted a stadium in Flushing Meadows where eventually the Mets' Shea Stadium was built. But my dad said no, if we're going to be the Brooklyn Dodgers we're going to be in Brooklyn, not in Jersey City or Flushing Meadows or on Long Island. The Atlantic and Flatbush site really turned him on. Every subway in New York passed underneath and the Long Island Railroad dead ended right there.
The Braves had moved from Boston to Milwaukee and were drawing over two million fans a year. I'm guessing that the Ebbets Field attendance was as best 900,000 a year. The field had outlived its life. They re-modeled it in the 1930s and in 1957, which was our last year there, it was 44 years old. Restrooms, food facilities and the clubhouse were not adequate. The same was true for the Polo Grounds and Yankee Stadium. I'll bet the City of New York has put into Yankee Stadium close to a billion dollars every fifteen years or so since the late 1950s when the Dodgers and Giants left because all three of those stadiums were old.
What's the story behind returning the 1955 Dodgers World Series flag to Brooklyn?
When we played the White Sox in Los Angeles in the World Series in 1959 we hung the 1955 World Series Brooklyn Dodgers championship flag on the wall in the press headquarters. Three young writers from New York including Jack Mann who I believe is still alive, said, "We've got to get that flag. It doesn't belong in LA; it belongs in Brooklyn." They gave the guard twenty dollars to look the other way and they got the flag and took it back to New York. I believe it stayed in Jack Mann's garage in Long Island for ten or fifteen years and nobody knew where it was. Finally they decide that they are going to give the flag to the Baseball Hall of Fame and that's what they do. So I write to the head of the Hall of Fame saying that the flag is stolen property and it has to be returned to its rightful owner. They agreed and they sent it to me in Los Angeles maybe fifteen years ago. Then I decided that it really belonged in Brooklyn. I called the Brooklyn Historical Society and said I'd like to give them the flag and so today the 1955 Brooklyn Dodgers World Championship flag is back in Brooklyn.
Where in Ireland are the O'Malleys from?
County Mayo. I took the family there but didn't meet anyone we were related to.
Did you have a sense of Irish identity or connection to Ireland growing up?
My dad talked a lot about Grace O'Malley, the pirate queen of Ireland four hundred years ago, who was from Mayo. He probably read all the books about her. My dad only visited Ireland a few times. I went a couple of times with him and when I got married in 1971 in Copenhagen we went to Ireland on our honeymoon. My wife and I have taken our three children there several times. We just drive around and try to absorb the people, the beauty, the nature and the friendliness of Ireland. Our children, Catherine, Kevin and Brian, look back on those trips with great memories. They were introduced to Ireland at a younger age than I was. My first trip was in the mid-sixties.
How did you get interested in helping to promote baseball in Ireland?
When I was there I inquired about whether baseball was being played. "It's being played on the corner of the soccer field and when the soccer players come, the baseball youngsters have to move elsewhere," I was told. So I asked how much it would cost to build a field. It was not much, so we looked at five or so different sites and finally settled on Corkagh Park. It's a great setting. I told the association that I would pay for the building of the ball field and the clearing of the land but they would own and maintain it. So volunteers active in the Irish baseball and softball association do all the work.
You were there when the field opened.
Yes I was at the opening of the adult field in July 1998. Jean Kennedy Smith, then the United States Ambassador to Ireland, threw out the first ball. At the time my daughter Catherine was working as an intern in her office. Ambassador Kennedy Smith was extraordinary. She had us all back to the residence for a big 4th of July celebration. We had a great time. The fact the Irish are now using the field a lot, in between showers, makes me feel really good.
It is your sense that at some point there could emerge an international world baseball league?
It is. I think that if Rome had gotten the votes to host the Olympics it would have helped. Italy is the strongest baseball country in Europe and baseball's an official sport in the Olympic program. There are baseball stadiums and stadiums with lights in Italy so it would have been an extraordinary boost for baseball. From that standpoint I was hoping that Rome would win. That's were it would start. The Netherlands is the second strongest country for baseball. Austria has good amateur programs. It will take time, maybe an exhibition game or two in Rome. It just needs more visibility and promotion. In Ireland it's tiny right now but growing.
Even though Ireland is a global country now in terms of culture, music and theater, in terms of sports I wonder how they will accept baseball.
I don't think it's a problem at all. When Jean Kennedy Smith was ambassador and I told her about my idea to build a field, she said, "Will you also build one in the North?" and I said I've never been to the North but I'd surely consider it. At the time there was hardly any baseball being played there. Now there are exchanges back and forth. I have not done anything in Northern Ireland but maybe some day it will happen. I need to go there and check it out.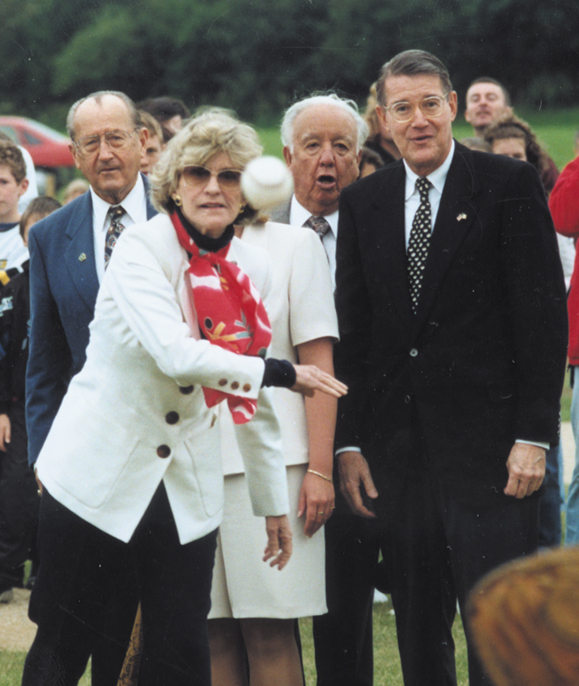 The players from Belfast say that they are all teammates and that goes beyond being Catholic, Protestant, Nationalist or Unionist.
Baseball has an extraordinary opportunity to generate good will and understanding. A good friend of mine in Japan Dr. Matsumae, founder of Tokai University, had a dream to build a baseball stadium in Moscow because he believed that if baseball could get started in Russia that would help the United States, Russia and Japan. He built a stadium in Moscow and I went to the grand opening. So it was that idea that caused me to build a field in China before the fields in Ireland. Now baseball is doing very well in China. I built one in Nicaragua for different reasons. It all helps because we all have to get along.
Do you think Sandy Koufax was the greatest pitcher ever?
You and I haven't seen them all but we've seen a fair number. I'd have to say he was based on what I've seen and heard about those who came before him. Sandy dominated when he was pitching. So for me he was the best and an outstanding individual, a very quiet guy who doesn't care for the limelight. He also has been to Ireland and enjoyed it very much.
Do you have any plans to go back to Ireland soon?
I do. I want to go back soon and visit the fields. I thought about buying a place in Castletownsend in the western part of County Cork that was absolutely beautiful. It's a peaceful place on a little bay away from where the tourist buses pass. There's a tree in the middle so a bus can't even get down the street and there's a great pub. That was before September 11th and we have put it aside for now. But maybe it will happen.
My friends ask, `What are you going to do there Peter?' And I say `I'd like to read about Irish history and learn a lot more than I now know.' ♦
Read about how Peter O'Malley has helped promote baseball in Ireland in Paddy Play Ball by Colin Muprhy.
---