A Sampling of the Latest Irish Books.
℘℘℘
RECOMMENDED
The Encyclopedia of Ireland is being dubbed the most comprehensive book to date on Irish life, culture, and history, and leafing through its pages, it's hard to disagree.
Arranged in alphabetical order, the Encyclopedia contains more than 5,000 essays written by nearly 1,000 contributors.
A random sampling (under G) captures the wide range of topics covered in this impressive volume: "games, mediaeval," "Garinish" (a small island in Bantry Bay) and "George IV's footprints" (these are actual impressions in a granite boulder which mark the monarch's August 12, 1821 visit to Dublin, the first such peaceful visit by a British monarch in over 100 years).
The Encyclopedia rightly takes a very broad view of Ireland. Editor Brian Lalor also wisely decided to include lots of information about Irish people not just in Ireland, but across the globe. Lalor was a good choice for this project, having written numerous books on Ireland's landscape, topography and travel, such as The Irish Round Tower, The Blue Guide to Ireland, The Laugh of Lost Men and West of West.
Frank McCourt also offers up a fine introductory essay, writing: "This is a book that will settle many an argument and, I hope, send many a reader off on a journey."
There is always room to quibble in a book such as this. The Battle of the Boyne entry, for example, is quite brief. The description of the 1690 clash between the armies of King James II and King William III is adequate. However, there is no mention of the battle's contemporary relevance. After all, the battle is marked by tension in Northern Ireland to this day.
Such minor flaws aside, however, this is a must-have for any Irish book lover. (1216 pages / $65 / Yale University Press)
NON-FICTION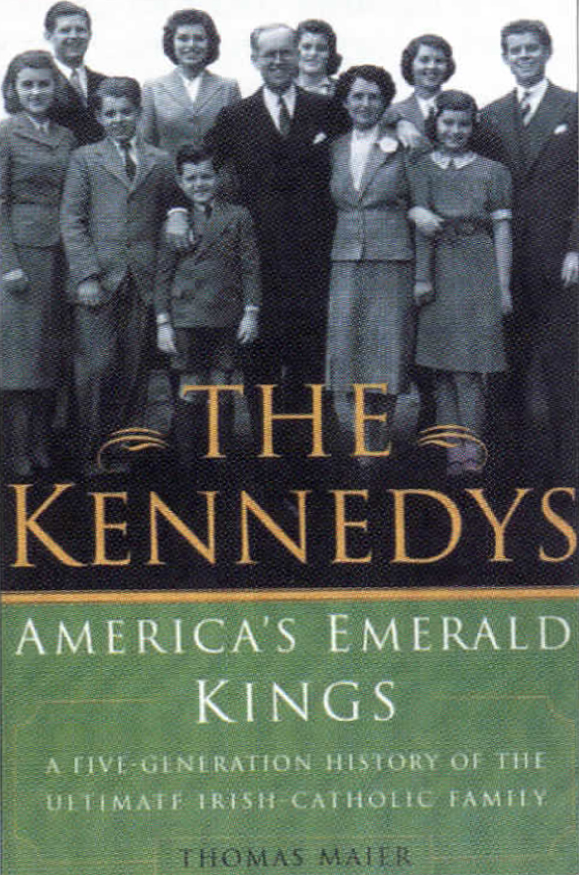 Believe it or not, journalist and author Thomas Maier has something new to say in a book on the Kennedy family. While they have long been known as America's most prominent Irish Catholic family, no book has focused entirely on that element of the family history. Until now.
The Kennedys: America's Emerald Kings explores (at great length) how the immigrant experience influenced the family's success, as well as how it would later cope with one tragedy after another. In many ways, this book reads like a metaphor for the Irish immigrant experience itself.
Maier did lots of research in Ireland, and it pays off in the early sections on Patrick Kennedy's 1848 trip from Ireland to Brahmin Boston. Inevitably, much of this material is familiar. But the passages on Joe Kennedy's decision not to run for office because he feared America's anti-Catholic bias is eye-opening.
Ultimately, Maier (a staff reporter at New York Newsday and author of Dr. Spock: An American Life) never comes off as one of those authors who is exploiting the Kennedy family. There is a fascinating, five-generation story to tell here, and Maier does it well. ($27.50 / 600 pages / Basic Books)
_______________
You've seen many of Neil Jordan's films, from 1985's Mona Lisa right up to 2003's The Good Thief. Now authors Emer and Kevin Rockett offer a valuable look back at the director's diverse body of work in Neil Jordan: Exploring Boundaries.
Once you delve back into Jordan's often dazzling career, it's sometimes hard to believe the director of Irish classics such as The Crying Game, The Butcher Boy and Michael Collins also helmed the Robert DeNiro-Sean Penn caper We're No Angels and the sumptuous, English-set World War II film The End of the Affair. Other books which are part of this series on contemporary Irish artists have included interviews with the artists themselves. Unfortunately, we do not get a sit down with Neil Jordan in this book. Nevertheless, this is a smart, revealing book about an important artist. ($29.95 / 316 pages / Dufour)
_______________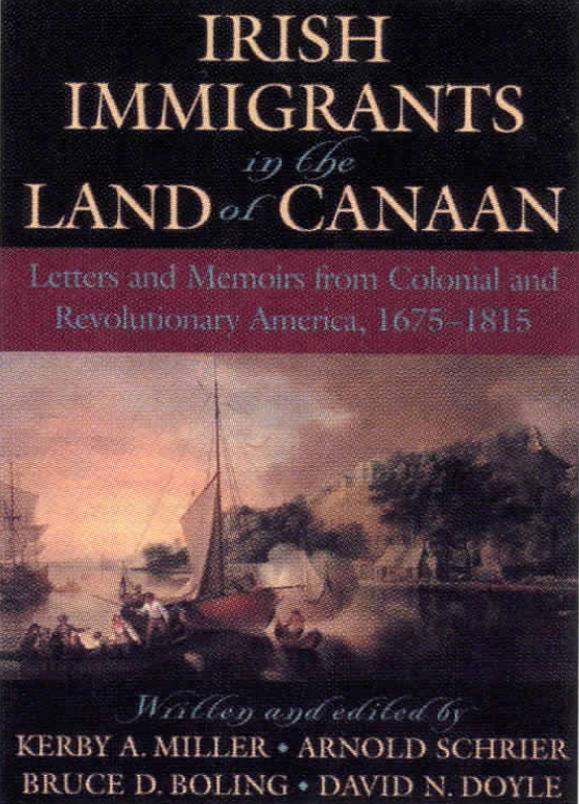 On April 1, 1809, immigrant John O'Raw wrote from Charleston, South Carolina to his parents Bryan and Nellie O'Raw in Ballymena, Antrim.
"Through the mercy of divine Providence I am still in existence after innumerable Misfortunes &dangers &is in good Health &happy &must ask forgiveness of the Almighty, &of you my dear parents in prolonging writing to you, but I trust you will not attribute it to ingratitude as my Heart still flows with the most affecionat &ardent emotions of Filial Affection."
O'Raw was just one of thousands upon thousands of Irish immigrants who fled to the U.S. long before the Famine sent so many more. These letters, filled with emotion and danger (not to mention spelling errors and an excess of capital letters), offer remarkable insight into an oft-forgotten aspect of the Irish immigrant experience.
Now, an impressive volume of such writing is available. Entitled Irish Immigrants in the Land of Canaan: Letters and Memoirs from Colonial and Revolutionary America, 1675-1815, the book was written and edited by Kerby A. Miller, Arnold Schrier, Bruce D. Boling and David N. Doyle. Admittedly this can make for dry reading at times. But this is also history at its most intimate. Meanwhile, the authors offer excellent, exhaustive analysis.
Irish Immigrants in the Land of Canaan is indeed a groundbreaking study of early Irish (Protestant and Catholic) immigration to America. The authors explore letters, memoirs, and other writings to describe the diversity of early Irish immigrant experiences. Immigrants settled as frontier farmers and seaport workers as well as revolutionaries and loyalists to the British crown.
In the end, these Irish played a key role in the formation of the American colonies, as independence from Britain loomed. The book outlines why Irishmen and women left home and how they adapted to colonial and revolutionary America, helping to forge Irish and Irish-American identities on both sides of the Atlantic.
This is not necessarily a book to read cover to cover. Still, this book can be opened at nearly any page and new insights on the Irish immigrant experience await. ($35 / 788 pages / Oxford University Press)
_______________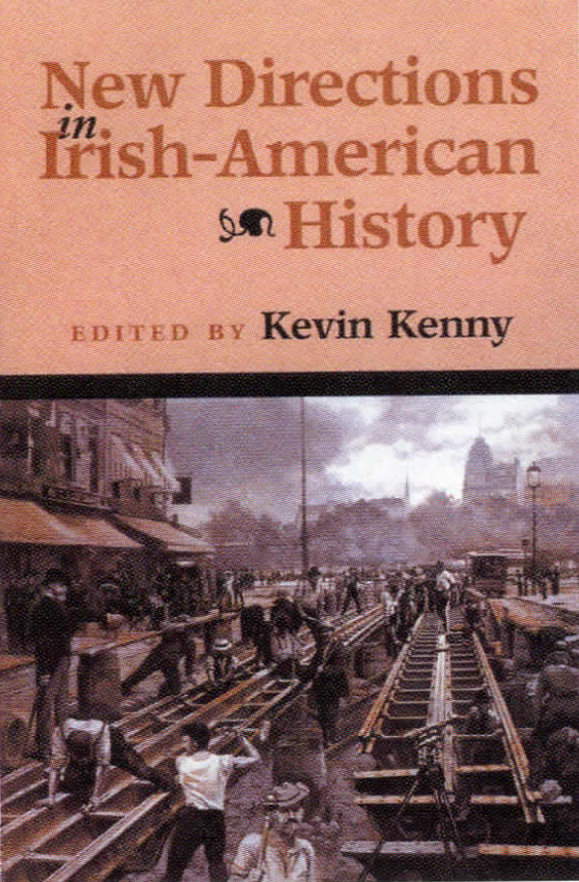 For those seeking a more academic read, New Directions in Irish American History includes insightful essays by Tyler Anbinder, Mary P. Corcoran, Mary E. Daly, Catherine M. Eagan, Ruth-Ann M. Harris, Patricia Kelleher, Líam Kennedy, Fionnghuala Sweeney and other scholars. Edited by Kevin Kenny, an Irish Studies professor at Boston College, the standout essays in this book are "Five Points and the Irish Conquest of New York Politics," "Irish Women in America Write Home," and "The Experiences of Returning Irish Emigrants." ($19.95 / 334 pages / University of Wisconsin Press)
BIOGRAPHY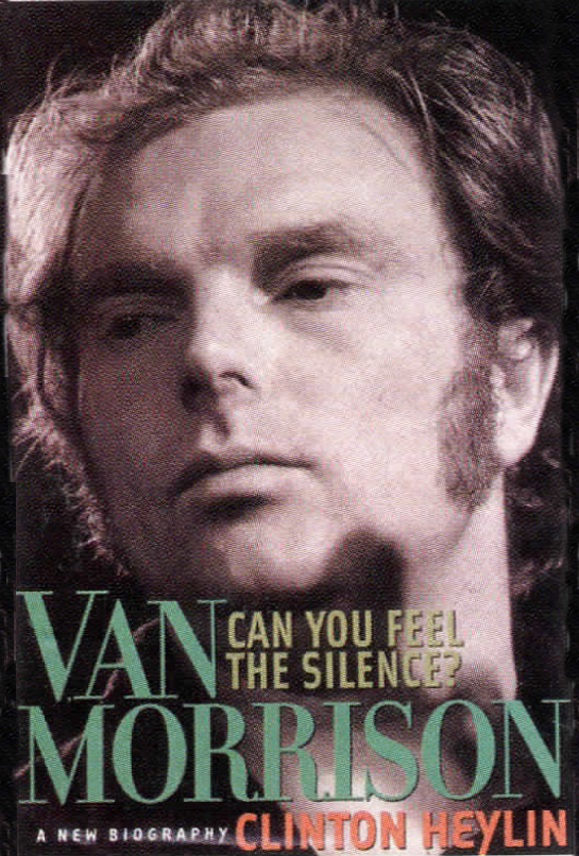 Author Clinton Heylin interviewed more than 100 people for Can You Feel the Silence? his new biography of Belfast-born music man Van Morrison. The result? Morrison, as with so many talented artists, is clearly billliant and clearly troubled.
Heylin is the author of a number of music business books, including Bob Dylan: Behind the Shades and Bootleg: The Secret History of the Other Recording Industry. He's got quite a mysterious subject to conquer this time around. At times, Can You Feel the Silence? reads a bit like a script for VHI's Behind the Music. Still, this is an engaging book, particularly for Van fans who may not know much about the reclusive crooner.
Particularly important is Heylin's exploration of the working-class Belfast Morrison was born into in 1945, and how that was incorporated into masterpiece albums such as Moondance and Astral Weeks. Later, bad business decisions would leave Morrison penniless, even as his songs were topping the charts.
Perhaps it's no wonder that, in the words of his onetime collaborator Linda Gail Lewis, Morrison's music "brings happiness to other people, not him." ($28 / 576 pages / Chicago Review Press)
FICTION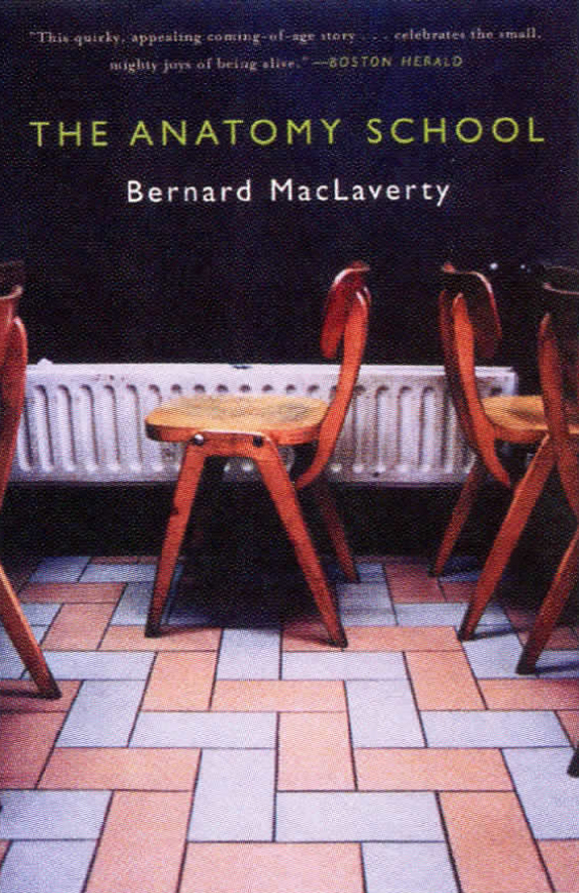 Set in Belfast, Bernard MacLaverty's new novel The Anatomy School focuses on high school student Martin Brennan. At times, this book feels a bit too familiar, as it explores all the awkwardness and mystery of the late teens years. Still, MacLaverty manages to come up with an insightful and at times funny read.
It is the late 1960s, and Martin, of course, is approaching adulthood. But two things have to be faced before Martin grows up. He must pass his exams, and he must deal with the Troubles, which, of course, are exploding all around Belfast at this time.
But it is the quiet moments of The Anatomy School that make it such a worthwhile read. Particularly well done are the scenes with Martin smoking, studying or just talking with his two pals Kavanagh and Blaise.
Moaning about their rigorous schoolwork, Blaise rants: "They make us jump through hoops in order to become expert hoop jumpers."
Still, Martin must do well in school. He's already lost a scholarship because of poor grades. Now that his mother must pay for the rest of the year, Martin must shape up. Of course, there is an option other than hard work. He can steal the answers to an important test, which is quite a temptation to Martin and his pals.
All in all, MacLaverty balances Martin's teenage angst and pranks with the broader picture of Belfast descending into violence and chaos. ($14.95 / 355 pages / Norton)
_______________
Also set in Northern Ireland is Love and Sleep by Sean O'Reilly. This is a rather claustrophobic novel, at times glum and heavy. Still, the story is an intriguing one, and O'Reilly's characters have many skeletons rattling around in their closets, which the author slowly reveals as the book moves along.
O'Reilly's main character is Niall, who left his native Derry when he was young. He did not even return for his father's funeral. So when Niall does return in the 1990s (the IRA ceasefire has ended) he has to sort things out with his increasingly troubled family. This as Niall navigates a difficult romance with the politically-charged Lorna. This is an uneven book, but O'Reilly's conclusion is a good one, not least because he wraps things up economically, rather than dragging the material out at length. ($13 / 199 pages / Carrol &Graf) ♦