On January 1, Ireland is expected to become the first European country to ban smoking in pubs. Given that smoking and drinking are cherished traditions in the old sod, pundits are betting that it won't happen. Minister for Health Micheál Martin, who proposed the new smoking rule, is facing increasing ire, not just from the public. Ireland's environment minister Martin Cullen is hotly expressing his opposition to the plan and blaming it on the Americans. "I hate the importation of this American political correctness into Ireland. I dislike it with a passion," he grumpily observed. Of course, Cullen is reportedly a 40-a-day man, which we are sure does wonders for the environment.
Meanwhile, the Irish government is also trying to get the Irish population to cut back on alcohol consumption with strict new licensing laws.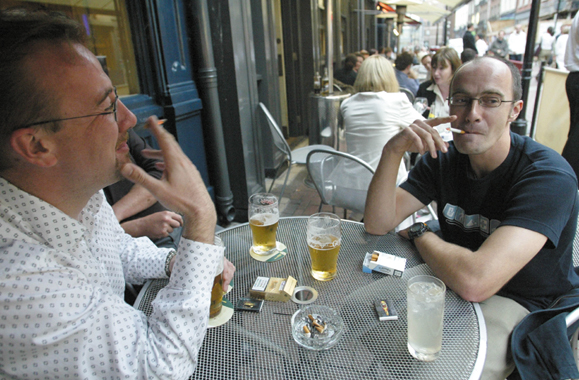 Publicans will be fined €1,500 for serving drunks or letting "intoxicated" people into the bar or allowing fights or rows on the premises. Closing time on Thursdays will revert back to 11.30 p.m. Owners cannot offer any form of music or entertainment during the 30 minutes drinking-up time, and non-uniformed police are given greater powers to enforce the new laws.
Pubs who break the licensing laws could face temporary closure. ♦