Once considered the greatest crooner of all, the distortion of Bing Crosby's accomplishments and reputation has been as remarkable as his career. Bob Lydon debunks many of the myths that have circulated since the singer's death in 1977. 
℘℘℘
Bing Crosby died on a golf course near Madrid, Spain, on October 14, 1977.
He was 74 and well past his career peak years which spanned the 1930s to 1950s, a time when he was considered the biggest star in the world. Nevertheless, his death triggered an incredible demand for his records. So many sales were made that MCA (Decca) had to utilize other companies to meet the need to produce more than a million discs a day.
In the years following his death, however, apart from the annual resurrection of his music and films at Christmas time, Crosby's artistic accomplishments have been in large part forgotten or ignored.
In 1998, Newsweek magazine failed to include Crosby on its list of the 100 greatest voices of the century. And, even more disturbing, the American Film Institute left him off its list of the 100 most successful film stars of all time even though Crosby had been nominated for three Academy Awards, and was chosen as Best Actor once. He was a top 10 box office draw for 15 years — number one box office attraction for an astounding five consecutive years in the 1940's. And he was highly respected by Hollywood's elite. The great director Frank Capra said Crosby was one of the 10 best actors he ever worked with, and David O. Selznick described Bing as "the smartest man in movies."
So what happened? Why has the reputation of the man with the golden voice become so slurried that at a recent conference a young disc jockey said a female singer friend of his doesn't like Crosby "because he was a child abuser." Another disc jockey said that a fellow DJ who had curiously omitted Crosby songs from hits of the 1940s, finally admitted he doesn't play Crosby records because he just doesn't like him personally.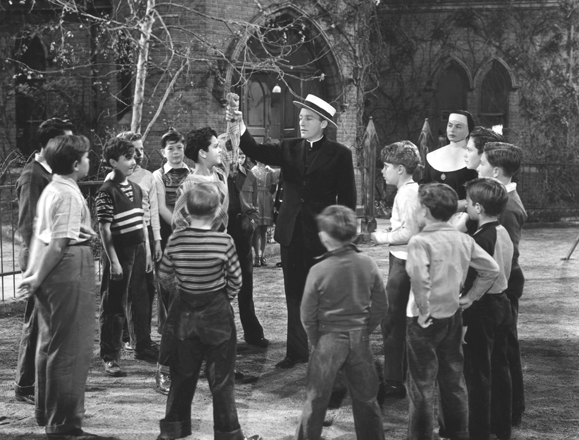 The reasons for the tarnish on the Crosby legacy are many. Gary Giddins, Village Voice columnist and musicologist, who authored the recently published book on the singer A Pocketful of Dreams — the Early Years, 1903 to 1940, feels that Crosby's reputation was broadsided after his death by two vicious books that inaccurately portrayed him as a Daddy Dearest-type character. Robert Slatzer wrote Bing Crosby the Hollow Man, and Bing's alcoholic eldest son Gary wrote Going My Own Way.
Both these books had a powerful effect on the public, and comedians led by Joan Rivers had a field day, asserting Mr. Everyman was in reality a monster.
After carefully tracing each major allegation in these books back to its source, Giddins' detailed research established that many of the contentions were untrue. He concluded that Hollow Man contained half-truths and no truths for the most part. In fact, the Slatzer book's main information source, Crosby pal Al Rinker, was so incensed that he later wrote a journal correcting Hollow Man's numerous errors.
Giddins also recorded nine hours of Gary Crosby on tape. Crosby's son's most damaging charge was that his father had beaten him and his three brothers. Crosby, of course, came from an era when physical discipline of children was the norm. But as Giddins correctly observed, there is a big difference between spanking and child abuse. "When I would challenge certain allegations in his book with my own research, he would say, `I don't remember writing that, I was drunk at the time.'"
Crosby's remaining son from his first marriage, Phillip, described his father as the greatest dad in the world.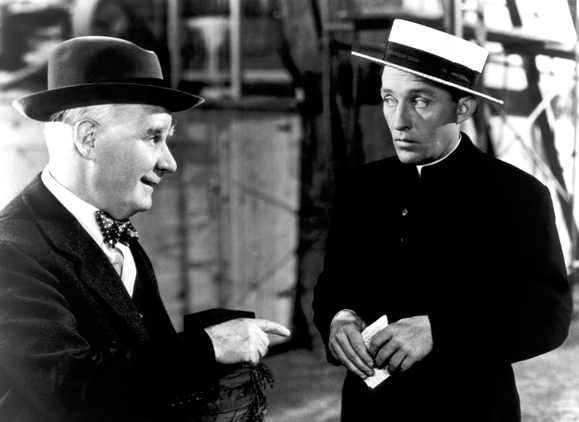 Another preposterous allegation making the rounds was that Crosby had smashed the head of his hunting dog, in a fit of rage.
Giddins finally traced that fabrication to a reluctant source who eventually claimed that it came from Gary Crosby. Gary vehemently denied the story and noted that his father loved animals.
Whether by design or through ignorance, the distortion of Crosby's accomplishments has been as remarkable as his career.
Until the Giddins book was published, few people knew about Crosby's extraordinary contribution to equal opportunities for black entertainers.
He was a trailblazer who went contrary to tradition and had the Mills Brothers and other black entertainers as frequent guests on his top-rated radio show. Incredibly, at its peak, Crosby's audience reached 50 million listeners, so the benefits to black entertainers cannot be overstated.
In the early 1930's he defied Hollywood moguls and was solely responsible for giving Louis Armstrong top billing in one of his movies. This marked the first time an AfricanAmerican had top billing in an otherwise white film.
For his part Armstrong held Crosby in high regard, not just as a fair-minded person but as a singer. In 1990 when Life magazine selected its list of the 100 most important Americans of the 20th century, both Crosby and Armstrong made the list, and Armstrong calling Crosby the greatest singer of all, commented, "that cat can wail." Only two other musicians made the list: Bob Dylan and Elvis Presley.
Unfortunately, as Giddins book explores, the very qualities which made Crosby a national icon during the World War II era, later worked against him. During that war, a poll of U.S. troops was conducted by Yank magazine. The results recognized Crosby "as the person who has done more for the morale of overseas servicemen than any other entertainer." However, being cool, detached and laid back didn't seen to work in the nuclear age. This was also the time when a younger, hot Sinatra resurrected his career and the arrival of Elvis Presley signaled the emergence of the rock-and-roll era.
Although Presley, the King of rock and roll, died the same year as Crosby, his baby boomer fans tend to ignore the image of the bloated, fading superstar who died of a drug overdose at age 42, and still envision him as the svelte sexsymbol of their youth. But Bing's greatest years came to a close around the end of the 1950s. Coupled with this is the fact that many of his fans were from the Depression era, and the Greatest Generation who fought in World War II.
To be sure, Bing's recording and film successes continued into the 1960s, but on a much smaller scale. Indeed even into the 1970s the elderly Crosby's brilliance was evident in his work with Rosemary Clooney, the Joey Bushkin Quartet and Buddy Bregman. And who can forget the wildly popular duet version of the "Little Drummer Boy" from the 1970's, when a frail Crosby clearly steals the show from rock idol David Bowie? But many of today's middle-aged people only remember the grandfatherly version of Crosby as seen on those popular TV Christmas specials. The young, vital Crosby and that gorgeous voice and commanding screen presence are unknown to them.
A 1970s interview with Barbara Waiters didn't help Crosby's reputation, but it did succeed in making him appear to be an out of touch prude. Relying on morals stressed in his own upbringing, he answered a hypothetical question by saying he would have nothing to do with his own daughter if she lived with a man outside marriage.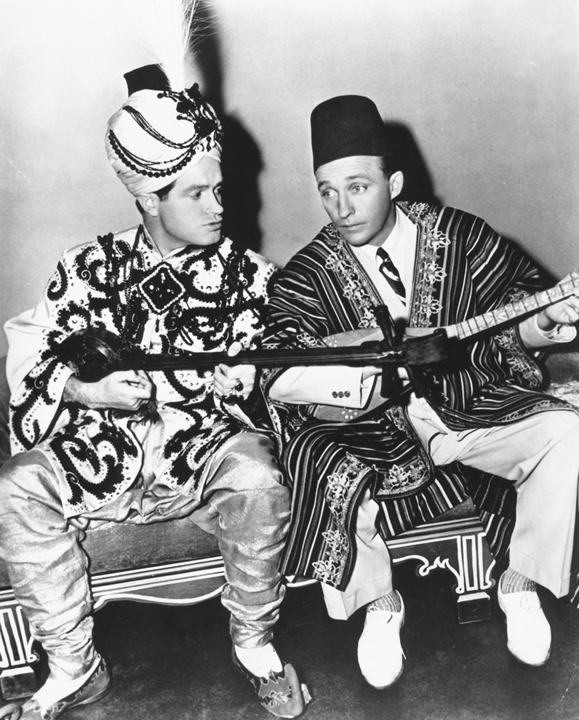 It wouldn't be the first time that Crosby's Catholicism came under attack.
Barry Ulanov's 1948 biography, The Amazing Crosby, which was perhaps the first substantive book about Crosby's career, lends credence to those who believe Crosby's reputation was in part demolished because he was too successful portraying Catholic priests.
In his book Ulanov refers to "the anti-Crosby crusade which in late 1946 and 1947 had assumed sinister proportions. Hollywood's Communists, as a part of their general anti-Catholic position, singled out Bing Crosby, the most prominent lay Catholic of our time, as the logical victim of their anti-Roman Catholic campaign. With frightening regularity they set rumors in motion about Bing. They even went so far as to prepare a movie roughly paralleled on his life, with some effective distortions of the true Crosby story, to undermine his career."
According to Ulanov, such people were in the front ranks of those who found fault with Crosby's politics and his movie making as an independent producer. When a controversy arose about the quality of the Crosby film Abie's Irish Rose, a movie about the romance between a Jewish boy and an Irish Catholic girl) a prominent rabbi took time out to laud Crosby, "whose record of service to Jewish and minority causes is unparalleled." How ironic that decades later, among the charges found to be without merit was the accusation that Bing, who had actually received hate mail calling him a "Jew Lover," was anti-Semitic.
Thankfully, there are Crosby enthusiasts out there who are working on redeeming Crosby's reputation. In addition to Giddins' inspiring book which is fast becoming a bestseller, in November, 2002, Hofstra University sponsored a Crosby Conference in Hempstead, Long Island, New York, to examine the singer's impact on American culture.
Academics from across the country, as well as musicians, composers, critics and disc jockeys, presented papers and conducted sessions detailing Crosby's influence. More than 350 people from around the world attended, and a major participant was the International Crosby Circle, headquartered in England and dedicated to the "preservation of Crosby's incomparable musical legacy."
A letter from Irish Prime Minister Bertie Ahem citing Bing's status as the greatest Irish-American entertainer of his age, and noting that Crosby's maternal grandparents (Harrington) came from Schull, County Cork, was read out at the opening ceremony.
Not to be outdone, Crosby's alma mater, Gonzaga University in Spokane, Washington held a symposium from May 16 to May 18 this year, to commemorate the 100th anniversary of the singer's birth.
These Crosby enthusiasts are quick to point out that Crosby's stellar recording career is still being ignored in the mainstream media. As recently as January 13, 2003, an Associated Press dispatch circulated throughout the country about the death of Maurice Gibb of the Bee Gees stated the following: "They sold more than 110 million records, placing them fifth in pop history behind Elvis Presley, the Beatles, Michael Jackson and Paul McCartney."
No mention was made of Crosby's record sales which are in the hundreds of millions. In fact, as far back as June 1960, the Hollywood Chamber of Commerce gave him a platinum disc for record sales of over 200 million. And some have estimated his current sales at over a billion. Certainly no current pop star is close to Bing Crosby in record sales. An astonishing fact when you consider that much of Crosby's reign as the number one pop singer, when he had many million-selling records, many Americans couldn't even afford to buy phonographs needed to play records. Indeed, a single record cost close to a dollar, at a time when $40 per week was a good wage.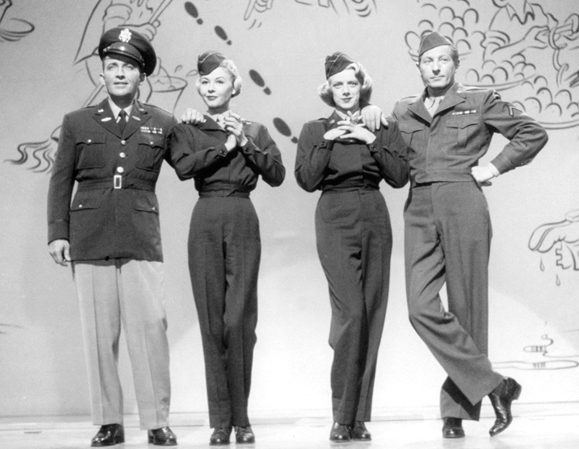 To set the record straight, Joel Whitburn, considered the foremost authority on record sales, compiled a list of the top eight best selling artists from 1940 to 1996. Bing Crosby was number one by a comfortable margin over Elvis at that time.
Sinatra, who didn't earn his first millionselling record on his own until 1964 (at which point Crosby had more than 20) is listed eighth in alltime record sales. His sales are shown as less than half of Crosby's.
Other statistics from Gary Giddins indicate Crosby had 396 charted records in his career, and no one else is even close. Sinatra is listed third with 209 and Elvis had 149. And Crosby had more number one hits than any other artist (38). But as Giddins states "all these stats would mean nothing if Crosby's art did not merit rediscovery."
Exactly. None of the other things will matter once a person listens to that beautiful, golden baritone voice from its peak years, and enjoys the exquisite phrasing and perfect timing of the singer who has influenced more singing careers than anyone else.
The great Tony Bennett tried to put Bing's accomplishments in perspective when he said: "If you took the Rolling Stones, Madonna and Britney Spears and put them together, they wouldn't be as big as Crosby was."
Malcolm MacFarlane, the Englishman, who edits Bing magazine, expanded that thought. "It's like Tom Hanks, an Academy Award winner and top box office star, also being the top vocalist in the country and having a top TV show at the same time (it was radio in Bing's case)."
Vocalist Margaret Whiting, a participant at the Crosby Conference put it more succinctly: "Bing was easily the finest singer we ever had in America. He could sing a cookbook or a dictionary and make it sound good." ♦