Better known as Annie Camden on 7th Heaven, Irish-American actress Catherine Hicks talks about the differences between the show she stars in and the bulk of popular television programming. A good-humored mother in real life, Hicks shares her opinions about the modern family and working in the bizarre land of Hollywood.
℘℘℘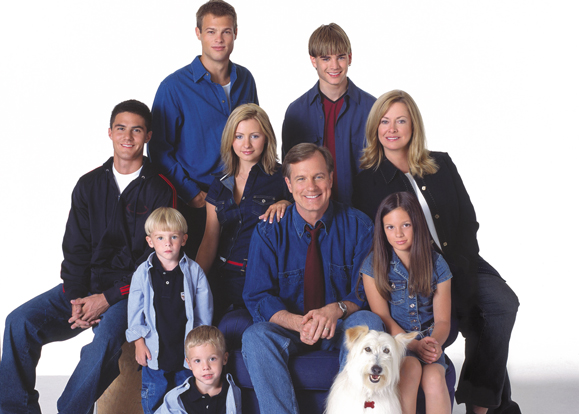 Despite the strong foundation of skeptics out there who believe that wholesome, family-oriented television fare could no longer compel a cross-generational platform of moms, dads, kids and even — gasp! — teens to huddle around the set together, the WB's 7th Heaven — recently renewed for an eighth and ninth season — has proven all such naysayers wrong. This Monday night fixture about a family of seven with a minister patriarch has distinguished itself by sticking to the kind of traditional, domestic style of program by which such shows as Eight Is Enough, Family and even The Waltons flourished on back in the 1970s and 1980s. In fact, a large majority of the most popular shows recently have been reactionary gestures to this genre — with shows like The Simpsons and Married…With Children embracing the modern dysfunctional American family with cynical attitudes. 7th Heaven is therefore an anomaly in an era when the majority of television programming seeks to continually fragment the generations.
The matriarch of the well-adjusted Camden clan is played by actress Catherine Hicks, herself a wife and mother of Irish-English descent who shares the following insight into why the show has caught on. "7th Heaven came at a time after the 1960s when so many homes were broken. Divorce was celebrated, and a lot of kids suffered — it's still going on. So this [show] is something you can count on. And I think [people feel] some sort of vicarious membership. Plus we deal with issues that relate to everyone. There's hundreds of things that we've dealt with which really are troubling teens today. I also think we have every age group represented." That said, she goes on to clarify that the show need not be roped into the same camp as such half hour pap as The Brady Bunch. "It's not Donna Reed and it's not The Brady Bunch cause it's an hour format. It's a drama, but it's witty because our writer is a sitcom writer. That's why I think it is unique. You get the heavy stuff but you also get some really good laughs." While the show may not fall into the same category as Donna Reed's show, Hicks herself has become the modern day comparison to Reed — that emblematic loving homemaker of the 1950s. "Well, I always sort of looked like her," she admits when confronted with the comparison. "That's OK, she did win an Oscar," she says.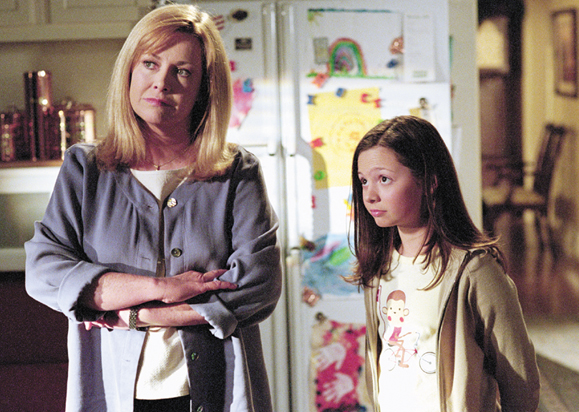 Perhaps much of what drew Hicks to this show and perpetuates her passion and enthusiasm enough to have committed to a nine-season sentence instead of films and television movies, is the way in which it relates to her own upbringing in Phoenix, Arizona. "I grew up in the 1950s when things were safe in the neighborhood and you ran free until twilight. Your parents would never get divorced. We'd sit at night and watch TV together. [With 7th Heaven] people do sit down together and watch it — parents and children. It's an hour they spend together. It's an hour of comfort." Despite this parallel to the picket-fence Americana of our prior century, Hicks does succumb to feeling a bit worn down by playing the same character in a long-running television series — admitting that it has both its advantages and disadvantages. On the upside, it's steady work with a schedule of two to three days a week and it's shot a mere ten minutes from where she lives in Los Angeles. It also affords her the opportunity to be a regular wife and mom to her eleven-year-old daughter. Her career up until this point had been primarily jumping from one film project to the next, often spending months away from home on location. "It's uncomfortable — maybe as I grow older — to be in a trailer in a parking lot and go to a dusty soundstage and eat off a truck," she says of the nomadic lifestyle motion picture acting often entails. "It gets old. You start to think, `I want more niceties. I want to be in a nice environment — like my home.' The reality of shooting anything is carnival."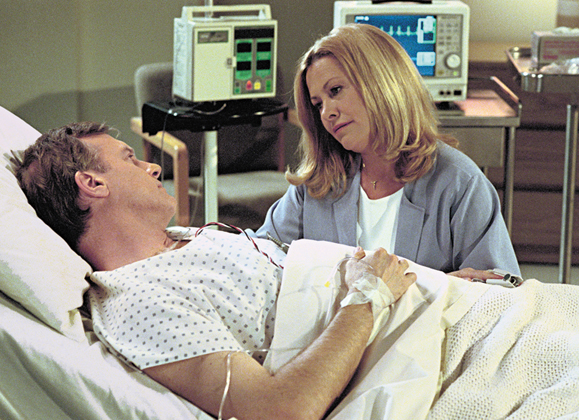 It was, at one time, exciting for Hicks to travel to the numerous locales her earlier film and television career afforded, which includes her Emmy-nominated breakthrough work playing Marilyn Monroe in a television biopic, as well as features like The Razor's Edge, Garbo Talks, Peggy Sue Got Married, Star Trek IV: The Voyage Home and Child's Play. The latter film, besides being a hit that spawned the seemingly endless horror-franchise, is also where she met her husband of 13 years, makeup effects maestro Kevin Yagher. "I had heard the name Kevin Yagher. He's only 25 — he's a genius. I looked over and saw him and all his 12 puppeteers around him. So pretty soon I looked forward to the bite marks that he'd have to paint on my arm." For now, however, she likes as much time as possible with her family, which is why she doesn't seek outside projects while on hiatus — with the exception being charitable causes. Hicks has been actively involved in a project called Easy-Does-It, a line of pre-packaged meals designed to accommodate those who don't have the time to prepare meals for their families. "I think it's real important to sit at the table and talk. Sit down and relate to each other and talk about the day. That's how I grew up. We never thought of having the television on at dinner," she says, observing that the present-day family dynamic has shifted with the distraction of full-time jobs, active schedules, television sets and video games. Hicks hopes this will encourage families to spend time together at dinner. In addition, each item sold donates one dollar to Hunger Free America.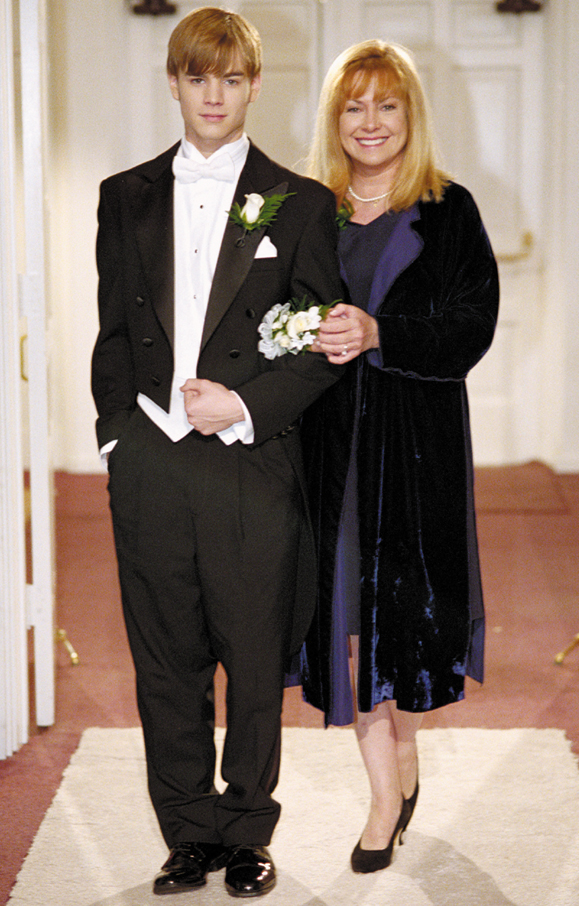 Next on her agenda is a family trip to visit Yagher's grandparents' farm in Kansas before the next season of the show ramps up. And while she has yet to visit Ireland, she does credit James Joyce's Portrait of the Artist as a Young Man as her favorite work of literature, and one which spoke to her during a gloomy spell while in college at Notre Dame. In fact, it's this pensive aspect of her Irish roots that she feels the strongest connection towards. "I feel very Irish in my love of the clouds and rain, the dark days. My proclivity for a certain melancholy and reflectiveness and spirituality and mysticism — an attraction to that." She also goes on to proclaim, "I love green things. Though in our family green is unlucky. I don't know why, but that color is really unlucky. It's passed down from the grandparents. I never wear green except on St. Paddy's Day." ♦