Appearing before an Irish-American group in St. Paul, Minnesota on St. Patrick's Day, 1882, Oscar Wilde was introduced not as a rising literary star, but as "the son of one of Ireland's noblest daughters — of a daughter who in the troublous times of 1848 by the works of her pen and her noble example did much to keep the fire of patriotism burning brightly."
Oscar may have been surprised by such enthusiasm, but it was no overstatement — long before he dazzled audiences and critics with his own writing, the inflammatory patriotic poetry of his mother, Lady Jane Francesca Wilde — familiarly known as "Speranza" — had made her a hero of Irish nationalists across the world. Until his most famous works made him a household name in his own right, Oscar Wilde, as the New York newspaper The Irish Nation pointed out, was "Speranza's Son."
A renowned linguist, translator, folklorist, advocate of women's rights, popular poet, and the host of celebrated literary salons in Dublin and London, Speranza was a celebrated figure, greatly admired and regularly cheered in the streets of Dublin. With 13 publications to her credit, she was more prolific than Oscar was, but Speranza died in relative obscurity in 1896, and was buried in an unmarked grave in Kensal Greene, London. Forgotten by admirers, her name seemed destined to remain a minor footnote in biographies of her more famous son until 1996, when a commemorative plaque was added to the Wilde family vault at Mount Jerome Cemetery in Dublin. Unveiled on February 3, the centenary of her death, the plaque pays tribute to Speranza's literary and social achievements and restores her memory as the mother of one of Ireland's greatest writers.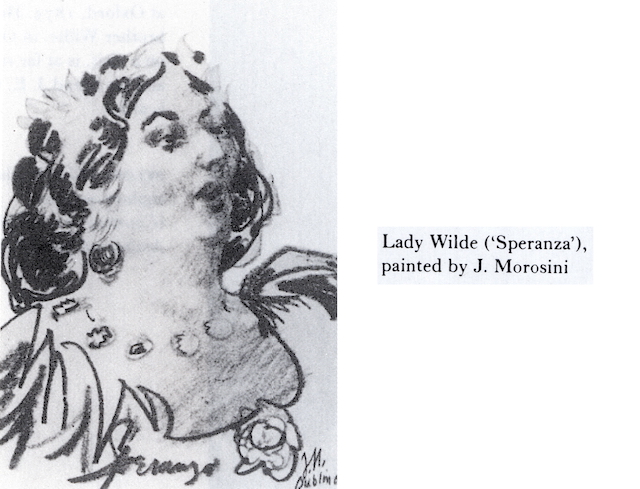 The young Lady Wilde had a sense of being destined for greatness, and her demeanor reflected it. Born Jane Elgee in Wexford in 1821, she exuded the same flamboyancy and cultivated air that would later mark Oscar as a lasting personality. Over six feet tall, she dressed elaborately throughout her life, even when she couldn't always afford to, and her eccentric apparel was remarked upon by contemporaries almost as often as her achievements. A well-read, generous, and broad-minded woman, Oscar was devoted to her: "all women become like mothers," he wrote. "That is their tragedy. No man does. That's his."
Although her wealthy family were Protestant with unionist leanings, Jane Elgee was influenced by the patriotic poems of Thomas Osborne Davis in The Nation, the magazine founded in 1842 by Young Ireland leaders Gavan Duffy and John Dillon. Considering herself descended from the Italian poet Dante, she assumed as her nom-de-plume "Speranza" — the Italian word for "hope" — and at age 25 began contributing verse as well as translations to the nationalist publication. Her rousing iconoclastic poems addressed the coming revolution and exodus from Ireland of the famine-stricken, and were immediately successful. One contemporary critic wrote, "The poems of Speranza, next to those of Thomas Davis, were the inspiration of the nationalist movement," and the poet received ecstatic letters from readers throughout the country.When The Nation editor Gavan Duffy was imprisoned on sedition charges in 1848, Speranza wrote a series of anonymous editorials excoriating the British presence in Ireland and announcing, in "The Hour of Destiny," that "the long pending war with England has actually commenced." A week later, her most famous article Jacta Alea Est (The Die is Cast) exclaimed "O! For a hundred thousand muskets glimmering brightly in the light of Heaven." She appealed to the Irish public to take no further steps along "the base path of suffering and slavery"; the British government seized the issue and suppressed The Nation for disseminating sedition. Gavan Duffy was charged with writing the articles, but before his trial for treason, Speranza wrote to the Solicitor General and announced she had written the inflammatory words. During Duffy's trial, she shouted from the gallery, "I, and I alone, am the culprit, if culprit there be." After four trials, Duffy was set free.
Speranza married William Robert Wilde, the prominent Dublin eye and ear surgeon, also a writer and folklorist, in 1851, and they settled at 1 Merrion Square, Dublin, one of the most fashionable addresses in the city. Reflective of their progressive views on women and marriage, it was an unconventional, though affectionate, relationship, and the couple retained a healthy respect for each other's independence. When they married, William Wilde had already fathered three children, all of whom he supported, and Speranza displayed a singular lack of jealousy towards her husband's affairs. When Sir William (he was knighted in 1864) was dying, she permitted a visit by a strange, veiled woman known to be her husband's mistress. Another woman, Mary Travers, had earlier accused Sir William of drugging and sexually assaulting her, and after Speranza had written to the woman's father, she was herself accused of libel. Refusing to spare herself the embarrassment of a public trial, she refused to settle out of court, and was ultimately vindicated.
At her Merrion Square home, Speranza established a salon whose Saturday afternoon meetings attracted the cream of Dublin's intellectual and artistic elite. Gatherings of over 100 were common, and Speranza, like her son a brilliant talker, held forth on the literary and social issues of the day. The position of women in society particularly interested her, and she was an advocate of women's rights long before the suffragette movement grew to prominence. Hers was the first signature on an 1892 petition demanding the admission of women to Dublin's Trinity College.
Oscar Fingal O'Flaherty Wills Wilde, Speranza's second son, was born in 1854. Sir William died in 1876 while Oscar was at Oxford, and later, in 1879, Speranza left Ireland for London. Twice a week Speranza hosted salons, where the main attraction was her increasingly famous son and the guests included George Bernard Shaw and W.B. Yeats. The death of her husband left her relatively independent, and Speranza devoted much of the rest of her life to writing. She gathered Sir William's vast collection of stories and legend into what would become two significant works on Irish Folklore, completed a volume on Scandinavia, and compiled two volumes of her own writing, much of which had appeared in The Nation. She also took an active part in London's literary scene, eventually becoming, along with Oscar and another son, Willie, a charter member of the Irish Literary Society.
Oscar and his mother remained devoted to the end, and although aging, she remained as resolute as she had been as a young woman, urging her son not to back down from the infamous trial which centered on his homosexuality even when prison seemed a certainty. Speranza died while her son was in Pentonville prison in England.
"All poets love their mothers," said Oscar. "I worship mine." The memorial at the Wilde family grave will ensure the larger-than-life Speranza and her contribution to Irish literary history will not be forgotten. ♦
To learn more about Oscar Wilde read Oscar & Doc: A Trip to Leadville, Colorado by John Kernaghan.