Recently published books of Irish and Irish-American interest.
Fiction
The Blessings
By Elise Juska
There's a certain kind of belonging that comes with being part of a large, extended Irish-American family. But, there's a certain kind of loneliness, too. In The Blessings, Elise Juska captures how those mirror emotions of homesickness and restlessness, intimacy and secret-keeping, continuously send generations of the Blessing family beyond the Northeast Philadelphia neighborhood they call home, and then pull them back in again.
With each chapter told from the perspective of a different family member, The Blessings artfully moves from the voices of the youngest generation, visiting from college to participate in the familiar family gatherings with new eyes, to the widowed matriarch Helen, who struggles with needing her children the way she is used to being needed. The early and unexpected death of one of Helen's grown-up sons begets a ripple effect of longing through the family, resulting in lasting wounds and surprising alliances. Juska expertly reflects how the big losses – cancer, miscarriage, the hefty consequences of young people's careless decisions – have something important in common with the small ones: a child growing too old to breastfeed, a daughter-in-law refusing help, a spot in the eye that signals the end of independence. Juska's emotionally resonant storytelling will remain with you long after turning the last page. – Kara Rota
(Grand Central / $24 / 272 pages)
The Guts
By Roddy Doyle
"D'yeh do the Facebook thing?" So opens The Guts, Roddy Doyle's latest novel set in the world of Jimmy Rabbitte, erstwhile manager of Dublin soul band The Commitments and protagonist of Doyle's Barrytown Trilogy. Now 47, Jimmy finds himself in a bar with his father, debating over a pint the finer points of social media – and breaking the news that he's been diagnosed with colon cancer. As always, Doyle places us square in the middle of the scene with fast-paced, cinematic Irish dialogue, and the tragedy of Jimmy's illness is masterfully interwoven with a fair share of domestic black comedy. From the moment Jimmy tells his beloved wife Aoife and their four quickly-growing children about his illness, he's responsible not only for his own reactions to dealing with surgery, chemo, and radiation, but his family's as well.
The idea of his impending mortality brings Jimmy to reconnect with Commitments backup singer Imelda Quirk (who still holds a problematic level of temptation for Jimmy) and guitarist Outspan (burdened with a diagnosis of his own), as well as Jimmy's estranged brother Les, all through the 21st century filters of Facebook and texts. And Jimmy's music cred lives on for a new generation, as he pays the mortgage by running a site called kelticpunk.com that serves up the music of the good old days for aging fans and retro-minded kids.
Throughout, Doyle never falls into sentimentality (and there is room for plenty, between the horrors of cancer treatment, the strain on even a strong marriage, and the bittersweetness of children turning into adults). Instead, The Guts is, against all odds, a rollicking good time. – Kara Rota
(Viking / $27.95 / 328 pages)
Historic Fiction
The 13th Apostle
By Dermot McEvoy
Dublin-born Dermot McEvoy presented an inventive portrait of iconic Irish rebel Michael Collins in his earlier novel Terrible Angel, in which Collins traipses around modern day Greenwich Village (where McEvoy himself was raised by immigrant parents) trying to save an Irish immigrant wanted by both American and British authorities. In his latest novel The 13th Apostle, McEvoy goes back to Collins's time and brings us inside the General Post Office during the notorious Easter Rising of 1916. Beside Collins is 14-year-old (fictional) Dublin lad named Eoin Kavanagh, who was swept up in the excitement in the streets on the day of the Rising, when "civilians and volunteers rushed up to see the proclamation, pushing each other to get the first glimpse," McEvoy writes. Eoin is promptly shot in his rear end and must be tended to by a comely nurse with a fast tongue named Roisin O'Mahony. Kavanagh goes on to become Collins's "13th Apostle," and McEvoy takes us on a fast-paced journey through key events in Irish revolutionary history, from the Rising through the build-up of the tragic Civil War in the 1920s. Throughout the book, we also occasionally check in with an old-and-dying Eoin in 2006, as his grandson Eoin Kavanagh III – known as "Johnny Three" – struggles with his beloved grandfather's passing, but also with the legacy the old man passed on. The story really takes off when Johnny Three (though fearful of what he might discover) begins looking through a trove of letters chronicling Eoin's life – and of course, Irish history. In the end, The 13th Apostle is a fun, informative ride, and an alternative history not unlike Roddy Doyle's A Star Called Henry. As young (and very real) Irish volunteer Vinny Byrne proclaims, once Eoin decide to join the 1916 rebellion: "It's going to be a grand adventure." The same could be said for Dermot McEvoy's novel. – Tom Deignan
(Skyhorse Publishing / $26.95 / 583 pages)
Biography
James Joyce: A New Biography
By Gordon Bowker
Anyone who attempts to tell the story of the life of James Joyce must do so in the awesome shadow of Richard Ellman, whose 1959 biography of the brilliant, difficult, and cranky author of Dubliners, Ulysses and Finnegans Wake is still considered a landmark. Even the title of Gordon Bowker's bio (now available in paperback) acknowledges this, since it is called James Joyce: A New Biography.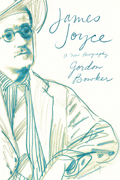 Nevertheless, Bowker is up to the task, chronicling Joyce's harsh youth. "In a class-conscious society like British Ireland at the turn of the century, family origin was the main determinant of social status," Bowker writes.
Joyce's father, however, handled inheritance money poorly "and the family descended into poverty." These humble roots did not help Joyce when he tried not only to make a living as an artist, but to essentially reimagine the traditions of Western storytelling. Joyce's early writing shocking to censors we know, but even open-minded, well-educated readers were dismayed, and hinted (or stated outright) that Joyce was simply not refined enough to move in literary and artistic circles.
Bowker also, of course, covers the momentous events of June 16, 1904, when Joyce went out on a date with a vivacious employee of Finn's hotel named Nora Barnacle. It was on that day, now celebrated as Bloomsday, that literary history changed. The events of that day – almost every single one of them, it seems – are chronicled in extraordinary detail in Joyce's landmark Ulysses.
Bowker himself is not afraid to pass judgment on Joyce, particularly when it comes to his openly (even brazenly) passionate sexual relationship with Nora. This, clearly, was the inspiration for the sections of Ulysses that led to the book being banned for decades. Joyce and Nora left Ireland just months after their fateful meeting, living first in Trieste, and later Paris and Zurich. Life as an exile, however, only made Joyce's memories of Ireland – good and bad – more vivid, at least until 1941, when Joyce, after years of ill health, died at the age of 58. – Tom Deignan
(FSG / $18 / 656 pages)
Jonathan Swift: His Life and His World
By Leo Damrosch
In the age of sharp political satire epitomized by Jon Stewart and Stephen Colbert, it seems a good time for a big new biography of acclaimed Irish-born writer Johnathan Swift (1667 – 1745). Swift is arguably best known for Gulliver's Travels, a seeming fantasy aimed at children, which nevertheless commented on serious matters related to the politics and culture of Swift's day. Then there is Swift's famous "A Modest Proposal," an ironic phrase still employed in the 21st century to describe a suggestion so absurd it exposes deeper problems. In Jonathan Swift: His Life and His World, Harvard Professor Leo Damrosch explains that Ireland faced terrible hardship during the bleak winters of 1728 and 1729.
"During his tour of Ireland," Damrosch notes, "Swift found the plain on Tipperary 'like the rest of the whole kingdom, a bare face of nature, without houses or plantations – filthy cabins, miserable, tattered, half-starved creatures.'"
The result was Swift's "Modest Proposal" that Irish children, rather than be left to starve, should simply be served up as food for the wealthy. Swift's shocking satire had a much greater impact than dozens of previous tracts which made more straightforward arguments "against English exploitation of Ireland," as Damrosch notes in this hefty, 600-plus page book. Damrosch also writes that while he defended the Irish, Swift was not exactly a big fan of living among the Irish, and was born in Dublin only "because his widowed mother was far too along in her pregnancy to risk a sea voyage to her English home in Leicester."
Nevertheless, Swift's writings have since become central to Irish literature. – Tom Deignan 
(Yale University Press / $35 / 573 pages)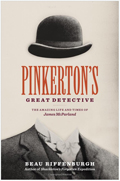 Pinkerton's Great Detective: The Amazing Life and Times of James McParland
By Beau Riffenburgh
In the annals of Irish American martyrdom, the Molly Maguires hold a prominent place. They were a secretive band of union brothers not afraid to use violence to achieve their ends in the bleak coalmines of Pennsylvania. Of course, for their agitation, ten accused Mollies were executed in 1877. Some may still not realize that a key figure in the Mollie Maguires prosecution was himself an Irish immigrant – and now, also the subject of a controversial new biography entitled Pinkerton's Great Detective: The Amazing Life and Times of James McParland by Beau Riffenburgh.
McParland was born in Armagh in 1843, and came to New York in his early 20s.  He worked numerous jobs after making his way to the Midwest, and only became a detective after losing his liquor store in the great Chicago Fire of 1871. In just a few years, however, McParland was a shining star for the notorious Pinkerton Detective Agency. As a result, he was the man the authorities turned to to infiltrate the Molly Maguires. Riffenburgh acknowledges that McParland may not be all that likeable, especially for Irish readers.  "When also colored by the age-old Irish loathing of the informer, the traditional American support for the 'little man,' and a long espoused view of Pinkerton's as an archenemy of the labor movement," many recent portraits of McParland have been unsympathetic, viewing him as "an unscrupulous liar and informer who betrayed his fellow Irish Catholics for money."
Riffenburgh thus presents this book as a "reassessment of the Great Detective." And while it may not change the minds of those raised to view the Mollies as "true" Irish martyrs, it is a full, complex portrait of a man viewed as both a hero and a "most horrible Gorgon." – Tom Deignan
(Viking / $32.95 / 384 pages)