How an Irishman Introduced Oscar to Hollywood.
Each year around this time the world awaits the presentation of the Hollywood awards in which the statue called "Oscar" is presented to those in the movie industry whom the Academy of Motion Picture Arts and Sciences considers to be the best in the business.
Numerous Irish and Irish-born have been recipients of this prestigious award down through the years, but few know that the coveted statuette was designed by an Irishman.
Oscar's birth took place at a Hollywood banquet on May 11, 1927, just one week after the Academy of Motion Pictures Arts and Sciences was organized. At that meeting, Louis B. Mayer, president of MGM, urged that the Academy create a special film award of merit. Cedric Gibbons, who at that time was art director for Metro-Goldwyn-Mayer studios, quickly sketched a figure of a knight holding a crusader's sword standing atop a reel of film whose five spokes signified the five original branches of the Academy (Actors, Directors, Producers, Technicians, and Writers). The committee liked it immediately.
Austin Cedric Gibbons was born March 23, 1893 in Dublin to Austin P. Gibbons, an architect, and Veronica Fitzpatrick Gibbons. The family soon moved to New York, and Gibbons studied at the Art Students League and started work in 1911 as a junior draftsman in his father's office. By 1915, he was working at Edison Studios, and joined the movie studios of Sam Goldwyn, which merged with two other studios in 1924 to become MGM. (Interestingly, the first lion used for the original Goldwyn Pictures, and later MGM, production logo was also born in Dublin, at the Dublin Zoo.)
Once there, Gibbons fundamentally changed the way studio production was done, giving MGM its signature sleek modern look, and replacing painted backdrops for three-dimensional sets that offered stark contrast in black and white. He is supposedly the only studio designer in Hollywood from the time to attend the now-famous 1925 Exposition des Arts Décoratifs et Industriels Modernes in Paris. This was the height of Art Deco, and Gibbons recognized its high-contrast geometry would be ideal for the camera.
Arguably, the first production to fully incorporate the interior elements of Deco was 1928's Our Dancing Daughters, but it was Grand Hotel, in 1932, that famously merged design with storytelling. Donald Albrecht writes of the prominence of geometry in the film in Designing Dreams: Modern Architecture in the Movies.
"Circles are prominent in every aspect of the Grand Hotel's design – an appropriate image for the spinning-wheel-of-fortune scenario," he writes. "The circular motif appears in the hotel's round, multilevel atrium with open balconies, in the continually revolving doors, and in ornaments on balcony railings. It also appears in the round reception desk, which acts as a pivot for the curving shots that follow the movement of the film's characters, who travel across the black-and-white floor like pawns in a chess game. Movie plot and architecture have seldom been so closely harmonized."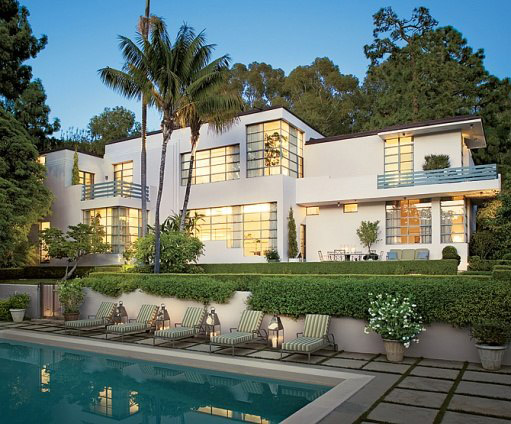 But Gibbons didn't just work at introducing the visual vocabulary of what was then called Art Moderne to Hollywood, he lived it, building a suitably cinematic modern home in the Santa Monica Mountains, complete with a white stucco façade, stepped recesses, built-in furniture, a brushed steel staircase, recessed lighting, and a dressing room for his first wife covered wall to wall in mirrors. Naturally, everything abutted at right angles. He embodied the image of glamorous cosmopolitanism in early Hollywood. One sketch artist at MGM said Gibbons existed "in a kind of aura, or nimbus. He would arrive in his Dusenberg, in the grey homburg hat and the grey gloves, and he would walk up the stairs to the Art Department."
During his tenure with MGM, which lasted until his retirement in 1956, Gibbons created the sets for roughly 1,500 films, and was generally considered to have been the most influential production designer in the history of American films. He received no fewer than 12 of the gilded statuettes he designed for such movies as Pride and Prejudice (1940), Gaslight (1944), The Yearling (1946), and Little Women (1949), as well as a special Oscar for "creative excellence" in 1950.
_______________
This article is adapted from "'Oscar' – An Irishman's Dream Lives On," which appeared in the March / April 1995 issue of Irish America.