Home to some of the most spectacular scenery in the world, County Galway also features and ancient city with ties to Spain that doubles as a modern-day thriving university town.
To Hell or to Connaught, roared Cromwell's troops. At the time, it was the direst of punishments, but if you were banished to this Irish province today and ended up in County Galway, you would probably think there had been some mistake. How could this county be seen as an alternative to Hell when it seems so much like Heaven? The City of Galway, at the heart of this county, is my favorite in Ireland. Its medieval center is small, which means everything is within walking distance. Its university and institute of technology give it a youthful energy. It hosts some of the country's best festivals such as the Galway Arts Festival and the Galway Races – and needless to say, it's also very pretty.
I'd recommend starting any tour of Galway in the place where the city itself first started – the western seaside edge of the city called the Claddagh. A fishing village stood here as far back as the fifth century, and with its colorful houses facing out onto the River Corrib, it retains a sense of that to this day. The area is also famous for the Claddagh ring. Legend has it that Richard Joyce was kidnapped by pirates on his way to the West Indies. They taught him the craft of jewelry and when he escaped their clutches, he returned to Galway and set up his trade. His design of two clasped hands holding a crowned heart symbolizes love, friendship and loyalty and has long been popular with both locals and visitors to the city.
The Spanish Arch is right beside the Claddagh. It was built in 1584 as an extension of the 12th-century Norman-era town wall and it used to house soldiers who kept watch and manned cannons on its roof. It's thought to be named in memory of the commercial links that once existed between Galway and Spain.
You'll find out more about this in the Galway City Museum, which is just behind the arch. It tells the story of Galway from its beginnings as a fishing village to a thriving medieval seaport of wine, spices, and fish in the Middle Ages and its later period of decline following the arrival of Cromwell in the region in the 1650s.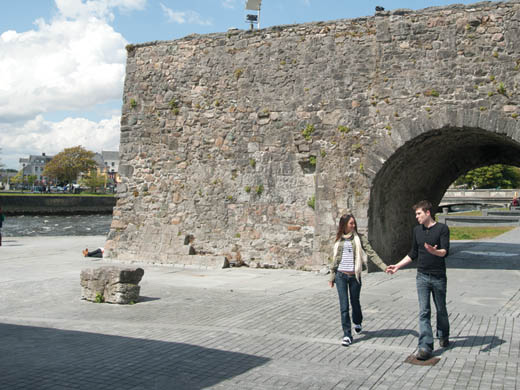 From the Spanish Arch, venture to the Latin Quarter. The cobbled Quay Street, Cross Street, and Middle Street are home to colorful shops and lots of cafés and bars. Be sure to call in to Neachtain's for a quick drink and a taste of the real Galway. As you make your way past the buskers and street performers who are so much a part of life in Galway, keep an eye out for Lynch's Castle on the corner of Shop Street and Abbeygate Street. It's currently a bank but it's a great example of a medieval fortified house with its carved windows, gargoyles, and ornamental mouldings and cornices.
Further on, you'll arrive on Eyre Square. The square dates to medieval times when markets took place on the green in front of the town gates. Its green area remains a popular gathering place today and is often packed on sunny days. There are interesting things to see in the park, including the Browne family mansion doorway dating from 1627. There are lots of shopping opportunities around the park too and the city's main tourist office is also located nearby. You might also like to visit Galway's National University. Its quadrangle dates from when it first opened in 1849 and makes a great place for a stroll. On your way back into the city, you could pause to take a look at Galway Cathedral. Your sightseeing over for the day, you could then treat yourself to a meal followed by some traditional music in the Crane Bar.
Once you've explored Galway City, the seaside resort of Salthill is next. Almost two miles to the west of the city, it's been a traditional holiday destination for decades and its promenade, amusement arcades, casinos, and pubs are testament to this. If you're feeling brave, you might even consider diving off the iconic Blackrock Diving Tower, like some of the hardy locals.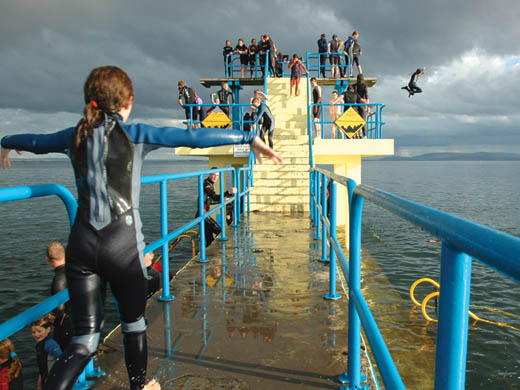 Further west is the charming village of Barna. It's got an excellent beach where you can swim safely. Beyond Barna, things begin to change. You now enter the Irish-speaking part of Galway, where the traditional culture of Ireland is still dominant.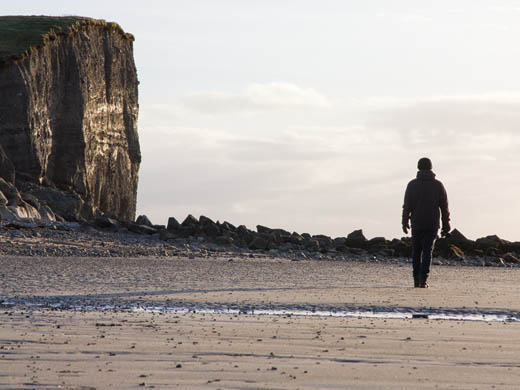 The fishing village of Spiddal is one of the largest Irish-speaking settlements and you'll hear lots of Irish spoken in its shops, pubs, and restaurants. Locals might even teach you a cúpla focal (a few words) if you ask nicely. The village has two beaches and piers which are used for shore angling. It's also home to a fantastic craft center where you can watch craftspeople weaving and making candles, pottery, jewelry, and bodhráns (a traditional percussion instrument). Further along the coastline, you'll find Carraroe. This village is closely associated with Galway Hookers, a distinctive form of native Irish boat. They're immediately identifiable thanks to their unmistakeable rust-colored sails and if you keep your eyes peeled, you are likely to see one or two out at sea. While in Carraroe, ask the locals if any boats are currently being made in the area. Who knows? You might get to see a boat maker at work. Make sure you visit the beach too. It's one of just two coral beaches on the west coast of Ireland, offering excellent scuba diving and snorkeling opportunities. Your next stop is Lettermore where the landscape becomes even more barren and wild. The entire area is actually a series of small islands linked by a road which twists and turns between rocky outcrops that stretch out into the Atlantic. Watch out for Connemara Ponies, a hardy species that has evolved to thrive in this harsh environment.
A trip to the Aran Islands offers an opportunity to step even further out of time. These three islands about 30 miles off the coast of Galway have a culture, heritage, and beauty all of their own and can in some ways claim to be the real Gaelic Ireland. Inish Mór is the largest. It has a population of 900 people and more than 50 important historical monuments. The most impressive is the prehistoric fort of Dun Aengus. Thought to be more than 2000 years old, it's built at the top of a 100-foot-high cliff and has three stone enclosures to defend against attack by enemies.
Inish Meáin is the least visited of the three and offers breath-taking views of the Cliffs of Moher and fantastic diving opportunities in its crystal-clear waters. Only 200 people live here and those that do depend on fishing and on rearing the sheep, whose wool is used to make world-famous Aran jumpers. Inish Oírr is the smallest island. It's got one pub and it's said to be a great place to hear traditional Irish music sessions. The best way of getting around these islands is by bike or by horse and cart. You can rent these once you arrive.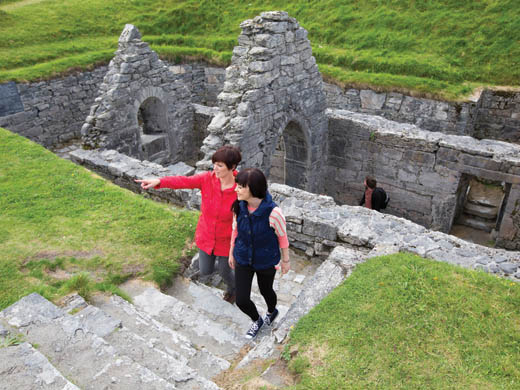 Back on the mainland, there's the region of Carna and Kilkieran. It's famous for its turf and the woven baskets known as creels that were used to transport it. Padraig Pearse's summer cottage is located nearby. It's open to visitors and gives a unique insight into the life of this revolutionary man.
The picturesque village of Roundstone is on the next headland to the north. This fishing village is built around its harbor which is still home to trawlers and traditional currachs. You can even charter a boat of your own.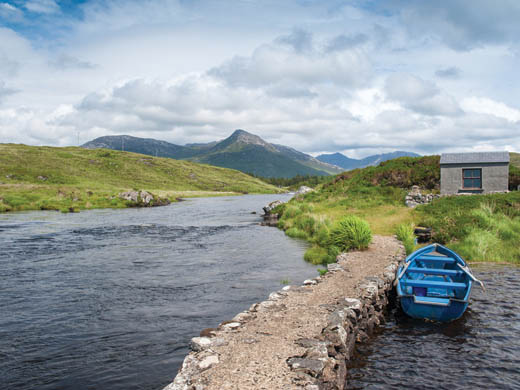 Traveling further north, you'll arrive at a town right at the foot of the Twelve Pins Mountains. This is Clifden, the largest town in Connemara. Its great claim to fame is that it was where Alcock and Brown landed in 1919 after travelling for 16 hours and 1,800 miles across the Atlantic. Today, it's a lively town of boutique, gift shops, cafés, restaurants, and lots of great pubs. There's a lot to do nearby. The Connemara National Park offers an unspoiled landscape of mountains, bogs, grasslands, rivers, and waterfalls. Connemara ponies run wild there and you'll feel as though you're wandering in a forgotten land.
Kylemore Abbey's lakeside setting offers fabulous photo opportunities. Its walks, Victorian-era walled gardens, and its Gothic chapel merit exploration too.
From here, you should venture inland to the part of Galway associated with The Quiet Man. All around the shores of Lough Corrib, you'll find destinations linked to this film.
Oughterard is worth a pit stop of its own. There's a drive around the lake which starts and finishes here, taking in stunning scenery of mountains and valleys along the way.
The west of Galway always grabs the tourist headlines but there are places worth visiting to the east too. Claregalway and the beautiful ruins of its Franciscan abbey built in 1290 is one.
Ballinasloe is another. It's got ruined churches and abbeys, old forts and castles and the nearby battlefield of Aughrim. The visitor center at Aughrim tells the story of the fight against William of Orange. Irish and Anglo-Irish families united against the Protestant invader but they were defeated and the course of Irish history changed forever.
Kinvara is located to the south of the county and is a lively fishing village. Its pubs are known for their welcome throughout Ireland. It's also home to Dunguaire Castle. Dating from 1520 and guarding the entrance to the bay, this is one of the most picture-perfect castles in the west of Ireland and it holds nightly banquets throughout the summer. These banquets recreate the feasts that were served here by the O'Heynes, Shaughnessy, and Martyn clans, who were once lords of this castle. In the candlelit medieval chamber, guests are served extravagant courses of food accompanied by locally-brewed mead. They are entertained by costumed storytellers who recount the history of the castle as well as tales of local folklore.
In Cromwell's time, a visit to Galway may have been a curse but this is no longer the case today. From its rugged coastline to the stone-walled fields of Connemara; from the vibrant streets of Galway City to fishing villages, castles, and ancient battlegrounds; you'll find the best of the west in County Galway.
Some Things You Might Not Know About Galway:
I. It's long been said that Christopher Columbus visited Galway. According to a note made in his copy of Imago Mundi, he visited in 1477.
II. The Galway Races, held at Ballybrit Racecourse, start on the last Monday of July every year, run for 7 days, and draw up to 150,000 spectators. The most popular days are Wednesday, when the Galway Plate is held, and Thursday, when the Galway Hurdle and Ladies Day take place, when women compete for the title of Best Dressed Lady, and Most Elegant Hat.
III. Lynch's Castle in Galway City is the oldest building in Ireland in daily commercial use
IV. Galway was ruled by 14 merchant families in medieval times. These tribes are where it gets the nickname of "City of the Tribes." They include Athy, Blake, Bodkin, Browne, D'Arcy, Deane, Ffont, Ffrench, Joyce, Kirwan, Lynch, Martyn, Morris, and Skerrett.
V. After the English Civil War, Oliver Cromwell ordered the execution of Charles I. He looked for volunteers to carry out the execution. Two Galway soldiers called Gunning and Dear offered their services and Gunning carried out the deed on the 30th of January 1649. He was given property as a reward and that property is where the King's Head pub now stands in the city.
VI. Galway was one of the counties most affected by the Great Famine, with one fifth of the population dying. Relief works included the construction of Dyke Road and Threadneedle Road. The Irish name for the latter – Bóthar na Mine – translates as the Meal Road, telling the real story of why it was built.
VII. The Fields of Athenry" is a folk ballad set during the famine and it tells the story of Michael from Athenry, Co. Galway, who is sent to a penal colony in Australia for stealing food to feed his family. It's widely sung at Irish rugby games, and Glasgow Celtic football games.
VIII. Galway is known as the festival capital of Ireland, hosting on average 122 festivals and events every year.
IX. Galway's Eyre Square, is officially known as the John F. Kennedy Memorial Park, marking the fact that he made a speech to approximately 100,000 people here on his visit in 1963. ♦