On Thursday, June 13, 1912, Hanna Sheehy Skeffington, and a group of suffragettes, smashed windows in Dublin Castle to highlight the "woman's right to vote" cause. It was an offense for which she would spent a month in prison.
106 years later to the day, near to the windows that were smashed, President Michael D. Higgins unveiled a plaque honoring Sheehy Skeffington's efforts in the struggle for Irish independence, and women's suffrage.
Sheehy Skeffington also co-founded the Irish Women's Franchise League, and fought for justice after her husband, Francis Sheehy Skeffington, was shot and killed during the 1916 Easter Rising by a British Army patrol. President Higgins, in recognizing Skeffington, also pointed out that the role of Irish women in nation-building has often been ignored. "For far too long, the historical contribution of Irish women in the struggle for emancipation, independence, and equality, and to our social life, has been overlooked," he said.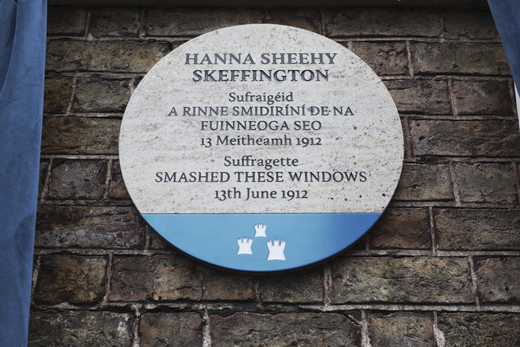 The request for placement of the plaque had been submitted by Micheline Sheehy Skeffington, whose recent lecture tour of the United States, recreating her grandmother's 1917 journey to promote Irish independence, was recorded in a documentary entitled Hanna and Me: Passing on the Flame. ♦  Dave Lewis