When we were children, my brother and I spent our summers in southwest Donegal in the village of Kilcar, with my mother's people. Our parents sent us there so they could build their business in Buncrana, a tourist town 100 miles north. For me the journey southwest was an opportunity to switch one thriving location for another that was wild and a bit mysterious.
Harry Percival Swan has called Donegal "a most fascinating playground." In his 1949 book, Twixt Foyle and Swilly, he writes that, "Whoever spends one holiday amid its varied scenes will come back and spend another . . . Its sheltered landlocked bays, towering sea cliffs, and dark lonesome sea caves; its streams, and lochs, glens, and hills, will attract the lover of wild romantic scenery, the naturalist, and the wearied worker who desires to obtain a pleasant, quiet, invigorating place." Swan had it right. Stillness and silence assure Donegal its integrity.
It was my good fortune to spend childhood summers with my widowed grandfather Michael O'Donnell and my uncle John's family, who lived with him. For me, Kilcar was a different Ireland than where we lived. Even the language was foreign; it is a Gaeltacht village, so they spoke Irish. Today about a quarter of the locals remain native speakers.
In those days of the late 1950s Kilcar was a hinterland, but today it's a tourist destination, attractive for its scenery, rock climbing, surfing, family bathing beaches, and cultural traditions, especially music. Outside the village are the Slieve League cliffs, with beautiful coastal landscapes. Though less famous than the Cliffs of Moher in County Clare, Slieve League's cliffs are almost three times higher. They are described as the most varied group of alpines in Ireland.
As children we were unfazed by the scenery but quietly influenced by nature's beauty. The village consisted of a main street with a Catholic church at one end and two textile factories at the other, with shops and pubs in between. The village still has the principal tweed facility in Donegal, with shops selling tweed and woolen products, a big part of the Kilcar economy. The raw materials for that industry were and still are abundant in the area. Sheep, bred for wool, thrive in the hills and bogs of Donegal, and indigenous plants such as blackberries, fuchsia, gorse, and moss provide dyes.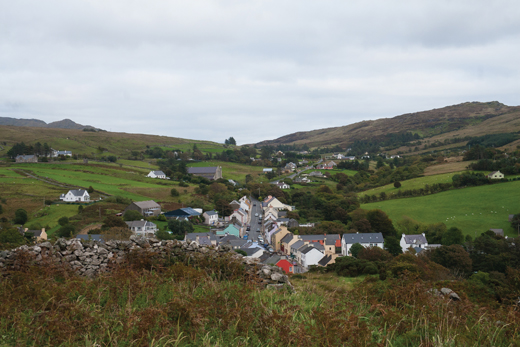 My grandfather was a weaver and he had a handloom in an outbuilding of his yard. My uncle was a contractor, also busy making concrete bricks there. The family managed the local dance hall, which I loved most. Our house controlled the electric lighting system of the village. The flow was turned on and off with the lever in the front hall. I'm not sure if my brother and I ever pulled it, but the lever was a definite temptation. Granddad was also a fiddler and in the evening he would take his violin and play as we danced around the kitchen. All my uncles were in St. Cartha's Pipe Band, formed in Kilcar in 1934. The band continues strong and competed in the All-Ireland Pipe Band Championships.
A precious reminder of that time is a photo of my mother and her siblings, as village children who later left to start families in Ireland, England, and America. My mom, Bridie, third from left in the back, wearing a tie, was the second eldest and always a fashionista. One of the first women to be trained to run a post office in Ireland, she herself was posted to Buncrana, where she met my father. A few years later, they started their own retail business.
The tow-haired lad in the middle front row is my Uncle Paddy, who emigrated to New York to join his three siblings. I attended Paddy's "American Wake" in Kilcar when he emigrated back in the 1950s. No doubt he left from Derry, where I was told that young people a generation earlier made the journey on foot to catch the boat to Scotland, England or North America. Donegal was called the "emigrant nursery."
Uncle Paddy owned O'Donnell's Pub in Astoria, Queens. His sister Leila, the youngest girl, who sits on the lap of her father, my grandfather, became a nurse in England and from there emigrated with her husband Jim Dolan to the U.S. They too settled in New York, where she became head nurse at Boulevard Hospital in Queens.
I have beautiful summer memories of the Kilcar of my youth. My uncles and aunts are gone now. But many of their children and grandchildren still reside and have summer homes in the area. It's a lively summer spot where one might run into celebrities Matthew Broderick and Sarah Jessica Parker at the local library with their brood on a rainy day. But not to worry – the village has not gone Hollywood. Broderick is practically a native, having spent his childhood summers in Kilcar with his parents. He too is fortunate to have found his playground there, and like my family, passes it down to a new generation. ♦