Caricatured as "Buck Mulligan" in Joyce's masterpiece, Oliver St. John Gogarty was more than just a swashbuckling figure – he was a poet, a playwright, a politician, and a renowned surgeon who operated for free on poor children.
---
"The physician must have at his command a certain ready wit . . ." – Hippocrates
Two famous Irish authors, both Dubliners (and former roommates), reacted very differently to the Easter Rising and its aftermath.
The younger of them, James Joyce, had already exiled himself to the continent. In February 1922, while Ireland's tragic civil war raged, he published his great comic novel Ulysses. According to his biographer Richard Ellmann, when he was asked if he looked forward to the establishment of an Irish republic, Joyce answered, "Why? So that I might declare myself its first enemy?"
The older of the two, Oliver St. John Gogarty – caricatured as "Buck Mulligan" in Joyce's masterpiece – had been active in the Sinn Féin movement from its inception. When the party was banned in 1919, he hid the Sinn Féin headquarters' files in the trunk of his yellow Rolls Royce and made his Dublin home a safe house for (pre-Treaty) IRA gunmen on the run.
Gogarty was a swashbuckling figure: a champion athlete and swimmer, a pilot, a playwright, a poet, and, politician. He was a friend of W.B. Yeats, George Moore, George Russell (Æ), James Stephens, and other leaders of the Irish Literary Revival. He was famous as a wit: Moore described him as, "the arch-mocker, author of all the jokes that enable us to live in Dublin."
He was also a medical doctor, a successful ear, nose and throat surgeon, who made his private patients – he said – "pay through the nose," so that he could operate for free on clergy, poor children, and actors.
That he was a skillful, if unorthodox, surgeon may be gathered from two anecdotes:
"Gogarty operated at great speed. Often he removed tonsils with only a local anesthetic, while the patient was sitting in a chair . . . As he worked away with his fingers flying, Gogarty talked continually, telling stories, making jokes, passing remarks, making allusions sometimes related to his work and sometimes not. In the Meath hospital, the surgeons operated together in one large theatre. Occasionally, as he operated with gusto, Gogarty would fire tonsils at his fellow surgeons across the theatre." (The Times I've Seen by Ulick O'Connor, 1963.)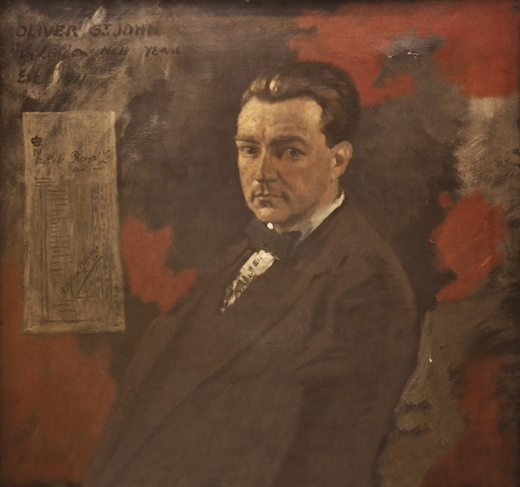 "When he was consulted by a musician who had lost his voice and could make no sound nor utter a syllable, Gogarty suspected hysteria. He examined the man's throat carefully, shining his light into the dark recess. Then he said, with great deliberation: "Your parents had syphilis.' 'They did not!' exclaimed the musician. 'You're cured,' said Gogarty." (Oliver St. John Gogarty: The Man of Many Talents by J. B. Lyons, 1980.)
Unlike many physicians of his time, Dr. Gogarty was as concerned with preventative measures as with diagnosis and treatment. He was appalled by the unsanitary conditions in which the poor of Dublin were condemned to live.
His first play for the Abbey, Blight, was set in the slums. At its climax, its rascal anti-hero Stanislaus Tully declares, "Until the citizens realize that their children should be brought up in the most beautiful and favorable surroundings the city can afford, and not in the most squalid, until this floundering Moloch of a Government realize that they must spend more money on education than on police, this city will continue to be the breeding ground of disease, vice, hypocrisy, and discontent."
In 1922, during the Civil War, Joyce's partner Nora and their children Georgio and Lucia visited Galway (the place Joyce called "her native dunghill.") When they were caught in crossfire, Joyce was convinced that he himself was the target, even though he was not there.
That was the year Gogarty's home in Renvyle Connemara was looted for three days and then burned down by anti-treaty republicans. Most of the furniture and artifacts were carried off, but the books and paintings were all incinerated.
And it was the year Gogarty's heart was broken by the death of his personal hero, Arthur Griffith, the founder of Sinn Féin and, 10 days later, the assassination of his dear friend, IRA Commander-in-Chief, Michael Collins.
Dr. Gogarty embalmed both bodies.
Following the Anglo-Irish Treaty, Gogarty served in the Senate (Seanad Éireann) of the Irish Free State (Saorstát Éireann) from 1922 to 1937.
He was most passionate on the subject of sanitation in schools and in urban and rural housing. "The slums are really out-patients' departments of 19 Dublin hospitals. The slums are that and disease factories . . . Unchanged for 30 years! Let our indignation become effective now!" He opposed a prudish censorship bill on the grounds that "it is high time the people of this country found some other way of loving God, than by hating women." For fun, he objected that the statue of a phoenix in Phoenix Park was excluded from the "Wild Birds Protection Bill."
The Anti-Treaty IRA singled out Free State senators for attacks and intimidation. In January 1923, armed republicans, using a woman as a decoy by pretending that she was a patient, entered Gogarty's home and kidnapped him.
Gogarty was taken to a safe house on the banks of the Liffey, where he convinced his captors that, in Ulick O'Connor's words, "his bowels were loosening with fright." Once outside, Gogarty threw his coat over the head of a captor and jumped into the river Liffey."Up to his neck in its ice-cold water he . . . promised two swans to the Liffey if permitted to land in safety." (Yeats, preface to An Offering of Swans.)
The senator was an experienced swimmer (cf Ulysses pps 16-23) but only just made it to the far shore. (He later denigrated his achievement. Since Dublin's toilets emptied into the river, he said, "I was only going through the movements.")
In 1924 he fulfilled his promise and released a pair of swans into the Liffey.
Keep you these calm and lovely things,
And float them on your clearest water;
For one would not disgrace a King's Transformed,
beloved and buoyant daughter.
The birds' descendants grace the river yet.
An "Offering of Swans" was followed by seven more books of poems, and two marvelous memoirs, both still in print: As I Was Going Down Sackville Street: A Phantasy in Fact (1937), and Tumbling in the Hay (1939) and one, sadly, no longer in print: It Isn't This Time of Year at All (1954).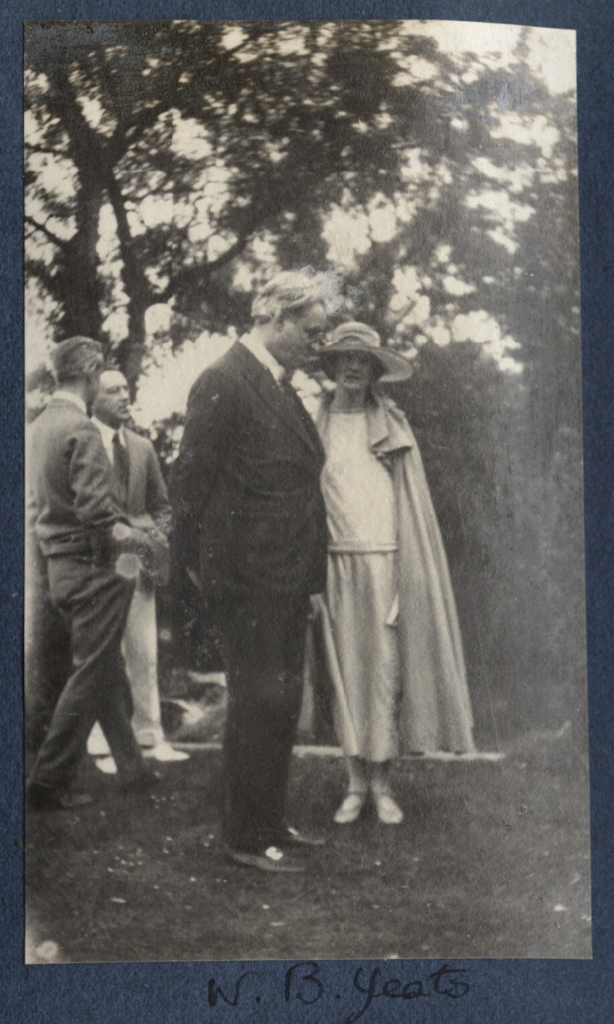 Éamon de Valera (whom he held responsible for the deaths of Griffith and Collins and characterized as a "sixpenny Savonarola" and "a cross between a cormorant and a corpse") came to power as Taoiseach in 1937. Gogarty immediately decamped to London and, in 1939, to New York City, his home until he died, in Beth Israel Hospital, on September 22, 1957. No doubt he did so with his customary courage.
Our friends go with us as we go
Down the long path where Beauty wends,
Where all we love forgathers, so
Why should we fear to join our friends?
The speaker of W. B. Yeats's poem "High Talk," "Malachi Stilt-Jack," is likely a representation of Gogarty.
At Joyce's death in 1941, a copy of Gogarty's book I Follow St. Patrick was on his bedside table.
Gogarty planned to publish a collection of bawdy ballads entitled Ditties of No Tone or Cockcrows – the title undecided. The manuscript reposes in a Harvard library. One hopes the custodians will someday do the right thing.
℘℘℘
With WWll in prospect, Dr. Gogarty, who was a licensed pilot, tried to join the RAF, but was rejected because of his age (61).
On September 14, 1939, he flew to the United States for a lecture tour that never really ended – although in the following years, he did occasionally return to Ireland to visit friends and family.
He took a New York City apartment on 61st Street between Madison and Park.
He lectured constantly at universities across America and continued to publish prolifically: 11 books between 1940 and his death in 1957, including two further memoirs, fiction, and poetry. As a famously witty conversationalist and literary lion, he was a most sought-after dinner or weekend guest.
Then, in the spring of 1950, Gogarty went too far.
In "They Think They Know Joyce," a piece for the prestigious Saturday Review of Literature, he wrote, "When I think of anyone's hailing Ulysses and Finnegans Wake as all the world's erudition in disguise, the question of the sanity, or even the literacy, of the Joyce enthusiast arises."
This was heresy, by the reckoning of the burgeoning American-Joyce-Academic-Industrial-Complex. (Stuart Gilbert's James Joyce's Ulysses: a Study, had appeared in 1930; Harry Levin published his critical introduction in 1941; the James Joyce Society been founded in 1947.)
Although he was no longer the toast of New York's high (brow) society, the great man's company was still appreciated, for instance in the Irish bars on Third Avenue.
An example of his perennial wit was given to me by the late, nonpareil playwright Mark Connelly, who was present on the occasion.
Gogarty was in mid-anecdote to a rapt audience when someone interrupted, demanding directions to "the john." "Downstairs and to the left," Gogarty immediately informed him. "There's a sign that says 'gentlemen,' but don't let that stop you."
Gogarty suffered from heart complaints during the last few years of his life, and in September 1957 he collapsed in the street on his way to dinner. He died on September 22, 1957; his body was flown home to Ireland and buried in Cartron Church, Moyard, near Renvyle, Co. Galway. ♦