The therapeutic benefits of seawater and seaweed baths, as well as seaweed as an important food source, is explored by Edythe Preet.
I've got this thing about immersing myself in water. I like it body temperature or better. Thus, although Ireland has beaches aplenty, plunging into its frigid sea is out of the question, and I usually limit my adventuring to manor houses, monasteries and ancient Celtic sites. On one auspicious journey, however, a tiny red notation on the road map caught my attention. It read Hot Seaweed Baths. I made a detour.
Perched on a windswept cliff that overlooks six miles of pristine North Atlantic beach, Kilcullen's Bath House in Enniscrone, County Sligo was built at the turn of the century during the elegant Edwardian Age. When Michael Kilcullen (great-grandson of the original owner) ushered me into my private bathing room, it was apparent that in all the intervening decades, not a faucet, or shower pull had been changed.
Cheery flowered tiles lined the walls. Bright red wooden decking covered the floor. An age-checked beveled mirror hung on one wall. A large window looked out to the endless sea. An antique steam cabinet filled one corner. But the room's most amazing piece of equipment was the bathtub. Claw-footed, massive, and eight feet long if it was an inch! I could easily have moored a boat to the drain stopper's iron ring.
Michael turned the heavy brass tap, and as heated sea water began pouring into the tub, he dumped in a bucketful of fresh cut seaweed. Immediately, the water turned golden ochre and the brown wrack became vibrant emerald green. Instructing me to have a steam and then soak as long as I wished, Michael pointed to an immense showerhead positioned over the tub, and with a merry gleam in his blue eyes, said, "Now don't go forgetting to have a cold shower after. It'll seal in the seaweed's healthful iodine and natural oils."
I did it all, well almost all. I stepped into the cabinet, sat on its wooden bench, pulled the ancient lever, and let the steam whoosh about me until I was cooked like a lobster. I slid into the tub, floated like a cork, and let the wrack's rich emollients soak through to my road-weary bones. I dunked underwater blowing bubbles like a great big fish. I traced patterns in the sand at the bottom of the tub. I draped ropes of slippery seaweed all about me and pretended I was a beautiful mermaid. I had Michael take my picture. He said he'd seen it all before.
I skipped the cold shower part, of course. Nothing on earth could tempt this woman to splash herself with ice water. But did I miss the moisturizing bonus? Not at all. I emerged from my soak with silky smooth skin, and it stayed that way for days.
Seawater and seaweed baths, known as thalassotherapy, are famous for their therapeutic benefits throughout Europe. Greek and Roman records from the first century B.C.E. mention herbal medicines and cosmetic preparations made with seaweed. Modern preparations include soaps, lotions, shampoos, conditioners, shower gels, and even packets of powdered seaweed that can be mixed in bathwater to create home thalasso-treatments.
More importantly, seaweeds have been an important food source for thousands of years, as indicated by the Chinese writer Chi Han, who noted their importance in 300 B.C.E. China is now the world's largest producer of mixed purpose seaweeds, with an annual crop of 2.5 million tons, and Japan nets nearly $1 billion on its harvest of nori which is used extensively in sushi preparation.
More than 500 varieties of seaweed can be found in Ireland's pristine waters, especially along the indented western shore, where mild temperatures, good wave action, and a varied rocky substrata provide an excellent growth environment. Most harvesting occurs in the Gaeltacht regions of counties Galway, Mayo, and Donegal. In 1994, the crop weighed in at 34,600 tons, securing Ireland's position as one of the world's important seaweed producers.
During the Great Famine of 1845-50, fortunate coastal dwellers supplemented their meager diets with a variety of seaweeds which are rich in iodine, magnesium, calcium, potassium, and many vital trace minerals. Several types of seaweed have long been important Irish dietary components.
Dulse, a reddish-brown seaweed unique to North Atlantic and Pacific Northwest waters, is found all around the Irish coast and has been eaten since the 12th century when the "Hymn of Columba" recorded dulse-picking as one of a monk's daily chores. "A while gathering dulse from the rock, a while fishing, a while giving food to the poor, a while in my cell." It is often eaten plain or served as an accompaniment to bowls of steamed mussels. Dulse and yellowman (a bright yellow toffee) are traditional snacks sold at the annual Lammas Fair in Ballycastle, County Antrim. Customarily given by a boy to his sweetheart, they appear in the song lyric "Did you treat your Mary Anne to dulse and yallaman at the auld Lammas Fair, oh!."
Carrageen, also called Irish Moss, grows in clusters of purple-brown fan shapes. It is found on stones and rocks all along the Atlantic coast, and although it can be used fresh, most people prefer using product that has been bleached and dried by rain and sun. When reconstituted in water, Carrageen releases a gelatinous substance that makes an excellent thickener in soups, drinks, jellies, and milk puddings. The plain gel is also a tried-and-true home remedy for soothing the inflamed membranes of mouth and throat when irritated by a cold or flu.
Sloke is also known as sea spinach or laver. It has thin, translucent purple-green fronds and can be found on rocks and stones up and down the beaches all around the Irish coast. After being washed, soaked and simmered for several hours, it is traditionally served as a vegetable with fish or ham.
Sea-kale and samphire are two delicate seaweeds which both taste somewhat like asparagus. Unfortunately neither can be dried and you will have to travel to Ireland to experience their exotic flavor. Sea-kale, known as strand-cabbage, can be found growing wild on the sandy beaches of Donegal and in select greengrocers. Samphire grows in muddy salt marshes particularly on the east coast and when picked young is tender enough to be eaten raw.
Since ancient times, seaweeds have been used to cure what ails, within and without, but this is the information age and like so many other things, even these venerable gifts of the sea have gone high-tech. Further information on Ireland's seaweeds can be found on the internet (http://seaweed.ucg.ie/seaweed.html) courtesy of Chris Hession, who runs the Irish Seaweed Industry Organization, and Michael Guiry, professor of marine botany at University College Galway. Adventurous cooks can order additional recipes, a tasty snack called Sea Chips and a selection of seaweeds including dulse from: Maine Coast Sea Vegetables, Franklin, ME 04634, telephone: 207-565-2907. Slainte! ♦
℘℘℘
RECIPES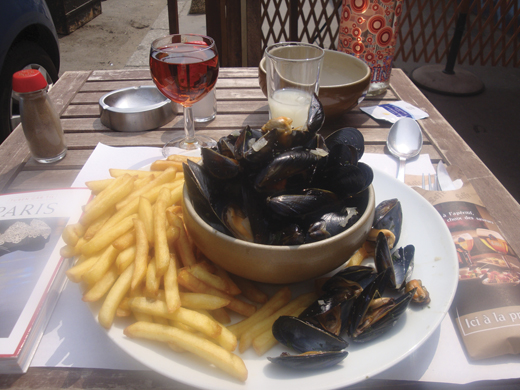 Mussel, Dulse & Rice Broth
(Gerry Galvin, chef: Drimcong House, Moycullen, County Galway)
48 mussels, rinsed and beards removed
1 cup white wine
1 cup water
1 ounce dried dulse, washed and shredded
1 cup cooked rice
1 tablespoon chopped fresh dill
2 tablespoons grated parmesan cheese
Place mussels in a large stockpot with wine and water. Cook over medium heat until all the mussels have opened. Remove mussels, shell, and set meat aside. Discard the shells.
Strain stock into a clean saucepan. Add rice and dulse. Bring to a boil, then reduce heat to simmer and cook until dulse is tender, about 10 minutes. Add mussels and stir in chopped dill. Spoon into large bowls and sprinkle on grated parmesan. Makes 4 servings.
Carrageen Jelly
(Irish Traditional Food – Theodora Fitzgibbon)
1⁄2 ounce carrageen
1 pint water
2 teaspoons lemon juice
sugar to taste
small wine glass of sweet sherry
whipped cream
Soak the carrageen in water for a few hours, then rinse well and drain. Put in a pan with 1 pint of water and simmer for about 20 minutes. Strain and discard the carrageen. Add the sugar, lemon juice and sherry to the strained liquid and stir. Pour into 4 small heatproof dishes and refrigerate until set. Serve with whipped cream. Makes 4 servings. ♦