The sudden death five years ago of the Nobel laureate Seamus Heaney (1939-2013) evoked an unprecedented outpouring of grief around the world. Generally acknowledged as the greatest poet of the age, Seamus (as he was known to everyone) was beloved as much for his down to earth humanity as for the wisdom, honesty and lyrical beauty of his work. A rare interview with Heaney is one of the many features of the TV special, "A Southern Celtic Christmas Concert", now being broadcast on PBS for the sixth year in succession.
The Heaney section is filmed in Glendalough, the hauntingly beautiful monastic site that inspired "St. Kevin and the Blackbird," Heaney's poem based on the fable of the sixth century Irish monk. The presence of Heaney suddenly appearing amidst the ancient gravestones of Glendalough has a startling power. Equally powerful, in a different way, is the moment when Heaney playfully climbs into the cell once occupied by the saint to show how he might have enticed a bird to settle in his outstretched palm, nesting there long enough for its young to grow up and fly on their own.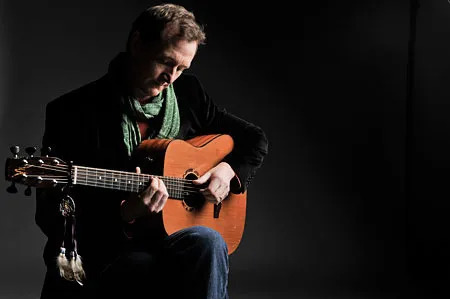 In his 1995 Nobel Address, Heaney spoke of "love's deep river" as the meditative state to which contemplative prayer has led Kevin, suggesting that it is only love that can transcend the artificial boundaries that divide people from one another in our increasingly barbaric world. James Flannery, the host, director, and executive producer of "A Southern Celtic Christmas Concert," interviewed Heaney for the show. He recently spoke to Irish America editor-in-chief Patricia Harty, saying that St. Kevin's message of love is emulated by our current pope. "It would seem that Pope Francis is challenging us to embrace a similar unity founded on 'the miracle of love,' a love which has no limit, natural or supernatural, thus establishing a universal brotherhood of souls," he said.
Flannery further noted how children have a special identification with the poem. "My six year old grandson even wants me to take him to Ireland so he can see where the miracle took place some fifteen hundred years ago," he said. "It strikes me that this realization of the deeply spiritual side of Ireland is what has attracted people to the national broadcast over the past six years."
Produced in Ireland, in the mountains of Appalachia, and on the stage of the Schwartz Center for Performing Arts at Emory University, "A Southern Celtic Christmas" celebrates in music, dance, poetry, song and story the high spirits and mystical beauty of the Christmas traditions of the Celtic lands and their connection with similar traditions of the American South.
Highlights of the show are performances by a number of world-class artists, including Moya Brennan, Alison Brown, John Doyle, Joe Craven, "Riverdance" composer Bill Whelan, and the soulful gospel harmonies of Rising Appalachia. – M.E.  ♦
A Southern Celtic Christmas Concert is available on DVD from Compass Records for $16.95.