Steeped in history with landscapes that go from brilliant beaches to windswept boglands, lakes, mountains to islands, pilgrimage sites to pirate queens, Mayo has it all.
There's something about Mayo…
Oh, the Green and Red of Mayo
I can see it still
Its soft and craggy bogland
Its tall majestic hills
Where the ocean kisses Ireland
And the waves caress its shore
Oh the feeling it came over me
To stay forever more
Forever more.
— The Saw Doctors
Ahhhh, Mayo. There's something for everyone in Mayo. Whether it's majestic hills or rolling waves you're after, you'll find them here, in this western county, geographically the third-largest in Ireland. Mighty, majestic, magical Mayo – the alliteration just rolls off the tongue. It's a county of contrasts – of busy, bustling towns and quietly calm countryside; imposing hills and rolling valleys; tranquil lakes and surf-filled seas.
On land, the impressive Great Western Greenway stretches for 42 kilometers – taking in Achill, Mulranny, Newport, and Westport – keenly populated by cyclists and walkers from all over the world. The many coastal corners of Mayo – it's the county with the longest coastline in Ireland – are heaven for surfers, kayakers and sailors of all shapes and sizes. Inland, its lakes are fishing havens for the many anglers who live locally or visit regularly.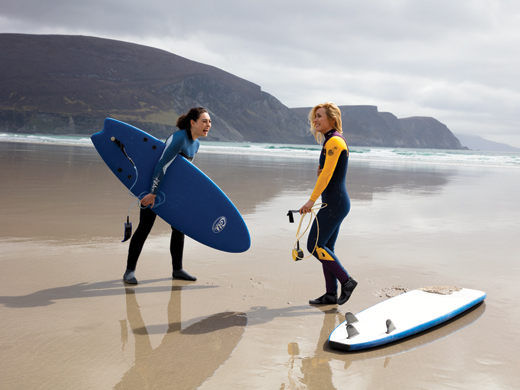 Dotted with museums, old churches, and monasteries, Mayo is full of historical treasures too, and it's a rare drive in the county that doesn't involve passing at least one local landmark. Sit back and relax while we take you on a whistle-stop tour, pointing out some of the county's most endearing features and maybe one or two not-so-well-known gems.
Heading west from Dublin, through counties Kildare and Roscommon, you pass through the little village of Bohola, between the towns of Swinford and Castlebar. Comprising a church, a school and a couple of pubs, it's a blink-and-you-might-miss-it little place, like many similar Irish villages. But this little spot is renowned as the birthplace of Ireland's greatest-ever Olympic champion, the great Martin Sheridan. Representing his adopted home of the United States, Sheridan amassed an impressive five Olympic medals in St. Louis (1904) and London (1908). There is a memorial sculpture of him in Bohola. Also hailing from this parish were the well-known O'Dwyer brothers – William served as mayor of New York City in the 1940s and later as American ambassador to Mexico, while attorney Paul was renowned as a great defender of civil liberties and minority rights.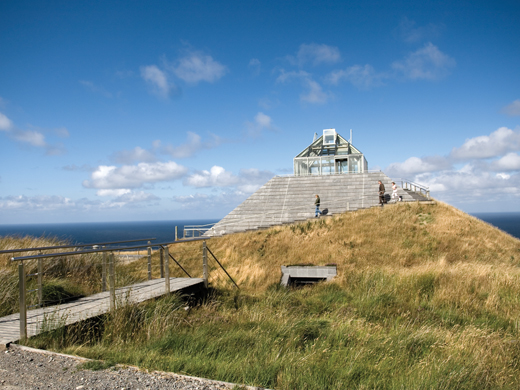 It's just a short hop from Bohola to the county town of Castlebar, a good spot for shopping and dining, with excellent fare on offer from such tempting restaurants as Dining Room, House of Plates, Bar One and Café Rua. Walking enthusiasts will enjoy the picturesque Lough Lannagh, complete with resident swans and ducks, and outdoor gym equipment strategically dotted around the scenic walk. Those looking for a longer walk, or a bike ride, should take in the Turlough Greenway, which runs 7.5 kilometers from Castlebar to the National Museum of Ireland – Country Life, Turlough.
Nestled in the gorgeous grounds of Turlough Park House, this absolute gem is a monument to those who lived in 18th- and 19th-century Ireland. Housing the museum's extensive folklife and folklore collection, and also featuring regular exhibitions of interest, it is a vividly interesting place to visit. A new children's playground in the grounds of Turlough Park uses the natural environment to excellent effect. For those who have an interest in fishing, Ballina enjoys a reputation as a world-class angling destination, with the River Moy offering several prime fishing spots, including the Ridge Pool – paradise for salmon anglers. Other attractions in the town include the ruins of Moyne Abbey and Rosserk Friary, which date back to the 15th century, and the Jackie Clarke Collection – a massive private collection comprising more than 100,000 items, and now available for public viewing.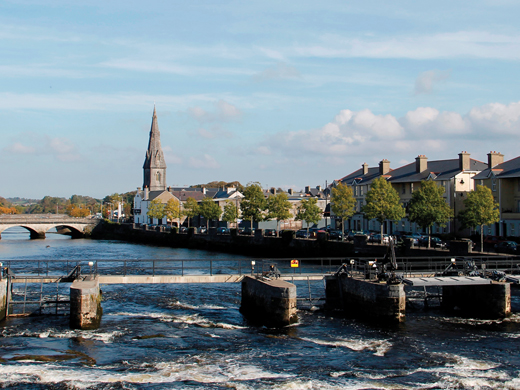 Letters from Michael Collins, Douglas Hyde, and Michael Davitt are among the many gems it has to offer, along with rare books, political cartoons, pamphlets, and personal items from leaders of the 1916 Rising. Housed in a beautiful old bank building (keep an eye out for the impressive safe) which was redesigned specially, it is the kind of place you could easily get lost in for a few hours! Ballina's premium hotel destinations – Mount Falcon, the Ice House and Belleek Castle – are distinctly different but comparable in their attention to detail and determination to offer the perfect guest experience. Not too far from Ballina, worthy detours include the Foxford Woollen Mills, and Enniscoe House in Crossmolina. And, of course, the impressive Céide Fields, near Ballycastle in North Mayo, offer a tantalizing glimpse of prehistoric life and farming in Ireland. Another must-see for nature lovers is the Ballycroy National Park, one of six in Ireland, which is comprised of more than 110 square kilometers of Atlantic blanket bog and mountainous terrain. It's also home to the Mayo Dark Sky Park, which in 2016 was awarded a gold tier standard of the international Dark Sky Path – meaning it's now officially recognized as one of the best places in the world to view the wonders of the night.
The pretty town of Westport is one of the few planned towns in Ireland, and the views of the iconic Croagh Patrick and Clew Bay as you enter the town are simply stunning. It is said that there are 365 islands in Clew Bay – one for every day of the year – and on a clear day, when they gleam in the sun, you can find yourself believing it. John Lennon bought one of these islands in the 1960s, but only lived there in the fictional sphere of Kevin Barry's 2015 novel Beatlebone.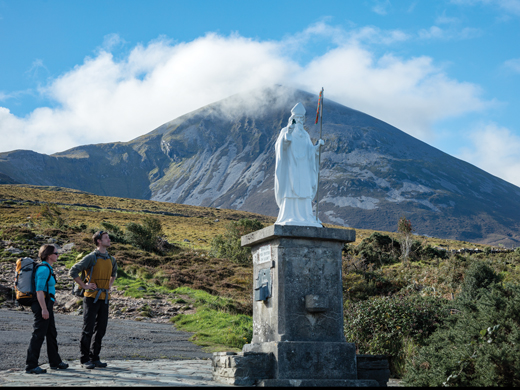 Visit Westport at any time of the year and you'll find the streets busy with locals and visitors alike, with peak crowds during the summer months. It's a lovely town to wander through, with some notable restaurants including An Port Mór, Sage, The Tavern and Cian's on Bridge Street. Lovers of traditional music won't be able to pass by Matt Molloy's pub, where there is invariably a session to be found, some even involving the man himself. Across the street, Moran's is a cozy, welcoming pub which has remained largely unchanged through its many years in business.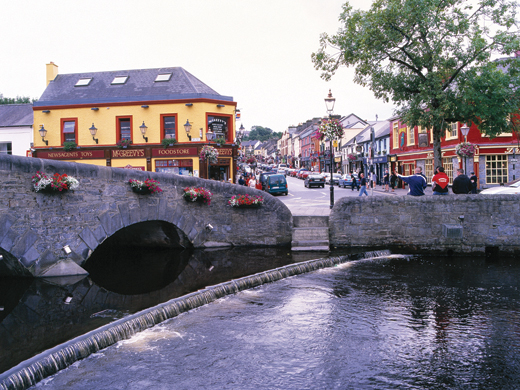 Westport House is a must-see on any trip to Mayo – with attractions for all ages on site. Built on the site of an old castle belonging to Grace O'Malley (otherwise known as Granuaile, the Pirate Queen), the house is a treasure trove of décor, period features and portraiture. Sample the summertime Victorian afternoon tea or the pop-up Georgian dining experience (www.westporthouse.ie), or enjoy a leisurely saunter through the grounds. The excited shrieks of youngsters enjoying a soaking on the water ride can frequently be heard from the adjoining Pirate Adventure Park.
Heading out of Westport towards Louisburgh, you pass directly by the foot of Croagh Patrick in the village of Murrisk, with the Irish National Famine Memorial across the road. It's a busy spot – the mountain is a magnet for climbers, never more so than on the last Sunday in July, known as Reek Sunday. In recent years, Croagh Patrick has also featured in several adventure trails, including Sea2Summit and Gaelforce West. The summit has suffered a little damage in recent years, due to the high volume of traffic, but there are efforts underway to try and repair it, using the expertise of specialist Scottish contractors.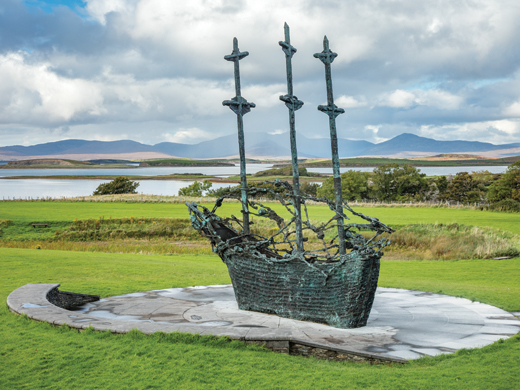 For those who prefer their walking on a horizontal plain, rather than a steep vertical, the Clew Bay Archaeological Trail – which runs from Westport through Murrisk and Louisburgh to Clare Island – offers the opportunity to explore the thousand- year-old traces of Mayo's heritage in a day, with 21 archaeological and heritage sites to explore. Beach lovers will find several spots to choose from in and around Louisburgh – Old Head is a good spot for kayaking and snorkeling, while the surf is definitely up at Carrowniskey, and Silver Strand is a gorgeous expanse of sparkling sand, exactly as the name implies. The drive from Louisburgh towards Leenane, on the border of Galway, is a visual delight if you are lucky enough to be a passenger. Passing by hills and mountains, with the gorgeous Doolough ("black lake") winding alongside, it is simply breathtaking. The poignancy of the small, stone famine memorial, which marks the death of many locals during the height of the Great Hunger, offers a sharp contrast to the natural beauty of the area. So much of the west of Ireland is pock-marked with these Famine memorials, a constant reminder of the trauma suffered during those terrible years.
Traveling from Castlebar, through the picturesque little town of Newport – a popular watersports destination in summer, with plenty of pier activities for youngsters – on the way to Achill, there's a pub / restaurant called Nevin's Newfield Inn that is well worth a lunch stop. Pass by this establishment any day of the week and there are always plenty of cars outside, even though it is pretty much in the middle of nowhere. The Park Inn Hotel in Mulranny has one of the most stunning views in the area – overlooking the bay on one side and hills on the other. It's also a great spot to take a break on the Great Western Greenway – park the bike and grab a coffee and a few photos of that view. The beach in Mulranny, an easy walk from the hotel, is a lovely sheltered little inlet that is very popular with locals in summer.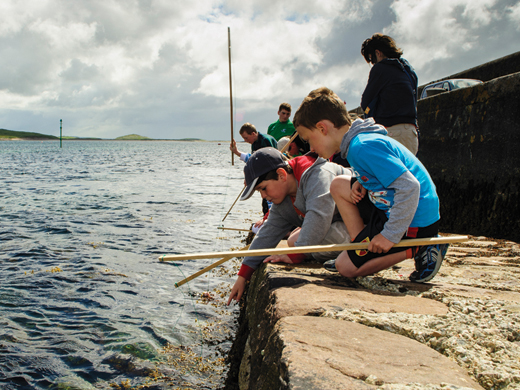 The road from Mulranny leads directly to Achill Island, the largest island off the coast of Ireland. A wide bridge connects the island to the mainland, and Achill boasts some of the most stunning beaches in Mayo – with Dooega, Keel, and Keem Bay among the finest. Achill is heaven for those who love watersports – with kayaking, snorkeling, surfing and kite surfing all on offer. Binoculars can be a handy accessory also, as basking sharks and porpoises are regular visitors to the area. A Gaeltacht area, Achill is also renowned for its traditional music scene and for its mountain peaks. The scenic Atlantic Drive, which loops around the island, offers a multitude of stunning views. Other Mayo islands worth visiting include Clare Island, Inishturk and Inishbiggle.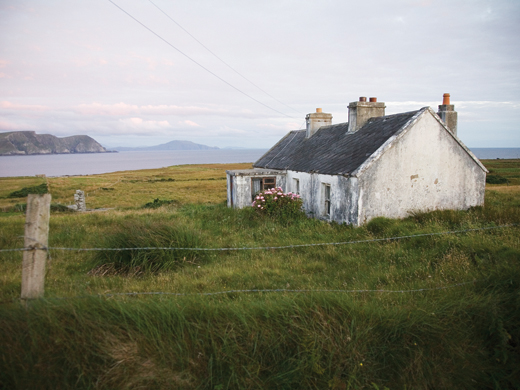 Fans of the iconic 1950s film The Quiet Man will not want to miss out on seeing the picture-perfect village of Cong, which straddles the Galway-Mayo border, with the Quiet Man Cottage Museum faithfully replicating the interior of the cottage depicted in the Oscar-winning film. Cong's other major attraction is Ashford Castle, the five-star hotel hugely popular with visitors from the US.
Hand in hand with the county's natural features and areas of beauty, Mayo is noted for its writers. The number of respected writers from the county is quite impressive: George Moore, Eimear McBride, EM Reapy, John Healy, Sally Rooney, Anne Chambers, Kate Kerrigan and Michael Mullen, to name but a few.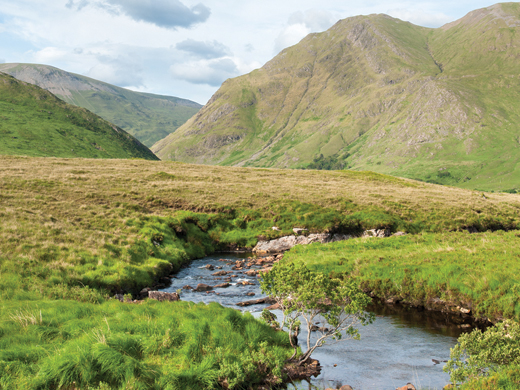 Mike McCormack's Solar Bones, last year's deserving winner of the International Dublin Literary Award, sings Mayo from every page. It is a beautiful meditation on life and the importance of family, and McCormack's wonderful ability to bring the reader right into the Mayo he describes so well makes for a very rewarding read.
Mayo people have achieved acclaim in other spheres as well, including politics. Former Irish President Mary Robinson, now hailed for her crusading work on environmental issues, is from Ballina. Former Taoiseach Charles Haughey was born in Castlebar, while more recent Taoiseach Enda Kenny also hails from the county town. Michael Davitt, who founded the Land League in Ireland in 1879, is buried in his native Straide, and his crucial role in shaping Ireland is commemorated in a small museum in the village. Mayo natives Major John MacBride and Kathleen Lynn each played an important part in the Easter Rising of 1916. Noted soprano Margaret Burke Sheridan was born in Castlebar, but went on to spend much of her life in Italy. Others who have roots in Mayo include former Vice President Joe Biden and Monaco Princess Grace Kelly.
Lastly, no mention of Mayo is complete without reference to its sporting heroes – the senior Gaelic football team who have brought their legions of supporters on an amazing journey over the past few years. Having lost nine All-Ireland football finals since 1989 (they haven't won since 1951), including the three times they were bested by Dublin with just a point in the difference, they are the team that refuse to say die. With manager James Horan back in the driving seat, Mayo's GAA fans will be eagerly watching the startup of the championship season in May of next year. ♦
_______________
Getting there: Mayo has its own airport – Ireland West Airport Knock. No transatlantic flights to and from there, as yet, but for those traveling via the U.K. it's a short hop across the water from any of the major airports. The train from Dublin to Mayo takes approximately three hours, and by car from Dublin or Shannon Airports, the travel time can vary from two and a half to three hours.
Read More: Exploring Mayo by Bernard O'Hara; The Story of Mayo by Rosa Meehan; Beatlebone by Kevin Barry; Solar Bones by Mike McCormack. www.mayo.ie; www.mayolibrary.ie
Photos courtesy of Tourism Ireland.