The Irish American Partnership announced a special grant of $10,000 to Ahalin National School in County Limerick during its annual New York Business Leaders Breakfast on April 10, 2019, in honor of Limerick native Michael J. Dowling, who is president and CEO of Northwell Health, the largest integrated health care system in New York State.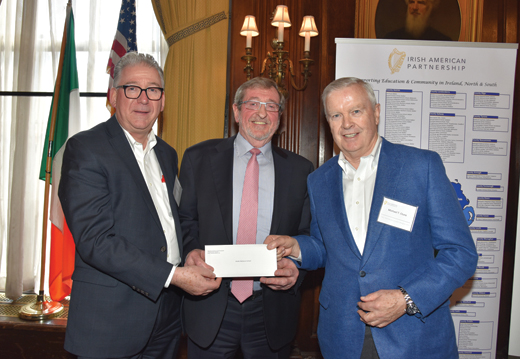 Dowling delivered a keynote address to an engaged audience, which comprised over 160 leaders in healthcare, construction, media, technology, finance, and legal services. "Education, for me, has been the key to whatever success I have had," said Dowling, who also highlighted the partnership's vital work in supporting education and community development across Ireland, adding, "This organization is relatively small, but your impact is huge. You are changing lives and that is extremely, extremely important."
"The grants that you give to schools today, to the kids to broaden their perspectives, give them this idea that there are other things out there. You know that there are kids that will succeed and be leaders in the future, and take on responsibilities that otherwise may never be possible."
The CEO of the Irish American Partnership, Mary Sugrue, said, "It is our privilege to support Michael Dowling's former primary school in County Limerick. With this gift, the school will begin a musical instrument loan scheme for its students, creating a more inclusive environment where all students can enjoy the benefits of learning a musical instrument."
Consul General of Ireland New York Ciarán Madden, Head of the New York Office of the Northern Ireland Bureau Lorraine Turner, and former Irish Ambassador to the U.S. Anne Anderson were also in attendance.