I have no interest in Ancestry.com or tracing my roots. I know most of my DNA and it's all Irish on my mom's side. Her father, the son of a Ballylongford, County Kerry, farmer, was named Tom Keane. He emigrated to America sometime around 1900 – it's believed he had to hightail it out of Ireland because of his IRA affiliation, and that doesn't surprise me at all. Tom had crossed paths with a contemporary: another Ballylongford native, Michael O'Rahilly (The O'Rahilly), who was killed in the 1916 Easter Rising (but not before writing his name in his own blood).
My maternal grandmother, Katie Galvin, was born in Patrickswell, County Limerick, and accompanied her father on a business trip to – of all places – the Bronx. Fordham University had commissioned my Mulvihill great-grandfather to create its gardens. Before she headed home, Katie met the handsome Tom Keane and that was that. They married, and in keeping with Irish tradition, had six beautiful daughters, each about a year apart. Tom and Katie were considered to be a pair of lookers, but like most Irish immigrants, they were very poor and I have no pictures of them. Photography was a big-ticket item in the early 1900s, and like all proud parents, they had photos taken of their girls in unbelievably fancy dresses, but none of themselves.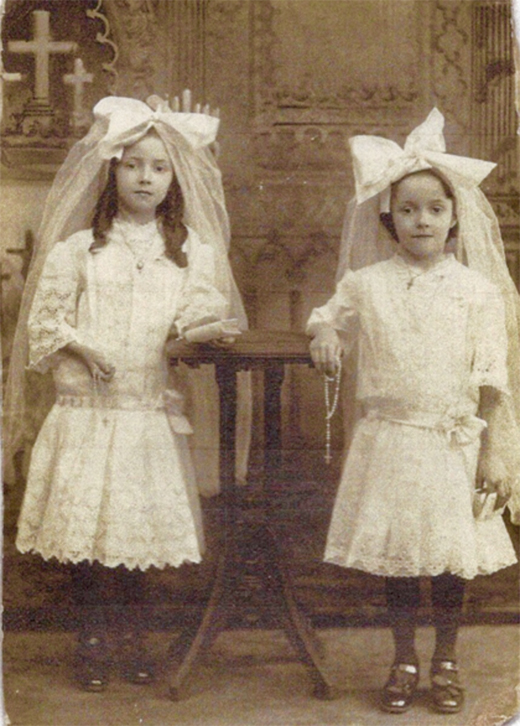 My mom, always known as "Lovey," was born in 1907 and I'm lucky to have a few pictures of her and an auntie as children. But I've always wished I had pictures of my grandparents, Tom and Katie, who died quite young. It's a big hole in my heart never to have known them or what they looked like.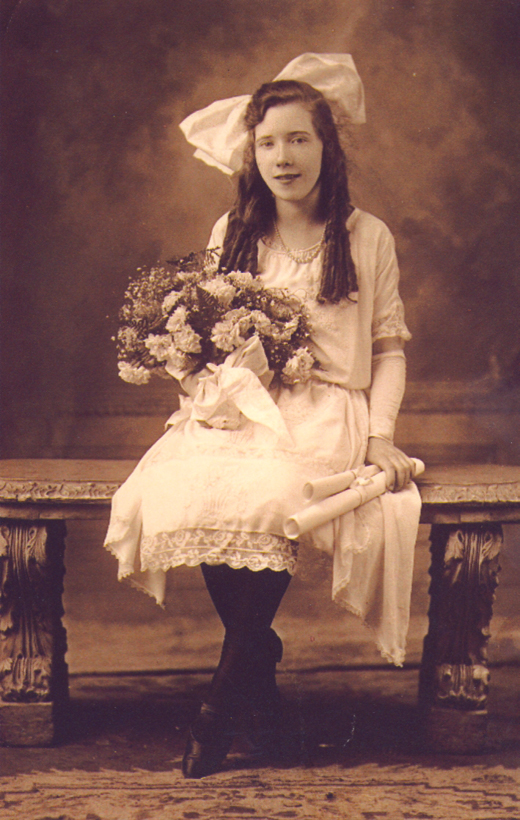 On my father's side, the Dobsons weren't Irish but still had a touch of the Celt – my great-grandfather Edwin Dobson was born in Wales. After arriving in America he built sturdy upright pianos for bars and movie houses and lived in Greenwich Village on Washington Square – which is, coincidentally, where I live now. Edwin married his rich landlady and the couple had only one child: my grandfather, who would become a New York City policeman. He was, one might say, colorful, and one tough mother of a grandpa. He lived to be 100 and everyone was still afraid of him.
Like his father, Grandpa Dobson married a woman who came from big bucks: Granny Dobson was a Gibbons, one of the founding families of Douglas Elliman, Holliday, Gibbons and Ives, later Douglas Elliman, and still New York's foremost real estate company. My father used to walk around the Village pointing out all the fab brownstones that should have been mine.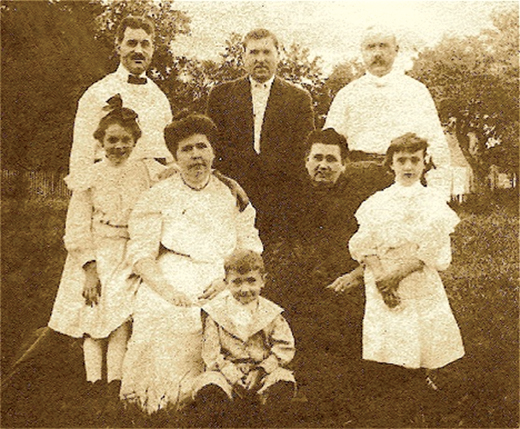 Truth be told, I have no interest in tracing my Dobson roots. Back in the day, people with money had lots of photographs taken of themselves and I have way too many of the Dobsons, some very old, including tintypes. I'm afraid all these photos show a similar trait: they were sort of unattractive folks, and some very fat ones at that. Perhaps I'm shallow, but could this be the reason I have no interest in the Dobson branch of the family? It's especially tragic, since I look just like Granny Dobson.  ♦
_______________
Please send photographs along with your name, address, phone number, and a brief description to Patricia Harty at Irish America, 875 Sixth Avenue, Suite 1606, New York, NY 10001. If photos are irreplaceable, then please send a good quality reproduction ­­or e-mail the picture at 300 DPI resolution to submit@irishamerica.com. We will pay $65 for each submission that we select.