Irish contributions to American history received a special recognition this week. The 150th anniversary of connecting the First Transcontinental Railroad was commemorated in a two-day celebration in Utah May 9 and 10 at Promontory Point, the state landmark where the Golden Spike connecting the track's east and west branches was struck on May 10, 1869. The railroad was six years in the making, with the physical labor conducted largely by immigrants – Irishmen making up a hefty portion.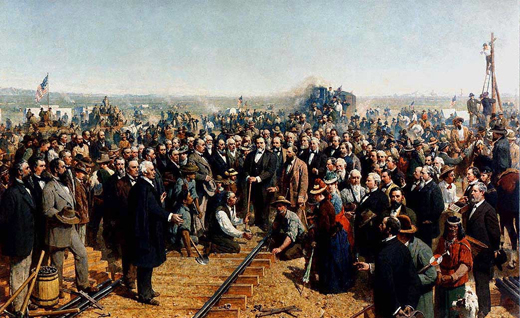 Irish Ambassador to the United States Dan Mulhall was a special guest at the commemoration, which honored specifically the manual workers that constructed the railway, with the Irish contribution numbering approximately 10,000 men. These laborers often risked life and limb in this back-breaking endeavor to advance American transportation, symbolically binding the nation even closer than before the horrific devastation of the Civil War, in which many of the Irish men had fought for the Union.
"Theirs was a magnificent contribution to the making of modern America," said Ambassador Mulhall. "Those railroad workers were drawn from the six million Irish immigrants who crossed the Atlantic between 1840 and 1900, escaping from famine and seeking better lives for themselves and their families. They and their descendants became part of the fabric of modern America, but they never forgot their ancestral Irish homeland. Their achievements in America have been a perennial source of inspiration to the Ireland they left behind," he said.
The Hibernian Society of Utah hosted a dinner for the occasion on Thursday evening, at which Ambassador Mulhall offered his remarks and honored the contributions and sacrifices made by the Irish and other workers, including Chinese immigrants, Native Americans, Mormons who had settled in the west, and African Americans in their first years of emancipation.
The ambassador toasted the laborers, whose efforts were a significant step in making a fiercely intimidating and dangerous land mass traversable, and brought the country closer together in both travel and communication, investing their personal ambitions in the foreign land where they had come to make them a reality.
The iconic railway's first spikes were driven in 1863 during the Civil War, and over the following six-year period, more than 2,000 miles of track was laid entirely by hand over rugged terrain, including the Sierra Nevada mountains. The iconic railway was constructed by two separate companies: the Union Pacific company moving west from Omaha, Nebraska, and the Central Pacific company moving east from Sacramento to meet in the middle. The arduous labor earned an average of $3.00 / day for a single worker – an unfathomably low rate by today's standards. But that certainly did not undercut the enthusiasm of each side – both groups worked tirelessly to beat each other's record for track-laying.
The Central Pacific concocted a plan to lay 10 miles in a day. Eight Irish tracklayers put down 3,520 rails, while other workers laid 25,800 ties and drove 28,160 spikes in a single day: April 28, 1869. Less than two weeks later, at Promontory Summit, Utah, the golden spike was hammered into the final tie.  ♦