Looking for a truly exceptional adventure? Paddleboarding is the fastest growing sport in the world, and Ireland offers an abundance of waterways – some challenging, some less so – and, as our intrepid Canadian couple discovered, all flanked by stunning landscapes of mountains, lakes, coastlines, and islands.
℘℘℘
We wanted to drink in Ireland's audaciously green spring, but do as much of that as we could from the water – the gorgeous flip side of the views from land.
So, being two adventurous souls, we took inflatable standup paddleboards to Ireland this past April, stowed them in a honking big camper van, and then negotiated the narrow roadways to spots where we paddled Games of Thrones' seas, rivers, and canals, as well as waters plied by St. Patrick on his mission in Ireland.
This is not for the faint of heart in either element. On land, the almost 23'-long, 7'6"-wide, and 10'-high Bela Mauritius proved tricky to maneuver on country roadways, village streets, and under old bridge spans. And on the water choppy lakes, surging ocean swells, and rivers doubling as wind tunnels often made the going sketchy. Still, in 13 days we notched eight bodies of water, paddled in the wake of St. Patrick, and relived episodes from Game of Thrones.
Both the RV and paddling communities offered warm welcomes and understanding when we veered into misadventure – like a losing battle with a stone abutment protruding into a narrow roadway, or headers into frigid water in Lough Neagh, the River Foyle, and off the north coast near Portrush.
The hulking camper van, which we nicknamed "Maury," meant we could overnight close to water and nature, like we did our first night at Battlebridge Caravan and Camping Park in Leitrim.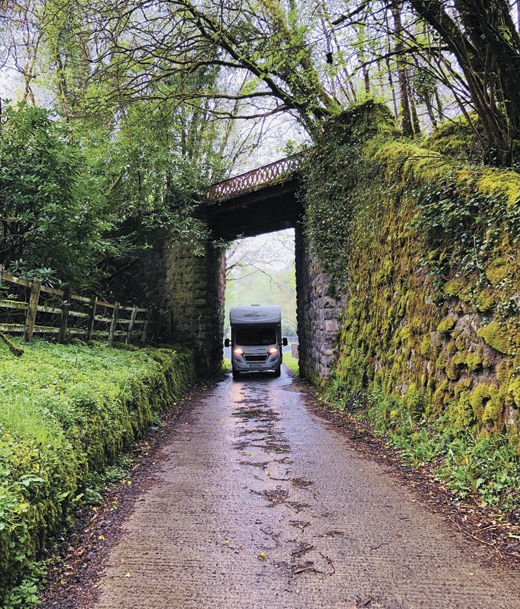 The setting was ridiculously pretty, close to the Shannon River where a dozen swans played in the current under an ancient stone bridge. But we needed to get on the water and Northwest Adventure Tours, out of Sligo, obliged with a jet lag-busting paddle across Lough Gill and down the Garavogue River to Sligo's city center.
The lake was choppy and we paddled on our knees until we got the wind at our backs. The effort of the crossing called for a food break, so we ducked into a little bay and tucked into some healthy snacks from the Sweet Beat Café in Sligo. Then it was up on our feet and easy going on the placid Garavogue, perhaps Ireland's shortest river and surely one of its prettiest, with the Dartry and Ox mountain ranges flanking us. A section of the river ran along the ancient Hazelwood Estate and featured a stone roundhouse battlement near shore, a vestige of times when attacks by water were repelled by gunfire through slotted openings in the stone. But for us, all was peaceful; the only sound was the trill of birdsong, a soundtrack that played throughout our travels.
That night we missed getting into one campground by five minutes, and had an accident en route to another campsite 30 minutes away. An oncoming driver hogged the center line on a curve, and wide Maury simply ran out of road.
Our arrival at Lough Arrow Touring Park was a master class in Irish hospitality. We pulled up near the campground's community room, the gaping wound from the stone wall exposed to all.
Folks poured out, offering sympathy. Women hugged us and men consoled with "It's only a flesh wound," and "Ah now, no one died."
A bottle of wine was produced that helped mend the driver's wounded pride.
The glistening Lough Arrow beckoned in the morning, but we ignored it and headed to a restorative visit at the VOYA in Strandhill, Sligo, where owner Neil Walton introduced us to the spa's seaweed baths.
Neil, a former elite-class triathlete, discovered seaweed's benefits when he was seeking ways to recover faster from the punishing trio of swim, cycle, and run events. That led to a plunge into seaweed research and the renewal of the baths that used to dot Ireland in the early 1900s, nine in tiny Strandhill alone.
Relaxing in a bath as tentacles of the marine vegetation gently glide around you is not for everyone, but we both found it soothing. Afterwards, Neil suggested we find a quiet beach area to relax, as our bodies would initially feel tired from the experience.
We found an uninhabited beach just off the Wild Atlantic Way route and negotiated a rocky beach roadway until we could go no further. After some lunch and a little wine, the seaweed magic set in, bringing blissful naps with a cool ocean breeze flowing through Maury.
We woke invigorated and spent the night at Strandhill Caravan and Camping Park, where we watched the surfers take on the coast's big waves and marveled at the paddleboarders handling the big surf, too.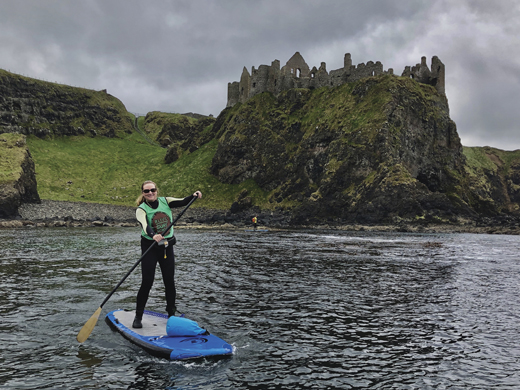 The waters of Lough Derg, Donegal, called out to us the next day. We had imagined paddling out to Station Island, the site of pilgrimages honoring St. Patrick for 1,500 years. The reality was crushing: a biting wind drove whitecaps that only the most skilled paddler would dare try. Still, it is an astonishing place, with the big welcoming statue of Patrick and the knowledge that people have worshipped here since the 400s.
We moved on to the gentler Lower Lough Erne in Fermanagh and a soft landing at Finn Lough, a beautifully appointed resort on a 75-acre peninsula thrusting into the lake. Maury was comfy enough, but this was being spoiled with a deep mattress, massive bath area, and excellent cuisine.
Lower Lough Erne was tranquil the next day as we pumped up the boards and did a circuit of a section of lake near the resort, while admiring the backdrop of green hills rolling away from the lake's edge.
Next up was Derry, where we had another two nights of fine hotel accommodation at Bishop's Gate Hotel, and two paddles planned with Far and Wild's Lawrence McBride.
W­e enjoyed a pre-paddle nosh at Pike 'N' Pommes, a quaint wee fish-and-chip stand set in a shipping container, melded to a light-bejewelled double-decker bus, and planted conveniently near the Derry City marina. Deliciously fresh squid tacos turned out to be the fuel Pam would need that day as the tail end of Hurricane Hannah buffeted her every which way but straight on the River Foyle's fascinating urban stretch.
History came alive as Lawrence recounted century-spanning stories of monasteries, garrisons, plantations, civil wars, and sieges all witnessed by the ancient stone and earthen fortifications encircling Derry. After battling the wind and rain, losing the fight once when sudden gusts dumped Pam in the water, we hauled out and up onto the impressive stanchions of the Derry Peace Bridge. The elegant architecture reaches out in a symbolic handshake, unifying the communities from opposite sides of the river.
Once the boards were secured from the whims of the current, Lawrence ceremoniously produced fruit and a thermos of hot tea from his dry bag, providing a much-needed rewarming before the boards were turned towards home. A much speedier paddle, with the tide, back to the marina, where a clearing sky and sunshine met the paddlers for the final stretch, made it an exhilarating ride in the land of myth and magic.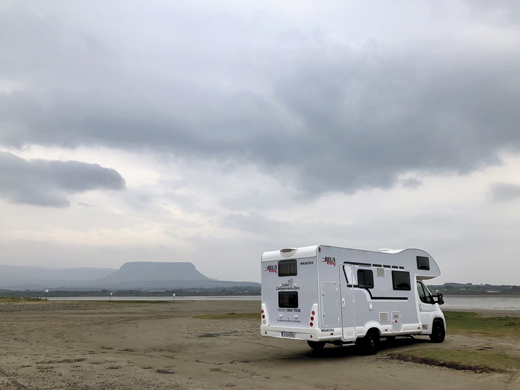 The second outing was on Lough Foyle, starting in the harbor at pretty Moville, Donegal, and heading into the wind towards Derry.
Lawrence drew on his encyclopedic knowledge of local history, noting we would likely bisect a crossing St. Patrick would have taken some 1,500 years ago.
He recounted the legend of Manannán mac Lir, a mythical Irish sea god who traveled waters on a horse drawn chariot.
Fictional myth-making took place on the west side of Lough Foyle, where Lawrence pointed to a bench below the summit of Binevenagh mountain. It was used for a number of different Games of Thrones scenes, including the most memorable, when Daenerys Targaryen, having been rescued by her dragon Drogon above the city of Meereen, is spotted surrounded by a huge Dothraki horde.
Meantime, there was some magic at work on this paddle, as shortly into it a border collie appeared and tracked us along shore for some time before we put in for lunch.
The Atlantic mackerel with local potato bread, Broighter rapeseed oil, and Dart Mountain Cheese was a welcome repast as the wind picked up.
The dog stayed close, often in herding pose, enjoying some mackerel and then selecting a piece of driftwood and setting it in front of John. It was playtime and she wore out his arm before, working on some inner clock, she abruptly took her driftwood prize and headed off. It was a charming interlude before heading into an accelerating wind that eventually turned us around to glide back to Moville.
It was a short trip on Northern Ireland's compelling Causeway Coast from Derry to Portrush, our next stop, where preparations for the British Open were already underway. The plan was to paddle the blustery coastline, where winds bedevil even the best golfers. We pulled into the huge and pin-neat Carrick Dhu Caravan Park for a two-night stay.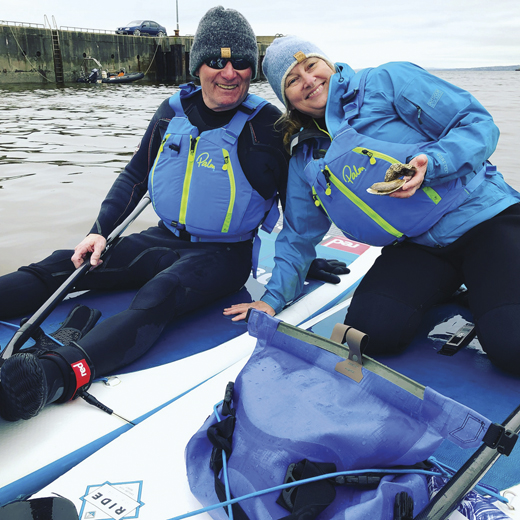 But wild conditions ruled out the coastline paddle, so we settled for our first Game of Thrones site, Ballintoy Harbour, which was well-protected and offered a mini archipelago of rocky islets to play around. It was the setting for several scenes portraying the Iron Islands, including Theron's return and his first meeting with his sister, Yara.
We were led on this adventure by Ricky Martin and Hanno Windisch, respective owner and instructor at Alive Surf School and two standup paddleboard comedians who kept up a lively patter as we eased out of the harbor and skirted the skerries, as the small rocky islands are called, playing in the ocean swell as it rose between them.
The real challenge would come the next day when the weather shifted and a window opened for the planned seven-kilometer run from Portballinatrae to Whiterocks. There are no escape routes on this paddle as it is entirely along cliffs, including those brooding with the ruins of Dunluce Castle, another Game of Thrones backdrop known in the show as Pyke Castle, home of the House of Greyjoy, ruler of the Iron Islands.
Surfers here call it the "cold paradise," a seemingly endless stretch of crenelated coastline eroded deeply into caves, rocky arches, and curious sea stacks composed of the skeletal remains of microscopic marine organisms.
Paddling with an elegance that revealed a man finely in tune with the sea, Hanno danced close to the rocks and led us into darkened caves echoing with the crash of waves. Entry and exit had to be timed with the undulations of the ocean swell.
Rising dramatically above us, 14th-century Dunluce Castle, once the stronghold of the MacDonnell chiefs of Antrim, provoked images of seagoers, smugglers, and the adventurous who had explored these caves – some searching for treasure from a downed Spanish galleon not far offshore.
Ricky, whose humble humor belied his obvious swimming and surfing expertise, entertained with stories of wild escapades coasteering and free diving (whilst roped to boulders) with the seemingly fearless Hanno. He was the first to jump in and cool off in the icy waters of a vast cathedral cave, with sunlight beaming through an opening in the ceiling.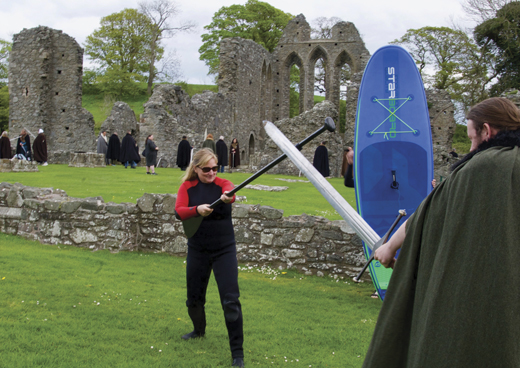 Paddling westward, once around Giant's Head and through the soaring volcanic formation of the Wishing Arch or the Elephant Rock, the chalk cliffs gloriously gave way to the ancient sand dunes and soft white beach of Whiterocks.
Having reached our final destination, Ricky led the charge to a wee bit of play in the surf, before we reluctantly gave in and dragged our boards to shore. The entire experience rendered one breathless in wonder and begging for more.
By contrast, Lough Neagh was calm. We put in at Toome Lock, a stone-walled canal that is another Game of Thrones site, representing Old Valyria, Essos in season five. It is here where disgraced Jorah Mormont spirits the fugitive Tyrion by boat in an effort to bring him to Daenerys.
It was scarcely that moody a scene on this visit, with Far and Wild's Lawrence as guide, as we paddled down the tranquil canal and into a broad, sunny lake. Afterward, we tried eel for the first time and favored the smoked variety, which simply tasted like very good seafood, wrapped in potato farls and dressed with rapeseed oil.
Then it was a matter of skirting Belfast on our way to St. Patrick's Country, and the Dufferin Coaching Inn in lovely Killyleagh. It's on the main street, just down from the imposing Killyleagh Castle and a short walk to the village's quaint harbor, where pastel-painted row houses form a crescent around the appendage of Strangford Lough.
Fortified by a big three-course meal at the Dufferin Arms and a bracing breakfast at the immaculate Inn, which is housed in an old Ulster Bank building, we met our guides. John Keating of Life – One Great Adventure and Eddie Hawkins of Wild Rover Adventures were another pair of bantering bros who took us out on Strangford Lough to the mouth of the River Slaney, where in 432, Patrick is said to have first set foot in pagan Ireland.
The Strangford location was almost lyrical with emerald drumlins rising and falling around the lake, which we seemed to have all to ourselves this day.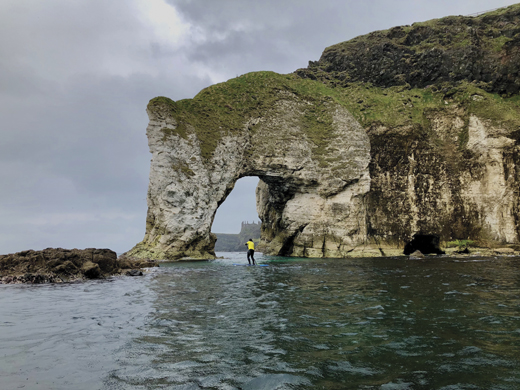 We launched from Delamont Country Park, a short drive from Killyleagh, and explored just a small part of this large inlet, leaning into a stiff wind and lake chop before a restorative picnic repast from Fodder, a trendy gourmet food supplier, on Delamont's shore.
Next up, and purely by chance, we hit upon the intersection of St. Patrick's travels and the mad-keen devotions of Games of Thrones fans as we toted the boards from the Quoil River, where Pam and Eddie facilitated this visit's money shot as they paddled toward Down Cathedral, where St. Patrick is buried.
A massive Game of Thrones tour bus had just decanted fervent fans who suited up in capes and swords and swarmed Inch Abbey. The abbey's majestic remains serve as a backdrop on the series for the camp of the Houses of the North and the Riverlands.
Pam, brandishing her paddle, broke into mock swordplay with a Thrones fan as the group fanned out to take photos of the scene.
We spent that night at tidy Delamont Camping and Caravan Park, right beside the big public park where we enjoyed the trails and the towering Strangford Stone, a megalithic peace monument erected in 1999 which overlooks Strangford Lough.
The whirlwind tour finished up at Castlewellan Forest Park with a night in Maury under a tree in a pristine pasture, followed the next morning by a tour of the park in electric bikes provided by Keating's Life Adventure Centre. In the spirit of the pace of our visit, we shifted them to turbo mode.
As always, Ireland summons us back with the roads and waterways not yet explored. ♦