A year-long celebration is underway to commemorate the 250th anniversary of Swinford, a County Mayo town as proud of its heritage as its time-honored strength of community.
℘℘℘
The words were painted high on a whitewashed brick wall, just above a red and green Mayo flag flapping in the wind.
MELLETT'S DRINKING EMPORIUM
ESTB 1797
"Is it true?" I ask my friend, a lifelong Swinford resident. "Mellett's has been in business since 1797?"
"Nearly as old as the town itself," he tells me as I push the pub door open. "And the same family has owned it the whole time."
I've been visiting Swinford – and Mellett's – for more than two decades, but somehow I was just now appreciating how long both have been around.
I first came to this quaint East Mayo town in 1998 when I was living in Galway and found myself in a circle of Swinford friends. Occasionally I'd tag along on their trips home, hitchhiking north along the N17, passing through Tuam, Claremorris, and Knock before being dropped off outside Campbell's Lounge on the corner of Bridge and Main streets.
Since those early trips, I've returned often, always welcomed back with the warmth famous in this part of the world. On my most recent visit, Swinford was ramping up for a monumental 2019 – its 250th anniversary. Wanting to know more about its past, I figured Mellett's would be a good place to start.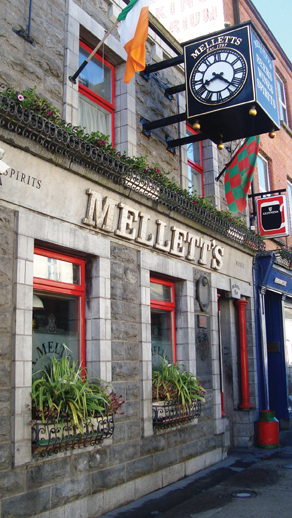 Entering into Mellett's bar, it's impossible not to notice the ancient tchotchkes and ephemera hanging from the ceiling, pinned to the walls, and stacked alongside bottles of whiskey and gin. The front of the pub is crowded with copper pots, monochrome photos and newspaper clippings, and more than a few Guinness advertisements proclaiming the stout to be good for me. Tables are fashioned from beer barrels and vintage treadle sewing machines, while cushioned kegs and timeworn church pews provide the seating.
But what makes this pub so appealing isn't just the collection of antiques. One of Ireland's oldest continually operated family businesses, Mellett's has shared an inseparable bond with the Swinford community for more than two centuries.
The pub's story began when Stephen Mellett acquired the property from the area landowner, Lord Brabazon. The Anglo-Irish Brabazon family had founded Swinford on a River Moy tributary in 1769, and when Stephen obtained the emporium 28 years later, he was serving as Brabazon's steward. Not long after, Stephen would add emigration services to his fledgling business, a service that would prove essential to the region.
Like the rest of Ireland's west, Swinford would be decimated by famine in the mid-19th century. Conditions in the town's workhouse, one of the prison-like facilities created by the British for Irish families too poor to support themselves, led to despair, forced emigration, and for many – death. The inhumanity of these circumstances greatly influenced Michael Davitt, who lived in the Swinford Workhouse as a child and would go on the create the Irish National Land League in 1879, the organization instrumental in providing property rights for Irish farmers.
It's not possible to grasp what life here was like in the 19th and 20th centuries without considering the significance of the community pub, which became much more than just a place to socialize. In fact, at different times in the past Mellett's has functioned as a grocer, undertaker, and even a match-maker. Services like this were common in rural Ireland, and residents became dependent on their local pub, a reliance reflected in the high number found in rural towns. A 1968 article in The Sunday Press reported there were 52 pubs for Swinford's 1,100 residents.
Marie Mellett is the seventh generation to manage the family business. She tells me that while they no longer provide groceries, coffins, or significant others, the Swinford community still depends on Mellett's for important aspects of their lives, beyond just an evening pint.
"Some need help with mobile phones, some want to order turf, and some want to book a seat on our bus to a big match."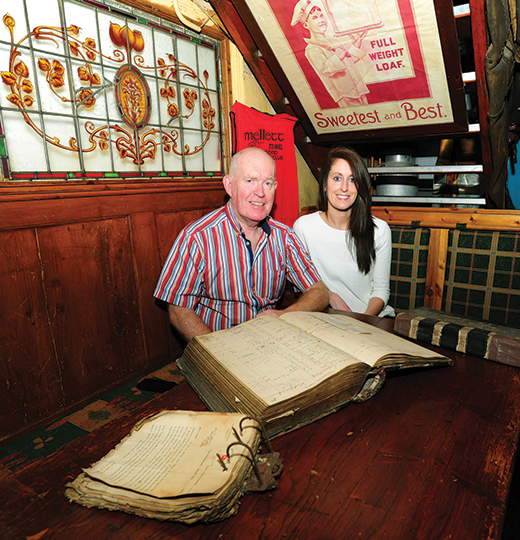 Marie emphasizes the importance of community, noting the Mellett's support of local clubs and charities. She says that while pub culture overall might be changing, here in Swinford it still matters.
"In the cities, there are other options for entertainment, but the social element of pubs in small places like this remain so very important."
Cathal Kelly is the 40-year-old owner of The Gateway Hotel and chair of the "Swinford 250" committee. When I ask how far back his roots here go, he smiles.
"Since the beginning of time, as far as I know."
Like most his age raised in Swinford, Kelly's parents were some of the few not forced to emigrate. This exodus is memorialized at the top of the town's Main Street. A bronze life-size statue of a woman holding a toddler and waving goodbye stands facing the bus stop, where many started journeys to a new life. The sculpture, a unique tribute to emigration in that it remembers those left behind, is accompanied by a plaque that reads, "To the memory of the women who remained home while their men sought work abroad during the mass emigration of the 1950s."
Kelly tells me a goal of Swinford 250 is to reconnect with the area's diaspora and "help link present and past." He shares with me a schedule for the year, a long list of events that includes a tree-planting initiative, a duathlon, and an end-of-year Christmas gala.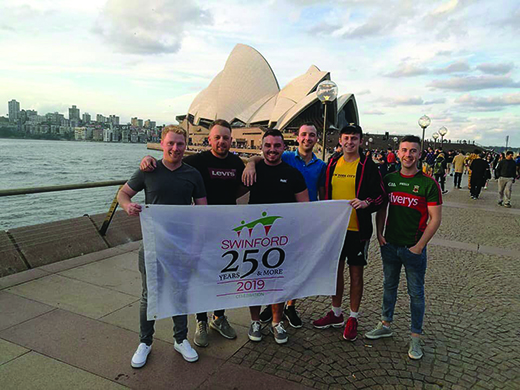 The biggest celebration was held on the first week in August – the town's annual Síamsa Sráide Festival. Music, of course, was a major focus during this celebration and throughout the year. Swinford has a long history of producing entertainers, from John Feeney, a renowned Irish tenor in the mid-20th century, to the late Conor Walsh, an acclaimed composer and pianist. Swinford is also the filming location for "The Hardy Bucks," an irreverent mockumentary about a group of young men dealing with life in the rural west of Ireland. The comedy series has developed a cult following and recently made its way to Netflix in the U.S.
The town's anniversary ignited an influx of visitors from the U.S., and for many the first stop was Mellett's – but not for a drink. The pub is home to an archive of ledgers dating back to the early 1800s, documents that record many one-way tickets for workers leaving Swinford. Emigration has long connected this part of Mayo to the U.S., but unlike most Irish towns in the west, in which emigrants ended up primarily in the cities of the Northeast, Swinford has a special – and somewhat incredible – connection with Chicago.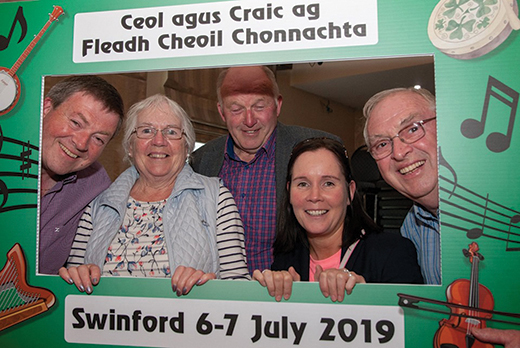 John Curry is a circuit court judge in Cook County, Illinois. His father grew up in Swinford before emigrating in 1947. Curry, born and raised in Chicago, recently discovered a surprising relationship between his father's hometown and his own. Currently, there are 20 Chicago-area public officials with a parent or grandparent hailing from Swinford, a town of less than 1,500.
"It's pretty remarkable this small town could produce such a thriving diaspora in one area," he tells me, pointing out that this discovery doesn't include all the other Swinford natives and descendants working in business, the arts, and other professions in and around Chicago.
Curry says the influx of Swinford natives to Chicago began around 1900, though it's not entirely clear what sparked the concentration in Illinois. At the Síamsa festival in August, he was on hand delivering proclamations from the City of Chicago as well as the Illinois State House and Senate, honoring Swinford's extraordinary impact.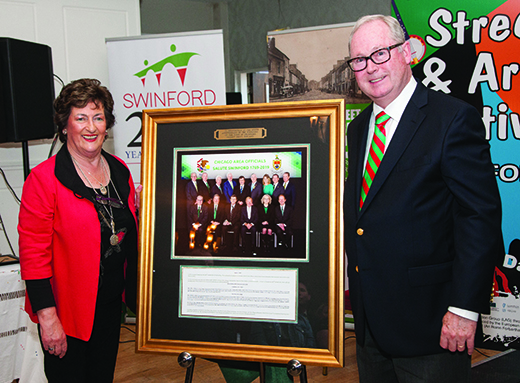 While the connection to its diaspora is important, emigration – to Chicago or elsewhere – remains a present-day challenge for communities like Swinford. Compounding an ongoing displacement of young people here is an aging population and a sense that Dublin policymakers can be blind to the challenges faced in rural Ireland.
Kelly underscores this for me, emphasizing how important it is that more young people are able to stay and make lives here.
"We lost a generation over the last decade, and we can't afford to lose another."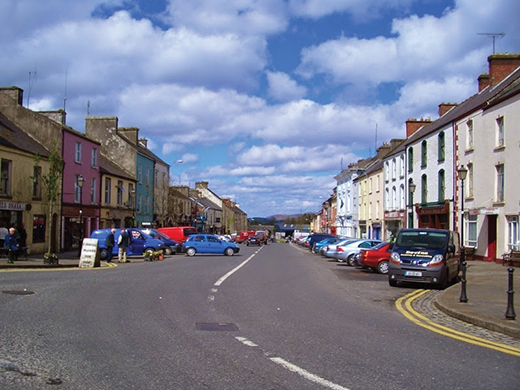 Inside Mellett's, evening approaches and the pub starts to fill with older men in wool sweaters and a few 20-somethings dressed neatly in jeans and button-down tattersall shirts. The fire in the corner crackles, and a pleasant murmur of conversation floats through the room as pints of Guinness and Heineken are tipped.
While the future of this pub is uncertain as anything else in life, Marie hopes it continues to be a center of the community. She tells me they just hired a new bartender whose father, uncle, and grandfather all worked at Mellett's before him.
"His great-grandfather may have worked here as well," she adds.
Swinford might not draw in crowds of tourists like Westport, Galway, or Killarney, but there is no doubt that visiting here provides something not often found in larger towns and cities – a strong feeling of civic pride, one that has been tested over time and often through terribly inhumane conditions. Here in Swinford, it's this palpable sense of resilience that makes it easy to believe this community will push forward another 250 years. ♦