A journey through the native Irish-speaking areas of Ireland
These are the words of welcome that Irish people have greeted visitors with for centuries. They may well be the words that greet you when you visit. If they are, I urge you to take time to grasp their deeper meaning. Venture beyond the tourist hotspots and gain an insight into an older Ireland by exploring its Gaeltachtaí. These are pockets of the country where the Irish language (Gaeilge) is still the living language of the local community, and where the centuries-old cultural traditions of Gaelic Ireland are very much alive. There are nine of them in total, each offering visitors an opportunity to experience an Ireland that remains richly informed by its native language and culture. You'll find most of them scattered along the western seaboard, and each one merits a detour. If your flight lands in Dublin, that detour needn't be long at all. A mere 44 miles away, you will find the Meath Gaeltachtaí of Baile Ghib and Rathcairn.
These differ from other Irish-speaking regions in that they are resettled communities. The Irish government of the 1930s redistributed the estates of absentee landlords as small farm holdings to poor farmers from Connemara, Mayo, and Kerry. This was redress for a centuries-old injustice, when farmers were forced from County Meath by Oliver Cromwell, who gave them the choice of "Hell or Connacht." When their descendants returned, the Irish language had died out in Meath. But they brought it back, and it remains strong there to this day. You'll hear it all around you if you visit in June, when there's a summer festival called Féile na Gealaí. This festival showcases exciting artists who combine the contemporary with the traditional, such as Kneecap, a hip-hop band from West Belfast who rap in Irish. Donegal's Gaeltacht is much further away from Dublin, but Ireland's second-largest Gaeltacht rewards its visitors for their efforts many times over. There are beaches such as An Trá Mhór to be walked and mountains such as Cnoc Fola and Earagail waiting to be explored.
What's amazing about these places is how unspoiled they are. Donegal's remoteness means that you're quite likely to have these beach walks and mountain hikes all to yourself. When you do develop a hankering for human company, you won't have to go far to find it. In Áislann Rann na Feirste, you'll be told about the literature that has been produced by people from this locality. In Caifé Kitty in Bunbeg, you can listen to locals chatter while you have a cup of tea. Later on, be sure to make your way to Tigh Húidí in that same village. Their Monday and Friday night music sessions are said to be mighty! Mayo's Gaeltacht is next on your itinerary. It consists of scattered settlements from the Mullet Peninsula in the northwest to the shores of Lough Mask in the south, with Achill Island (Ireland's largest island) in between. Its landscape varies from bog land and mountains to towering sea stacks such as Dún Briste and sandy beaches. Its history is ancient. The Céide Fields are the oldest stone wall systems in the world and the interpretive center here tells of life in Neolithic Ireland.
There are lots of opportunities to learn about the language and the culture here. Both the Achill Island Summer School and the Seosamh MacGabhann Summer School in the tiny village of Kilmovee offer classes in traditional musical instruments, as well as classes in Irish dancing, the Irish language, and crafts such as basket-weaving.Due south is Connemara, Ireland's largest Gaeltacht. It stretches along the coast of Galway Bay and into the mountain range of the Twelve Bens and Maamturk, with so much to see along the way.
There's Spiddal with its craft village of glassmakers, ceramicists, weavers, and what are said to be some of the best scones in Ireland. The Aran Islands lie offshore. National Geographic described Inis Mór, Inis Meáin, and Inis Oirr as some of "the world's top island destinations," and there are many reasons for this. Inis Mór has Dún Aonghasa, a prehistoric fort that sits at the edge of a 300-foot-high cliff. Inis Meáin was a retreat for playwright John Millington Synge, and continues to attract artists today. Inis Oirr has Tigh Ned, with its traditional music sessions and its arts center, which offers excellent courses in music and art. Back on the mainland, make sure you visit Patrick Pearse's cottage in Ros Muc. Its visitor's center tells the story of the Irish patriot while also bringing you on a journey through the language, culture, and landscape of this part of south Connemara. Continuing south, the next Gaeltacht you'll visit is my home in Corca Dhuibhne (the Dingle Peninsula). Your best bet here is to leave the seaside town of Dingle behind and venture west. Take the Slea Head Drive. Its narrow winding roads are hewn into the cliffside, giving you breath-taking views at every turn. You'll soon spot the Blasket Islands, which have a unique place in Ireland's literary history.
At the turn of the last century, several of the island's inhabitants wrote their autobiographies and these works have gone on to become classics of the Irish language literary canon. They have been translated into several languages, and names to look out for include Peig Sayers, Tomás Ó Criomhthain, and Muiris Ó Súilleabháin. The islanders were forced to leave the Great Blasket in 1953 and it's now uninhabited. But it makes for a great day trip from the mainland, provided the weather is amenable. If it's not, the next best thing is a visit to the Blasket Interpretive Centre. It's packed with exhibitions about daily life on the island, the traditional fishing and farming methods used by the islanders, the language they spoke, and the literature they wrote. Back on the road, keep an eye out for Clogher Beach. There are some great cliff walks along here and the beach itself sees thunderous waves crash in during Atlantic storms. In the village of Ballyferriter, make time to visit Músaem Chorca Dhuibhne. Housed in a schoolhouse dating from 1875, its exhibits relate to the geology, archaeology, and heritage of the area. You can expect to see everything from standing stones with Ogham inscriptions (Ogham is an ancient form of Irish writing) to information about the area's many archaeological sites.
Try to visit some on your way back to Dingle. An Riasc – with its ruined dwelling places, inscribed pillar stones, and grave sites – is a relic of early monastic Ireland. Gallarus Oratory, a tiny church in the shape of an upturned boat dating from 900 AD, is another popular destination. Say slán ("goodbye", pronounced "slaw-n") to Corca Dhuibhne and continue south to Kerry's other Gaeltacht on the Iveragh Peninsula (Uíbh Ráthach). Here, you'll find Skellig Michael, the ancient monastic hermitage site that featured in recent Star Wars movies. Visitor numbers to Luke Skywalker's hideout are limited so be sure to book in advance.
Don't despair too much if you can't get a ticket. This area is on the Ring of Kerry Drive, which means that if all you do is drive around, you'll still be impressed by its looming mountain ranges, lake-filled valleys, and colorful villages, each with a character of its own. Jam on the brakes as soon as you see the sign of the Skellig Chocolate Factory. You can live out your Willie Wonka fantasies by taking one of their free tours.Not to be outdone, Cork also has two Gaeltachtaí, one on the mainland and one offshore. Múscraí lies just outside the town of Macroom and it boasts areas of great natural beauty such as the Gougane Barra lake, chapel, and forest park.It also has an arts and music venue in Ballyvourney. The Ionad Cultúrtha hosts exhibitions and performances by local and national artists. Call in and you could well find yourself staying for a concert.
Failing that, you could pay a trip to Cúil Aodha to find out if its village choir is performing at Sunday Mass. Established by renowned local musician Seán Ó Riada in 1964, its renditions of traditional songs are a pure treat.
Oileán Chléire or Cape Clear Island lies off the coast. Its soaring sea cliffs, secluded coves, and wealth of archaeology are worth exploring, so consider staying overnight in the Cape Clear B&B. This family-run business grows its own food and keeps its own bees, so you couldn't ask for a more locally-produced breakfast. There's just one more Gaeltacht to visit, and that's An Rinn in Waterford. Six miles southwest of Dungarvan town, it's famous for its musical heritage. The traditional Irish band Danú hail from here, as does the acclaimed writer and folklorist Liam Clancy.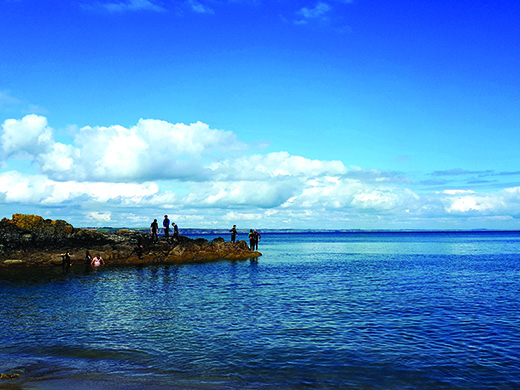 Coláiste na Rinne, the area's 100-year-old Irish language school, keeps this heritage alive by organizing a céilí (a session of Irish music and dancing) most nights in the summer, as well as Irish classes. An art gallery like Joan Clancy's is an unexpected find in the heart of the Gaeltacht. It showcases the work of some of Ireland's best painters, with exhibitions changing regularly.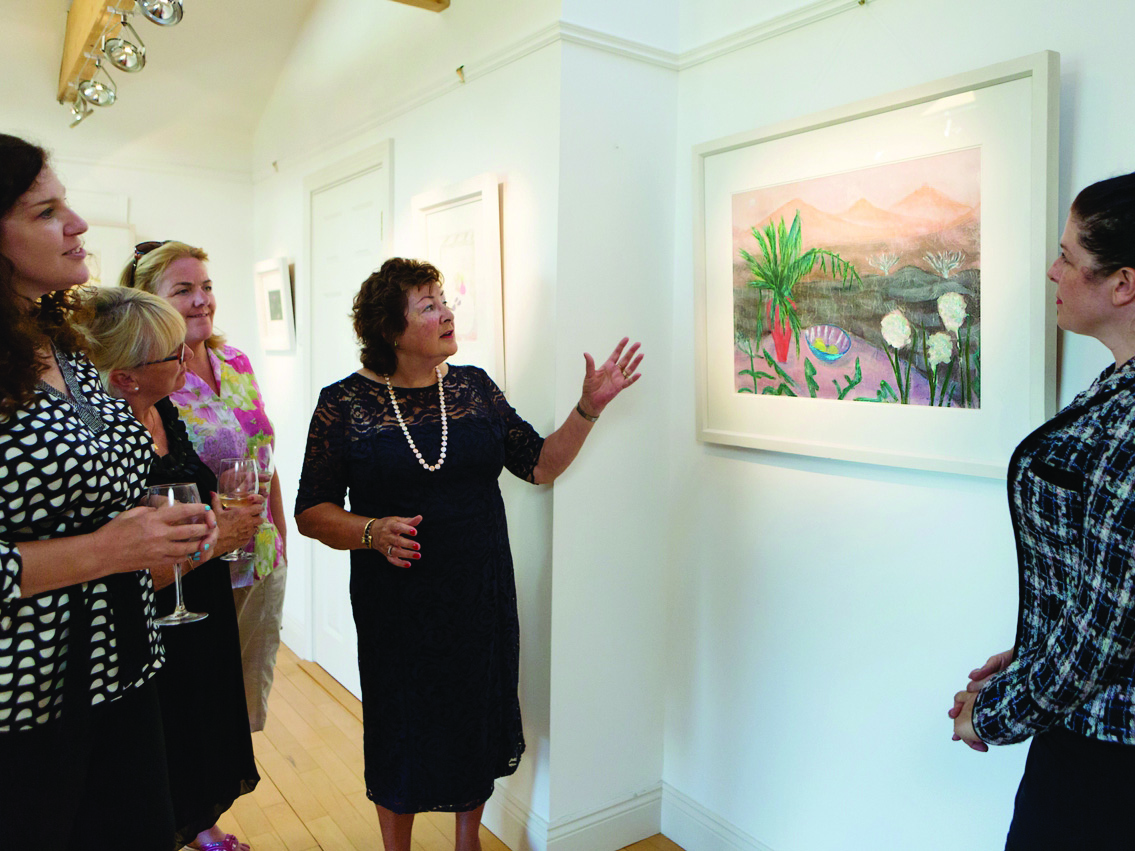 There's one final thing you should do before you leave the Gaeltacht behind. That's pay a visit to the Sólás na Mara Wellness Centre on Helvick Pier, where you can take one of their blissful hot seawater and seaweed baths. As you soak in the goodness, you can reflect on all that you've seen, done, and learned on your whistle-stop tour of Ireland's Gaeltachtaí.
Go dtí go gcasfar le chéile sinn arís. (That's Irish for "Until we meet again.")
As Gaeilge
Here are some Irish phrases that you can practice
on the Muiris Ó Súilleabháin locals on your trip around
Ireland's Gaeltachtaí. I've written the phonetic
pronunciation in parentheses.
Dia dhuit ("dee-ah gw-it"): This is how you say hello to
one person.
Dia dhaoibh ("dee-ah yeev"): For when you're saying
hello to more than one person.
Tá an lá breá ("taw un law braw"): It's a fine day.
Tá sé fliuch ("taw shay fluck"): It's wet – something you'll probably say a lot in Ireland
Le do thoil ("leh the huh-ill"): Please
Piúnt, le do thoil ("pew-unt, leh the huh-ill"): A pint, please
Go raibh maith agat ("guh rev mo og-ut"): Thank you
Cé méid ("kay made"): How much?
Ceol ("keo-ull"): Music
Slán ("slaw-un"): Goodbye.
Níl ach cúpla focal Gaeilge agam ("knee-ill uck coo-pla
f-uck-ull Gay-ill-geh ag-um"): I only have a few words of Irish
Tá mé ag foghlaim (taw may egg fow-lim): I am learning.
As Béarla, le do thoil (oss Bay-ur-la, leh the huh-ill):
English, please.
It's also worth knowing that slightly different dialects
of Irish are spoken in the different Gaeltachtaí. This
means that the accent and some of the words will vary as you travel from one to the other, just as it would if you
were to travel from New York to Louisiana.
Go dté mar atá tú ("guh day mar a-taw too"): How are you? (In Donegal)
Cén chaoi a bhfuil tú ("kay-un key a vill too"): How are you? (In Galway and Meath)
Conas atá tú? ("Kun-ass a-taw too"): How are you?
(In Kerry, Cork and Waterford) ♦