The band from Galway plays a blend of traditional Irish, old-time, and bluegrass music they call Celtgrass.

The banjo has a long, contested and even controversial history. Musicologists now generally agree that an early form of the instrument was first brought to America by enslaved people from West Africa. It was possibly an akonting, a three-stringed instrument with a long neck, mostly associated with Gambia.
The modern American version of the banjo is credited to Joel Sweeney, who was born in Virginia in 1810. He, in turn, probably learned about the instrument from enslaved African Americans. Sweeney popularized the playing of the banjo by bringing it over to Europe during his successful tour in the early 1840s. In 1844, the "Virginia Minstrels" made it to Ireland. In the advance publicity, Sweeney was described as "the original banjo player," although the Minstrels included Dan Emmet, also a banjo player. Other members played the violin, the tambourine, and the bones. Their repertoire included "negro melodies," which they promised would be delivered with "not a shade or trace of vulgarity." The Virginia Minstrels played in Belfast, Dublin, and Cork. In the latter, the lord mayor introduced them as "the greatest combination of novelty and talent for years produced in this city." The Minstrels did not make it to Galway.
Today, however, County Galway is a hub of banjo activity: since the 1980s, handcrafted Irish banjos have been made in Clarinbridge, while the county is the home to the stunning musical quartet collectively known as We Banjo 3. The name reveals their passion; hearing them play in concert reveals their genius.
We Banjo 3 are Enda Scahill (banjo, mandolin, and tenor guitar); Martin Howley (banjo, mandolin, and tenor guitar); David Howley (banjo, vocals, and guitar); and Fergal Scahill (fiddle, guitar, and bodhrán). Enda and Fergal are brothers, as are Martin and David, leading to the description, "two sets of brothers in perfect musical harmony." In the space of a few years, they have taken the transatlantic music scene by storm; String Theory, their fourth album released in 2016, topped the Billboard's World Music charts, making them the first independent Irish band to do so.
We Banjo 3's style of music is hard to define. Sometimes described as "Celtgrass," it is much more, being a fusion of Irish traditional, bluegrass, country, pop, and soft rock. In their harmonies, the Old World meets Americana, and the New World rediscovers its traditional musical roots. To this cultural fusion, the African origins of the banjo alternatively lend a plaintiveness and jubilation that take the listener from the west coast of Ireland to the east coast of America, and back to the west coast of Africa. Disparate lives, histories, and musical influences are thus simultaneously explored and extended to create a sound that is unique and breathtaking in its range and complexity. Occasionally sad, for the most part, it is joyous and uplifting.
We Banjo 3 recently played in the Jorgensen Centre at the University of Connecticut as part of their "Roots to Rise" tour. I had the immense pleasure of chatting with them before they went on stage. Despite an intense travel and performance schedule, they were relaxed, charming, articulate – and modest. When asked the best thing about being siblings, they agreed it was having a "universal understanding" of what they were doing and being able to hold "conversations without speaking." This easy intimacy is evident when listening to their music and hearing them play on stage.
Regarding what brought them to love string music, especially banjos, the parental influence was important; they grew up listening to Hank Williams and Lester Flatt. Tennessee-born Flatt was a bluegrass guitarist and mandolinist who frequently performed with banjo picker Earl Scruggs. Enda's journey began in America; when visiting some of the southern states, he decided to learn to play banjo, and the rest is history. Other musical influences – and they are diverse – include Paul Brady and Chris Cornell (Martin); Bela Fleck and Gerry O'Connor (David); Frankie Gavin and Pink Floyd (Enda); and Mark O'Connor and the Beatles (Fergal).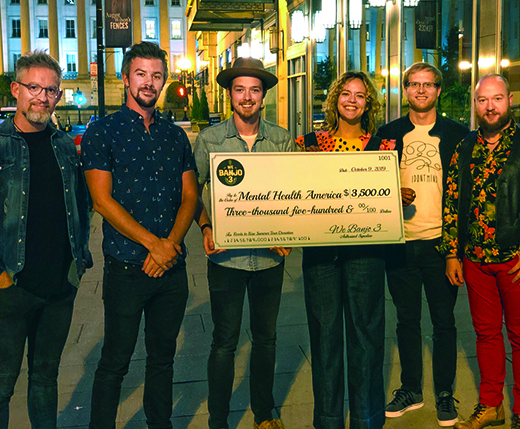 A highlight of the band's achievements and accolades, which have been many, was being selected to play for President Barack Obama and Taoiseach Enda Kenny at the annual "Friends of Ireland" luncheon in Washington in 2016. President Obama praised their performance calling it, "Great music. Incredible performance." But the band's overwhelming memory of the day is David's response: "Thanks very much, man." Martin, Fergal, and Enda have not let him forget this.
More seriously, since 2018, the band has been trying to raise awareness about mental health and help break through some of the taboos that continue to surround it. Consequently, a lot of their concerts and CD sales while on tour have also acted as fundraisers for Mental Health America. This issue is something that is particularly close to David's heart; he believes that it is necessary to "know your own darkness." But he also believes that from these dark places, there always comes hope.
There was time for one final question before this incredible band went on stage: "What do you want to be doing when you are 64?" David – be home, happy, and with a dog, good coffee, and a brewery; Fergal – be alive, and living on an organic farm with a great work/life balance and a wood chipper; Enda – happily married and living an outdoor life, possibly in North America, but somewhere where there is yoga, walking, and fishing; and Martin – surfing, preferably in Doolin, County Clare. They all agreed that whatever else they do, they want to continue to make great music and reach new audiences in ways that are meaningful. The final words belonged to Enda: "And an Emmy would be nice!"
To see where We Banjo 3 will be touring visit www.webanjo3.com. ♦