Pilloried by the press and railroaded to prison, she still managed to sail into the sunset.
During the summer of 1965 in the East Bronx, the collective grief in Saint Raymond's convent was almost palpable. The nuns learned that one of their students, a former Good Irish Catholic Girl, had brought shame on them and the rest of the tribe. Alice Crimmins was now fodder for the tabloids, their front pages festooned with pictures of her in too-short skirts, too-heavy makeup and too-teased hair (red, of course). She was all over the nightly news too, cameras filming her insolent face, which seemed to be saying she didn't give a rat's ass what anybody thought about her.
In 1959, Alice, the daughter of hard-working and religious parents, was 19. She did what girls did back then to get out of their parents' home (only tramps got their own apartments) – she got married. Her new husband was high school boyfriend, Eddie Crimmins and within three years, they had two children, Eddie Jr. and Alice Marie, or "Missy." They left the Bronx for Kew Gardens, Queens, moving to the grandly named Regal Gardens Apartments, then a mix of Irish, Italian, and Jewish families. Queens was
considered a move up from the Bronx; it was more a suburb than a borough, as Jimmy Breslin described: "Queens…has over 2,000,000 people. But it is a very small place. It is a collection of small towns that spill into each other…"
In the small town of Kew Gardens, Alice provoked gossip – she strutted down the street in a Bad Girl Uniform of revealing clothes and high heels, ignoring her neighbors. She was brazen – she must have been out sick the day the nuns instructed girls to be Mary-like. Local women, shouting under hair dryers, would exchange Alice stories, portraying her at varying times as a snooty bitch, a drunk, a nymphomaniac, and finally, a killer.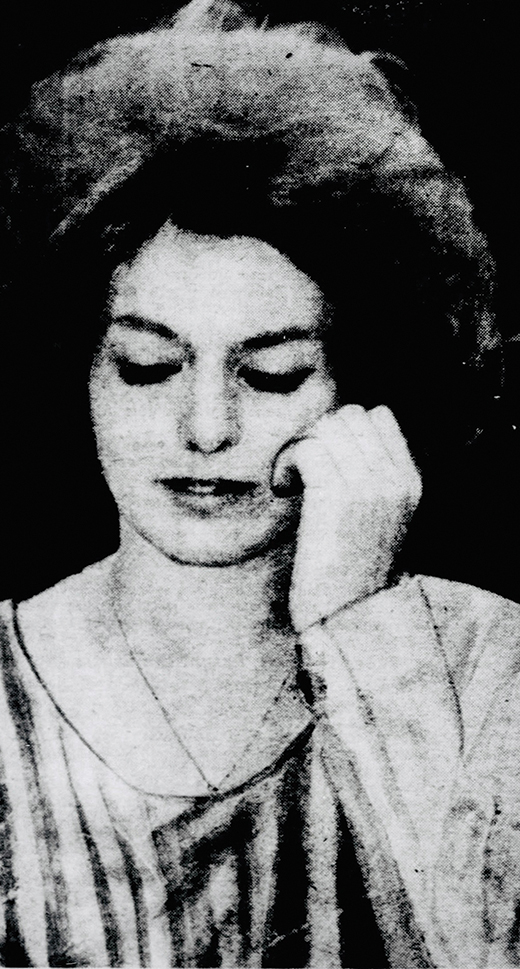 The Crimmins' marriage began to sour when Eddie Sr., an airline mechanic, took to drinking after work with his buddies; soon he was sporting a double chin and beer belly while his pretty wife, home and alone with two young kids, fumed. But not for long. Alice got a job as a cocktail waitress and then – mortal sin alert! – began seeing other men.
The couple separated, Eddie to a rented room where, no longer ignoring Alice, he began stalking her. Aware of her many affairs, he installed a microphone in her bedroom and listened in the basement. His snooping led to farce when he burst in on her and a local waiter, sending the lothario running, naked, to his car. Alice demanded a divorce. Divorce! That was the provenance of movie stars and rich Protestants, not working-class Irish Catholics. Eddie retaliated, demanding full custody of the children.
The morning of July 14, 1965, Alice saw that Missy (4) and Eddie Jr. (5) weren't in their room, contacted Eddie Sr., who came over and called the police. The minute Alice, wearing tight toreador pants and white high heels, opened her door, she was doomed. Standing in front of her were the police, a bastion of conservative and sexist 1950s morality, and they hated her on sight. Alice was too overtly sexual; she didn't look the way a mother – their mother or their wife – should look. She looked like, and there's no other way to put it, a near occasion of sin. The refrain around the precinct soon became, "If she were my wife, I'd kill her." From the very beginning, she was their only suspect.
Alice even had her very own Inspector Javert, Gerald Piering, a short detective with feral ambition who instantly knew this case was his way to a promotion. After briefly meeting the couple, he separated them, whispering to his partner, "You take the husband, I'll take the bitch." He had known "the bitch" for only ten minutes, but would hound her for years to come.
Piering had already spied the liquor bottles in the garbage but saw worse in Alice's bedroom: birth control, Frederick's of Hollywood brassieres and her "little black book," something that should only be the purview of ring-a-ding bachelors, not mothers. Poking under her bed, he found letters and invitations to classy affairs with NYC swells, including the mayor and RFK, thanks to her main boyfriend, wealthy contractor Tony Grace. They all called her by a jaunty nickname, "Rusty." Who did this gum-chewing whore think she was? Alice's sins, to Piering, were manifest.
He was so busy being a voyeur he neglected basic detective work, not taking photographs, notes, or fingerprints, nor did he notice the screen on the children's window had been removed. Hours later, without telling her why, Piering drove Alice to a vacant lot and pointed to a swarm of flies. He pushed her forward to take a closer look – it was Missy's dead body, strangled by a pair of pajamas and in the state of rigor mortis. Alice fainted on the spot, although Piering & Co. would later report she remained "unmoved." Weeks later, they found Eddie's decomposed body.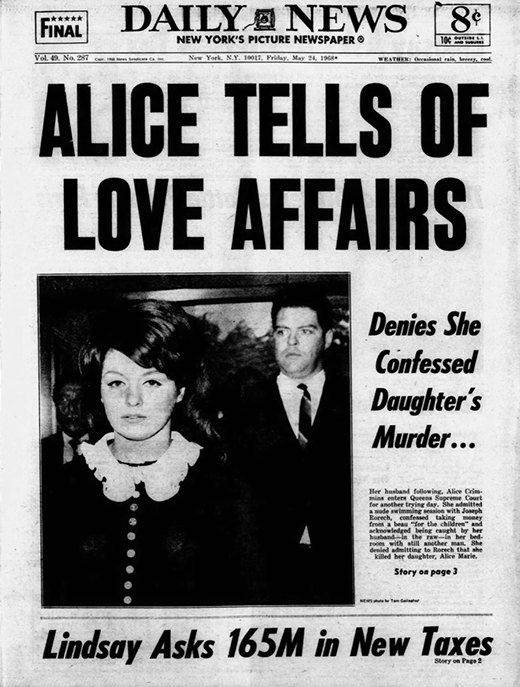 The tabloids joined the police in the rush to judgment. Alice, they argued, wanted her children out of the way to have more time for her boyfriends. What choice had she, really, besides filicide? An illogical motive, considering she was fighting for custody of her kids and, in truth, they never put much of a damper on her active sex life. She was condemned, too, for her face: impassive and heavy with makeup, but rarely covered in tears. Never mind that makeup was Alice's protection, the only way she could erase her deep acne scars, and never mind that she was determined to keep her grief private.
The changing culture provided a subtext to this melodrama. It was 1965, the time when free love, the women's movement, the Pill, and the social revolution of the '60s were taking off and threatening the status quo. Alice, a woman in mini-skirts who dumped a lumpen hubby and took lovers, was an outlier, a symbol of morality gone to hell. She had broken all the taboos of her religion and class; if she were a movie, the Legion of Decency would have rated her a "C" for Condemned.
Alice once said, "Nobody was out looking to see who killed my kids," and she was right. The police, so convinced of her guilt, focused only on her and didn't seriously follow other leads; the few detectives who suggested other suspects were frozen out of the case. And there were other leads. Kew Gardens had its share of weirdos: a "pants burglar" who broke into homes only to steal men's trousers; a bushy-haired stranger who kept taunting children; and a neighborhood teenager who admitted to the murders, then committed suicide.
And there was Eddie. Always stalking Alice, he spent the night of the children's disappearance double-parked outside her building. Earlier, he had confessed to Alice that he had exposed himself to children in a local park; he had taken to visiting her apartment to "touch" her things. The medical examiner found him "pathologically curious" about his kids' injuries. Detectives knew all about Eddie's creepiness, the bushy-haired stranger, and the suicidal teen, but stayed only on Alice.
Three years went by, and still, there was no physical evidence linking Alice to the deaths of the children; two grand juries refused to indict her. She tried to get something of her life back, going to work as a secretary using her maiden name, Burke. But every employment agency she visited and every employer who hired her received a visit from detectives informing them that the efficient redhead was really Alice Crimmins, the child-murderer. She was let go. Now notorious, she became known all over the country.
As the detectives grew more relentless and aggressive, Alice grew more defiant and self-destructive. The police had her under 24/7 surveillance, tapped her phone, bugged her bedroom, and Alice knew all about it. She decided to give the peeping dicks a show. She would exaggerate sounds of bed springs springing and lovemaking (Detective Piering would complain "the filth" was making him sick) then sign off with "Drop dead, you creeps." She would answer her tapped phone with "Hi boys, drop dead." She got dolled up to get drunk in bars and slow dance with strangers, giving the gaping flatfoots a show…and the stink eye.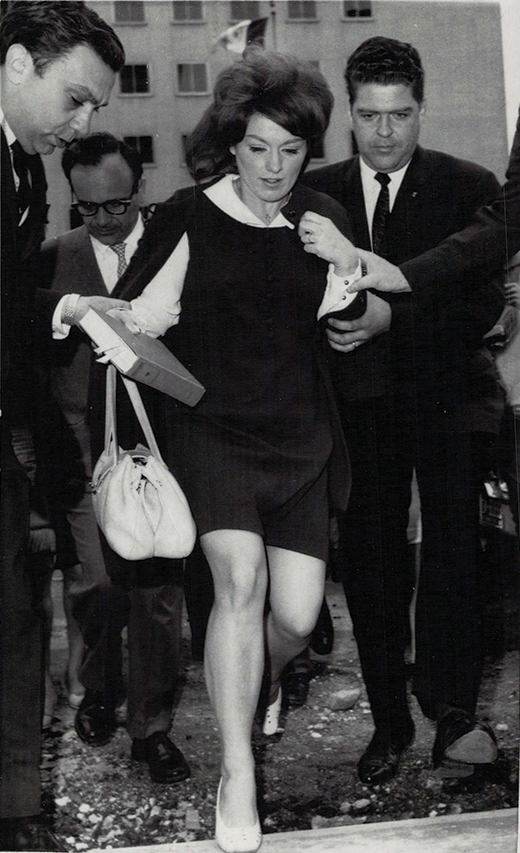 Finally in 1968, the police got a break in the person of Mrs. Sophie Earomirski, a beauty parlor habitué known to feed on Alice gossip. Sophie came forth, three years after the fact, to claim she saw Alice, accompanied by an unidentified man, on the night of the disappearance, carrying a bundle and holding a child by the hand. The cops pounced, overlooking the pesky fact that Sophie was brain-damaged – and indicted Alice for manslaughter. Taken away in the police car, Alice shouted "Is this an indictment? I can't believe it!" Piering, smug in his victory, turned to her, saying if she had confessed earlier, "It would have been so much easier." Alice spat back, "Drop dead."
Before "The Sexpot Trial" even began, the sexpot had already been found guilty by the police press and public. Needing another unreliable witness besides Sophie, the cops zeroed in on her sleazy lover, Joe Rorech. They knew he needed to keep his bisexuality secret – he was married with seven kids – and ordered him to wear a wire to­ get Alice on tape admitting her guilt. She admitted nothing. Still, Joe was pressured to lie on the stand, which he did, claiming Alice confessed to the murders but (ahem) he accidentally erased the tape. Hearing this, Alice jumped from her chair screaming, "Joseph, you snake, you liar!"
Alice took the stand in her own defense and would break down every time she talked about Eddie and Missy. But what sympathy she may have gained from the all-male jury was sucked out of the courtroom court when D.A. Lombardino examined her about swimming in Rorech's pool:
LOMBARDINO: What were you wearing when you went swimming in that pool, Mrs. Crimmins?
CRIMMINS: One time a bathing suit; one time, no bathing suit.
LOMBARDINO: Where were your children when you were swimming without a bathing suit in Joe Rorech's swimming pool?
CRIMMINS: They were dead.
After an audible gasp in the courtroom, Lombardino began to recite a litany of her lovers, including her children's barber. Judge Farrell had to stop him, "We are not trying here a case involving sex morals. We are trying a homicide case." Still, the jury was listening; one member remembered thinking, "She's capable of anything if she did that."
Sophie came to the stand with her recovered-memory testimony, every detail parroted from newspaper reports. The judge excluded an affidavit of a doctor stating that the head injury suffered by Mrs. Earomirski at the World's Fair had resulted in "permanent brain damage." But Sophie couldn't hide her battiness, she claimed she heard the children's voices crying out to her from the grave. When she pointed to Alice, identifying her as the woman she saw the night of the disappearance, Alice shouted out, "You liar! You liar! You liar!" During the trial, Sophie had acquired the status of a folk hero and after her turn on the witness stand, she was cheered by her hordes of fans as she assumed the stance of a prizefighter. Alice was convicted of manslaughter in Missy's death.
Next began the zigging and zagging of her case through the 1970s. Her 1968 conviction was overturned on appeal but she went on trial again in 1971, now for the murder of both kids, and again, was found guilty. In 1973, the convictions were overturned and she was released. But not for long. The verdict was reinstated and she was imprisoned in 1975, serving out her sentence at first in Bedford Hills Correctional Facility, then in a work-release program in East Harlem. There, she had weekends off and spent them with Tony Grace on his yacht, Alicia II.
Alice was spotted at baseball games with Grace, driving his white Cadillac, and when The New York Post ran a picture of her, in a bikini bottom and t-shirt, on his yacht, it ran with the caption, "Alice Crimmins Should Be Behind Bars!" Pete Hamill in the Daily News countered with "They ought to just leave Alice Crimmins alone." She was still creating controversy when, in 1977, she married Tony Grace, and was sprung from prison. The new bride, shapely and glamorous at 37, sailed off with Tony to Key Largo and the legions of Alice-haters thought she won, and maybe she had.
In recent history, Alice has been (unfairly) compared to Casey Anthony, but really, her case echoes that of the "dingo-ate-my-baby" mom, Lindy Chamberlain. Lindy, an Australian, was arrested and convicted by a jury (and the media and the public) of murdering her child. She claimed, truthfully, that a dingo took her baby during a camping trip. Like Alice, she projected coldness, keeping her face stony and her hair styled throughout her arrest and trial. Both women couldn't or wouldn't give way to hysterics. After she was exonerated, Lindy said, "If I smiled, I was belittling my daughter's death, but if I cried, I was acting."
Alice would inspire a succession of true crime books, movies, and documentaries. In 1975, Irish-American mystery novelist Mary Higgins Clark based her first bestseller, Where Are the Children?, on Alice. Clark's novel vindicated the woman once demonized as the "Medea of Kew Gardens."
Almost everyone connected with the case is dead but Alice, now widowed, is still alive at 81. She's been spotted in various parts of Florida, and most recently in Queens and Nassau County. But nothing is confirmed and she remains elusive. No doubt she still keeps, as she always has, pictures of Eddie and Missy in her wallet. ♦
_______________
*Jimmy Breslin used to tell the story of Jacky the Bartender in Poor Nick's, a Queens bar, who spotted Alice in a booth one evening while she was on trial for the murders. A detective not involved in the case told Jacky, "That woman is innocent. No murderess could have legs like that."
Rosemary Rogers co-authored, with Sean Kelly, the best-selling humor / reference book Saints Preserve Us! Everything You Need to Know About Every Saint You'll Ever Need (Random House, 1993), currently in its 18th international printing. The duo collaborated on four other books for Random House and calendars for Barnes & Noble. Rogers co-wrote two info / entertainment books for St. Martin's Press. She is currently co-writing a book on empires for City Light Publishing.