---
Irish America honored the heroes and victims of  9/11 at its annual Top 100 event held on March 14, 2002 at The Plaza Hotel, New York City. The honorees came from every segment of the community – firefighters and police officers, ironworkers who cleared Ground Zero for rescue workers, and families who had lost loved ones. The guest speaker, President of Ireland Mary McAleese, gave the following heartfelt speech, uniting Irish and Irish American forever. She presented specially commissioned Waterford Crystal American flags to representatives of the New York Police Department, the Fire Department of New York, and the Port Authority Police of New York and New Jersey.
---
Dia dhíobh a cháirde. Is mór an onóir agus is mór an pléisiúir dom bheith anseo libh tráthnóna ar an ócáid speisialta seo. Ba mhaith liom mo bhuíochas a chur in iúl díobh as an cuireadh, agus as an fáilte caoin, cneasta agus croíúil a chuir sibh romham.
I am very moved to be here in New York at such a very special time, and to be with so many Irish and Irish-American friends.
The video clips that we have just seen and the honourees we have heard from remind us – if it were possible to forget – of the heartbreak and heroism of September last in New York. It is entirely fitting, therefore, that this year's awards ceremony is dedicated to the many who inspired us with their courageous and selfless actions on that fateful day when hatred broke our hearts and tried to break our spirit.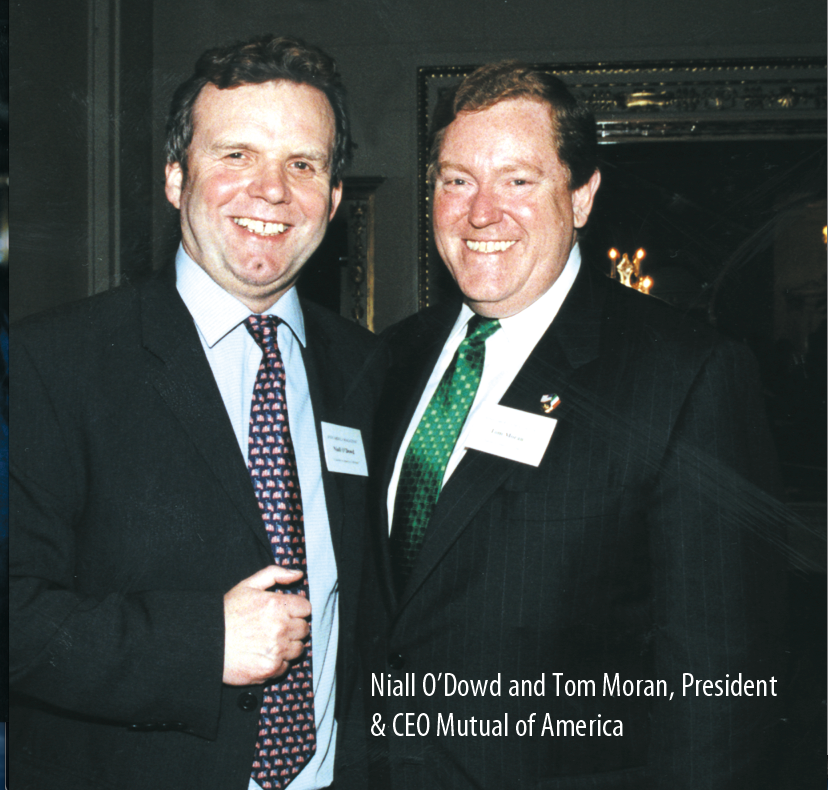 I thank Irish America Magazine for hosting this very special event, and in particular Niall O'Dowd and Patricia Harty. Your vision and energy in establishing these Top 100 Awards has helped to expand the network of leaders in all fields with an active interest in their Irish heritage. Your awards ceremony has become a showcase of Irish-American talent and spirit. To all of the honourees this evening, we in Ireland rejoice in your success. We are proud of your stellar contribution to political, community, cultural and business life in your adopted country and I am delighted to see the achievements of the Irish in America receive the recognition they deserve.
It is a singular honour for me to join with you in saluting those who gave their very all in protecting the people of this great city, a city sorely tested, on September 11th. The representatives of the Police, Fire and Port Authority Departments who will receive awards tonight stand for those who faced into that test with no thought for themselves, who came through it to pass into proud legend, their lives surrendered, their families and colleagues left with unbearable loneliness and loss, the future of their city and country changed forever, not by the forces of evil which overwhelmed them, but by the forces of good with which they overcame evil.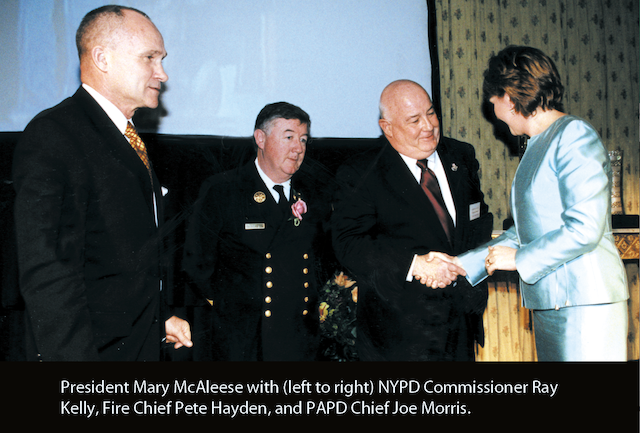 I was in Áras an Uachtaráin on September 11th, waiting to receive a new Ambassador to Ireland, when word reached me of the unbelievable events unfolding in the United States. A short time later, I found myself conveying the incomprehension, the sadness and the shock of the Irish people at the tragedy. I admire greatly how well the American Ambassador Richard Egan who had only himself presented his credentials the day before, coped with those shattering events.
The enormous devastation and loss on that day had profound and far-reaching consequences for all of us. Every home in Ireland stopped in failed comprehension and horror and disbelief.
We wondered about sons and daughters, about nieces and nephews, about friends and neighbours, about all of those who had left our shores to seek a new and better life here. Your fear was our fear. And as the enormity of the tragedy unfolded, your grief was our grief.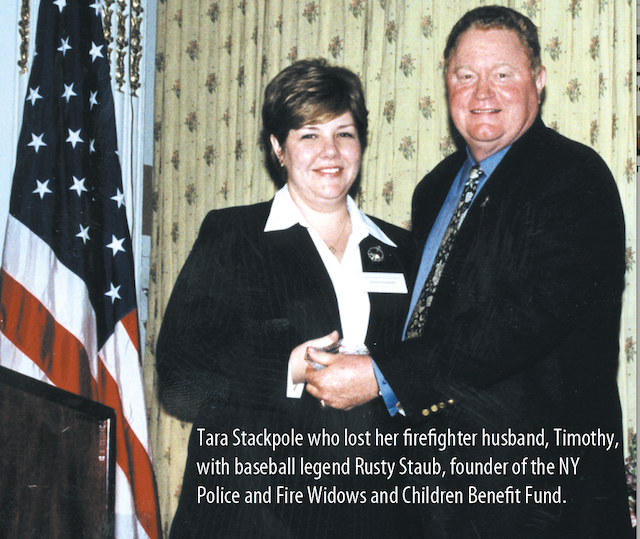 Given the size of a country like Ireland, no one was far removed from the pain of that loss. Eight Irish born people perished that day. But we lost many more Irish Americans who had close ties to Ireland. The litany of Irish names among the dead emergency rescue personnel told its own story. It felt in the days that followed, that we were all touched personally and profoundly by the loss, so profoundly that the Government declared a National Day of Mourning and Ireland shut down everything except its solidarity and sympathy with the suffering people of the United States.
This morning, with my husband Martin, and Minister Tom Kitt, I visited Ground Zero. What we saw was only a pale image of the horror which confronted the heroic uniformed services who lead the rescue effort and I think we would all say that what we felt, was enormous pride in the indomitable human spirit which has filled that gaping wounded space with goodness, determination and honour. It was a privilege to be so close to the place where so many deliberately headed into danger because that was their vocation, a calling that insists that, care for the stranger in need comes before care for the self.
I was reminded of the words of Abraham Lincoln in his Gettysburg Address, when he said:
'We cannot dedicate, we cannot consecrate, we cannot hallow this ground. The brave men, living and these dead, who struggled here have consecrated it far above our power… The world will little note, nor long remember what we say here, but it can never forget what they did here.'
During those days we turned to our friends and loved ones with a more profound appreciation of the comfort they bring to our lives. If we were more aware of our vulnerability in an open and free society to the caprices of evil, we were also much more aware of our need for true and constant friends and their capacity for loving support of each other. It was a time for Ireland to stand with her dearest friends and she did – for America has been there for us through many difficult times and we felt privileged to offer our hands and hearts at a time of unbearable sadness. The wreath I laid today at Ground Zero, in the name of the Irish people put it simply – "we know that by standing shoulder to shoulder, hope for the future will triumph over the hurt of the past."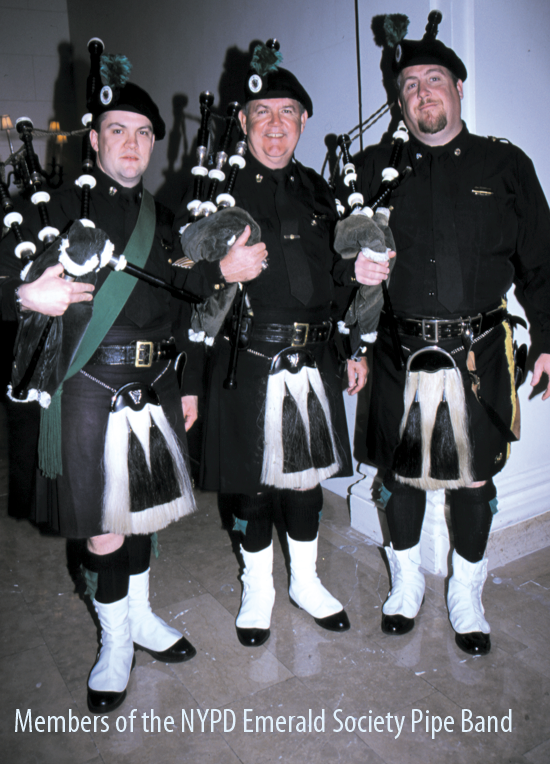 We in Ireland have been privileged, in our own difficult journey toward peace with justice in Northern Ireland, to have had the solidarity, loyalty and support of our many friends here in the United States. You have stood by us, supporting and encouraging us in our bad days as well as celebrating with us in our good. We greatly appreciate the continuing commitment of President Bush and his Administration, and the U.S. Congress, as we continue the important work of implementing the Good Friday Agreement. America's interest in Irish affairs has to a substantial degree, been generated by the efforts of our Irish community here. It reflects the standing you enjoy at the highest levels of decision-making in this country. It also reflects the spontaneous decency of our Irish family which keeps on caring about the welfare of Ireland no matter how many generations or miles separate us. That collective interest in Ireland is something to be cherished for it arises simply out of goodness. It is not mandated by any law and is something one should never, ever take for granted. The fact that it exists and that it is manifestly a powerful, history-changing energy, calls us to both pride and gratitude.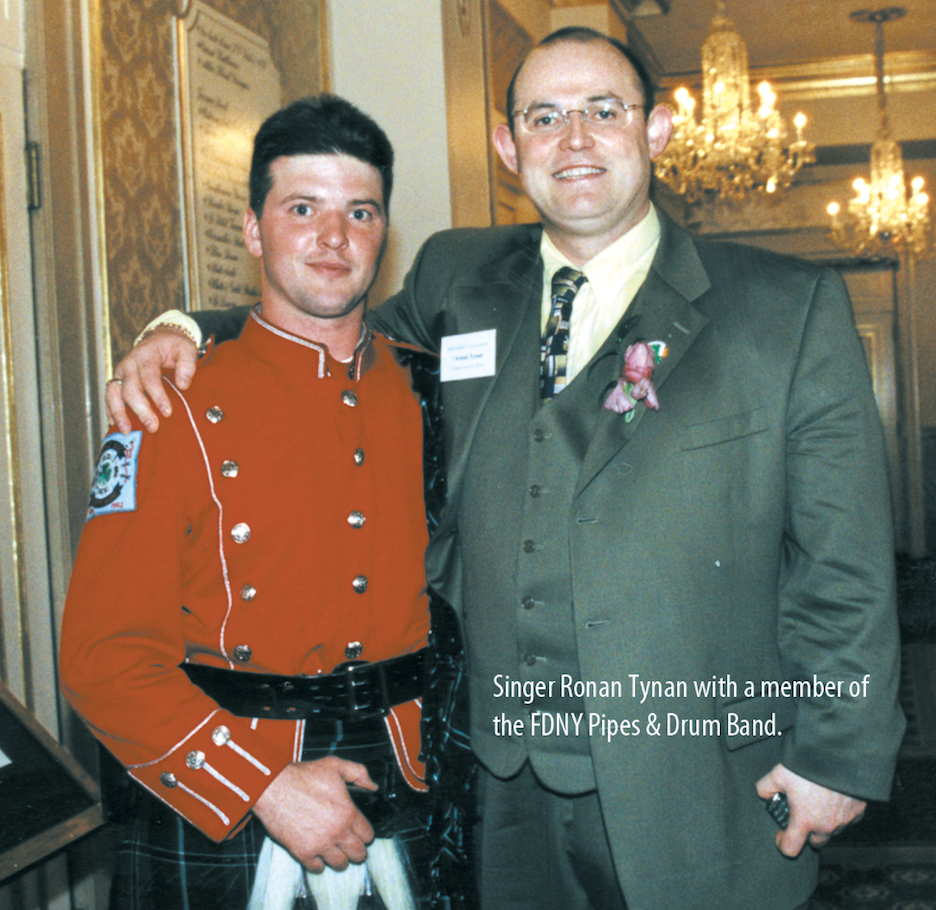 Your energy has been a vital ingredient in forging our template for peace. It has also been invaluable in supporting our efforts to modernise the Irish economy over the last decade. Those great historic bonds of kinship and family that we share over the centuries have been deepened, freshened and renewed by a new generation's generous contribution to peace in Northern Ireland and to Ireland's remarkable economic success. Now, that same feisty spirit of engagement is turned to the recovery and regeneration of New York. It does not give up, no matter how hard the struggle. I have been so inspired by the energy and resilience of New Yorkers in the face of this catastrophe and I am proud that there is much Irish blood in the veins and arteries that keep this city's strong heart beating. We are a people who have faced hardship and catastrophe, loss and grief. We have a distilled wisdom, a long, long experience in getting up, getting out, and facing the new day with a steely faith-filled optimism.
Many nations counted their dead on September 11th and many nations have combined to create the unique passion that flourishes in this great city, a passion for life. Evil men thought they could kill that passion; that the ugliness of violence, the awesomeness of wanton deaths, would snuff it out. They were wrong. New York is still passionate about life and now that very passion has been deepened and stretched by the avalanche of grief it has had to struggle through, to find its way back to the future again. Irish men and women can rightly claim to have planted their flags on the landscape of that future and the words those flags bear are courage, fortitude, perseverance and selflessness. The generations who went before them would be proud of a modern generation who have known the easy times and comfort of prosperity but who when tested, chose the hardest road of all.
We are proud of them tonight.
Go raibh maith agaibh go léir. Guím rath Dé sna blianta atá le teacht.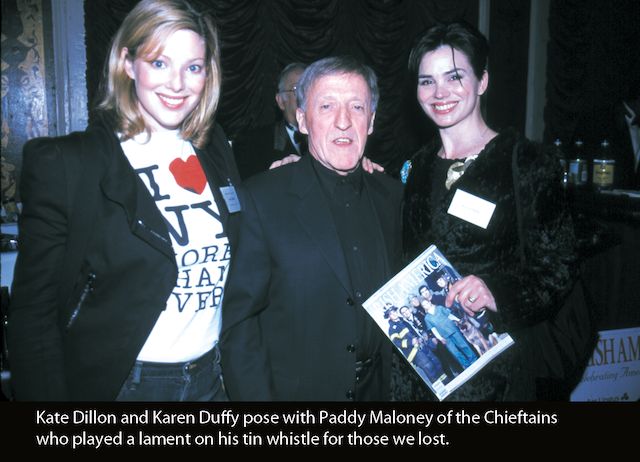 ---
A Tribute to the Courage and Spirit of America.
---