From March to June of 2020 there were many days when it was difficult to have hope that things were going to get better. For many of us we listened to daily news briefings from the President, the Governor, and local elected officials. During those news briefings you hoped to hear good news and that the number of cases and deaths due to COVID-19 were decreasing.
Around the country people wanted to express their appreciation for healthcare and essential workers who were continuing to bravely face extremely difficult circumstances while the rest of us hunkered down at home.
The crafty among us started making masks, restaurants set-up daily food deliveries to hospitals, and people took to the streets each evening to play music and bang pots and pans as a sign of appreciation to all the essential workers.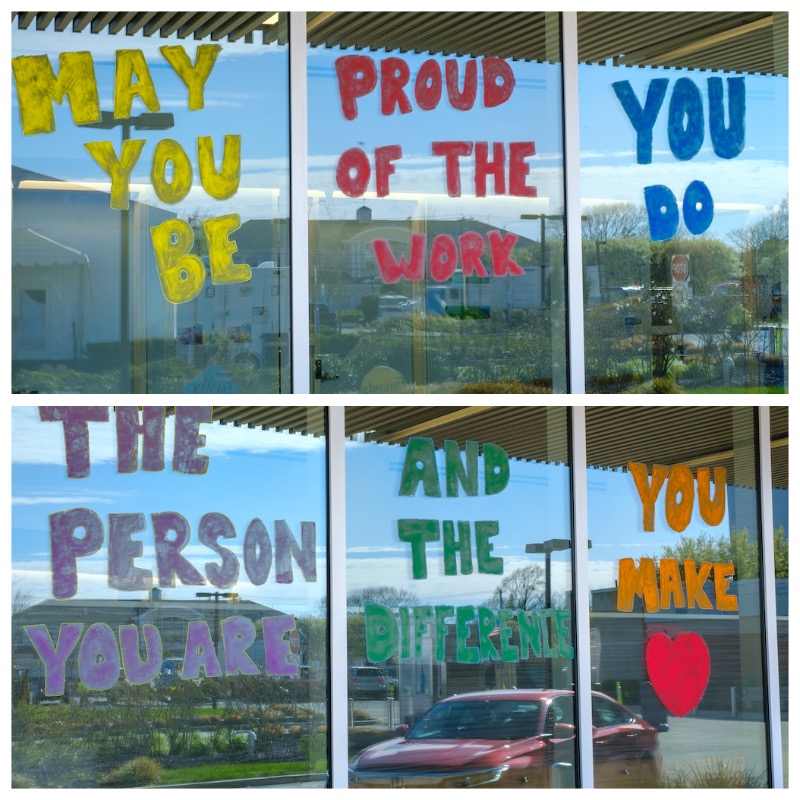 As this was happening the healthcare workers needed to start to celebrate the small victories they were seeing, the decreasing number of positive cases, less death, and people that were once severely ill leaving the hospital.
Many hospitals started using codes when patients were extubated. At Lenox Hill hospital in New York City nurses would call for a "code sun" when a patient was successfully removed from a ventilator and breathing on their own. Other hospitals chose music and selected the Beatles "Here Comes the Sun" and Journeys "Don't Stop Believin" to celebrate. Whatever they chose it gave the healthcare workers a reason to celebrate and smile for a brief moment.
Reading Michael Dowling's book Leading Through the Pandemic we learned about a nurse at Southside Hospital in Bayshore Long Island, Kelly McLaughlin.
"One of the most moving events during the crisis came when Kelly McLaughlin, a nurse at Southside Hospital, organized an early morning event she called a Day of Hope. Our clinicians gathered outside the hospital, a thousand strong, nearly all donning a T-shirt with the Day of Hope message. It was one of those moments that reaffirmed our belief that, yes, we will get through this. And, yes, we are made for this."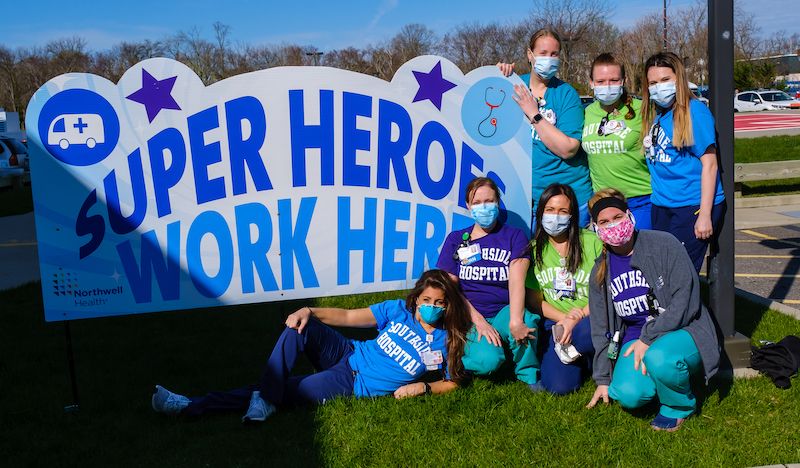 Day of Hope at Southside Hosptial in Bay Shore, Long Island. Photos: Northwell Health. Photos: Lee Weissman, Northwell Health.
Another sign of hope was seeing COVID-19 patients leave the hospital and seeing the healthcare workers giving them as Northwell called it a "clap out parade" as they left the hospital. 
45 year old Joshua Wortman developed a cough and fever that became so severe he asked his wife, Rachel to call an ambulance that took him to Northwell Health's Peconic Bay Medical Center in Riverhead, NY.
Once Joshua arrived he was admitted to the ICU and spent a week on a ventilator. 
The nurses at Peconic Bay provided updates to Rachel and set up video visits so that she could look in on Joshua since she was not allowed to visit. The nurses also asked Rachel for facts about Joshua such as who he is and what is important to him. Those facts were posted on his door so that the nurses could use that information in communicating with Joshua during the time he was sedated and as he slowly was removed from the ventilator.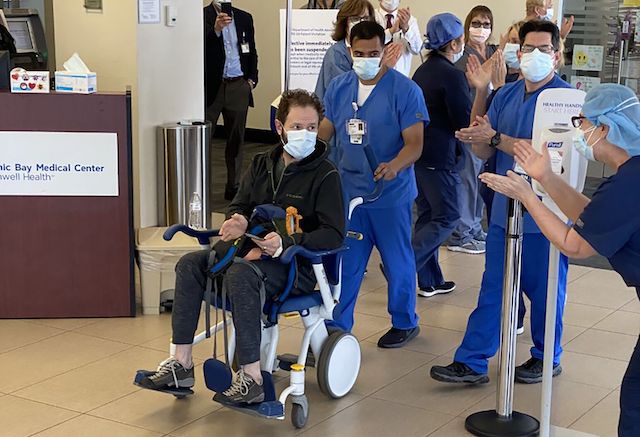 Joshua Wortman is "clapped out" of Peconic Bay Medical Center after a two-week battle with COVID-19. Photo: Northwell Health
Joshua spent the next week on oxygen and working with the physical therapy team to gain back strength so that he was ready when the good news arrived that he could go home. 
That good news was celebrated not only by Joshua, Rachel, and their 6 year old son A.J. but also by the team at Peconic Bay Medical Center. 
Watch as Joshua is clapped out by the team at Peconic Bay Medical Center that helped him recover and celebrated the victory. Video: Northwell Health.
As Joshua continued to recover at home he shared with Northwell Health
"When everyone clapped for me, I got really emotional. But the medical staff are the real heroes," Joshua explained. "I appreciate all of them and was lucky to have been cared for by such an outstanding team."
The hope and victories that the staff at Southside Hospital and Peconic Bay shared helped bring hope to their colleagues, patients, staff, family and every person that worried for themselves and a loved one over the past months.
This story was adapted from stories shared on Northwellhealth.edu. Leading through the Pandemic can be purchased from Barnes & Noble and Amazon.
Return to the Salute to Northwell.
---