His winning spirit, unbreakable determination, and willingness to take risks have propelled him forward throughout his career and inspired and motivated those around him.
---
By Olivia O'Mahony and Patricia Harty
---
Michael Dowling is one of the nation's most influential health care executives. He has rapidly expanded and successfully revolutionized Northwell Health, formerly North Shore-LIJ Health System, since becoming president and CEO in 2002, and as COVID-19 swept throughout New York State, he and his staff rose to the occasion, helped to stem the tide, and saved thousands of lives.
Northwell's call to arms has not gone unnoticed. Governor Cuomo, citing Dowling's leadership, and the extraordinary job that Northwell did in the early days of the pandemic, asked Dowling to lead the effort to coordinate the COVID responses of other hospital networks in the state.
"He is one of the really beautiful and brilliant leaders in this state," Cuomo said in one of his televised briefings with Dowling by his side.
Dowling's winning spirit, unbreakable determination, and willingness to take risks have propelled him forward throughout his career and continues to inspire and motivate those around him. He credits growing up in poor circumstances in Ireland with parents who were disabled, as fueling his desire to work in an industry where he could make a difference in somebody's else's life.
He learned early that giving up is not an option. That team work, problem-solving and innovation were essential to success. These elements were nevermore in play than in the early days of the pandemic.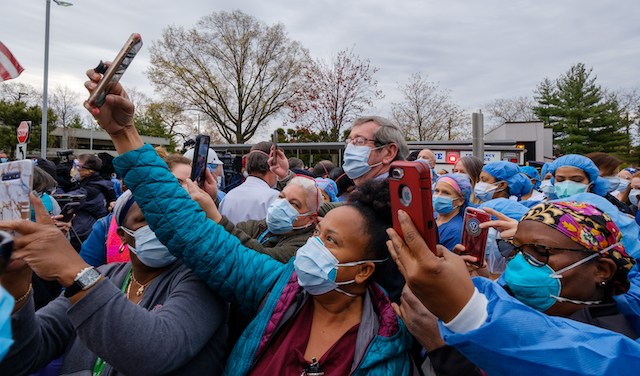 Michael Dowling in a sea of hospital staff as everyone takes selfies as they are celebrated by the NYPD for all of their hard work. Photo: Lee Weissman/ Northwell Health.
Dowling's book, Leading Through a Pandemic, written with Charles Kenney, offers a behind the scenes look at what it was like to be at the epicenter of the COVID-19 crisis. We learn that Northwell's clinical and administrative staff realized early what was coming, prepared as much as they could, and stepped up to the plate when the onslaught happened. The book, which is dedicated to the heroism of those Northwell's frontline staff who risked their lives to cater to the sick and dying during the height of the pandemic when they saw over 84,000 patients with over 17,000 in hospital, is truly an inspiring read, one that restores one's faith in humanity.
Niall O'Dowd wrote in his review of the book, "Dowling has also allowed the frontline heroes, the nurses, doctors, social workers, and executive team, to tell their stories, making for a powerful human narrative alongside the great issues of how federal and local government and the public health service fared with the unique challenge of slowing a pandemic."
Dowling calls the response extraordinary: "Our success story in the current crisis was due to the frontline staff, the nurses, the physicians, the respiratory therapists, the social workers, those on the front lines each and every day, did extraordinary work tending to the sick. They dealt with the families remotely, since there could be no visitors in the hospitals. They dealt with death and they saved lives. It was extraordinary. Their courage was exemplary. What they did, each and every day, continuously, was to come in, in dangerous, difficult circumstances, showing extraordinary courage."
As CEO Dowling is known for his personal approach. Through the worst of crisis he was walking the floors of the hospitals under his stewardship, talking, and more importantly, listening to his staff. "It's humbling to be able to have this opportunity to talk to those heroes each and every day," he says.
Dowling's devotion to his employees is nothing new. Right from the start, when he took over as CEO in 2002, he made it his business to get to know his people. His weekly schedule includes meeting with Northwell's new employees each Monday morning to explain his philosophy and vision for the company. "There are usually a lot of young people in the room," he said in an earlier interview with Irish America, "and one of the messages is to encourage them that no matter where they are at the moment, no matter what their current situation is, they can end up doing what I'm doing.
"I am always happy when a portion of our new hires are immigrants – they work hard, they strive, they see opportunity where others see barriers. There is no substitute for hard work, commitment, and personal achievement – and no greater satisfaction," he continues. And he makes sure that if these new hires have the incentive to further their education, they have the means to help them fulfill their goals.
Education played a key role in Dowling's success. So did being part of a team. "Everything is about teamwork," Dowling stresses. It's something that he learned early in life as a champion hurler with the Limerick county team. "The criteria that I look for in employees is their ability to work together, because nobody succeeds by himself at anything," he says. He is confident that his team will adjust to any surges the virus brings in the future.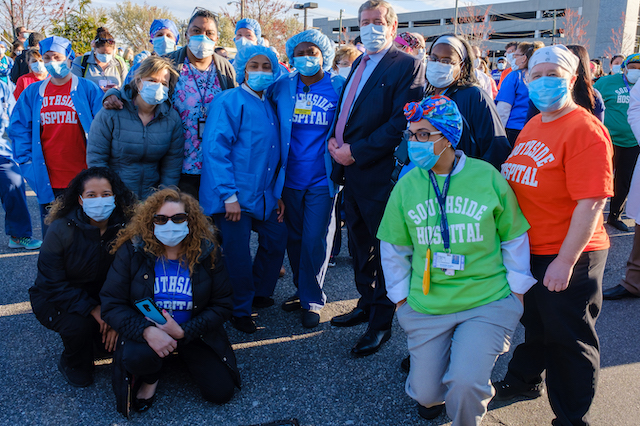 Michael Dowling with staff from Southside Hospital at the Day of Hope celebration. Photo: Lee Weissman, Northwell Health.
"You can have a strategy but you have to be able to adjust, as you would on the playing field. In a game of hurling, I might have a plan about how I am going to score when my opposition player hits me and knocks me on my butt, right? That doesn't mean I am not getting up and scoring. I adjust!" he says. "You have to have a level of confidence about the ability of your team – in this case the whole management team and everybody else, to be able to succeed despite some outside influences."
The road that led to Dowling's current position was by no means a short or straight one. Over the course of his illustrious professional life, he has held numerous diverse jobs that give him a unique understanding of the hurdles faced by people in all walks of life. It is this mindful, empathetic approach that makes him one of the most thoughtful and considerate business executives in the healthcare industry.
Born just outside the town of Knockaderry, County Limerick, Dowling was the brother of four younger siblings and son of disabled parents – their conditions set the tone for his personal relationship with the healthcare world. The family home was a thatched cottage with none of the modern conveniences. Money was always short as his father couldn't continue to work as a laborer because every part of his body was affected by Rheumatoid arthritis, and his mother was deaf since the age of 7.
Yet, his parents, his mother especially, never for an instant allowed Michael to believe that he could do anything less than what he set his mind to.
"My mother always had books around, so I read books at a young age," he says. "I read Shakespeare as a kid – my mother had the works of Shakespeare around. I never knew where she got the books. There was an American author I loved named Zane Grey who wrote about the American Midwest. I was always fascinated by how he could write in such a way that, when you read the pages, you could picture what he was writing about. So I could visualize the west part of the United States – Montana, the Dakotas, etcetera – from his writing. I was always fascinated by that."
Michael Dowling, held by his mother Meg in front of their thatched cottage home in Knockaderry, County Limerick, 1950.
America, it turned out, was indeed in the cards for Dowling's future. While many took a narrow-minded view of his prospects (one local milk farmer went as far as to tell him to his face that he would never go to college), he defied their predictions by being the first member of his family to progress to third-level education, which he began at the University College Cork in the fall of 1967. Beginning at age 17, he went to New York on a J-1 visa each summer, working every job he could juggle at once to fund the entirety of his four-year undergraduate degree. He compiled experience loading cargo on the docks, working in the engine rooms of tour boats, plumbing, cleaning, and on construction sites, often working 120-hour weeks not only in order to pay his tuition, but to continue to support the family he missed across the sea, even paying for his siblings to attend college.
"I arrived in 1968 and, to be honest, almost everything that has happened to me I couldn't have imagined," he says. "When I came here, I basically wanted to figure out how to make some money so I could hopefully go to college and help out at home."
When he got here, he was awestruck. "I was almost 18. And you know, every kid dreams about doing stuff, but it was also about what a wonderful country the United States is and the opportunities that exist. So when I came here I was fascinated, first of all, with the diversity that existed. I remember walking on the streets, thinking of all the people from all different parts of the world who were just passing me by – it was just an unbelievable education. And of course, the buildings! I remember looking up at the tall buildings, wondering why they didn't fall down – the highest thing I had ever been on was the roof of our thatched cottage, you know?"
That first summer, he worked on New York City's docks cleaning boat engines on the Circle Line. "To me, it was absolutely phenomenal. I was happy. I couldn't have been happier! People ask me if it was hard work, but none of that stuff was hard because everything is relative," he says.
"There were no jobs back in Ireland, so I was over here, and it did not matter what kind of job it was. I worked in construction and I worked as a plumber; I worked cleaning out schools at nighttime and I cleaned out bars in the morning; it was all great.
"I never expected to stay in New York – to me it was [just to be] able to pay for college, but of course when you are here and you see the opportunities; I eventually decided to stay."
Dowling firmly believes that those arduous summer months were a necessary learning period, showing him that privilege wasn't needed if one was willing to work hard in order to achieve their goals. "There's an old saying," he once told Adam Bryant of the New York Times: "'The same boiling water that softens the potato hardens the egg.' It's what you're made of; it's not your circumstance. People like to play victim too much. And obviously circumstances influence you, but they should never hold you back from succeeding."
His dauntless energy saw him through to the completion of his undergraduate degree, moving onward to permanent residence in New York and enrollment in a master's program in social policy at Fordham University. It was here where he met his wife, Kathy Butler, with whom he eventually had two children – Elizabeth, a registered nurse specializing in oncology, and Brian, the imaging supervisor at Northwell Health's Long Island facilities.
In 1979, Dowling became a faculty member at Fordham as director of the campus in Tarrytown, New York. He later served as a professor of social policy and the assistant dean of the Graduate School of Social Services. His commitment to the pursuit of social justice and improvement was recognized when Mario Cuomo, upon his election as Governor of New York in 1983, invited Dowling to venture into government service.
"When Mario Cuomo got elected, I did not know him. His appointments' office reached out to me to tell me that my name had come up on a list of people and that they would be interested in talking to me about joining the administration," Dowling explains. "I was, to put it mildly, a little surprised, but I met with the people from the governor's office and I initially wasn't inclined because I had my job at Fordham, I did not know Albany at all." He took the offer to the head of the department at the time, Rev. John McCarthy, S.J., who convinced Dowling to try it out. "I went to Father McCarthy and he said, 'Why don't you do it for a year? If for whatever reason it doesn't work and you don't like it, or they don't like you, you can come back to Fordham.'"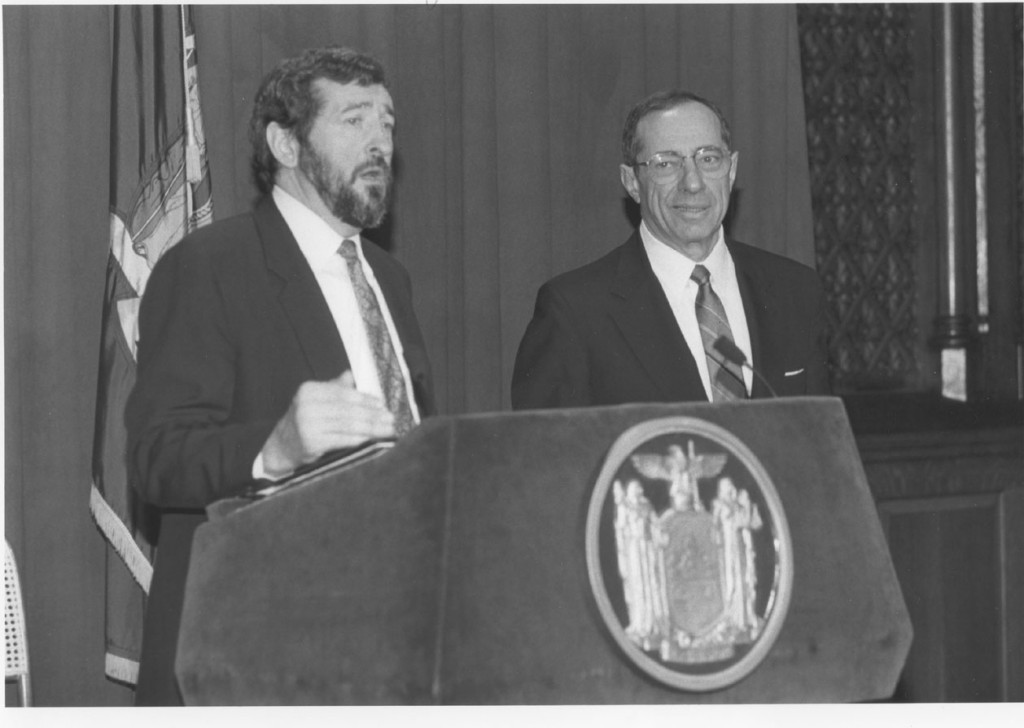 Michael Dowling with former Governor Mario Cuomo.
It was a good fit. Cuomo, himself the son of immigrants, matched in opinion with his new hire on many major issues. Dowling was eventually made the deputy secretary and director of Health, Education, and Human Services, and for 12 years in Albany advised the governor on a host of social topics including homelessness, Medicare, and the cocaine epidemic washing over New York at the time.
In 1995, Dowling was offered the position of senior vice president of hospital services at Northwell Health, formerly North Shore-LIJ Health System, which was then a collection of several hospitals on Long Island. In 1997, he advanced to the position of executive vice president and chief operating officer, and a short five years later was named president and CEO of the organization on January 1, 2002.
Despite the current political climate, Dowling believes that the American Dream is alive and well. "The United States is not this dark and forlorn place that some people would like us to believe. To me, it is still a positive, upbeat place with lots and lots of opportunities for those people who want to be proactive and take advantage. Like everything else in life, no organization or society is perfect, but I don't think you are going to find much better than the United States."
Dowling is also adamant that the Irish American experience is a tool to be used for the good of others beyond the healthcare spheres. In 2015, Dowling served as the keynote speaker for Irish America's Healthcare and Life Sciences 50 Awards, where he made a careful point of reminding the audience of the tragic image of Aylan Kurdi, a three-year-old Syrian boy who made international headlines when discovered, drowned, on a Turkish beach after his family's bid for safety from political conflict.
"History repeats itself," Dowling said. "And we as Irish people have a special perspective with regard to that issue, and, I believe, as people who are currently quite fortunate, have an obligation to bring some element of sanity, humanism, civility, and understanding into the debates that are currently going on politically in this country and abroad regarding people who want to move in search of opportunity."
From dock-hand to teacher, from government worker to businessman, Dowling's experience allows him to think from a multitude of positions and see the world through the eyes of those from all walks of life. He understands that the drive to succeed exists in everyone, and that adversity and 120-hour working weeks are obstacles that, with the right attitude, need never be feared in the pursuit of a better future. We could not ask for a better leader during this crisis. ♣
---
Michael Dowling is inducted into the Irish America Hall of Fame in 2017.
Leading Through A Pandemic is available at Barnes and Noble and Amazon.
Return to the Salute to Northwell.
---