---
In May, Andrew Wong, an emergency and critical care nurse at Lenox Hill Hospital wrote about his experience during the pandemic. In the selfless way a nurse thinks, Wong called the patients the "real heroes." Wong shares his experience and his thoughts about his colleagues and patients and it makes us realize how lucky we all are to have kind healthcare workers like Andrew.
---
Patients are the real heroes of this pandemic
Health care providers on the front lines have braved dangerous conditions, but patients are also battling this unwelcomed and deadly virus
---
A lot of people are calling health care workers the heroes of the COVID-19 pandemic. This is certainly true in many respects. But, as a nurse practitioner at Lenox Hill Hospital, my patients and their families are really the brave ones.
As nurses, we find hope in those families that are able to support their loved ones at their most vulnerable moments. And during this situation, we all need hope, especially those of us on the front lines. For our patients, though, those critical moments are most often experienced in isolation, because families are not able to be present with their parents, spouse or children. Some are able to communicate remotely. Others are simply too tired, too sick or too depressed.
Only then is when we step in.
---
---
COVID-19 patients are the courageous ones, enduring a wide range of symptoms that, before two months ago, no one knew how to treat. No one knew how quickly their condition would progress. And no one knew what their outcome would be. To experience that — mostly on their own — is nothing short of heroic.
Every day, nurses sit bedside telling these individuals to keep fighting. Don't relent. You can defeat this. And there have been many difficult times unknowing if we can continue. That's when the compassionate and empathic care being delivered by my colleagues jumpstarts confidence and we realize why we entered nursing. Sometimes inspiration comes from watching a nurse holding a dying patient's hand or from a travel nurse from South Carolina who has left their family to assist in this fight. This is what nursing is about.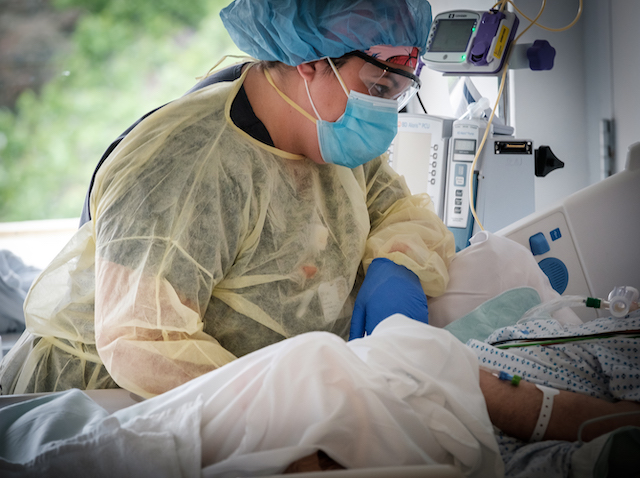 When you see the memorable images of nurses and other clinicians lining up to celebrate the successes — extubations and discharges alike — and hear the bells chime and the sound of "Here Comes the Sun," it provides relief, a momentary breath of fresh air in honor of those who had struggled to breathe. They deserve this, as well as our follow-up visits with those who are healing.
My favorite thing to do now is to check in with patients who are coming off ventilators, getting extubated and ultimately leaving the hospital. During a recent follow-up, one patient I cared for told me, "I feel alive." He didn't recognize me, having suffered some of the worst symptoms of the virus. But, now he was awake and alert and grateful. It was like meeting for the very first time, yet I already knew every intimate portion of his situation.
One of the great things about the nursing profession is that people allow us to be part of their story, and trust us to take care of them. That's one of the greatest joys one can experience and inspires me to do ever better. Despite COVID forcing logistical changes within units, redeploying clinicians from different specialties to pitch in, this experience has refocused us all to be on the same team, to all have the same goal and mission — to safely return patients to their families.
There are days when I struggle. But, I know I just need to come back to work and keep pushing, and I'll find my inspiration in my team — and my heroes.
The story of Andrew Wong's experience is from Northwell.edu.
Return to the Salute to Northwell.
---