1944 – Major Charles Loring, Jr.
On November 22, 1952 Major Charles Loring led a flight of four F-80s on an air support mission over North Korea. It was his 51st mission in Korea, for a total of 106 combat missions in two different wars, in two different decades, on two different continents, and it would be his last. His jet was hit by a shower of anti-aircraft fire during that last raid on Sniper Ridge. But he refused to break off his attack, nor would he bail out and risk capture. Realizing the plane wouldn't make it back to friendly territory, Major Loring deliberately altered his course and aimed his crippled aircraft at the gun emplacements that had pinned down the American infantry for weeks, plunging 4,000 feet into a nest of enemy artillery. This sacrifice of his own life eliminated a dangerous threat to the United Nations ground forces. For his conspicuous gallantry in action on that day he was awarded the Medal of Honor. He was 34-years old.
In October 1953 Limestone Air Force Base in Limestone, Maine was changed to Loring AFB in honor of Major Loring. Other honors he received include the Distinguished Flying Cross, Air Medal with 11 Oak Leaf Clusters, Purple Heart (posthumous), American Campaign Medal, Victory Medal, Korean Service Medal, Service Star, and United Nations Service medal.
The entire Loring family is proud of this great man. His mother, Irene Cronin's family hailed from County Cork. His father was from Galway. Charles Jr. was born on October 2, 1918, one of eight children in an Irish Catholic family living in Portland, Maine, in an area called Munjoy Hill, which was known for its large Irish population. Today there is a beautiful Memorial on Munjoy Hill that we take great pride in maintaining to keep his memory alive.
Submitted by Sabrina Loring, niece of Charles Loring.
---
The Korean War Memorial
One of the most moving memorials in Washington, D.C. is the Korean War Memorial, dedicated on July 27, 1995, the 42nd anniversary of the armistice that ended the war. The memorial commemorates the 5.8 million Americans that served in the U.S. armed forces during the three-year period of the Korean War. The memorial includes a Mural Wall, 19 Statues, a United Nations Wall, and a Remembrance Pool. 
The Mural Wall designed by Louis Nelson includes more than 2,400 sandblasted photographic archival images. The reflective quality of the Academy Black Granite creates the image of a total of 38 statues, symbolic of the 38th Parallel and the 38 months of the war.
The 19 Statues designed by Frank Gaylord are larger than life at over 7 feet tall and represent an advance party of 14 Army, 3 Marine, 1 Navy, and 1 Air Force member. Viewing the statues at night gives you the feeling of actually watching the soldiers on patrol.
The United Nations Wall commemorates the 22 member nations that contributed troops or medical support to the Korean War effort.
The Pool of Remembrance encircles a wall with the inscription "Freedom is not free" and contains the number of Killed in Action, Wounded in Action, Missing in Action, and Prisoners of War. A nearby plaque remembers those who served with the epitaph "Our nation honors her sons and daughters who answered the call to defend a country they never knew and a people they never met."
The video below depicts the Korean War Memorial with the song "Walls are not Forgotten" written by husband and wife team Louis Nelson (mural wall designer) and Judy Collins (singer/songwriter) and performed by Judy Collins.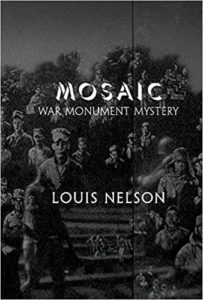 A new book by Louis Nelson MOSAIC: War Monument Mystery about the Korean War and the Korean War Veterans Memorial was published in May 2021. This book examines how this war affected Nelson and its veterans—then and now— leading to my design of its mural and a new addition. Here is a look into the uncertainty of this Nation's vulnerability and the stories few have known. Here are events of men and women, surrounding the commemoration of a great and nearly forgotten American war, with contributions from its neighbors, the Washington Monument and the Lincoln and Vietnam Memorials. Our need to remember hooks us to the core of what happened, to the essence of its participants, and prompts questions as to why.
The book is available on Amazon and Barnes & Noble. You can learn more about Louis and his work by visiting louisnelson.com.
---