Rosemary Rogers shares her experience of traveling to Ireland with her daughter, son-in-law, grandchildren, and sister in 2017.
When I was 12 my mother took me to Ireland, her first trip home since she left 35 years earlier. In keeping with that tradition, I took my daughter, Nell, several times but in 2017 our group included Nell, her husband Christian, and their sons Owen, Callum, and Rory (hereinafter referred to as the O'Tooles), and later my sister Kathleen joined us. We arrived in Shannon on August 11, met by Patrick Rogers (his father and mine were brothers) and another cousin Breed Heffernan. We took off in two cars and headed to the Rogers house in Rathduff, Co. Cork.
(My father and the rest of the Rogers family were from the County Longford in the midlands of Ireland and while some of our cousins are still there, many like Patrick and Kathleen Rogers are in Cork.)
We landed in the Rogers house where Kathleen Rogers had made us an amazing traditional Irish breakfast (brown bread, eggs, sausage, a rasher of bacon, and tons of tea.) And the cows in their backfield came to check us all out as did their visiting fox, Foxy.
The O'Toole's checked into the hotel in Cork City while I stayed in the Rogers house in Rathduff, Cork. We met up at Blarney Castle (Blarney, Cork), sat outside, listened to traditional Irish music and did some shopping, and got some collective jetlag. Everyone went for naps but met up later for a big dinner in Rathduff.
The next day the O'Toole's went to Fota Animal Park then Waterville where Charlie Chaplin took his vacations.
Kathleen and Patrick took me for some visits and knowing I'm interested in Travellers, took me to this memorial on the road. Black flowers, cupids, holy water, a Waterford cross-work together in a gypsy fashion.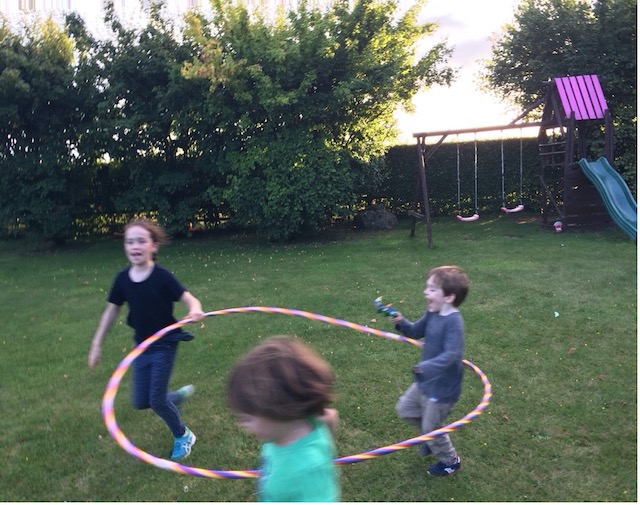 That night we went to see another cousin, Cathy Newell who lived in Fermoy, Cork with her family. Cathy's three kids were about the same age as ours and together, they played sports, hoops, drones, and strolling through the fairy paths. The cousins gave Owen a lesson in Irish hurling and he took to it. Yummy Barbeque too.
The following day, the O'Toole family, Patrick and Kathleen Rogers, Breed and Antony Heffernan all convened in a town called Cahersiveen in County Kerry. The town was the home of "The Great Liberator" Daniel O'Connell who, in 1850, fought for Catholics to have the right to vote. We went to the Daniel O'Connell Museum and Inch Strand on the Dingle Peninsula, one of the most spectacular views in Ireland and a famous location for films.
From there we went to the Heffernan's vacation house in Kerry where the O'Toole's would stay for some time on their own. The house is on the Iveragh Peninsula, a World Heritage Site, the home of the International Dark-Sky Reserve. Ireland is very eco-conscious and has several Dark Sky Reserves to protect the land from Light Pollution. You can see star constellations and planets, a view unchanged since the days of our ancestors.
The O'Toole family are from Galway so that's where they headed next. They loved Galway City (who doesn't?) and stayed in a hotel where the boys managed to find both a hot tub and bagels.
While the O'Tooles were in Iveragh, Patrick and Kathleen Rogers were kind enough to indulge me in a trip to Banna Strand in Tralee, the place where, in 1916, Roger Casement has washed ashore and arrested. After writing about Casement for Irish America I thought him a most epic figure. The "wild violets" he wrote about were gone but a very imposing statue and tribute were erected when Casement's remains were transferred from Britain to Ireland.
Tralee is so beautiful, especially at night.
Everyone reunited in Dublin a few days later and split into two groups, half of us to an Airbnb, the other half to a hotel. By then, Kathleen McKeever—respectively, a sister, cousin and aunt—arrived from New York. In the evening, we went to Davy Byrnes Pub and were joined by the Murphy girls (Antoinette, Nicola, Marie, Claire, and their partners). The girls' grandfather was my father's brother. From Davy Byrnes, we picked up food, went back to our Airbnb, and had a long night of gab and dinner and wine.
Sightseeing in Dublin was split on generational lines. The O'Toole's went to Trinity College, the Book of Kells and the Irish Writers Museum, and St. Stephen's Green. We older folks took a serious history tour taking in Mountjoy Prison, the GPO and Glasnevin Cemetery.
My mother was from the North of Ireland, Monaghan which is both in the province of Ulster and the Republic (confusing I know) and has had its share of the "Troubles". The next day Patrick McKenna, first cousin on my mother's side—his mother and my mother were sisters drove down from Monaghan with his daughter Naoise and picked us up.
We got to their house and had a "big feed" after which, full disclosure, I forced everyone to go across the street (the infamous "Derry Road") to visit our grandparents' grave. The cemetery is right behind the old church where my mother was baptized and is so beautiful especially in the summer twilight.
The next day we crossed the border to Northern Ireland. We explained to the boys that their Euros were no good here, we'd have to exchange them for British pounds. This involved a brief lesson in Northern Ireland history, but still hard to explain why a small island has two currencies. The night before, we debated where to spend the day: the Seamus Heaney Museum, the Peace Walls in Belfast, or the Game of Thrones' "Winterfell" set in County Down. Game of Thrones won.
The castle was really imposing but so was the working farm and art gallery on the set. This was followed by another long night eating and gabbing at McKenna house. And Naoise and I watched the latest episode of Game of Thrones — so meta, I thought.
Then we drove back to Dublin, got our return flight home!
We all agreed that we can't wait for another trip over.
---
Start researching your family trip to Ireland! Visit Ireland.com to research your genealogy, destinations, things to do, and begin planning your trip.