Maud Gonne is frequently remembered as the unrequited love interest of the poet, W.B. Yeats, while her accomplishments as a nationalist, artist, actor, lecturer, polemist, writer, and social activist are often marginalized. In particular, Maud's role in engaging with the perennial poverty and intermittent subsistence crises that dogged Ireland in the final decade of the 19th century and into the 20th century has largely been ignored or forgotten.
Maud was born in England in 1866 to Thomas Gonne and Edith Frith Cook. Edith died when Maud was only 4 years old, so she was raised by her father, a captain in the British Army. Thomas's roots lay in County Mayo—a county with which Maud always felt a particular affinity. The young Maud was sent to boarding school in France, so from an early age she became bilingual. In 1882, Captain Gonne was posted to Dublin, where he was accompanied by Maud, still a teenager. As befitting her station in life, the young Maud attended parties, balls and soireés in Dublin Castle. But Maud was not simply another privileged young woman on the lookout for a suitable husband. An early insight into her life-long interest in both theatre and in social activism came in March 1866 when she took part in an amateur musical production as a way of raising funds for the "unemployed and distressed classes in Dublin." Thomas died in November 1886, in the Royal Barracks in Dublin. He was aged only 51. Maud, still not 20, was now an orphan, but also a woman with a substantial inheritance. 
An acknowledged beauty who was independently wealthy, Maud lived her adult life in the public eye, being renowned on both sides of the Atlantic. She also had an alternative—and private—life in France, where she had a relationship with a married journalist, Lucien Millevoye. Only three months after giving birth in January 1890 in Paris, Maud traveled to Co. Tipperary as part of a Home Rule League delegation, speaking out against evictions. Throughout, they were followed by hostile policemen, "who sang indecent songs and used offensive expressions." Maud then traveled to England to speak on behalf of Home Rule. Irish nationalist newspapers were captivated by this new champion, praising her "fascinating and irresistible enthusiasm." In August, Maud was back in Ireland, speaking in counties Galway and Kildare, both scenes of high-profile evictions. Regardless of her youth and gender, she shared the platform with male politicians, speaking as their equal. Moreover, despite her upper-class English accent and upbringing, when referring to herself as "an Irish woman," it was met with cheers.  These appearances marked the commencement of her prolonged and passionate engagement with the Irish poor.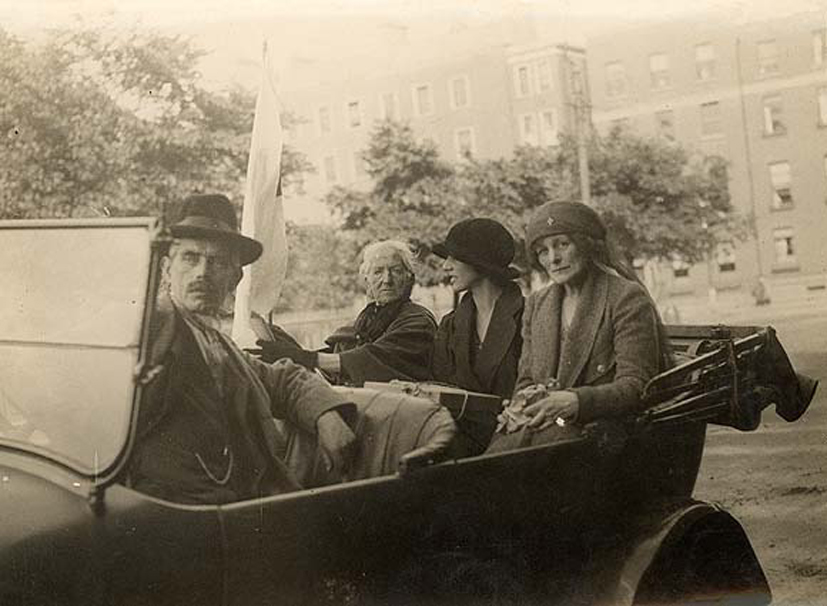 At the end of 1890, Gonne returned to the west to speak out against evictions. At this stage, it was clear that the people were facing another subsistence crisis. While not on the lethal scale of the Great Hunger of the 1840s, there had been intermittent crop failures after 1852, leading to evictions, emigration, disease and, occasionally, excess mortality. The most severe crises occurred in 1860-62 and 1879-81, but the final decade of the century was also marked by poor harvests. As early as August 1890, blight and "blackening crops" had been reported on Achill Island. It was not just the islands where the prospects looked gloomy. In the nearby Ballina Union, the crop was a complete failure. In November, a "special correspondent" for the Freeman's Journal toured west Cork, the site of so much suffering in 1846 and 1847, and concluded:
Report on the condition of the potato crop in south and west Ireland are almost as discouraging as those received from Mayo and Donegal … when the small farmers and fishermen from Clonakilty to Crookhaven, and round by Bantry, always excepting Baltimore and its immediate neighbourhood, find the potatoes completely exhausted, they will be resorting to the towns in a starving condition, as in '47.
In County Donegal, evictions were particularly heartless in Falcarragh and Ardsmore, land owned by Wybrants Olphert. Those evicted were described as "half-famished, half-naked, feeble peasants." The distress was raised in the House of Commons by several Irish politicians, but the Irish Chief Secretary was dismissive, responding, "The Government do not apprehend anything of a nature which could be described as famine in the district referred to." 
At the end of 1890, Maud traveled to Donegal, where she urged people not to pay their rents and to resist evictions. She and the women who accompanied her were praised in the press for challenging "the nerve and endurance of the men of the Royal Irish Constabulary."  Another paper claimed that the local people had been "goaded into resistance by the harangues of such fire-eaters as Miss Maud Gonne." Why was she so influential?  One reason was that the people of Donegal, and later Mayo, believed Maud was a Sidhe—a mythical fairy that could live in the real world. Whatever the reason, only weeks after agitating in Donegal, a "striking likeness" of Gonne was displayed at the Hibernian Academy in Dublin and in her home city of Paris, "her portrait is to be seen in every photographer's shop." A description of her activities, written by the besotted W.B. Yeats, was even more complimentary, he averring that "she has made her voice heard where so many have failed," he describing her as "The New Speranza."
For the next few years, Gonne frequently lectured in France and England on the plight of evicted tenants, constantly returning to the horrors of the Great Famine. By 1897—the 60th anniversary of Queen Victoria's acceding to the throne—her focus had changed to look at the condition of Ireland under the reign of Victoria. She compared the monarch to an earlier English Queen, Elizabeth I, who had been advised by Edmund Spenser to starve the Irish into submission so that they would have to eat each other. In regard to Victoria, Maud averred:
During the short period of ten years—namely, from 1841 to 1851—three million Irish firesides had been laid waste. In the terrible year of the famine, when all other countries were contributing to aid the unfortunate people of Ireland, the Sultan of Turkey not excepted, England was draining the country of its life's blood, and it was a mark of the wonderful vitality of the Celtic race that it had survived all Anglo efforts to destroy it.
In 1897, poor weather and crop failure meant that the west was again facing another season of localized famines. As usual, the government denied the need for external intervention. When questioned in the House of Commons about deaths in Co. Mayo, the Chief Secretary had replied, "You can't expect us to supply your farmers with Champagne." Maud, together with her friend, James Connolly, wrote a leaflet entitled "The Rights of Life and the Rights of Property," in which they invoked the memory of the Great Famine:
In 1847 our people died by the thousands of starvation though every ship leaving an Irish port was laden with food in abundance. The Irish people might have seized that food, cattle, corn, and all manner of provisions before it reached the seaports—have prevented famine and saved their country from ruin, but did not do so, believing such action to be sinful and dreading to peril their souls to save their bodies. In this belief, we know now they were entirely mistaken.
Connolly then traveled to Kerry to assist with relief, while Maud traveled to Mayo. From Erris, she wrote to Yeats, "the poverty here is AWFUL," and shared her concern that the low wages on the relief works were slowly starving the poor. She also sent articles to the press, appealing for donations and making a special appeal to "my sisters, women of Ireland." 
Gonne spent almost a month in Mayo, her graphic descriptions of the suffering winning praise from nationalist MPs. Tellingly, unlike many other sympathizers, she placed herself in harm's way by living in a disease-ridden area and interacting with desperate people. Maud encouraged the men employed on the public works to lay down their tools until they received higher wages, telling them:
You are worse than sheep-stealers if you allow one of your children to die of hunger when there is food to be taken. Sheep can be killed and made into soup which will keep your wives and children alive and if you go to jail for it, you will go as honorable men, for a decent cause, but if you are clever, no one will go to jail. Who is to stop you on these lonely mountains! Be men. Go out hunting! 
The local Poor Law guardians, when confronted by Maud, reluctantly agreed to her demands. She also helped establish a permanent fish curing station and a school feeding system. Maud then returned to France exhausted—a condition worsened by a recurring lung problem. However, she did not rest for long, immediately lecturing and raising money for Ireland. Maud's plan to return to Mayo in June was thwarted by a broken arm, but she continued to make public appeals for donations.
Maud's experiences in Co. Mayo had a lasting impact. In April 1900, when Queen Victoria visited Ireland, Maud penned a powerful condemnation, accusing the monarch of hating Ireland, "whose inhabitants are the victims of the criminal policy of her reign, the survivors of sixty years of organized famine." Victoria's gender made her indifference even more reprehensible:
… after all she is a woman, and however vile and pitiless and selfish her soul may be, she must sometimes tremble as death approaches when she thinks of the countless Irish mothers who, shelterless under the cloudy Irish sky, watching their starving little ones, have cursed her before they died.
The article's title, "The Famine Queen," proved to be enduring.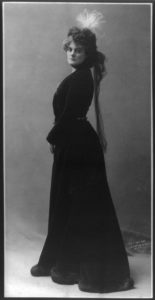 Having turned down multiple marriage proposals from Yeats, in 1903, Gonne married the Irish Boer War hero, John MacBride. The following year, Seán MacBride was born. Months later, Maud initiated a prolonged and bitter divorce from MacBride. During this time, Maud relocated to France, only returning to Dublin in 1918, MacBride having been executed in 1916. Regardless of playing a less public role in Irish politics, Maud continued to speak out about childhood poverty, advocating for free school meals. In 1910, she helped establish the Ladies' School Dinner Committee to counter "school-day starvation." They fed hundreds of inner-city Dublin children daily. Again, Maud used the press to highlight this issue, occasionally drawing on her own experiences as a mother:
I only understood when I was watching my own little boy in St Stephen's Green throwing bread to the ducks. A party of bare-footed children came and looked longingly at the bread. My child thought they wanted to feed the ducks, too, and held out half of his bread to the eldest of them. It was not for the ducks that they wanted it, and as I saw them sharing that bread and looked at their eyes and pale faces and their thin little hands, I understood; and once one has seen and understood one cannot forget.
In 1914, legislation was introduced providing free school meals.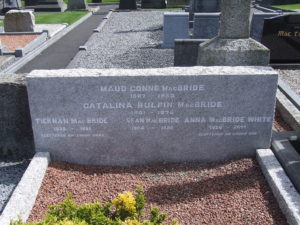 Maud died in April 1953, aged 86. She belonged to a generation of remarkable nationalist women, many of whom were "Eire-brushed" out of history or judged by different criteria to their male colleagues. On her death, Letterkenny Urban Council paid tribute: "Madame Maud Gonne had spent her life in the service of the country and in particular the people of Donegal, whom she had not forgotten in their days of distress." A further legacy of her interventions was a spinning wheel that she kept in her living room in her Dublin home—"a gift made to her by the grateful peasants of County Mayo, whom she saved from starvation and death."♦
A longer version of this article appears in Christine Kinealy and Gerard Moran (eds), Irish Famines before and after the Great Hunger (2020). It is also part of a series of online lectures hosted by the Irish Cultural Center of New England.