The greening of the Chicago River for St. Patrick's Day is a tradition that started in 1962. This year it was announced that the river would not be dyed green but Mayor Lori Lightfoot reversed that decision and allowed the river to dyed green in the early morning of March 13, 2021.
The river was dyed early than normal and the plan was not announced to help prevent crowds from gathering as we continue to social distance due to the COVID-19 pandemic. The Chicago city streets are normally full in the early morning hours on the Saturday before St. Patrick's Day festivities when the river is dyed and the Chicago St. Patrick's Day parade takes place. While this year's parade is canceled some folks were out to view the river being dyed and celebrating the annual tradition but the streets were much quieter this year. Many Chicagoans and visitors alike were happy to see the annual tradition of the river being dyed green continue.
The South Side Irish Parade is also cancelled this year but the parade committee has started a "Shamrock Our Blocks" campaign to encourage everyone to decorate for St. Patrick's Day.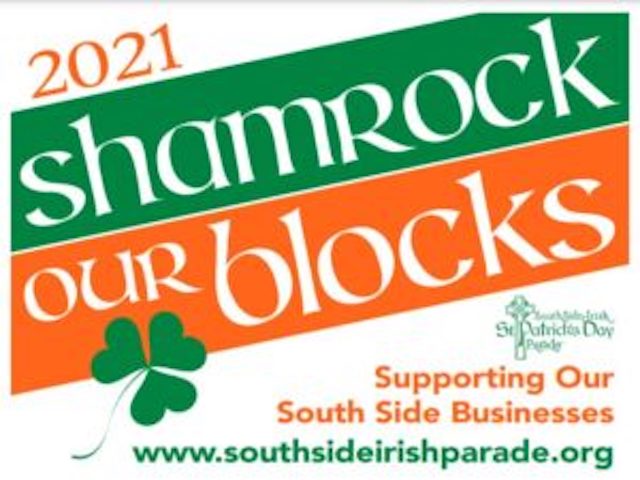 The South Side Irish Parade Committee will be hosting the "Shamrock Our Blocks" celebration.
We're encouraging everyone to consider decorating their houses, light poles, cars or whatever else around their home or block they decide to deck-out in green this year.
Each year, the South Side Irish Parade draws thousands of people to our community and to our
neighborhood businesses. The parade committee's goal is to create a plan that gives back to
local businesses as well as offer a family-friendly festive way to celebrate St. Patrick's Day this year"
… Tim McSweeney, Chair of the 2021 South Side Irish Parade
Stay safe Chicago and Happy St. Patrick's Day. Share your pictures of the Chicago River and "Shamrock our Blocks" with Irish America on Facebook, Twitter, Instagram, or email submit@irishamerica.com.