Galway joins Mayo and Louth as an Ancestral Home
Ireland loves to claim her own, so President Biden – who's conspicuously proud of his 5/8 Irish ancestry – is a source of pride for many in the land of his ancestors. I first explored his heritage before he became Vice President, and later shared some of my findings in Irish America when he was inducted into the Hall of Fame in 2013. My research on his mother's side of the family led to the Cooley Peninsula in County Louth and Ballina in County Mayo, where I was fortunate enough to find his Blewitt cousins. But what about that remaining 1/8 that stemmed from his father's side?

The name in question was Hanafy and it was the 1870 census for his great-grandmother, Mary A. Hanafy, that revealed that her parents had been born in Ireland. I tried to push back further, but as most genealogists know, crossing the pond to Ireland – especially for the Famine era and earlier – is an iffy proposition, so this branch of the family tree remained stalled.
Over the years, I've heard from a number of people regarding Joe Biden, and when he emerged as the front-runner in the presidential election, these inquiries surged. Some have a surname and location in common so are hoping for proof of a connection, while others claim to be his cousin. Many turn out to be wishful thinking, but you never know, so I was intrigued when an email declaring a relationship to the Hanafy line appeared in my inbox. Having just lost my father, I had other priorities, but a few months later was ready to take a closer look, so requested substantiation.
Wanted: My Missing Family
As so often happens, what arrived supported the notion of a relationship, but fell shy of proving it. Still, there was a promising source citation for a much-beloved resource in the genealogical community: Irish Relatives and Friends From "Information Wanted" Ads in the Irish-American, 1850-1871.
Back in the 1800s, it was depressingly easy for immigrants to lose track of one another. No internet and many weren't literate, so mail wasn't always an option. And even if it were, immigrants tended to move frequently in a constant quest for lower rent, so if your sister's letter giving you her new address arrived after your latest move, tough luck. You just lost each other.
Well, not quite. Enter want ads. Not for jobs or dates, but for friends and family. Because many Irish names are so common, those who submitted them provided plenty of personal information to maximize the chance that this or that detail would ring a bell with someone – anyone – who happened to read it. Think of it as a 19th-century version of six-degrees-of-Kevin-Bacon.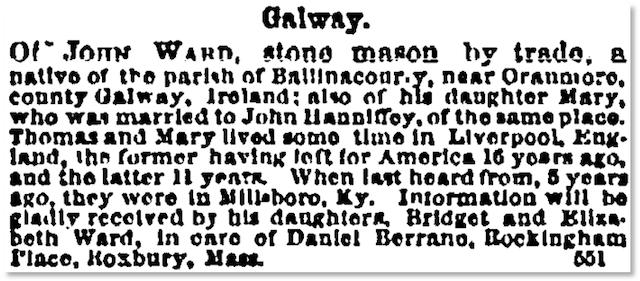 The citation included was for one of these ads, so I ferreted out its original version in the newspaper to eliminate the possibility of any transcription errors. It certainly looked like a fit. If you glance back up at the 1870 census above, you'll see that the names of the immigrants were John and Mary "Hanniffey" (I'll leave you to imagine how many different ways you can spell this name), and the timing meshed.
I wanted it to be true because the ad mentioned a specific place – Ballinacourty (helpfully noted as being near Oranmore) in County Galway – but couldn't be sure. Mary's sisters, who had placed it, named her husband once as John and then as Thomas just a few words later, so accuracy was an issue. And they were expecting to find Mary's family in Kentucky, whereas the paper trail showed them in West Virginia with Ohio-born children. Granted, it was the same general vicinity of states, but there was just enough conflicting information to inject doubt.
DNA to the Rescue
My next thought was to try to link everyone over in Ireland, but I knew the drill. Catholic church records in Ireland are patchy for the relevant time frame, and if they had been available, surely someone in the family would have already connected all the dots. Still, I dug in and pieced together some interesting details, and wound up with a theory that President Biden's great-great-grandfather, John Hanafy, was the brother of a man named Thady (aka Timothy) whose descendants still live in the area today. If not living across the Atlantic during a worldwide pandemic, I might have been able to arrange for some research in local repositories to try to solidify the kinship, but as it was, I was limited to what I could access online. So now what?
Of course: DNA. As it happens, I had been contacted by this family once before back in 2016 when I was furnishing then-Vice President Biden's staff with research for his trip to Ireland. Fortunately, I had suggested DNA testing at the time and they had followed through, so I took another dive — this time into the genetic data.
Once again, the case looked strong but fell short of proof. In a nutshell, a group of Irish Hanniffys (A) were related to a group of American Hanafys (B) who claimed President Biden (C) as a cousin, but as I scrutinized the assorted genetic cousins, I kept finding substantiation that A and B were related, but that wasn't the same as proving that C also linked to them.
And then I spotted a woman with a stubby family tree who was related to both the A and B clusters. By this point, I was far from optimistic as I had researched so many genetic cousins who fit this same description, but hope springs eternal, so I methodically traced the branches of her tree back and was thrilled to discover that she was indeed related to President Biden. I finally had evidence connecting A, B, and C. I continued to work on the data to further convince myself and came away satisfied.
Galway Calling
It wasn't long ago that President Biden while nominating Marty Walsh for Secretary of Labor, mentioned approvingly that he was the son of Irish immigrants. "The only downside," he joked, "they're not from Mayo, they're from Galway." Well, now he has Galway roots of his own, and I think he'll find there's no downside. Should he visit Ballinacourty Hill in Maree, he can visit the homestead that remains in Hanniffy family hands today (a third cousin once removed lives there), and meet yet another batch of welcoming Irish cousins.
Editor's Note April 2023: On the eve of the 25th Anniversary of the Good Friday Agreement and President Biden's first trip to Ireland since taking office Megan Smolenyak spoke with RTÉ Radio about her discovery of Biden's Galway roots.
Read Megan Smolentak's earlier piece on researching President Biden's roots, Joe Biden's Irish Roots.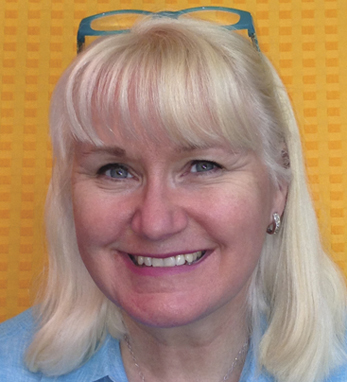 Megan Smolenyak is a genealogist and the author of six books, including Trace Your Roots with DNA and Who Do You Think You Are?, a companion to the TV series. She prefers to call herself an incurable genealogist and sometimes author. Her articles for Irish America, include a piece that she wrote about her decade-long search that finally turned up the Irish cousins of Annie Moore of Ellis Island fame. She also brought to light the Irish heritage of President Joe Biden, President Barack Obama, and such celebrities as Bruce Springsteen, Jimmy Fallon, and Stephen Colbert. Her most recent genealogical detective work has rooted out the Irish ancestors of Barry Manilow. Her articles for the magazine also include such hidden discoveries as, "The Spy in the Castle," which concerned the Dublin Metropolitan Police officer and Michael Collins spy David Neligan. Follow Megan on Twitter @megansmolenyak or visit her website megansmolenyak.com to learn more.