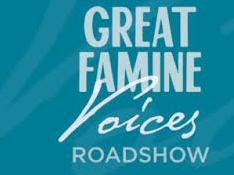 Great Famine Voices 2021 is back this Sunday, with a brand new series of free standalone short films and online discussions beginning with Black abolitionists in Ireland and continuing with caregivers during Ireland's darkest years.
These short films provide uplifting stories about humanitarians in Ireland and pay tribute to caregivers, both in the mid-nineteenth century and today. Presented online by the National Famine Museum at Strokestown Park and the Irish Heritage Trust. The "Famine Heroes" series runs through June 29th and is funded by the Government of Ireland Emigrant Support Programme.
Emmy-winning historian Professor Christine Kinealy with guests Dennis Brownlee, and Lenwood 'Leni' Sloan of the African American Irish Diaspora Network, co-host the first two programs presenting Black Abolitionists in Ireland.
"We are delighted to be collaborating again with Professor Kinealy from Ireland's Great Hunger Institute at Quinnipiac University and guests Dennis Brownlee and Leni Sloan on our first two films about heroic African Americans who followed in the footsteps of Frederick Douglass to famine and poverty-stricken Ireland," said Dr. Jason King of the National Famine Museum, Strokestown Park and the Irish Heritage Trust. "These films explore the strong links that developed between African Americans and Ireland in the mid-nineteenth century, and will resonate with new communities in Ireland today".
The first program features the story of Sarah Remond, a feminist abolitionist's visit to Ireland in 1859 to win support for anti-slavery, even as her own country was hurtling towards a bloody civil war. Remond followed her brother, fellow abolitionist Charles Lenox Remond, who lectured in Ireland on the eve of the Great Famine. A life-long friend of Frederick Douglass, Sarah made her own unique contribution to abolition on both sides of the Atlantic.
The film Sarah Parker Redmond — A Feminist Abolitionist in Ireland can be viewed below and on Sunday, May 2nd join Professor Christine Kinealy and Dennis Brownlee for the first live post-show discussion on Zoom.
The post-film Zoom discussion is on Sunday, May 2nd at 2:00 pm EDT (7:00 pm Ireland). Click here to join.
Learn more about the Great Famine Voices Roadshow 2021 and the scheduled virtual events beginning May 2, 2021 – June 20, 2021.