---
Irish America Staff
In August 1845, an American "fugitive slave" named Frederick Douglass arrived in Dublin. He was seeking refuge from capture and a return to enslavement in his home country. Twenty-seven-year-old Douglass referred to his four months in Ireland as the "happiest moments" of his life. He also described it as "transformative". Ireland changed Frederick Douglass and Frederick Douglass re-ignited anti-slavery sentiment in Ireland. Over 175 years after Douglass first arrived in the country, the memory of this momentous visit is alive and helping to inform a new generation of Black Irish about their heritage.
On Culture Night in September 2018, Professor Christine Kinealy, who has written extensively about Black Abolitionists who visited Ireland between 1790 and 1860, led a Frederick Douglass Walking tour of Dublin. She was joined by a number of friends along the route including, musician Declan O'Rourke, actor Kwaku Fortune, humanitarian activist Don Mullan, and Strokestown Park Director Caroilin Callery. The success of the event led to it being repeated in 2020, this time, virtually. Because of the widespread interest in Frederick Douglass, Professor Kinealy was persuaded to make the walk more widely available in the form of a historic map. The map, which was developed by Christine Kinealy in conjunction with Irish cartographer, Ron Wilson, features ten locations in Dublin that help to explain the importance of Douglass's time there.
The walk can start at any of the designated historical sites, although the route suggested commences in Eccles Street on the North side of Dublin, at the home of James Haughton. Haughton, an Irish social reformer who was known as "Vegetable Haughton" because of his vegetarianism, was also one of the founders of the Hibernian Anti-Slavery Society, which hosted Douglass and many other visiting abolitionists. The route then goes to the Rotundo Rooms, adjoining the famous Rotunda Maternity Hospital—which opened in 1745 and probably the first of its kind in the world. The Rooms were opened in 1757 to help raise funds for the hospital. They are now disused but they were some of the earliest – and most elegant—of Dublin's many concert and music rooms. A number of abolitionists, including the indomitable Sarah Parker Remond, spoke at this location.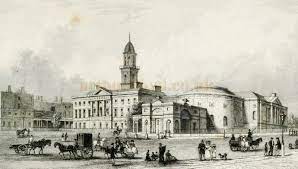 The tour then goes down O'Connell Street (then named Sackville Street) and on to Lower Abbey Street and the Music Hall—again no longer in use—where Douglass lectured. Next stop on the walk is the site of the EPIC Museum, situated in Dublin's docklands and at the heart of what has become the 'Famine Quarter' of the city. This area also contains Rowan Gillespie's stunning and evocative 'Famine Memorial' and marks the final stage of The National Famine Way, which commences in County Roscommon. This marker is particularly significant as Douglass, unbeknownst to himself or anybody else, arrived in Ireland at the onset of what was to be the most deadly famine in modern history. Douglass wrote movingly about the poverty that he witnessed while in Ireland, especially amongst children. It is also probable that Douglass disembarked in this very area in 1845 and the buildings on Custom House Quay would have been his first encounter with the sights and smells of Dublin. At that stage, what is now the EPIC Museum was referred to as Building A, and it had been built in 1820 to store cargos of tobacco, tea and spirits. Douglass—a strict temperance man—probably would not have approved.
The map ends at City Hall—then the Exchange Building—on Dame Street in the centre of Dublin and near to the bustling (before the pandemic) Temple Bar area. Although this is the official endpoint, it could also be the starting point as this is the first place where Douglass gave a public lecture on abolition. It was particularly poignant as it took place on the seventh anniversary of his escape from enslavement.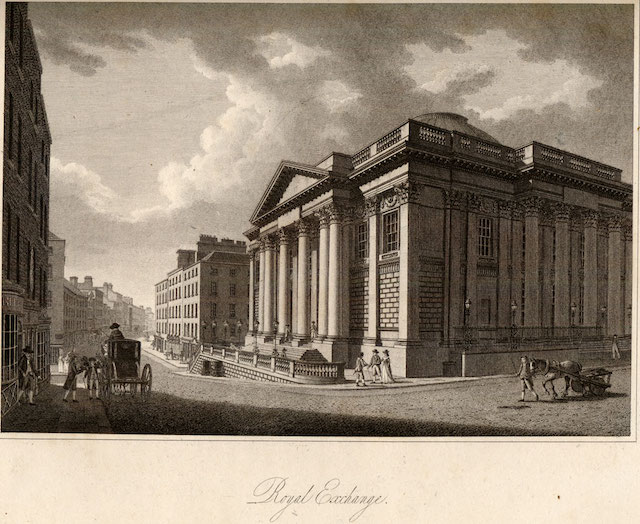 This walking tour helps to show the importance of Dublin to Douglass's political and personal development. Within only two weeks of being in Ireland, Douglass felt himself to be a changed man. He wrote to fellow abolitionist, William Lloyd Garrison of Boston:
One of the most pleasing features of my visit, thus far, has been a total absence of all manifestations of prejudice against me, on account of my color. The change of circumstances, in this, is particularly striking . . . I find myself not treated as a color, but as a man – not as a thing, but as a child of the common Father of us all.
There are many more places associated with the history of abolition in Dublin, and so much more to be learned about Douglass's time in the city and in the rest of the country, but it is hoped that this walk will encourage people to learn more about this mostly hidden part of Ireland's history.
Frederick-Douglass-Map-MASTER-copy-1

The Frederick Douglass Walking Tour Map is part of a larger project to explore Frederick Douglass's time in Ireland, eventually through the creation of a Frederick Douglass Way, which will link to the National Famine Way and the Wild Atlantic Way. The Frederick Douglass Way will highlight the places that Douglass lectured in—namely, Wexford, Waterford, Youghal, Cork, Limerick and Belfast—while placing his visit in the context of abolition in Ireland. The project is being done in connection with the African American Irish Diaspora Network (AAIDN), which was launched in New York in February 2020. The historical content is being provided by Professor Kinealy, based on her two books, Frederick Douglass in Ireland. In his Own Words (2018), in which she provides transcriptions of the almost 50 lectures that Douglass gave. Each lecture is different and brilliant—a testament to the genius of this self-educated, self-emancipated young man.
The Frederick Douglass Walking Tour of Dublin and news of the Frederick Douglass Way will be launched by the Irish Consulate in New York, in conjunction with AAIDN, on Friday 14 May at 1:00 pm. Professor Kinealy will provide a first look at her map, with appearances of special guests from Ireland. After that, the map will be available to download on the Black Abolitionists in Ireland website, which also contains original artwork by John Walsh. The project has received funding from the Government of Ireland Emigrant Support Programme.
The timing of these initiatives is particularly important given the changed nature of Ireland and her diaspora. In the words of Kwaku Fortune, who played Frederick Douglass during the 2018 walking tour of Dublin:
If you are Other or from a mixed race background, or Black, you are looking for role models and people you can relate to. I was obsessed with Irish history, but I could never see myself in it. I think that it is very important for this generation of people from mixed backgrounds and from Black backgrounds to really know about here in Ireland.
The Frederick Douglass Walking Tour helps to inform us about this important moment in Irish history and in the history of abolition when, for the first time, Douglass felt himself to be treated "as a man – not as a thing". It also marks an important point in the emergence of an international human rights movement in which both Daniel O'Connell and Frederick Douglass were fearless, pioneering participants.
---
Christine Kinealy, who developed the map, is also author of Frederick Douglass in Ireland. In his Own Words (2018) and Black Abolitionists in Ireland (2020). She has also published extensively on the Great Hunger.
Christine is the Director of Ireland's Great Hunger Institute at Quinnipiac University and is the author of many books and articles on famines in Ireland.