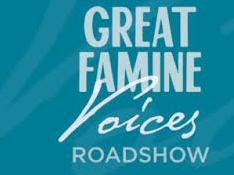 To mark Ireland's National Famine Commemoration Day (Sunday, May 16) Songs of the Great Hunger shares the music of Brendan Graham performed at famine commemoration events in Ireland, Australia, and Canada.
The program explores the historical experiences of Irish emigrant communities during the Great Hunger that inspired classic songs such as Ochón an Gorta Mór, Crucán na bPáiste, Orphan Girl, The Whitest Flower, and The Voice. Performers include Cathy Jordan, Eimear Quinn, Aimee Banks, and Sarah Calderwood with the Australian Girls Choir
View the film below at any time then join us for a live post-show discussion with songwriter and musician Brendan Graham and Linguistic Anthropologist Eileen Moore Quinn on Sunday, May 16th, at 8:00 am in the United States and Canada (Eastern Time) 1:00 PM (IRELAND)
Learn more about the Great Famine Voices Roadshow 2021 and the scheduled virtual events beginning May 2, 2021 – June 20, 2021.