By Tom Deignan
Beautiful World, Where Are You
By Sally Rooney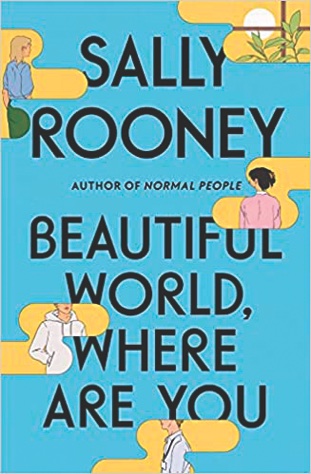 Get ready for a new crop of Dublin 20- and 30-somethings, rambling about and chatting, trying to look like they don't care about life and love. Which means they care very much about life and love.
In her first two novels – Conversations with Friends, and Normal People – Mayo native Sally Rooney proved there was a large audience for Irish college grads having sex, worrying about love, and texting about it a lot.
The smash-hit BBC/Hulu adaptation of Normal People, starring Paul Mescal and Daisy Edgar Jones, only confirmed these facts.
Rooney's latest novel (just excerpted in The New Yorker, and due out in September) is called Beautiful World, Where Are You.
In Dublin city center, one of Rooney's protagonists walks to a cafe ("a sandwich in one hand and a copy of The Brothers Karamazov in the other") to meet an old friend "wearing a suit and tie, with a plastic lanyard around his neck … speaking into his phone."
Eileen can't help but say: "Oh, Simon, you're so important-looking, I'm afraid you're going to be assassinated."
Simon "picked up his lanyard and studied it critically. It's this thing, he said. It makes me feel like I deserve to be."(Nope, dialogue gets no quotation marks.)
As Eileen and Simon circle each other, we also meet Felix and Alice, just your typical warehouse-worker boy meets novelist-girl – who then fly off to Rome – love story.
Rooney's appeal is well-documented, and her powers of observation (from the drudgeries of office work to the cruelties of class conflict) are undeniably strong. But if you are new to Rooney (and over, say, 40 years old) be prepared to feel underwhelmed. It's not that Rooney isn't an often-brilliant novelist. The mystery is why Rooney's particular and decidedly low-key set of skills have translated into such popularity.
"What do (Eileen's) actions tell us about the relationship between her working life and her sense of self?" Rooney wondered aloud in a recent New Yorker magazine interview.
"It's usually the writer's job to answer those sorts of questions. But I decided not to give myself that job this time."
Why not? It's working fine for Rooney so far.
Strange Flowers
By Donal Ryan
Another Irish author who got a fair bit of attention for his first few books was Tipperary native Donal Ryan.
"Despite scoring three bestsellers in five years and a clutch of awards," The Guardian newspaper noted in 2017, "Ryan has been forced to return to his day job in the Irish civil service in order to pay his mortgage."
The author himself told the Irish Independent: "You need to have something else on the go. You could take a chance and scrape a living through bursaries and writing books, but I'd get too stressed out. It just isn't worth it. I have two kids in school and I have a mortgage to pay."
Ryan also has some great tales of rural Ireland to tell. His latest, Strange Flowers, revolves around a not-unfamiliar Irish scene: a 20 year-old daughter, headed off to London, leaving behind parents worried they will never see their daughter again.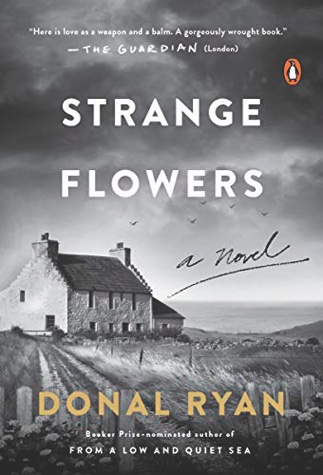 But the girl returns – with a lover as "black as the ace of spades, as handsome as all get out, with a voice as soft as summer rain."
This could all careen wildly into a ditch of melodrama or camp, but Ryan allows the years to unfold with both tenderness and tension. Village tongues wag, a child comes along, secrets are revealed, and Donal Ryan proves again that whoever signs his paycheck, his most important job is chronicling the corners of Ireland that are all too often forgotten.
Home Stretch
By Graham Norton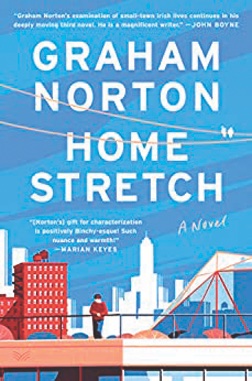 Any writer who has trouble earning a living should just do what Graham Norton does – host a wildly popular chat show on the side.
But Norton has also made himself into an accomplished novelist.
His new book Home Stretch is his third novel, and shares more than a few ideas with Strange Flowers – fleeing and returning, fitting in and not fitting in, the collision of the past and the present.
Home Stretch starts off with a tragedy in late 1980's Ireland that leaves three young people dead, and Connor with a severe case of survivor's guilt. He eventually leaves for Liverpool, then London, then New York City.
The simmering conflicts are only complicated by the fact that Connor is also gay. Nevertheless, he can't avoid returning home.
Norton himself has acknowledged the autobiographical elements of this book.
"Like Connor, he grew up gay in a small town – in his case, Bandon, in County Cork – and like Connor, (Norton) slipped away when he was young, flying to America," The New York Times wrote in a recent profile.
Perhaps such personal ties are what ultimately helped Norton develop Home Stretch with such grace and sympathy.
Undaunted: My Fight Against America's Enemies, at Home and Abroad
By John O. Brennan
If you want to raise a child who grows up to be a confidante of presidents, John Brennan recommends filling your home with Irish storytellers once a week.
"While my birth roots are in the urban jungle of Hudson County (New Jersey)," writes Brennan, "I come from one hundred percent rural Irish stock."
The former CIA director adds: "I was always exceptionally proud of being a first generation Irish-American, and that pride was reinforced by the stories about family history and life in the 'old country' that were the conversational centerpieces of the gatherings of aunts, uncles, cousins and Irish immigrant friends that took place practically every weekend of my youth. The accounts of life in Ireland, and the experiences and antics of my ancestors when they arrived in America, took on a magical quality for me."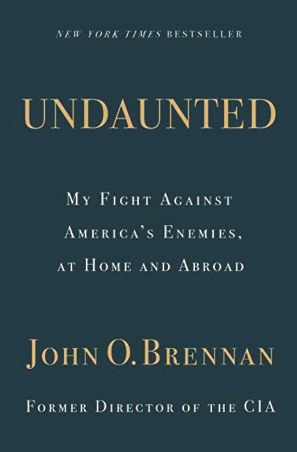 Brennan writes with particular poignance about his father, Owen born in "a small four room family farmhouse" near the Shannon River in Clooneskert, Roscommon.
These would seem unlikely roots for a power broker who would go on to play a key role in the hunt for, and assassination of, Osama bin Laden, and later confront what Brennan has characterized as the dangerous shortcomings of President Donald Trump.
All of which is covered, with drama and wit, in Undaunted.
Catching The Worm
By Dr. William C. Campbell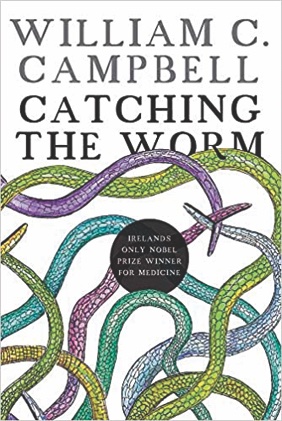 On the day he won the Nobel prize for medicine, Donegal native Dr. William Campbell writes: "I didn't even know that the Nobel prizes were being announced that day."
But on the morning of October 5, 2015, Campbell became world famous, in recognition of his work developing a medication to fight "river blindness."
All of this was a long way from Campbell's childhood home in Ramelton, atop R.J. Campbell's – his father's grocery store.
Campbell writes: "I was the reader in our family, and like many children, I would read long past the allotted time at night. I made a flashlight using a big, squarish, flattish battery that would sit in the palm of your hand."
Campbell later studied zoology at Trinity College Dublin, before moving to the U.S. to work as a parasitologist. It was while working for the pharmaceutical company Merck that he helped to discover a class of drugs to control parasitic worms which contributed to an eye disease transmitted by insects living near rivers or streams.
Catching the Worm ultimately captures Campbell's sense of wonder – in pursuit of scientific knowledge, and at reaching the heights of the scientific world at the tender age of 84.
This Country: My Life in Politics and History
By Chris Matthews
Chris Mathews offers a vivid tour through of American political history from Eisenhower to Trump in This Country – all of which began with the "mixed marriage" of his parents.
"Those trying to position me politically might find a clue in this mix of cultures: tribal row house Irish Catholic Democrats on Mom's side, and self-reliant individualist Protestant Republicans on Dad's side," writes Matthews, in a chapter called "Irish Enough."
His maternal grandfather, Charles Patrick Shields, "was a figure out of a Eugene O'Neill play," while his paternal grandmother was an "immigrant in her teens from Northern Ireland…who never gave up her native accent."
And while "beloved," she was not Catholic – "Orange to the core," as a matter of fact. As a result, the wedding of Matthews' parents was attended only by "mom's loyal sister Catherine."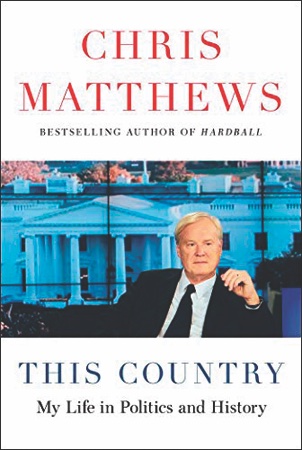 Matthews attended Holy Cross College and served in the Peace Corps, before moving on to Washington, where he worked as a U.S. Capitol police officer running for a congressional seat outside of Philadelphia. Soon enough, he was writing speeches for President Jimmy Carter, and serving as Chief of Staff for congressional leader Tip O'Neill. For 20 years he anchored Hardball with Chris Matthews on MSNBC.
All in all, This Country, is a welcome addition to Matthews' line of books, all of which illustrate just how personal the political usually is.
The Troubles with Us: One Belfast Girl on Boys, Bombs, and Finding Her Way
By Alix O'Neill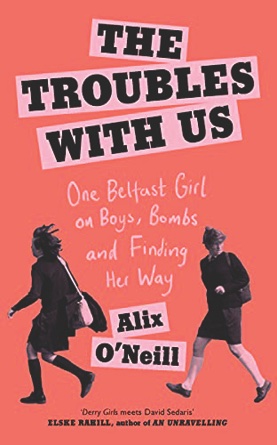 With the 100th anniversary of the creation of Northern Ireland upon us – and "Derry Girls" earning legions of Netflix fans of both sides of the Atlantic – readers may want to turn to Alix O'Neill for an unconventional take on growing up in 1990s Belfast.
Amidst the chaos of tension and war –her father is even accused of being the leader of a terrorist group – O'Neill just tries to live the life of an average girl, gossiping about boys and worshipping pop bands. But nearly as troubling as the Catholic-Protestant divide is her extended family.
All of which fuels a desire in O'Neill to flee Northern Ireland. As she grows older, though, she gains a new appreciation for the perseverance, grit and, yes, humor of her family – particularly her mother. All in all The Troubles with Us is very much a 21st Century take on an ancient conflict.