By Edythe Preet
The secret of distilling spirits was brought to Ireland by fifth-century Mediterranean missionaries, Edythe Press informs us, while Darina Allen gives us a wonderful recipe for pea soup.
In an issue of a prestigious American travel magazine, a well-known author wrote about the food of Ireland. After dining at one of the Republic's most illustrious hotels, he described his meal as "trendy" because the chef had used certain ingredients that were not, in his inflated opinion, Irish.
What, I wondered, was this self-righteous writer talking about? Was he expecting meals that merely echoed the sad memories of Famine foods impoverished immigrants carded with them during the great Diaspora of the 19th century? A bowl of boiled potatoes? Watery oat gruel? A stereo-typed platter of corned beef and cabbage? Was his knowledge of Ireland's cuisine so misinformed as to be ignorant of the fact that foods brought to Ireland from hither and yon have formed the bedrock of a national cuisine that has evolved over two millenniums?
The main complaint expressed concerned a dish that incorporated eggplant, a food that the author scathingly declared should not have been used at all since it was not native to the country. True enough, eggplant originated in the Middle East. Would this ersatz gourmet also contend that potatoes should not appear on Irish menus? Though practically synonymous with Irish cuisine, spuds originated in Peru and were first grown in Ireland during the 16th century when imported seedlings were planted by Sir Walter Scott at his estate in County Cork.
Perhaps the author would also look askance at Irish whiskey. The secret of distilling spirits was brought to Ireland by fifth century Mediterranean missionaries. Even the word has foreign roots. Since spirits were originally used for medicinal purposes, the pious dis-tillers called their miraculous curative aqua vitae which is Latin for `water of fife.' Translated to Gaelic, the phrase became uisce beatha. Over time the second word was dropped, and the spelling of uisce was modernized to `whiskey.'
How a respected writer's realm of reckoning could be so narrow as to disallow that Ireland's chefs are some of the most innovative, cutting-edge cookery masters of the modem world both amazed and annoyed me. A nation's cooks expand its cuisine by incorporating the best of the new with the best of the old. The pathways foods have traveled through history wind about the planet much like a meandering country lane.
Ireland's earliest nomadic people hunted deer and wild boar in the great forests that covered the land. They snared pigeon, duck, partridge and grouse in the marshes and meadows. They fished the clear rivers for salmon, trout and eel, gathered limpets, oysters and mussels along the coast, and plucked berries from bushes that dotted the hills. Then came the Neolithic farmers carrying cattle, sheep, cabbages, carrots, turnips, onions and precious sacks of wheat, barley, rye and oats across the sea in their little currach boats.
The Normans added wine, peas, beans, pheasant, oranges, lemons, raisins, plums, apricots, almonds, cinnamon, nutmeg, mace, pepper, cakes, pies, sugar and Renaissance cooking methods.
Of all the foods introduced from the New World, potatoes had the most impact. So firmly did they take root in the Irish diet that not even successions of devastating crop failures and famines diminished their popular appeal.
From British colonies in Asia and Africa came tea, Ireland's preferred beverage, and coffee, which always ranked a poor second until a wily bartender invented Irish Coffee. The 20th century did little to enhance Ireland's food, adding only white bread and mass-produced processed comestibles to the picture. Pairing Ireland and cuisine in the same breath became a culinary joke.
Enter the Grande Dame of Modem Irish Cookery: Myrtle Allen.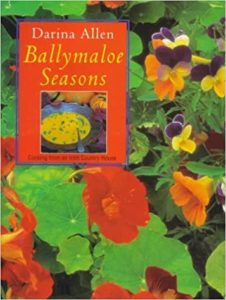 Shortly after World War II, Ivan and Myrtle Allen took over 300 acre Ballymaloe farm in Shanagarry, County Cork. They raised a family in the property's rambling Georgian manor house, sheep in the meadow, and vegetables in the garden. Over the years Myrtle became an expert cook, and when her children had grown to fine young adults, she opened a small restaurant in her home's dining room.
She used only the freshest ingredients, supported local producers, and cooked everything from scratch. She revived, revised and revitalized Ireland's traditional recipes. She baked her own whole-meal brown bread, potted her own pâtés, and put up her own fruit preserves. She opened a few bedrooms, served her guests glorious breakfasts, and demonstrated to one and all the quintessence of Irish hospitality. She started a revolution.
Thirty-four years down the road, Myrtle Allen has become a legend in her own time. A former president of the European Union of Chefs, Myrtle specialized in the presentation of locally available ingredients in a contemporary yet uniquely Irish style — a philosophy which has been adopted and adhered to by every great cook in the nation. Manor houses, hunting and fishing lodges, country estates, pubs and farms throughout the land have opened their doors and extended Ireland's legendary hospitality to visitors from around the world.
Myrtle Allen's Brown Bread
I first ate Myrtle Allen's brown bread in her delightful inn, Ballymaloe House, in Ireland. It is an uncommonly well-textured whole-wheat bread with a lovely flavor, and I have made it repeatedly since visiting there. It should be eaten fresh, with plenty of good sweet butter. You will note that this is an unusual recipe, since the dough is not kneaded and has only one rising." –James Beard
---
Ingredients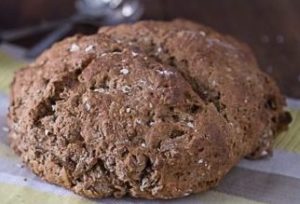 3 3/4 cup whole-wheat flour, preferabley stone ground
1 1/2 packages active dry yeast
2 cups warm water (100ºF to 115ºF, approximately), divided
2 tablespoons salt
2 Tablespoons of molasses (approx.)
Baking Method
Put the whole-wheat flour in a large mixing bowl and place in a warm oven (a gas oven with the pilot light on or an electric oven set as low as possible). Both the flour and the bowl should be warm when you make the bread.
Dissolve the yeast in 1/2 cup of the warm water, and blend in the molasses. Let proof. Add another 1/2 cup water. Combine the flour, yeast mixture, and salt. Add enough warm water to make a wet, sticky dough (about 1 cup or more according to the flour). Put directly into a buttered 9 x 5 x 3-inch bread tin. Cover, set in a warm spot, allow to rise by one-third its original size. Preheat the oven and bake at 450ºF for 50 minutes, or until the crust is nicely browned and the loaf sounds hollow when tapped. Remove from the pan and leave on the rack in the turned-off oven for 20 minutes more to give a crustier finish.
---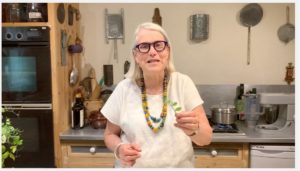 But Myrtle is not the only culinary doyenne in the Allen family. Daughter-in-law Darina Allen is quite the Queen of Irish Cuisine as well.
In 1983, Darina began to give cookery classes in her home on the edge of Shanagarry Village, just two miles from Ballymaloe House. Her intention was to teach the cooking style she had learned under Myrtle's careful tutelage. Little more than a decade later, those classes have generated a dozen cookbooks, eight Simply Delicious television series, and a state-of-the-art cooking school with two practice kitchens, a large mirrored demonstration kitchen, a test kitchen dining room, a huge herb garden, and an extensive research library.
Students pursuing culinary careers enroll in 12-week professional certificate courses in September and January. Between Easter and July, the school offers one- to five- day classes in a wide variety of subjects ranging from irresistible Irish breakfasts and bread-making to cooking with fresh herbs and edible flowers. A traditional Christmas food demonstration and autumn mushroom hunt are perennial favorites. Through the years, graduates of the Ballymaloe Cookery School have gone on to open many of Ireland's finest restaurants, pubs, delicatessens and guesthouses. All carry on the Ballymaloe tradition of using only the finest ingredients, preparing food with love, and presenting it as a work of art.
In the 12th century poem "Aisling Meic Con Glinne" (The Vision of MacConglinne), a scholar sets off to visit the greatest gourmet in Ireland, King Cathal Mac Finguine of Munster. At one point he has a dream about a land of plenty with wheaten bread, salmon, smoked bacon, mutton, beef, cheese, carrots, kale, berries, hazelnuts, a butter mountain, a lake of milk, a moat of custard surrounding a castle made of meat and roofed over with sausages and puddings. Behind the castle he finds a wood of sweet apples and a river of ale. Perhaps he was dreaming of Ballymaloe. Sláinte!
---
Pea and Coriander Soup
This utterly delicious soup has a perky zing with the addition of fresh chilli. Our fresh peas are available to buy in our Cookery School Farm Shop and on Neighbourhood Markets.
Soup Ingredients
1lb (450g/4 cups) peas (good quality frozen peas work fine)
2oz (50g/1/2 stick) butter or 2 tablespoons of sunflower oil
2 cloves garlic, peeled and chopped
1 green chili, deseeded and finely chopped
1 1/2 pints (900ml/3 3/4 cups) home-made chicken stock
2 tablespoons (2 American tablespoons + 2 teaspoons) approximately chopped fresh coriander
Salt, freshly ground pepper, and sugar
Cooking Method
Melt the butter on a gentle heat add the onion, garlic and chili. Season with salt and freshly ground pepper and sweat for 3-4 minutes. Cover with the hot stock. Bring to the boil with the lid off, add the peas and cook for 3-4 minutes approximately or until the peas are just tender. Add the coriander and liquidise. Season with salt, freshly ground pepper and a pinch of sugar, which enhances the flavour even further. Serve with a swirl of softly whipped cream and a few fresh coriander leaves sprinkled over the top.
Serving Suggestions and Variations
Pea Soup
To serve, put a few fresh peas and pea shoots into a wide soup bowl. Put the soup in a jug – each guest pours soup into the bowl themselves.
Pea and Bacon Soup
Add a few tiny crispy lardons of bacon to the peas.
Chilled Pea and Coriander Soup
This soup is also good chilled but be particularly careful not to overcook. The texture should be smooth and silky, the consistency should be thin so add a little more stock if necessary.
Note: Cold soups should be served in small, chilled bowls.
---
This Sláinte column was originally published in Irish America in August 1998.
We have updated the recipes with James Beard's take on the brown bread, and added a video to Darina Allen's pea soup.