The New York Irish Center on Tuesday, August 3, proudly celebrated the remarkable career of community advocate and champion, Council Member Danny Dromm, with an intimate reception and award presentation from the Board of the New York Irish Center.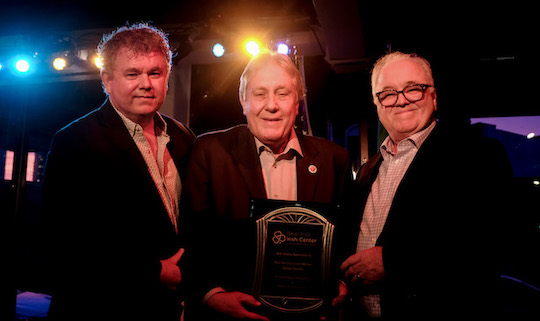 The New York Irish Center in Long Island City, invited community leaders and ambassadors to talk about the monumental impact CM Danny Dromm has had in the New York Irish community, the LGBTQ+ community, the diverse communities of his Queens district, and the many communities across the city of New York that benefitted from his outsized influence on local policies.
The evening kicked off with New York Irish Center Executive Director George Heslin giving a detailed account of the storied history of the New York Irish Center and the support it has received from the community and its leaders, including the City Council, through its 16 years of existence. He thanked outgoing director, Paul Finnegan for all his hard work in laying the foundation of the center and making it what it is today, and his own plans for growing the center going forward.
Consul General of Ireland in New York Ciarán Madden lauded Dromm for his support of all things Irish (Madden, who is soon returning to Ireland after serving his four years as Consul General, was himself lauded for his extraordinary outreach to the Irish community and beyond, and presented with flowers to take home to his wife, Lana). Former Council member Elizabeth Crowley, who worked alongside Dromm for many years, talked about how he had advocated for prison reform, especially in the area of ending the practice of solitary confinement on Riker's Island. She also mentioned the many wonderful trips to Ireland that he had organized for Council members. Former U.S. Representative Joe Crowley, praised Dromm for always being ready to listen to a different opinion from his own, but sticking to his principles when it really mattered. Council member Keith Powers, one of the newer members of the council, mentioned about how he had reached out to Droom, and found him a ready mentor, and New York Irish Center board member Turlough McConnell spoke to the kindness, generosity, and dedication of Council Member Dromm, and thanked him for years of service and friendship.
George Heslin then invited CM Dromm to the stage and presented him with a plaque for decades of tireless work and advocacy. CM Dromm spoke about his love of his Irish heritage passed on to him by his mother, and his efforts to ensure representation for all in the LGBTQ+ community in the St. Patrick's Day parade and in New York at large. World-class singer Eoin Cannon (star of Angela's Ashes the musical) performed Danny Boy for CM Dromm and the guests in attendance convened for a short but lively reception.
The New York Irish Center once again thanks Council Member Dromm for all his years of service, advocacy, and dedication to Queens and to New York.