The third concert of the 2021 Masters of Tradition on Wednesday, October 13, 2021 at 8:00 PM EST will be broadcast from the Bantry House overlooking Bantry Bay.
Masters of Tradition continues this week with a special performance of poetry by William Butler Yeats, set to music by Irish singer Christine Tobin. She will be joined by UK-born guitarist Phil Robson and Italian multi-instrumentalist Francesco Turrisi.
In this work Christine Tobin has created a soundworld that uses a rich palette of harmony and colour and draws on influences from jazz, folk and twentieth century classical, from Miles to Messiaen. The poems are chosen from Yeats's early work through to his final collection.
The concert takes place in the intimate library of the magnificent stately home Bantry House, which stands on the shores of famous Bantry Bay.
"Part of what we do here every year at Masters of Tradition is including some projects which are more marginally connected to the tradition. We usually have special late night concerts and I've always wanted to have a late night concert featuring the music of Christine Tobin and her interpretation of the poetry of William Butler Yeats in a house which resembled the lifestyle and world which he travelled through. This is a very beautiful interpretation of his poetry and the songs amplify the mood of those poems, giving us a new way of experiencing them." Martin Hayes
"There's a thrilling, dark timbre to Tobin's voice that moves you like no other singer." The Guardian
Meet the Artists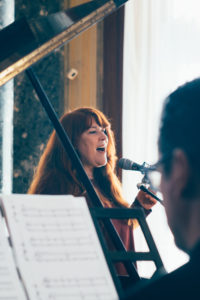 Christine Tobin is an Irish vocalist and composer. She grew up in Dublin before moving to London to attend the Guildhall School of Music & Drama, for which she was awarded a full scholarship. She was an integral part of the London contemporary scene for many years before relocating to New York City for 5 years in 2015. She is now based in the beautiful countryside of Northwest Roscommon.
Her authentic sound was described by The Guardian as "Tobin's 24 carat voice" while praising her both for the poetry of her compositions and the warmth of her golden voice. Her style, although rooted in jazz, is eclectic and draws on a broad range of influences. MOJO Music Magazine said of her "Christine Tobin really transcends glib genre-fication. Her expressive range acknowledges finely acquired folk, jazz and 20th-century classical influences, which already sets her apart. And everything is shot through with an unmistakable refinement, free-spirited earthiness and giddy romanticism, this singer-songwriter is in a field of one."
She has led various projects and in 2012 "Sailing to Byzantium", her settings of WB Yeats poems featuring actor Gabriel Byrne, won a British Composer Award. The following year she won a "Herald Angel Award" at the Edinburgh Festival for her show "A Thousand Kisses Deep", her imaginative versions of Leonard Cohen classics. In 2014 she won "Jazz Vocalist of the Year" at the Parliamentary Jazz Awards. Earlier in her career Christine won "Best Vocalist" at the 2008 BBC Jazz Awards. Her last album PELT was Tobin's musical interpretations of Pulitzer Prize winning Paul Muldoon's lyrics and poems. Tobin was also a regular guest in his hit series 'Muldoon's Picnic' in NYC.
Her vivid interpretations of Bessie Smith were featured in film director Mike Figgis' "Red White and Blues" docu/film in the 'Martin Scorsese Presents The Blues' PBS series. Christine has also presented special features for BBC Radio 3's cutting edge program Jazz On 3 and appeared regularly on Jazz Library also for BBC Radio 3. She has contributed to programs about Billie Holiday, Bessie Smith, Abbey Lincoln, Betty Carter, Joni Mitchell and Carmen McRae. The special documentary program she presented for RTE Lyric FM "Out with Paganism", was a Silver Radio Winner at the New York Festivals – 2013 World's Best Radio Programs.
In New York City she created, co-curated and performed in the highly successful series "Tobin's Run On 51" at the Irish Arts Center with guitarist partner Phil Robson. These were themed, mixed media shows which featured slideshows, film clips, storytelling and invited guests who comprise of some of the greatest musicians on the NY scene today including Ingrid Jensen, Steve Wilson, James Genus, Billy Drummond, Craig Handy, Janis Siegel to name just a few as well as renowned authors such as Ashley Kahn.
---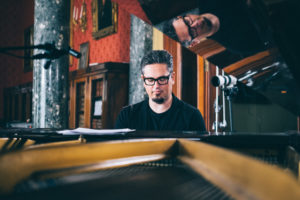 Grammy nominated multi-instrumentalist Francesco Turrisi has been defined a "musical alchemist" and a "musical polyglot" by the press.
He left his native Italy in 1997 to study jazz piano and early music at the Royal Conservatory of The Hague, where he obtained a Bachelor and a Master's degree. Since 2004 he has been working successfully as a freelance musician.
He has released five critically acclaimed albums as a leader and two as co-leader ("Tarab" a cross boundary innovative ensemble that blends Irish and Mediterranean traditional music, and "Zahr" a project that looks at connections between southern Italian traditional music and Arabic music).
His latest piano solo album "Northern Migrations" was described as "delicate, wistful and wholly engrossing" by the Irish Times.
Francesco is also a member of the celebrated early music ensemble L'Arpeggiata. With l'Arpeggiata he has performed at the most important classical music festivals in Europe and around the world (Turkey, Russia, China, Australia, New Zealand, Brasil, Colombia) and has recorded for Warner, Virgin, Naive and Alpha.
Since 2018 he collaborates with American grammy award winning singer and multi-instrumentalist Rhiannon Giddens, on a duo project that seamlessly combines music from the Mediterranean with music from the African diaspora in the Americas. In 2019 Giddens and Turrisi released their critically acclaimed duo album "there is no Other". The album single "I'm on my way" was nominated for a 2020 Grammy Award.
Francesco currently performs on piano, accordion, harpsichord, organ, various lutes, cello banjo, frame and goblet drums.
He is equally at home playing with jazz veterans Dave Liebman and Gianluigi Trovesi as he is with Irish traditional sean-nós singer Roisin El Safty and with tarantella specialist Lucilla Galeazzi. Turrisi has toured with Bobby McFerrin, interpreted the music of Steve Reich with Bang on a Can All Stars, accompanied flamenco star Pepe El Habichuela and Greek singer Savina Yannatou
His long list of collaborations include:
Bobby McFerrin, Dave Liebman, Gianluigi Trovesi, Rhiannon Giddens, Nils Landgren, Wolfgang Muthspiel, Gavin Bryars, Gabriele Mirabassi, Rolando Villazon, Lisa Hannigan, Savina Yannatou, Maria Pia de Vito, Theodosii Spassov, The King's Singers, Veronique Gens, Philippe Jaroussky, Pepe el Habichuela and Lucilla Galeazzi.
---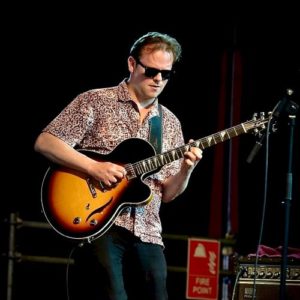 Phil Robson is a multi award winning guitarist & composer, originally from the UK who relocated to New York City in 2015 and is currently based in Ireland. He has led bands featuring jazz legends such as David Liebman, Mark Turner, Billy Hart, James Genus & many more as well as working as a sideman with Barbra Streisand, Kenny Wheeler, Charles Earland, Donny McCaslin, Django Bates, The BBC big band and a hugely diverse spectrum of internationally renowned musicians.
In Europe he is renowned as the co-leader of the cult UK band 'Partisans' with saxophonist Julian Siegel and also for his work with the great singer/songwriter Christine Tobin.
In New York he is best known for his collaboration with the great saxophonist/composer Jed Levy.
He's also a 'Whirlwind Recordings' artist with highly acclaimed albums who performs at major venues and festivals around the world. www.philrobson.net.
Masters of Tradition runs until 17 November and features concerts filmed at beautiful locations in West Cork including the elegant mansion Bantry House, Future Forests and historic Abbeystrewry Church in Skibbereen.♦