Masters of Tradition moves to Future Forests in deepest West Cork for its next concert on Wednesday October 20, 2021.
John Walsh, Ireland's leading Flamenco guitarist, joins uilleann piper David Power and Marja Gaynor on baroque violin for a very special collaboration in the spectacular setting of this unique garden centre. They perform a programme featuring their own arrangements of traditional Irish tunes, contemporary music as well as music from the Baroque period and the 19th century.
Future Forests is in Kealkil, just a few miles from the world-famous settlement of Gougane Barra. It is a family-run garden centre which, since it opened thirty years ago, has been pioneering the gardens, orchards and woodlands of the future. With roots firmly planted in the wilds of West Cork the owners of Future Forests believe they have a responsibility to protect and ensure the future of this diverse landscape and environment.
"This concert takes place in a beautiful building in a beautiful location surrounded by beautiful plants. It blends traditional music with Flamenco and Baroque influences, creating something we've never heard before. David Power is one of my favourite pipers. There's a wildness in his music and he takes risks, pushing the pipes to the limits. He plays from a place of great feeling and expression and I really love that. Marja Gaynor is a very fine Baroque violinist and is clearly someone who can improvise extremely well while John Walsh is a technically brilliant and accomplished guitarist. He has brought some very beautiful ideas from the world of Flamenco guitar back and introduced them to Irish music." Martin Hayes
Meet the Artists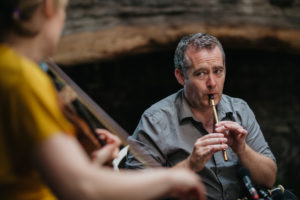 David Power's show credits include off-Broadway 'Love's Pure Light', the Irish Rep. Theatre's 'The Field' and Eugene O'Neill's 'A Touch of the Poet' on Broadway.  Regularly appearing with poets including Kerry Hardie, Thomas McCarthy, Clodagh Beresford-Dunne, worked with Tony MacMahon, Dermot Bolger, Eamonn Hunt and John Comisky on 'The Frost is All Over' and with Kerry Hardie and Olivia O'Leary on 'To Find a Heathen Place and Sound a Bell' (Kilkenny Arts Festival).  Other collaborations include MN-commissioned 'Edges of Light'with Maeve Gilchrist, Tola Custy and Colin Dunne (IAC New York), 'Antarctica' with composer Linda Buckley (Kilkenny Arts Festival), 'Buile Shuibhne' by composer Dana Lyn with the Contempo Quartet and 'Gol na mBan san Ár' concerto for orchestra and uilleann pipes by Kevin Volans with the National Symphony Orchestra. With three solo recordings  – 'My Love is in America', 'Cuachín Ghleann Neifin' and 'The eighteen Moloney' and a duet recording with fiddle player Willie Kelly – Power regularly performs with Willie Kelly and Martin Hayes, harpist Triona Marshall, baroque violinist Marja Gaynor and flamenco guitarist John Walsh, presents recitals with organist Malcolm Proud and performs with baroque group Camerata Kilkenny in 'The Piper and the Faerie Queen' (RTE Lyric FM release 2018).
"The unifying theme, as the title suggests, is dawn, Irish dawn in particular, and the music evokes both the hush and the brilliance of early morning" (New York Times on 'Edges of Light')
"The opening wail of uilleann pipes, played by David Power, which shifts into swirling music of military glory, beautifully establishes the central opposition of inner pain and public fantasy" (New York Times on 'A Touch of the Poet')
"David Power brings a breath-taking freshness to the set, his fluid, fluent playing as light as a feather" (Irish Times on 'The Frost is All Over')
---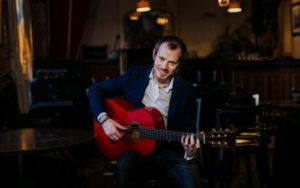 For the last 10 years John has been at the forefront of Flamenco in Ireland, as a performer, composer, educator and primary ambassador of Flamenco guitar & culture in Ireland.
Having studied with Flamenco masters in Andalucía over the course of 4 years, John returned to Ireland to bring his passion for Flamenco music to the stage.
As a performer he has being invited as the International Artist to The 2015 Paco de Lucia Guitar Festival in Algeciras, Spain & The 2014 International Flamenco Festival in Consuegra, Spain.
John also performed for 2 consecutive nights in 2014 in the famous Flamenco venue 'El Candela' in Madrid, Spain.
In his home country of Ireland he has given concerts in the National Concert Hall on a number of occasions and appeared in the Guitar Festival of Ireland, the City of Derry Guitar Festival, Ards Guitar Festival and many more.
He has been commissioned to compose music for Ballet Ireland, Riverdance and Michael Rooney's De Cuellar Suite amongst others.
He has performed live on national radio and television and has appeared on the soundtrack of 'Riverdance- The Animated Adventure' motion picture.
In 2020 he released his critically-acclaimed debut album 'Irlandalucía', the first album of Flamenco ever written & recorded by an Irish artist
He has performed onstage with many acclaimed Flamenco artists including Salvador Andrades, Jose Manuel Leon, Maria Delgado, Alicia Carrasco, Karen Lugo, Luis de Luis, Antonio Sanchez, Juan Ignacio Gonzalez, Gines Pozas, Remedios Heredia, Carmen Cervantes, Jaime Salazar Losada, Jaime Nadal Perez, Jose Torres, David Avila, Olayo Jimenez, Lucas Gonzalez, Mercedes Garcia Lopez and Pepe de Algeciras.
In crossover & collaborative projects he has performed with The Irish Chamber Orchestra, Redmond O'Toole, Hugh Buckley, Darragh O'Neill, David Power, Marja Gaynor, Peter Browne and Robbie Harris.
---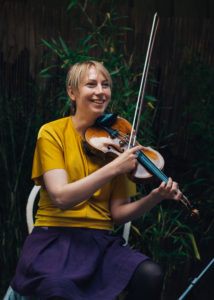 Originally from Finland, Marja Gaynor is a Cork-based violinist and viola player. She specialises in Baroque music and plays with various Irish and European ensembles, including the Irish Baroque Orchestra and Camerata Kilkenny, but is also known as a versatile musician at home in many different styles, a fluent improviser, as well as arranger and curator. She has performed and recorded with various Irish bands and artists including Interference, Adrian Crowley, Paul Tiernan and her own world music band The Polskadots. Gaynor also arranged and played the strings for Glen Hansard and Marketa Irglova's Oscar winning song "Falling Slowly". She teaches violin and chamber music in MTU Cork School of Music.
Masters of Tradition runs until 17 November and features concerts filmed at beautiful locations in West Cork including the elegant mansion Bantry House, Future Forests and historic Abbeystrewry Church in Skibbereen.♦