One of Ireland's most respected poets Doireann Ní Ghríofa makes her first appearance at Masters of Tradition alongside guitarist Steve Cooney and accordion player Derek Hickey. This unmissable performance takes place in the elegant library of Bantry House, overlooking Bantry Bay.
Wednesday, October 27, 2021 at 8:00 PM.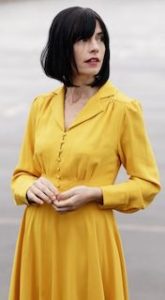 "Doireann Ní Ghríofa is a well-known poet in the English and Irish language. She comes from Co. Clare. Over the last few years we have introduced poetry into the festival. Of course, there is an ancient connection between poetry and music. Much of the poetry of the ancient world was recited to the accompaniment of lyres, harps and a variety of other instruments over time. Steve Cooney is Masters of Tradition's resident guitarist as he has played at each of the nineteen festivals and is a true Master of the tradition. Derek Hickey is a wonderful accordion player who has found a freedom in the music, a freedom we're all looking for when we play this music. The freedom to take a flight of fancy in the middle of a tune and to take it in a slightly different direction and then knit our way back into it. At the higher levels of traditional music, there is a natural place for improvisation. Derek is able to play the tunes with a free flow and expression which is really wonderful." Martin Hayes
Meet the Artists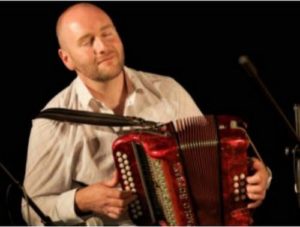 Derek Hickey hails from Adare, Co. Limerick. Both his grandfathers played fiddle and his own musical career began at ten years of age when his uncle left an accordion in the family home. Derek progressed to dance tunes within weeks though he didn't begin lessons – under the tutelage of Dónal de Barra – until he was 12.
Derek's professional career began three years later when he joined the Shannonside Céilí Band. Formed by the Liddy family the band was particularly popular in the north of the country. It also toured extensively in England and made regular trips throughout Europe.
In 1991 Frankie Gavin asked Derek to join him for regular sessions in his then leased hotel in Kinvara, Co. Galway. One year later, at just eighteen years of age Derek joined Arcady, Johnny 'Ringo' McDonagh's band. Frances Black, Brendan Larrisey and Patsy Broderick were also members of the band at that time and many other household names have played in the line-up including Sharon Shannon, Cathal Hayden and Gerry O'Connor.
In 1995 Derek joined the legendary De Dannan. The De Dannan sound has always been based around the interaction between Frankie Gavin's virtuoso fiddle and the box. Other great box players in De Dannan's colourful history have included Jackie Daly, Mairtin O'Connor and Aidan Coffey. His pairing with Gavin proved to be one of the best box and fiddle duets ever. He toured with De Dannan until they disbanded in 2003. Derek is a button accordion tutor on the BA Irish Music and Dance at the Irish World Academy.
---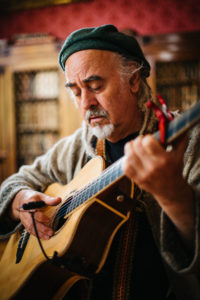 Steve Cooney is best known for his development of an influential style of guitar accompaniment to the traditional dance music of West Kerry, for which he won the National Entertainment Award in 1997. Born in Melbourne Australia in 1953, he came to Ireland in 1980 and maintains his connections with the Aboriginal culture there, into which he was initiated. He has ancestral links with Tipperary, Cavan and Galway. He has participated in making more than 250 CD's, either as a guitar or bass player or as producer and engineer. Also a poet and songwriter, he has worked with many iconic international artists in rock and country but his primarily focus is Irish traditional music, and fusions of that genre. In 2020 he released a CD of solo guitar interpretations of ancient harp tunes, Ceol Ársa Cláirsí, which won 3 awards at the 2020 RTÉ Folk Awards as well as Irish Times traditional album of the year. He was also given a Lifetime Achievement award by RTÉ. He completed an M.Litt.Ed in 2011 and a Ph.D. in 2018 on an intuitive musical notation system that he has developed for early learners and those who have difficulties with staff notation.
---
Masters of Tradition runs until 17 November and features concerts filmed at beautiful locations in West Cork including the elegant mansion Bantry House, Future Forests and historic Abbeystrewry Church in Skibbereen.♦