Masters of Tradition's next streamed concert returns to the Blue Room of Bantry House.
Wednesday, November 10, 2021 at 8:00 PM.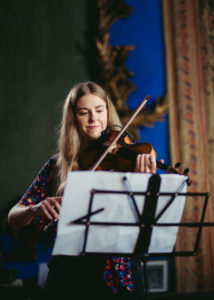 Immram –  a setting of the suite of poems written by Nuala Ní Dhomhnaill – will be performed in the beautiful dining room of this stately home which overlooks famous Bantry Bay. The music combines influences from the sean nós tradition, jazz, contemporary classical music and features some of the most exciting and experienced musicians in Irish music today.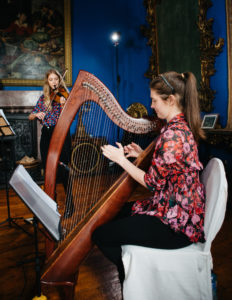 Double bass and flute player Neil Ó Lochlainn will be joined by singer Saileog Ní Cheannabháin, fiddle player Lucia Mac Partlin  and harpist Eilís Lavelle.
 "We have a musical performance today of poetry of the Irish language by Nuala Ní Dhomhnaill. The poetry is a collection of hers called Immram and the project itself is also called Immram. It has been put together, organised and composed by Neil Ó Lochlainn. This is a beautiful moody interpretation of these poems and I think you'll enjoy it very much." Martin Hayes
Meet the Artists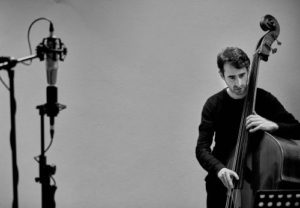 Neil Ó Lochlainn is a musician and composer from Clare. His work is dedicated to exploring the contemporary and the universal in the local. He began learning Irish traditional music on the flute and tin whistle at a young age from Denis Liddy and Eamonn Cotter and studied double bass with David Whitla at the Cork school of music.
He is the co-founder and artistic director of Ensemble Ériu, a group set up to develop new conceptualisations in Irish traditional ensemble playing. The group have released 3 critically acclaimed albums and in 2015 received the TG4 Gradam Comharcheol award. Their second album 'Imbas' was nominated by the Irish Times for traditional album of the year and third album Stargazer was listed in Songlines' essential Irish albums of all time.
In 2016 he founded Cuar, a chamber ensemble dedicated to exploring composition and improvisation within the framework of Irish traditional music. They released their debut album Roscanna, a specular suite in 5 movements, in 2017 on Raelach Records. The album has been described as "an ear craningly beautiful missive from the new post genre frontier." (The Irish Times). Cuar's second album Umhaill a suite of music composed while resident at the Heinrich Boll cottage, Achill Island will be be released in 2022 on Diatribe records.
As a jazz musician he has been bassist of choice and collaborated with many of Ireland's leading musicians including Myles Drennan, Richie Buckley, Hugh Buckley, Meilana Gillard, Ian Date, Seán Carpio, Mike Nielsen, Greg Felton. He was a member of the Louis Stewart quartet from 2012 until the guitarists death in 2016. He has received numerous bursaries and scholarships to attend workshops and residencies including the Banff Centre Creative Music workshop, Canada, the S.I.M (school for improvisational music) workshop, New York, the Gullisktan residency, Iceland, the Cill Rialaig residency, Ballinskelligs, Kerry and the Centre Culturel Irlandais, Paris.
He has studied Karnatic music at the Brhaddhvani Institute, Chennai with Dr. K.S.Subramanian and has travelled throughout Ghana to study the traditional music of the Ewe and Dagara people. In 2019 he received the Next Generation bursary from the Arts Council of Ireland.
"A distinctive musical intelligence that, in my experience, is only to be found in a small number of people" Tony MacMahon
---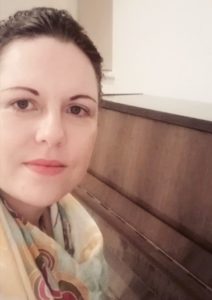 Saileog is a musician, sean nós singer and composer, who has played traditional and classical music on piano from a very young age, and also plays traditional music on fiddle and viola. Her father Peadar is a sean nós singer from Connemara, her mother Úna Lawlor is a classical violinist and her siblings Eoghan and Muireann are also singers and musicians. She has a BMus degree from UCC, where she studied many different kinds of music. Having graduated with a BMus (2009), UCC awarded her the Seán Ó Riada Prize, for a study of the Songs and Singers of Iorras Aithneach.
She has released two albums to date – I bhfíor-dheiriú oidhche and Roithleán. I bhfíor-dheiriú oidhche,is an album of sean nós songs which Saileog learned from Seamus Ennis' collection, (housed in the National Folklore Collection, UCD) from various singers in Iorras Aithneach, Connemara. The songs were collected in the early 1940s, and are a combination of songs that are no longer sung and unusual versions of more well known songs, chosen from the collection.
Roithleán is a mostly solo album of traditional music, sean nós songs, and also features some tunes composed by Saileog, with guest musicians on some of the tracks, including Muireann Ní Cheannabháin, Eoghan Ó Ceannabháin, Jack Talty, Marie McHugh, Tim McHugh and Eoin Ó Beaglaoich. Roithleán was awarded Albam Thraidisiúnta na Bliana (Traditional Album of the Year) by Nós magazine in 2018.
In 2014, she did research work for the project Amhráin Ó Iorrus, a compilation recording of songs from Erris, North Mayo, which were collected from Mayo singers in Chicago at the beginning of the last century. The project was initiated by Séamas Ó Mongáin and Síle Uí Mhongáin.
Saileog also features as a guest on Ensemble Ériu's debut album (2011), on the Tunes in the Church compilation album (2013), on Treasa Ní Mhiolláin's Lán Mara album (2019) and on the Rogha Raelach Volume 1 compilation (November 2020).
In 2018 Saileog and Maitiú Ó Casaide composed and arranged music for Darach Mac Con Iomaire's play, Baoite. Some of the music was composed between both musicians, and other parts in collaboration with sound designer Steve Lynch. Baoite was commissioned by the Abbey Theatre, and performed for ten days in An Taibhdhearc, as part of the Galway International Arts Festival 2018. In 2019, the play was commissioned by the Abbey Theatre and performed again for several nights in the Peacock Theatre, Dublin, in May 2019.
In February 2020, Saileog took part in Úna Monaghan's Aonaracht project at the National Concert Hall in Dublin, performing a piece for piano and electronics.
One of Saileog's ongoing projects is arranging sean nós songs from Connemara and Rinn Ó gCuanach, along with singer Ailbhe Nic Dhonncha and uilleann piper Pádraic Keane.
Last year, Saileog was invited to be NUI Galway's 2021 sean nós singer in residence.
Masters of Tradition runs until 17 November and features concerts filmed at beautiful locations in West Cork including the elegant mansion Bantry House, Future Forests and historic Abbeystrewry Church in Skibbereen.♦